Shopaholics know the ultimate joy of buying things (small or big) and the sole meaning of retail therapy. Me being one myself, I need therapy more often than not. What could be more exciting than getting discounts or free coupons on a bill that could be the shock of your life?
To pay heed to the love of shopping (that too affordable one) we have, there are various options to go for and that's what I am here for.  
How To Get Coupons?
While we know the delightful feeling of using free coupons to shop our way through, we need to know some methods to acquire some. There are a couple of traditional ways you could follow for the same:
Subscribe to newsletters of various companies to learn about coupons.

Keep tabs on newspapers as various coupons lie within them to make our day.

Ask the companies for coupons or sign up for their rewards program.

Just ask any of your family members or friends for the same, they might help you with the coupons.
However, if the aforementioned is not your cup of tea, I have better options for you in the form of various coupon apps which you just have to install. Hence, I am going to present you with a list of best coupon apps to save your hard-earned money on each purchase.
Disclaimer: The below-mentioned money-saving apps work for India mostly. I have listed the best coupon apps for India according to their ratings on the Google Play Store. So you might find some popular listed lower than its counterparts in the list. 
Best Coupon App In India (Android) In
2019
1. CouponMoto
The CouponMoto coupon app offers coupons and deals for various segments such as flights, hotels, food, recharge, electronics, and more — allowing you to choose from a slew of options and get discounts on those services. You can access the options from the hamburger menu present on the top left side. You can further sign-up to get access to customized offers.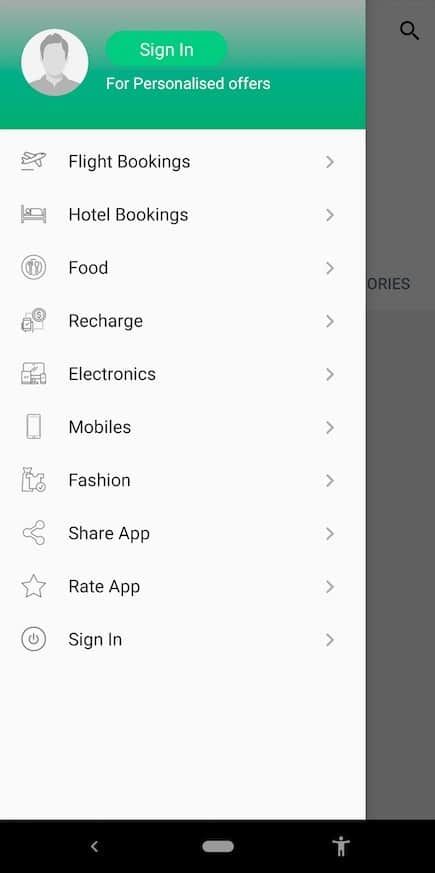 The CouponMoto app has three major sections: Best Offers, Top Stories, and Categories. All the sections list down various coupon options for you to choose as per your preference. Once you select a particular coupon offer, you just have to select and copy on that particular website the coupon is for. Following this, the coupon will be applied once you make the purchase.
The app's inclusion in my best coupon app list is due to a high rating on the Google Play Store.
Pros: Plethora of options available
Cons: Cluttered UI
Availability: Android
2. Offers Coupons Deals & Discounts App (Offersloot)
This coupon app with a long name provides various deals and discounts on products ranging from electronics to clothing. Mostly, it is about smartphones and gadgets, so it will help tech-savvy people a lot.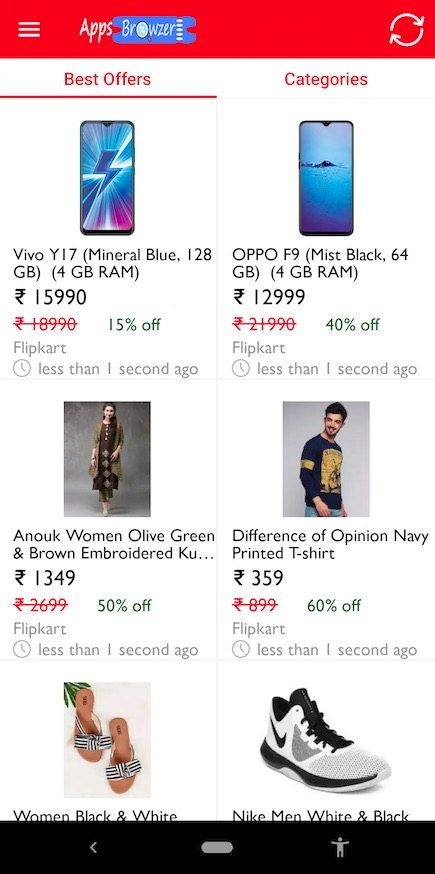 The app has just two sections: Best Offers and Categories, both sections featuring discounted offers on various products. Choose any of the offers available and you will be redirected to the website the product belongs to. There you will be able to purchase the products at a discounted price.
One thing worth noting is that the coupon app lists the various offers available on other websites and simply acts as a mediator. It doesn't have coupon codes of its own, however, the name mentions "coupon deals", which can be slightly disappointing.
Pros: Various electronics deals
Cons: Coupons available in selected categories
Availability: Android
3. Desi Dime
Desi Dime (on my best money-saving apps list) has a number of options to choose from. You will get deals, free coupons, and a space to discuss various deals or coupons and even post some on the app. The app is divided into five major sections: Deals, Coupons, Discussions, Groups, and My Zone.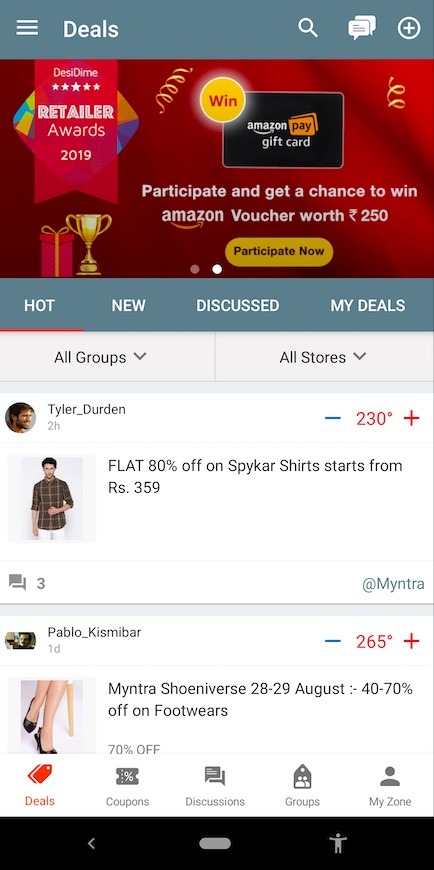 The Deals section has various offers to choose from and it just takes a couple of steps to access the deal. You just have to select the desired deal and you will be directed to the website where the deal is applicable to make the purchase.
The Coupons section provides you with free coupons wherein again you will be taken to the website to apply the provided coupon code.  Furthermore, you can discuss various deals and coupons via the Discussions section and be part of groups to access deals and more.
Another fun element of the app is the presence of the Games option in the hamburger menu just to pass the time.
Pros: Option for discussing deals and coupons with other users
Cons: Cluttered UI
Availability: Android
4. CashbackPao
The CashbackPao app primarily provides cashback on exciting deals in India. To start with the app, you have to sign in. The app has various deals going on other websites and the deals also provide you with a cashback.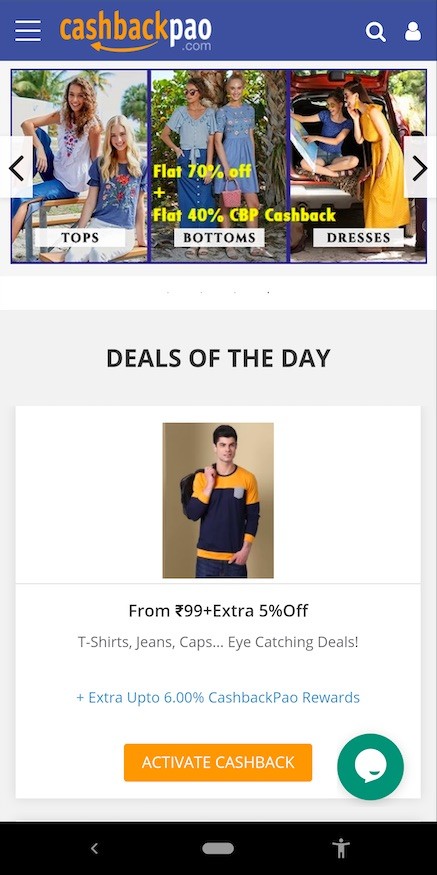 While the app doesn't really have free coupons, the reason I mentioned it in my best coupon app list is that it provides you with a discount, which indirectly contributes to money-saving.
With a pretty simple UI, the CashbackPao app has a menu section with all the top deals, categories, and more to make things easier for you. The main page has all the deals, tapping on the desired one will let you earn cashback and sometimes even coupons.
Please note: You will only get hold of discounted products and no cashback if you don't log in, so make sure that you login.
Pros: Easy to use
Cons: Not many free coupons
Availability: Android
5. GrabOn
As the name suggests, the GrabOn coupons app allows you to grab the latest coupons and deals to save some of your hard-earned money. The coupon app deals with a plethora of categories so you don't have to worry about whether or not you'd find a coupon for a selected product.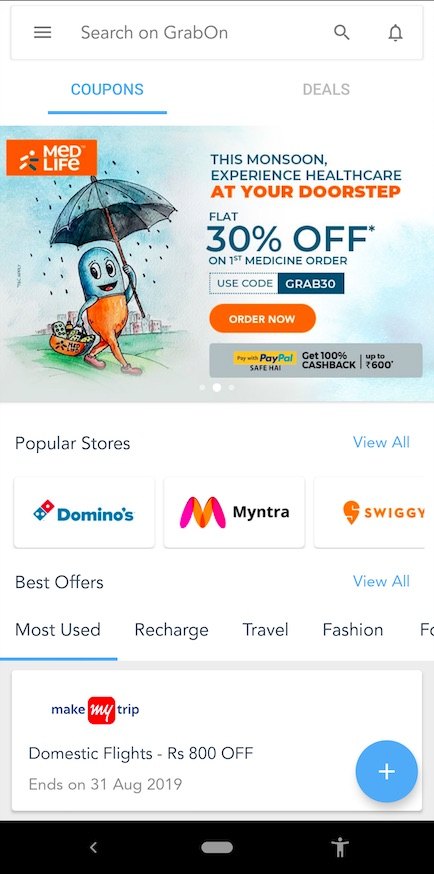 It is split into two main sections: Coupons and Deals. As a usual drill, you just have to choose the free coupon you need or the deal that best suits you and you will be directed to the website to make use of the discounts. The hamburger menu in the app lets you access various options such as "Grab of the day", Coupon Finder option, Cab Finder option, settings, and lot more.
Pros: Amazing deal and free coupon options
Cons: A lot going on the app
Availability: Android
6. CouponDunia
CouponDunia, among my list of coupon apps, provides you with free coupons and cashback on online shopping sites in India. You just have to shop and the money gets reflected into your CouponDunia account from where you can transfer it to your bank account.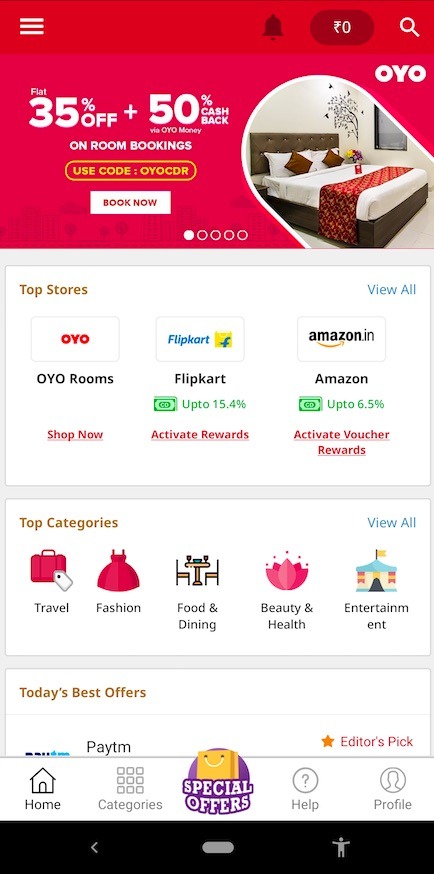 With various categories to cater to, the CouponDunia app allows you to select the deal you want. Just copy the coupon code and you will be automatically taken to the website the coupon belongs to. Following this, you have to make a purchase, where you can discount and even cashback.
In case you opt for a Gold Membership, you can get added benefits such as exclusive bonus, early access to sales, and more.
Pros: Good deals
Cons: Ads
Availability: Android
7. Thuttu
Thuttu is among the known coupon apps and hence it has made its way to my best coupon app list. The app has a pretty easy-to-use interface and is divided into four parts: Latest, Featured, Comments, and Saved. Both the Latest and the Featured sections list down the various deals available on the coupon app from various other websites.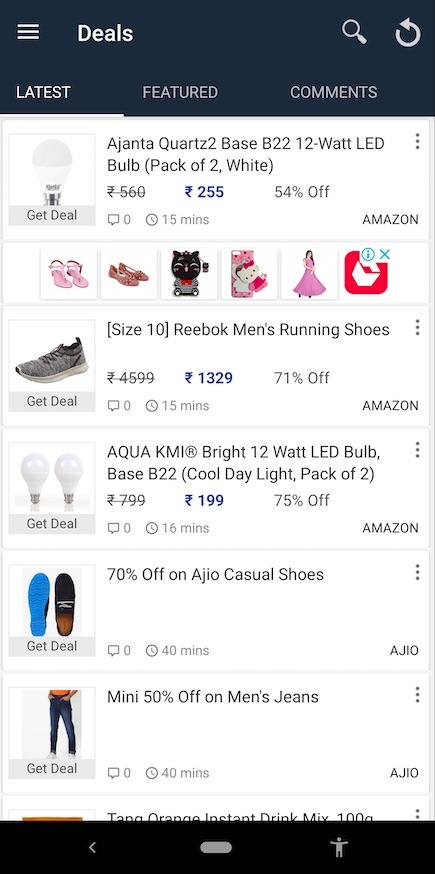 The Comments section helps you look for comments from other users and know better about a particular deal. Additionally, there is the usual hamburger menu to access various options, making the app an easy coupon app.
Pros: Well cataloged sections
Cons: Adverts
Availability: Android
8. MyDala
MyDala coupon app is a pretty famous app. The reason it's in the eighth spot on my best coupon app list is the low rating on the Google Play Store.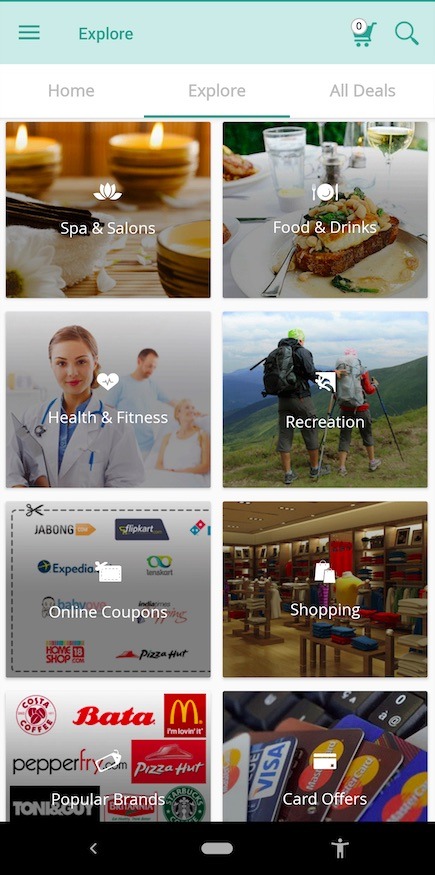 The app asks for location permissions to provide you with deals and coupons according to your location which is an advantage. While it deals with a lot of categories, the best ones are from salon or spa categories, so you would love them for your beauty sessions. Divided into three major sections (Home, Explore, All Deals), the app has a hamburger menu to access other app options.
Pros: Location-based suggestions
Cons: Fewer coupon options
Availability: Android
9. Little
Little is another known deal and coupon app in India. However, its low rating on the Google Play Store is the reason it is placed in the ninth position on my coupons app list.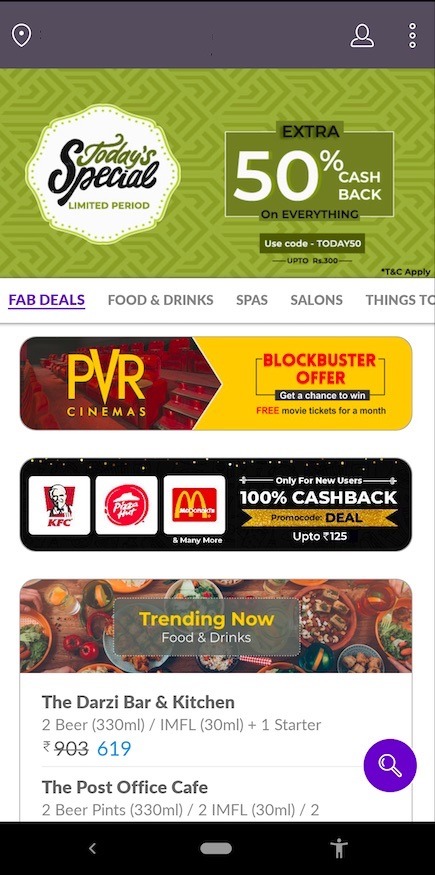 To use this coupon app, you'd have to grant a couple of permissions and sign in with your number, which will eventually link your Paytm account to the app. The linking is because the app primarily accepts payments via Paytm.
The app is location-based and offers deals and coupons based on your location in India, across various categories. Additionally, the app suggests other similar offers along on a particular product to provide more options.
Pros: Organized app
Cons: Requires Paytm account
Availability: Android
Save Money With The Best Coupon Apps In 2019
Feel free to try all the free coupons app on the list. I hope my 'best coupon apps' list helps you score the best deals and free coupons for the dream shopping experience you need. The list could grow if more apps make their entry into the arena. If you have any more app suggestions, do let us know. Until then, let's keep shopping.