It's easier to snooze an alarm clock or grab that uneaten chocolate when feeling too stressed, or even miss out on workout regimes on a lazy Sunday morning. But what's really challenging is to get persistent on a healthy routine, to get out of that cozy bed and regularly go for a morning jog.
As much as we hate habits, we actually are creatures of habit. A 2014 study revealed that 40 percent of our daily activities are simply habits. But why it is so difficult to form a new habit?
According to renowned Charles Duhigg's best–selling book, The Power of Habit, habits divide into three R's: Reminder, Routine, and Reward. Think of it in this way – traffic light turns green (reminder), you drive through the intersection (routine), and you get closer to your destination (reward).
Therefore, if you want to break bad habits, you only need to remove the associated reminder with it. And place an alternative in its position, like if you smoke just after having lunch, try having lunch at a different place. The reminder should force you to act on a different routine.
Similarly, when forming new good habits, you only need to place reminders, persistently follow the task, and celebrate the reward. Now, you can either jot down your routine on a journal or go for an Android habit tracker app which can efficiently track your new goals.
Before that, you can check these Android lists as well for using your phone like a pro:
7 Best Habit Tracking Apps For Android: 2018 Edition
1. Habit Tracker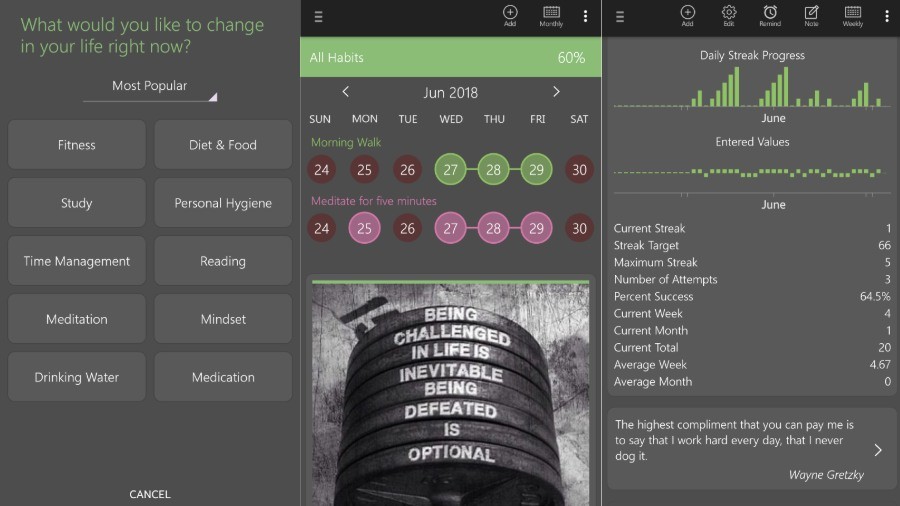 Habit Tracker, previously known as HabitBull, is an all-in-one goal tracker app for Android, giving you the necessary push to achieve your goals. In this habit app, you can have customized goals like – Today will be a successful day when I eat apples, (at least/exactly/not more than) two times a day.
It features detailed reports in the form of graphs and even presents motivation quotes to refuel when you are feeling blue. And if you are aiming to improve your fitness regime, you can sync your Google Fit data with this app. Also, you can lock the app with a passcode if you are looking for any secret goals.
You can also participate in the in-app forums to interact with people having similar goals. The app is free to use and lets you create three habits under free subscription.
Why use Habit Tracker for goal tracking?
Customized goals
Motivational quotes
All-in-one tracking app
Download it for Android
2. Loop Habit Tacker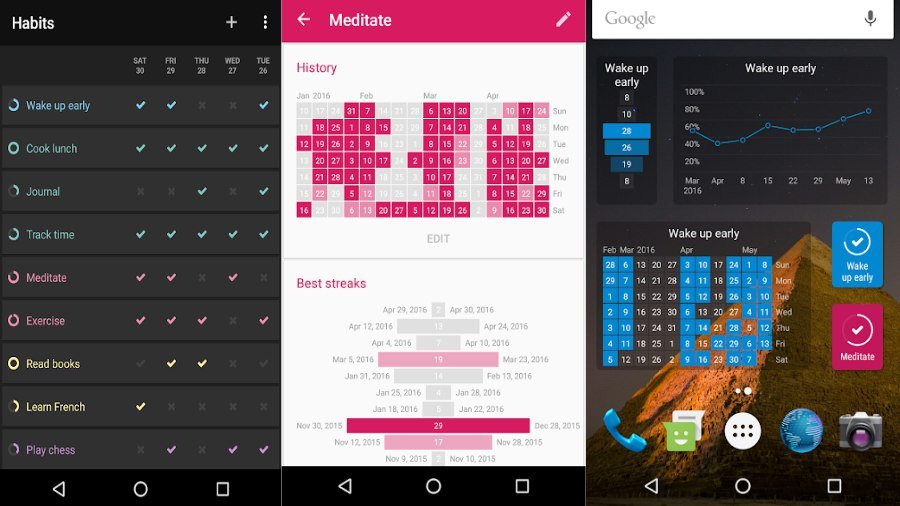 As simple as something can be – Loop habit tracker is for people who can compromise on many features but cannot stand a messy interface. Loop Habit Tracker app for Android is easy to use and looks stunning when the dark theme mode is turned on.
Also, If you require a determined assistant, Loop habit app also features a sticky reminder which doesn't swipe away from the notification panel until you turn it off within the app itself. Another brilliant feature of this app is that you can export all your data and view it in a Microsoft Excel sheet. You can also import your habit data from other apps like HabitBull, Rewire, and Tickamate.
Why use Loop Habit Tracker?
Simple and easy-to-use interface
Sticky reminder
Useful Widgets
Download it for Android
3. Coach.me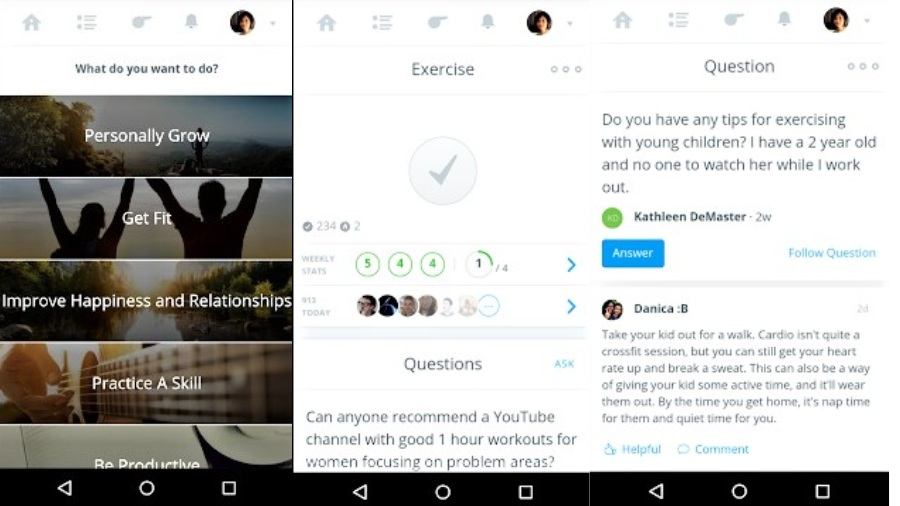 Coach.me for Android, as the name suggests, offers you add-on feature of hiring a coach to get you personalized training and help in achieving your goals. You can either opt for a habit coach or leadership coach for few extra bucks.
Moreover, Adding a goal in Coach.me habit tracking application is proportional to enlisting in a community of people who share beneficial information regarding the goal. If you don't feel like hiring a coach, you can instead follow him/her, so you remain updated with the premium information they keep on posting.
The app user interface is a little bit complicated to use and might work slow on lower-end smartphones.
Why use Coach.me for tracking?
Renowned trainers available
Help from community
Also available on Web
Download it for Android via website
4. HabitHub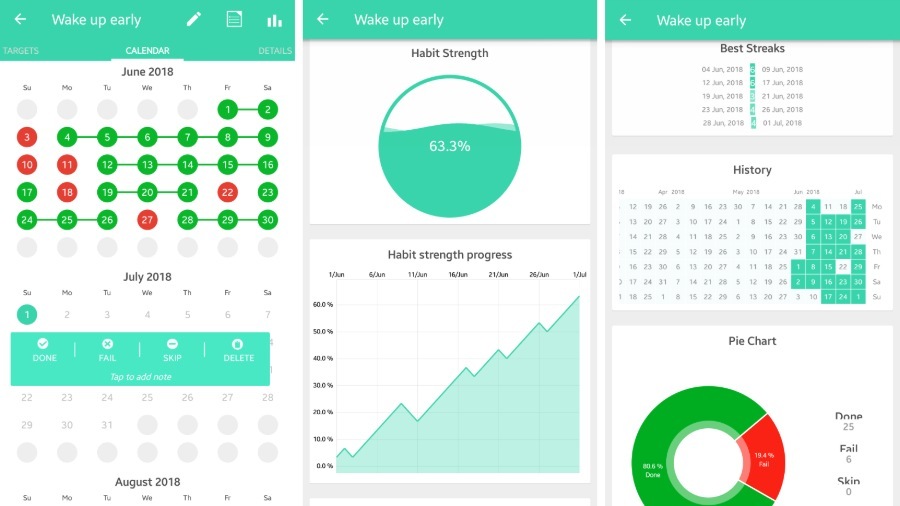 HabitHub is quite similar to HabitBull; only it loads a whole lot of additional features. First and foremost, there's a reward system in this Android habit tracking app, motivating you so that you to don't leave your task in between. Another fantastic feature is streaks of goals based on Seinfeld's productivity formula of "don't break the chain."
It also includes a "punch card" view that shows which days you're most active for each habit, and a history chart shows your streaks over time. You can also mark your goals directly from your smartwatch.
Like the goal tracking app Habitbull, you can only track up to five habits on a free subscription but paid users would get an additional benefit of colorful themes.
Why use HabitHub for Android?
Added reward system
Based on tried-and-tested Seinfeld's productivity formula
Colorful Themes
Download it for Android
5. Habitica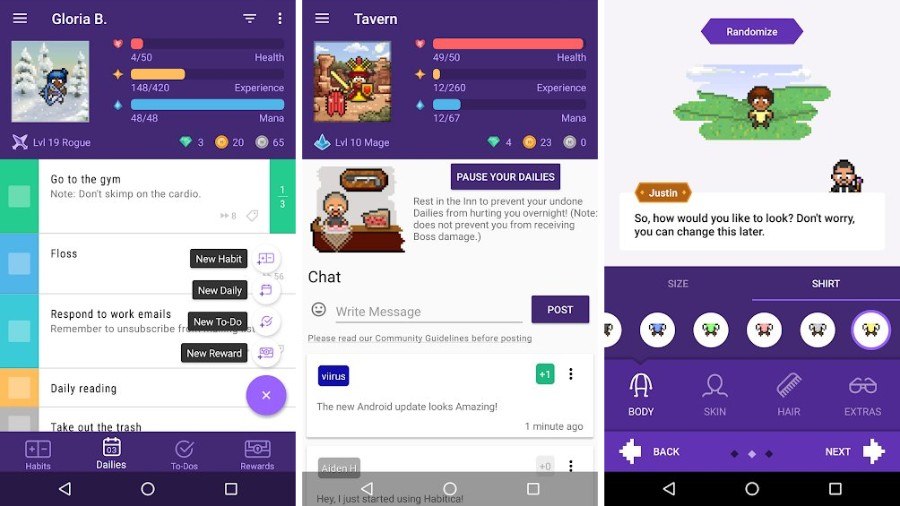 Habitica turns boring habits and never-ending tasks into a role-playing game where you are awarded points and freebies.
Upon successfully achieving a goal, Habitica provides you with experience points (XP) for your character. You can also earn gold points for making progress in your tasks, thus unlocking weapons and portions to help you in your goal completion journey (within the application).
Although Habitica's enchanting gaming interface compels you to achieve goals, it lacks on little habit related features which a user expect from an all-in-one habit tracking app.
Why use Habitica?
Interactive Roleplaying Game experience
Reward in the form of collectibles and resources
Lose XP (Experience points) if you don't follow your habits
Download it for Android
6. Fabulous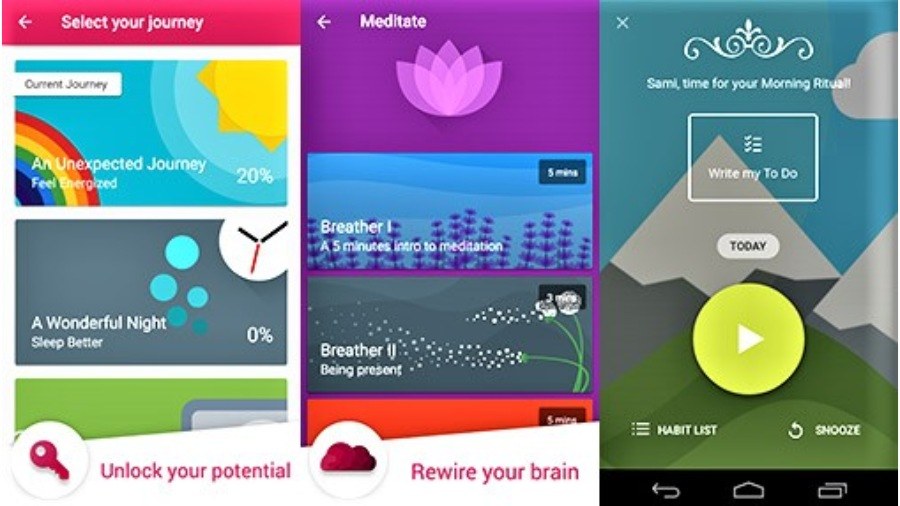 Unlike other habit apps, Fabulous is very colorful and vibrant, comprising of beautiful imagery. This Android habit tracking app revolves around the concept of journeys: a group of five goals unlocking one after the other. And it even encourages you to celebrate your little wins over time.
The best feature of this routine app is a bunch of pre-installed routines that come along, like the 7-minute workout and meditation approaches. This fabulous application's only disadvantage is its inflexibility. The app sometimes makes you feel very restricted, and its intuitive suggestions become annoying at on point in time.
Why use Fabulous?
Elegant user interface with vibrant colors
Preloaded modules of new habits
Intuitive reminders
Download it for Android
7. Goalify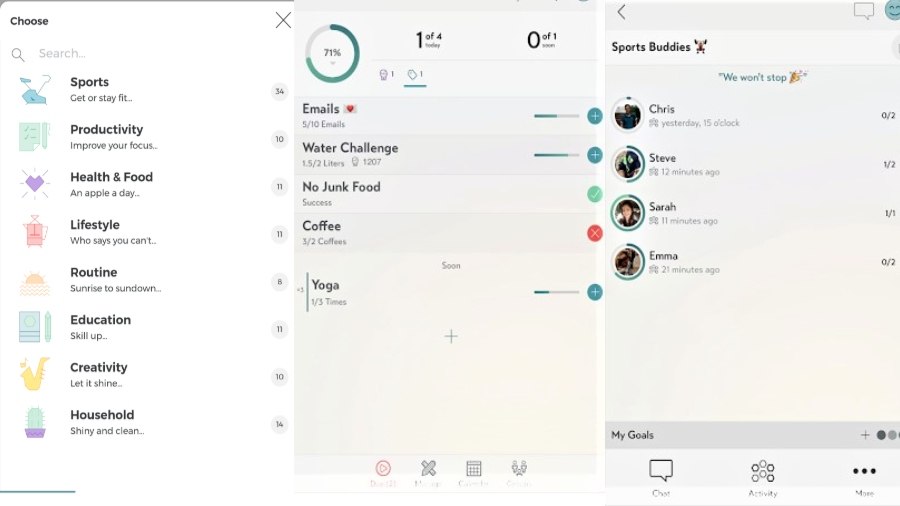 Goalify is another Android goal tracking app with brilliant, user-friendly interface. The streamlined app design helps you focus on the goals without any additional clutter. You can pause your habits if you don't have time to work on it at that moment. In paid subscription, you can form groups and chat with your friends to motivate each other. You would also get personalized reports based on your habits activity.
A significant demerit of using Goalify is that you can only have three habits under free subscription. And you would have to pay every month to instill more than three habits.
Why use Goalify to track goals?
Chatting with friends
Streamlined user interface
Challenges to check your progress compared to others
Download it for Android
Did you find this list of best Android apps to track goals useful? Share your views and keep reading Fossbytes.
Now Watch: