Back at WWDC in June 2020, Apple announced a new iOS feature known as "App privacy labels." Read along to learn more about Apple's new initiative and how to check iOS app privacy labels on your iPhone or iPad.
What are App Privacy Labels on iOS?
Akin to nutrition labels on food, all third-party apps, and Apple's default apps now have easy to understand privacy labels that will allow users to see what data has been collected by an app.
The idea is to inform users of the privacy practices followed by an app, before he/she has the chance to install the app. As of now, many popular apps such as WhatsApp, Facebook, Instagram, etc have their privacy labels displayed on the App Store.
App Store's Privacy labels are divided into three categories —
Data used to track you
Data linked to you
Data not linked to you
Apple has said that all apps, whether it's for iOS, iPadOS, macOS, watchOS or tvOS, will need to be transparent about their privacy practices. Here's how you can see privacy labels for an app —
How to check iOS privacy labels on iPhone and iPad?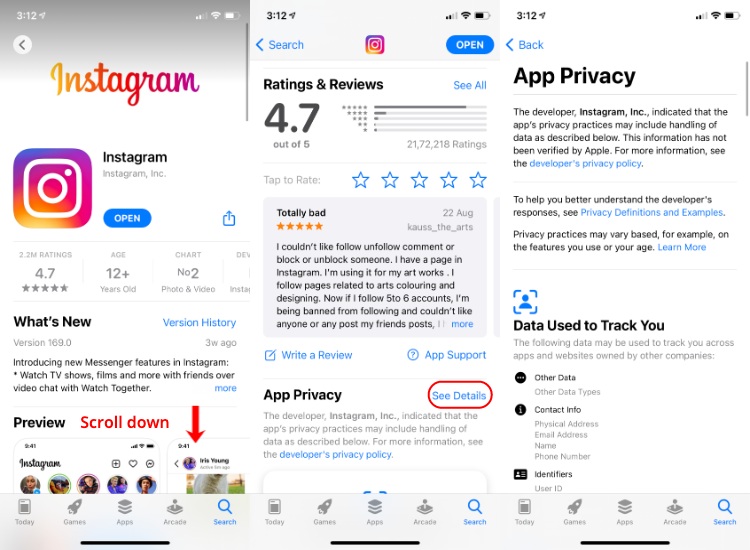 Go to the App Store on your iPhone or iPad.
Choose the app you want to check the privacy labels of.
Scroll down on the app's download page and tap on "See Details" right next to App Privacy.
Here, you can inspect privacy practices followed by app developers. Some apps have a huge list of privacy labels, such as Facebook, others have fewer privacy labels. Remember, less number of privacy labels is good.
For example, Signal, considered one of the most secure messaging apps, has only a "Contact info" privacy label. The app only takes your phone number and doesn't try to track you.
Privacy practices, followed by some Apple apps that are not on the list, can be found here. If you have trouble understanding some of the iOS privacy labels, then go to Apple's privacy definitions and examples page.
The aftermath of Apple's new privacy policies
Since privacy labels went live in iOS 14, there has been a huge uproar among app developers. Facebook, in particular, has criticized the move stating that Apple's new privacy policy will hurt small businesses.
Meanwhile, several apps have updated their privacy policies to align with the new guidelines. WhatsApp, for instance, has updated its privacy policy where it elaborates why it needs to collect user data in order to keep its services running.