While writing a blog, assignment, or maybe a description for a landing page, we often wonder if we have hit the right word count. If you are working on WordPress or let's say Google Docs, there is an inbuilt word counter tool to find the total word count and character count of the passage you have written. But what if you are writing something on your notepad or some other platform that doesn't come with a free word counter tool?
That's why in this article, I have compiled a list of best free word counter online that can be used to analyze both word and character counter. And that's not all! The character counter tools I have enlisted have extra helpful features like Keyword Density checker, Paragrapher & Sentence Counter, Reading Time, Speaking Time, and more. All these features help you analyze your content better.
Top 5 Free Word Counter Sites To Use In 2020
| S.No | Word Counter Tool Sites | Extra Features |
| --- | --- | --- |
| 1 | Countwordsfree.com | Accepts any file format, Text Cleaner, Works for multiple languages |
| 2 | Wordcounter.net | Keyword Analyzer, Reading/Speaking time calculator, Sentence Length Analyzer |
| 3 | Word Counter Free | Clean UI, easy to use, Counts characters with spaces |
| 3 | Wordcounter.io | Grammar Checker, Page Counter, Keyword Analyzer |
| 5 | Docwordcounter.com | Actual words counter, Non-words counter, Ideograms |
More free tools online
Before checking out the list of word count tools, do take a look at our other lists of other helpful tools: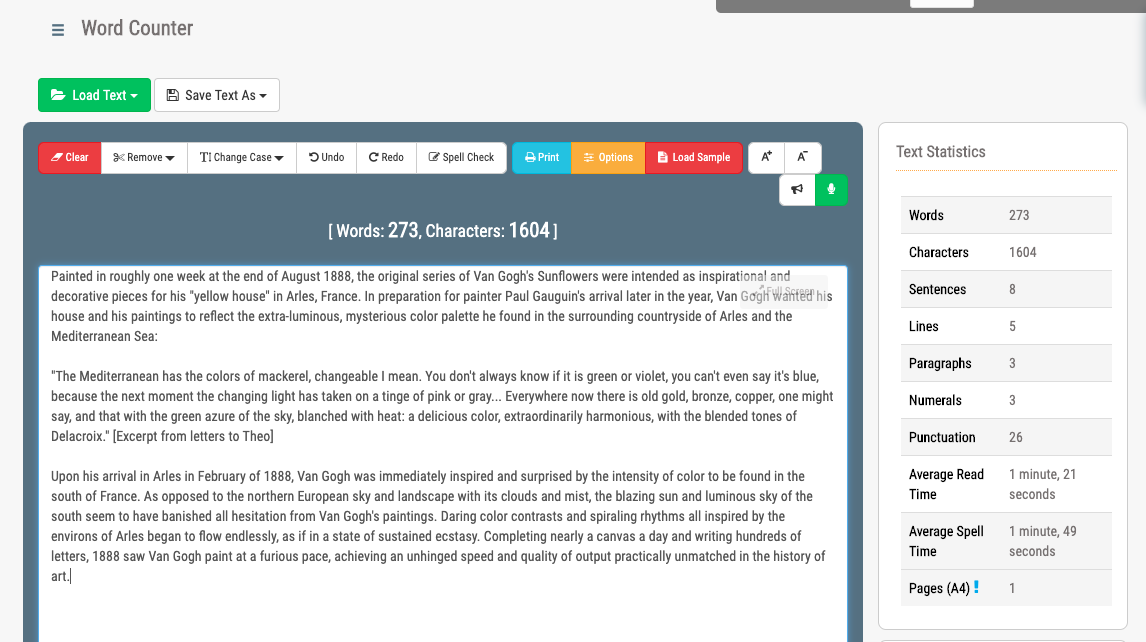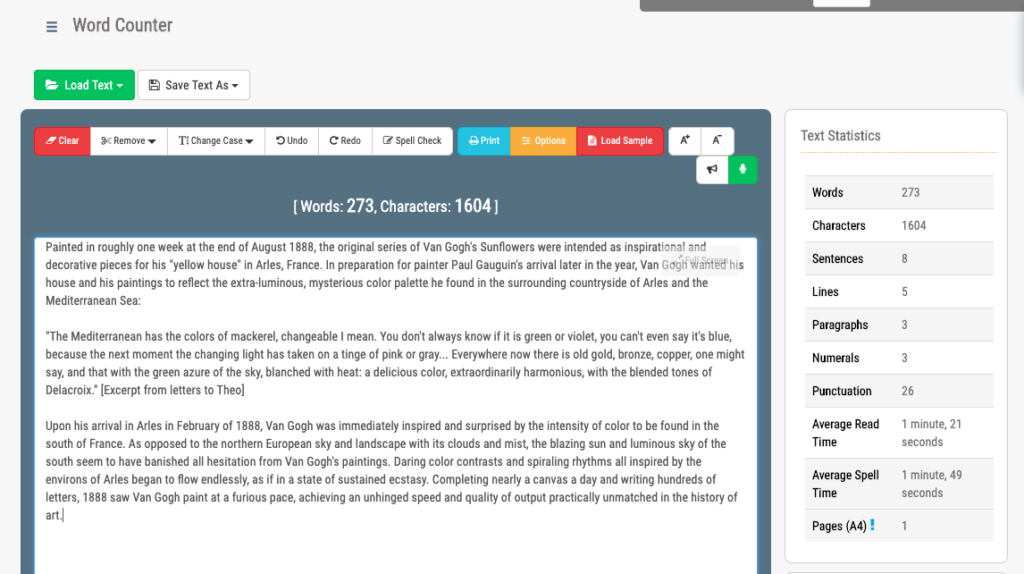 This free word counter tool is one of the best I have come across as it has the most extensive collection of features related to text counters. First of all, it lets you upload any file with text in a variety of formats such as txt, word, pdf, excel, epub, HTML, CSS, and more. Of course, you can choose just to copy and paste the text too!
But, for instance, if you upload text from an HTML or CSS file, Countwordsfree lets you remove HTML tags, obsolete newlines, and extra spaces if required. It helps in cleaning up the text you are about to work with. This tool has the standard word, character, sentence, line, and paragraph checker, just like any other free word count sites listed below.
Countwordsfree has extra features like numerals and punctuation counter, as well as a spell checker. This word counter also accepts input in different languages that you can select by clicking on the "Settings" option. Once you are done with your work, you can choose to export the text in some other format other than the one you uploaded it in. For that, click the "Save As" option in the top bar.
Unique features:
Accepts any file format
Text Cleaner
Works for multiple languages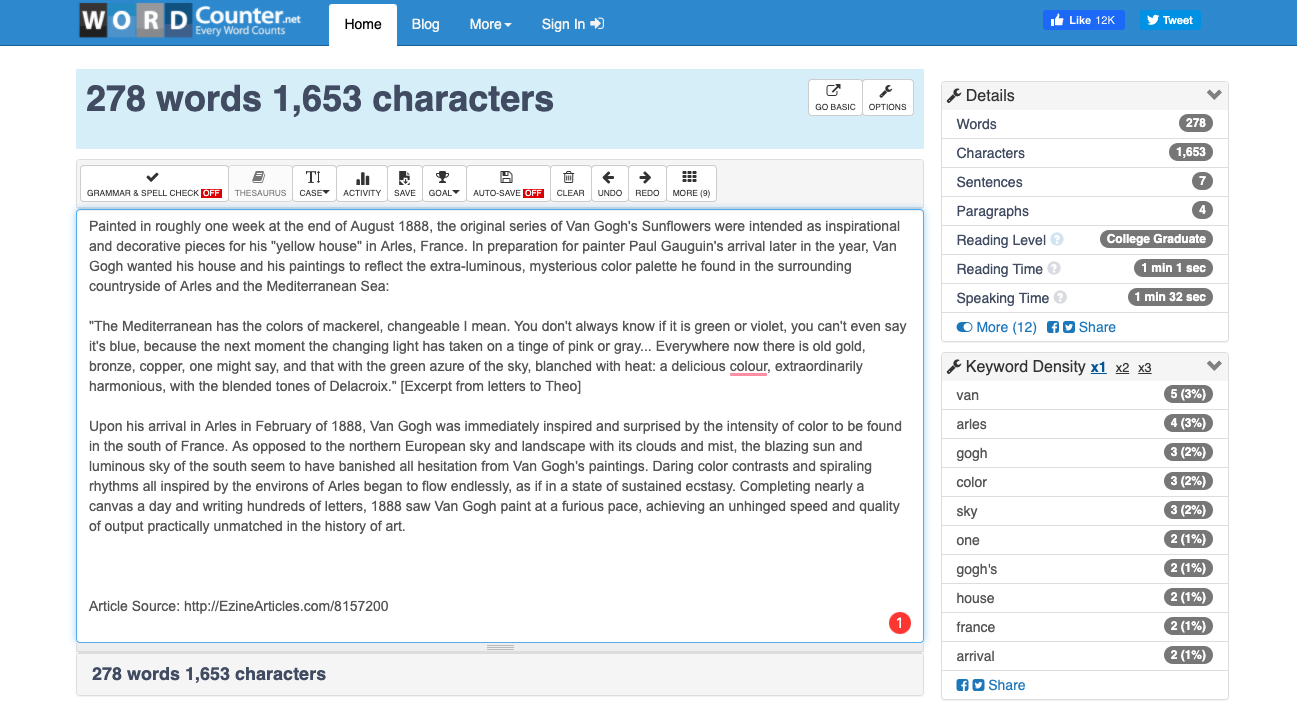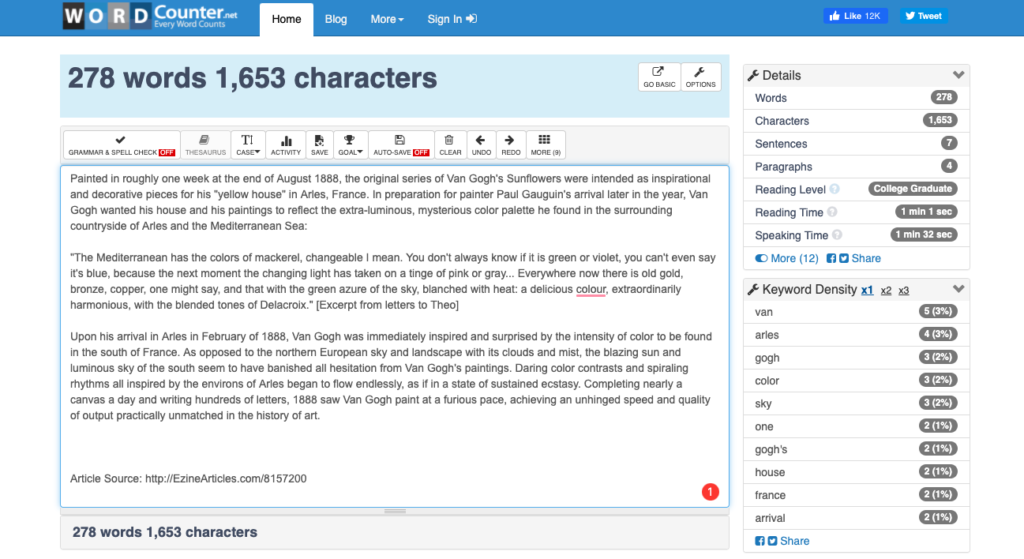 The second free word counter tool on this list also has a good number of text counter features. Apart from the word and character counter, it also has a paragraph and sentence counter.
It can analyze your text and also give you a detailed analysis of the keyword density in the passage. The keywords can be sorted based on 1-word, 2-word, or 3-word key phrases. The percentage analysis is incredibly helpful when you have to SEO-optimize articles on specific keywords.
Besides these, it also calculates the total reading time and speaking time of the text you have written. To access more features in this tool, just click on the "More" option on the right-hand side, where you will find other features such as the longest/shortest sentence, the average length of sentences, and much more.
Unique features:
Keyword Analyzer
Reading/Speaking time calculator
Sentence Length Analyzer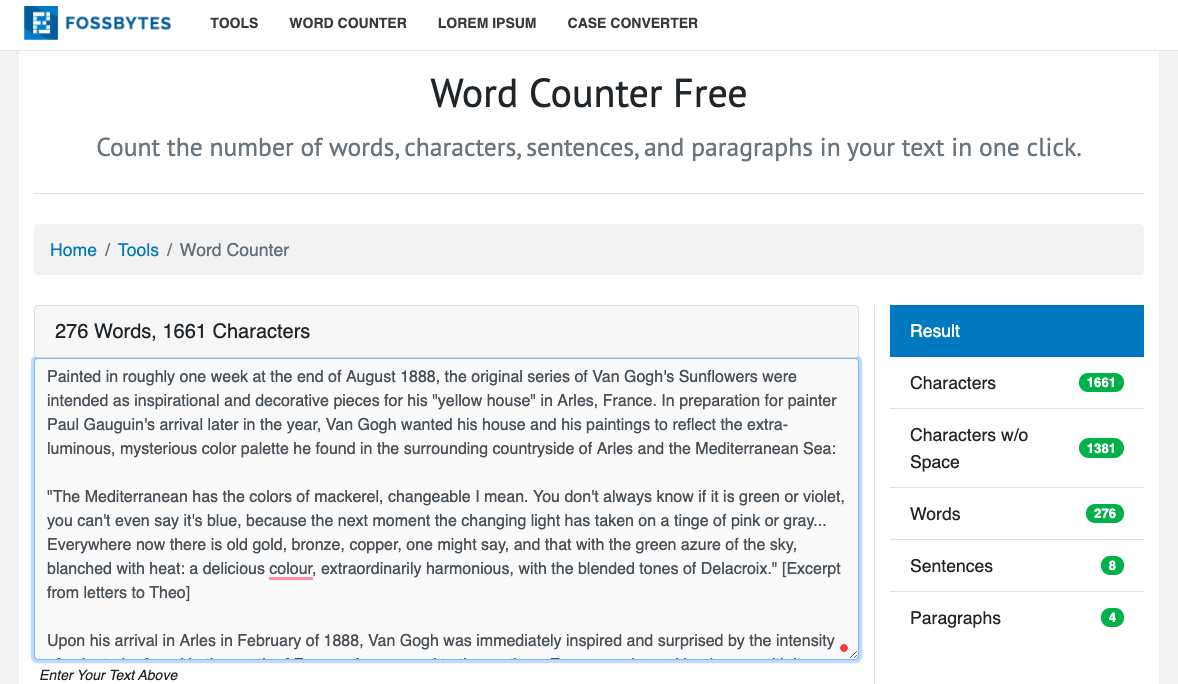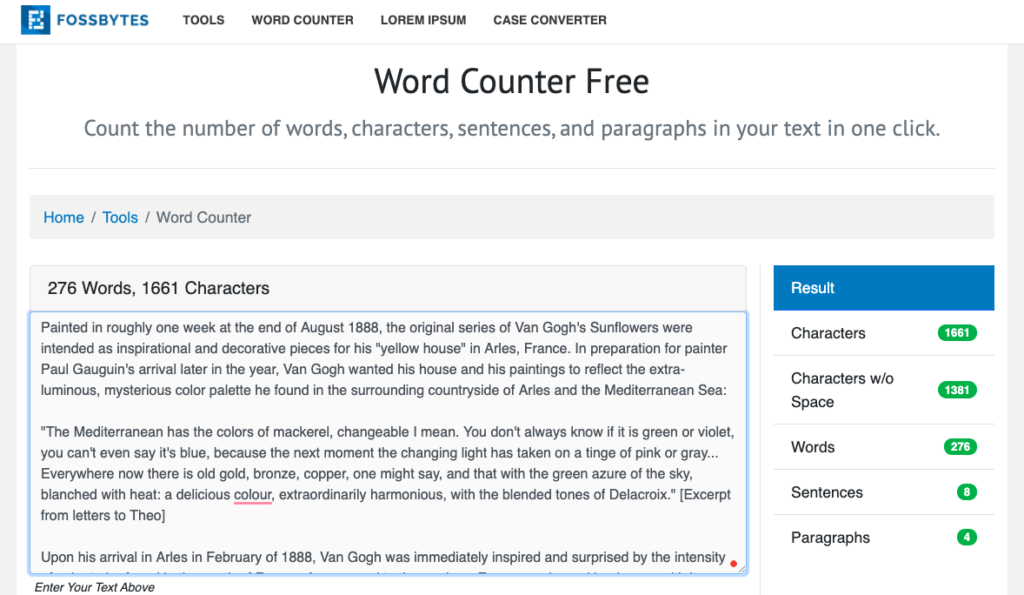 If you want a simple and easy to use word counter, then this free word counter by Fossbytes is your go-to website. It is our homebaked utility tool that will help you calculate the final word count for any amount of text. Just copy-paste the text, and it will count the number of words, characters, sentences, and paragraphs in only one click.
It has one of the cleanest user interfaces with zero clutter. Apart from the usual counter features, it has one unique feature that isn't offered by most of the other online word counter tools, which is a counter for characters without space.
The character counter with spaces feature is particularly useful while writing titles and meta descriptions of blog posts, where the character limit is quite strict, and the white spaces also consume character space.
Unique features:
Counts characters with spaces
Clean and user-friendly UI
Easy to use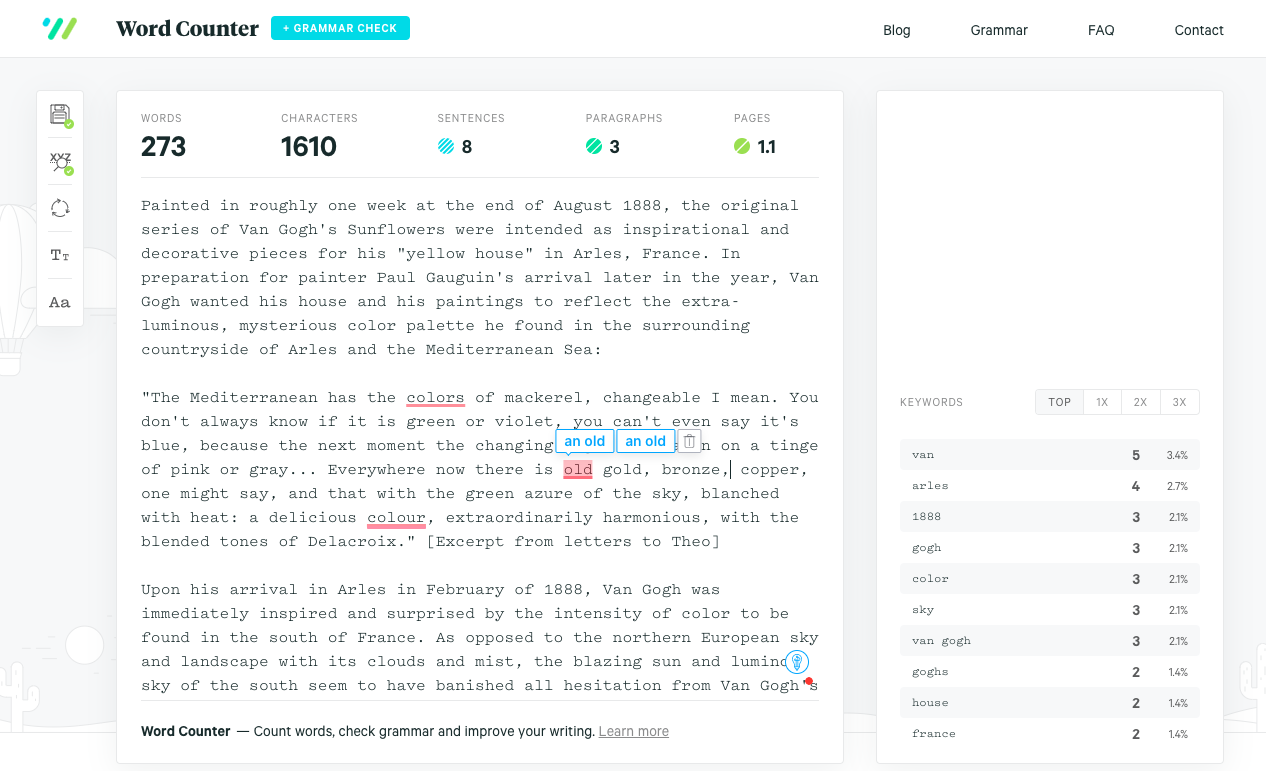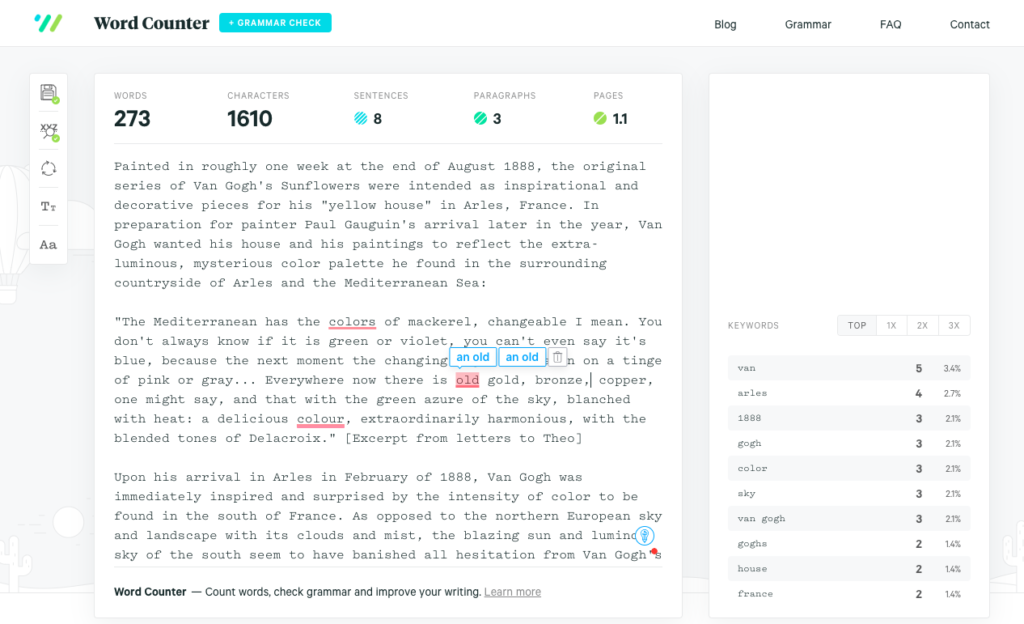 This word counter website is entirely free and comes with a clean interface. The top bar indicates the total word count and character count. Moreover, it also includes a sentence counter and paragraph counter.
It has two unique features that I didn't find in any other online word count site, namely, page counter and grammar checker. The page counter gives you an idea of how long the passage is and how many pages worth of content you have written.
The grammar checker is pretty helpful as it allows you to spot and correct the grammatical mistakes right there. Just like a grammar checker extension, it gives you suggestions and options to rectify errors and proofread in American or British English.
Another useful feature of this online character counter tool is the Keyword Analyzer, just like the one I mentioned in the previous option.
Unique features:
Grammar Checker
Page Counter
Keyword Analyzer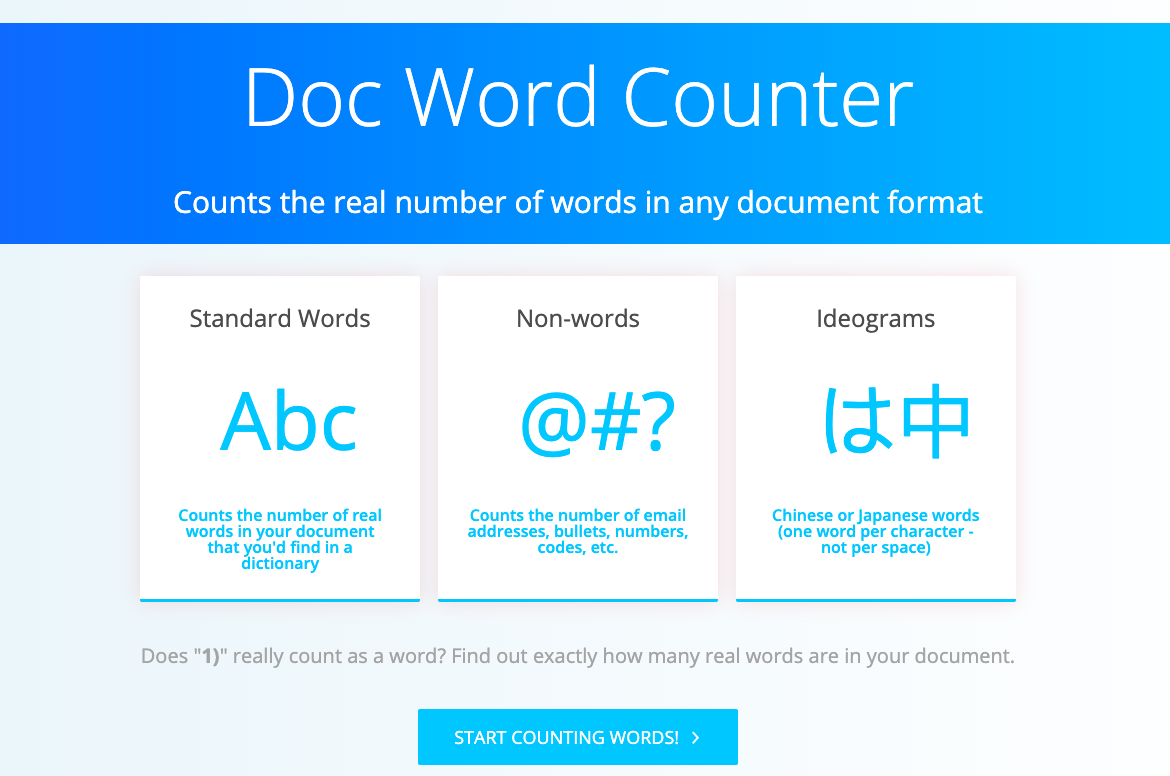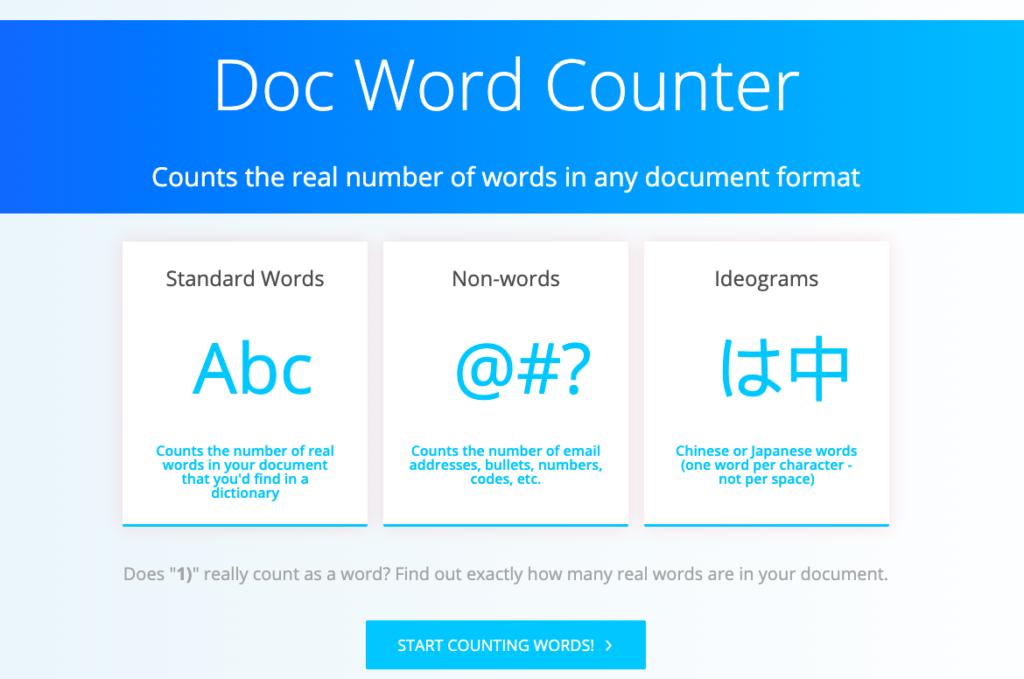 The last option on this list is a bit unusual word counter website that comes with pretty unique features, and I think that might be helpful to some of you. Apart from calculating the final word count for you, Docwordcounter offers different insights such as counting standard words and non-words.
For instance, it counts the number of real words from any uploaded document that you'd find in a dictionary. It can separately count the number of email addresses, bullets, numbers, codes, etc. But the unique feature is hands down the Ideogram option, which lets you analyze Chinese or Japanese words as well in one word per character and not per space.
However, there is one caveat — this site doesn't let you copy-paste the text. It requires you to upload all text in the form of files such as txt, word, excel, epub, etc. But on the brighter side, all uploaded files are permanently removed from its servers within 1 hour. Also, it's completely free to use and requires no sign-up or installation.
Unique features:
Actual words counter
Non-words counter
Ideograms
Meanwhile, you can also check out our article on the list of free word processing software for windows 10 that you can use in 2022.
Selecting The Best Word Count Tool
In this list, I have handpicked those word counter sites that have different features to offer so that all your text counter related requirements are fulfilled. Since all of the options mentioned above have unique features to offer, I would suggest that you pick the best word count tool for yourself based on what your requirement is. If you happen to know of other best free word counter websites that offer additional unique features, please drop a comment below!