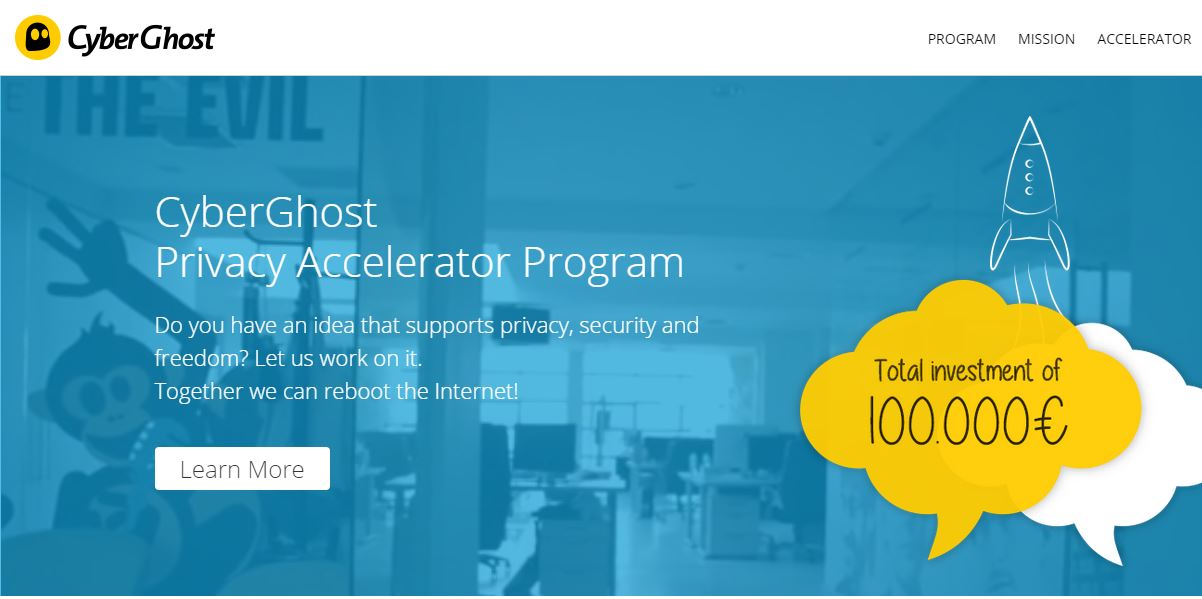 "How Government secretly read your e-mails with this insane law?"
"Snowden's Revelations: XKEYSCORE is NSA's search engine."
"Real-Time Cyber Attacks across the globe. "
"NSA's Privacy Breach: Coming through your front door this time."
These are just a few examples to remind you that you and your network are not as safe as you would wish to be.
C
yberGhost VPN has launched its CyberGhost Privacy Accelerator Program that aims to fund startups who wish to provide advanced encryption, privacy and freedom on the Internet. The CyberGhost Privacy Accelerator Program  offers the startups an investment, mentorship, support to develop ideas and products, provides guidance in the market strategies and supports the first customers acquisition.
Robert Knapp, CEO and co-founder of CyberGhost VPN stressed the point to provide privacy and security solutions to all of its users.
We believe in privacy as a basic human right. We believe in people. We build software infrastructures to protect the good guys against the bad guys. We are part of an industry that builds new user-oriented crypto-technology for the future.
CyberGhost was founded in 2011 in Bucharest, Romania, Germany with an aim to create the world's most reliable privacy and security networks. Currently, the company secures and anonymizes the online presence of over 5 million users across the globe.
CyberGhost Privacy Accelerator Program offers a total investment of €100,000 and for the chosen start-ups up to €25,000, based on the number of founders and the needs. In return, CyberGhost wants a stake in the company. CyberGhost is also offering accommodation and office space located in the vibrant center of Bucharest, with its existing and fully equipped infrastructure, for the teams outside European union and who are willing to relocate.
Robert Knapp also mentions the advantages of working with them in Europe:
A registered office in the European Union is a competitive advantage for privacy related businesses. First time in the history of internet businesses, European companies have an advantage towards US companies: They don't get a "National Security Letter" and are not forced to violate their users' privacy.
Aside from assuring the start-ups security and uptight privacy, CyberGhost's Privacy Accelerator Program also offers access to mentoring by internal experts in various fields from business development, sales, marketing, customer support, and administration.
The CyberGhost Privacy Accelerator Program has started on July 15 and interested teams can apply to be a part of CyberGhost network till September 1, 2015.
About CyberGhost VPN:
CyberGhost VPN establishes a 256 Bit AES encrypted connection to the CyberGhost-network. Here the online shown and clear recognizable IP address will be masked and replaced with an innocuous one. The Windows-Client is installed fast and is very intuitive. Also available is an iOS App and the support for the native protocols PPTP, L2TP/IPSec and OpenVPN; as well as a Mac and Android clients.
For more information about CyberGhost's products and CyberGhost Privacy Accelerator Program, visit https://www.cyberghostvpn.com
To stay updated on the latest security and tech news, subscribe to fossBytes.[newsletter_signup_form id=1]