While choosing a new mobile phone to buy, you must consider all different available options. Earlier I've written about the differences between Ubuntu Touch, Android OS, and Windows Phone. Today I'm going to add another contender in the list – the Firefox OS – and I'll discuss how is Firefox OS different from others.
M
ozilla calls Firefox OS an integral part of its mobile strategy. With Firefox OS, Mozilla aims to provide an open and independent
alternative to Android
, iOS and others. Firefox OS is different from all these operating system on the very basic level that I'll discuss ahead. While android OS has been around in the market since 2008, its development work goes as far back as 2003. On the other hand, Mozilla is relatively newer OS. It looks as if the Linux-based Firefox OS has come out of nowhere to challenge Android OS. Here, we'll tell you how is Firefox OS different from Android OS, iOS, Windows Phone, and Ubuntu Touch.
How is Firefox OS Different from others?
The Mozilla foundation has now formalized the development of Mozilla OS and will be releasing a new version every six months. This is somewhat faster than Android and Windows Phone that don't have a fix release schedule. In its blog, Mozilla foundation said that they are moving to a development model to drive a single open source Firefox OS core with major releases every six months.
Flash player is something that the latest Android OS doesn't support and you can't play some games and videos that need flash. It was announced that flash support was ended with the ICS, maybe due to obvious security concerns.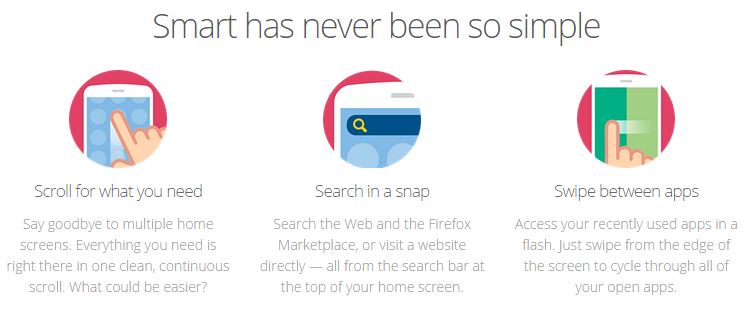 When we talk about Firefox OS, it doesn't need flash to play videos or games. Your Firefox OS device comes with HTML5 support, which means that you don't need any external plug-ins or add-ons. Firefox OS is browser focused as Mozilla is eyeing a browser-centric future and it makes sense as browsers may rise as the universal computer applications.

But this futuristic approach that encompasses HTML5, hasn't worked out so far. The Linux Magazine writes that this open and free approach doesn't work for giants like Google, Microsoft, or Apple. Firefox OS is Mozilla's effort to take on Android OS, Windows Phone, and Ubuntu Touch with its Firefox OS.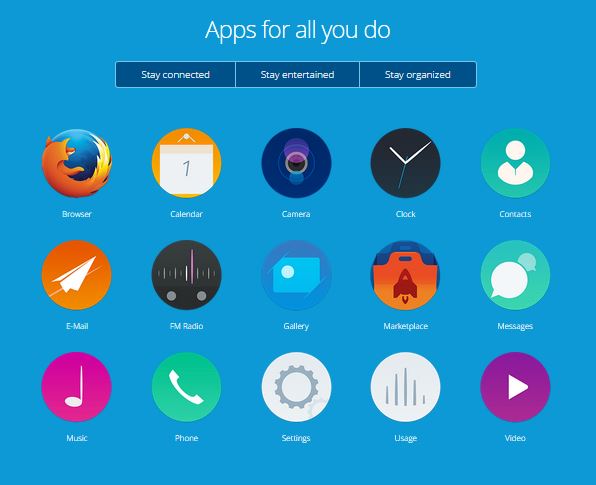 Focused on developing markets with cheap phones:
Since its launch in 2012, Firefox OS has struggled to find a place on real phones for making a mark on the cellphone arena. Unlike its competitors, Mozilla plans to target the developing countries. Recently, these Linux-based OS phones were launched in Africa.
Everything you see in Firefox OS is a website:
Anything you see on Firefox OS display is a website as the application prepares data in HTML form. This makes app development for Firefox OS an effortless process. Firefox OS comes with all the basic essentials of a smartphone. You get apps like Facebook, YouTube, and Twitter along with Nokia Here maps. But at many occasions, these apps fails to perform like a real app and get stuck with their mobile website limitations.
Using a Firefox OS phone doesn't need an email account. You can just pick your phone and start using it instantly without the need of opening some app store to install apps. You'll need to do this just for paying for paid apps. The home screen on Firefox OS is very much basic- empty with just a search bar and without any widgets. You can kill active apps by simple swiping.
All depends on OEMs and developers:
The future of Firefox OS depends heavily upon OEMs and the dedicated Firefox community. Mozilla will also need to look into the negative feedback on the OS that calls Firefox OS an underdeveloped OS with features same as the first Android OS in 2008.
Recently Mozilla announced the new Firefox OS 2.5 to be launched in November. It is being called as "the most customizable, secure, locally relevant and empowering Firefox OS experience yet" with more focus on personalization and privacy features.
Comment down your queries regarding "How is Firefox OS different from others." Subscribe to fossBytes newsletter for more updates.[newsletter_signup_form id=1]