Listen up all the Apple Watch fans! Today, Apple has announced a new watch — Apple Watch Series 5 at the iPhone 11 event.
Surprisingly, it has ample of new features that will force you to upgrade, even if you have an Apple Watch Series 4.
Always On Display for the first time
One of the most significant features introduced in the latest Apple Watch is the Always-On Retina Display. Hence, you won't have to make weird hand gestures to turn on the display in the new Apple Watch.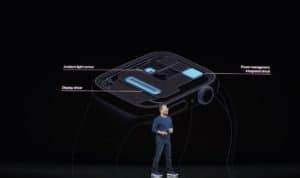 However, the feature has made me concerned about the battery, even if the new model uses a low-power display driver. Apple told in the iPhone 11 event that Series 5 would provide the same 18-hour battery. But users know that Apple Watches struggles with battery backup.
Same Design
Last year, Apple did a major design overhaul with Series 4, actually the first time ever, so it was expected that the Series 5 won't have many design changes.
But don't be disheartened. Apple Watch Series 5 will come in new ceramic and titanium watch models. While ceramic models were there in Series 2 and Series 3, the titanium Series 5 models are something we are looking at for the first time.
What else?
Apart from that, we are looking at a built-in compass along with a compass app. The feature will likely help the workout apps, particularly on accurately judging the location of users and thus, giving better results.
Watch Series 5 will include the app store, thus making it convenient for you to install Watch related apps.
Interestingly, Apple has skipped the much-anticipated sleep tracking feature. While the reason remains unknown, the news is certainly discouraging, considering even the $20 Xiaomi MI bands offers sleep tracking.
Coming to the price, Apple Watch Series 5 starts at $399 for the GPS model and $499 for the cellular models. You can pre-order from the Apple official site starting today. And Apple will flaunt the new model in official stores from September 20th.
The company has also lowered the prices of the previous generation Watch Series 3 to $199.