Gestures on Android are gradually becoming the new paradigm for all the latest smartphones. Although Google Pixel, OnePlus, and Xiaomi debuted their "Gesture Navigation" in 2018, it was Apple who initially came up with iPhone X navigation gestures in 2017, via removing the Touch ID button.
Now, Apple has induced the iPhone X gestures in all the post-iPhone X models. But truth be told, an iPhone XS costs somewhere around $1,000 and no one in the right mind would consider buying a phone merely just for testing new gestures out. So, I've prepared a list of the top Android gesture apps to mimic iPhone X gestures on your Android phone —
7 Best Android Gesture Apps for iPhone X Experience | 2019 Edition
1. Navigation Gestures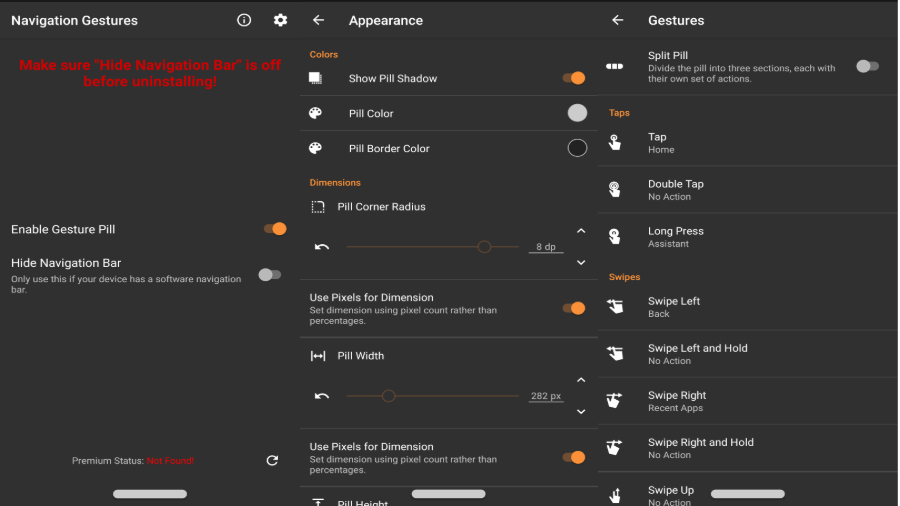 Navigation Gestures app stands top in Android gesture apps for many reasons. The app is built by an admin of XDA developers and enables us to hide the stock software navigation bar completely.
The gesture app essentially adds an iPhone X like pill-shaped button at the bottom of the screen. You can customize and play with it to add different gestures and even change the appearance of the navigation button.
The only drawback of the Android app is that you have to go through a tedious yet ridiculously easy process for hiding the stock navigation bar. (Note: No root is required)
Price – Free/Premium version $1.5
Why use Navigation Gestures?
Free on Play Store
All-in-one gestures for Android
Removes Android navigation bar
2. Edge Gestures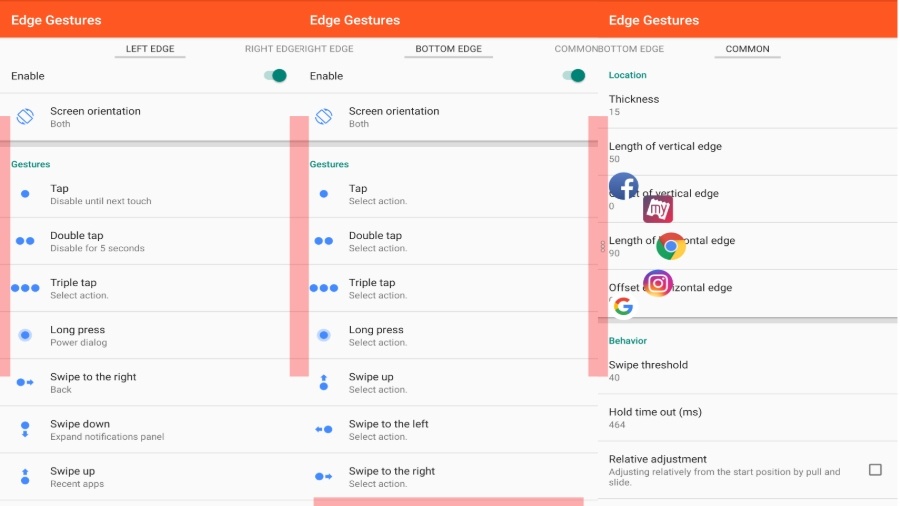 As the name suggests, Edge Gestures is primarily for adding gestures to the edges of the screen. The best feature about this Android gestures app is that you can go to the previous screen on your smartphone by swiping away from the designated edge, similar to what you see in iPhone X navigation.
The app also provides different functionalities for the various gesture options. For instance, you can set the swipe up the option to any edge area for going to the home screen.
When coupled with the XDA Navigation Gestures App, your phone can become a replica of the iPhone X navigation gesture system.
Price – $1.5
Why use Edge Gestures?
Three smartphone edges compatibility
Edge pie controls
Various Customizable Gestures
3. One+ Gestures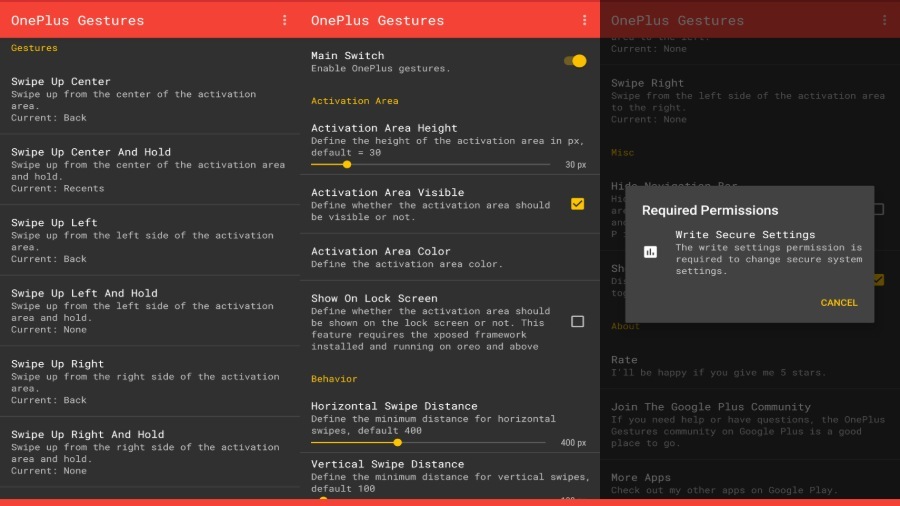 Let me get this right off the bat: this is not an official app from the OnePlus community. Instead, the app merely provides users with OnePlus gestures on other Android phones.
Similar to Oxygen OS in OnePlus phones, the app enables swipe gestures from the bottom of the screen. You can change the activation (gesture) area height, color and even hide it.
Apparently, the gesture app from Android also features an Experimental "Hide navigation bar." In order to use it, you either need a rooted Android device or permissions using ADB. All the information is available within the app itself.
Price – $1.5
Why use OnePlus Gestures?
OnePlus gesture experience
Hide Gesture zone completely
Haptic Feedback
4. Gesture Control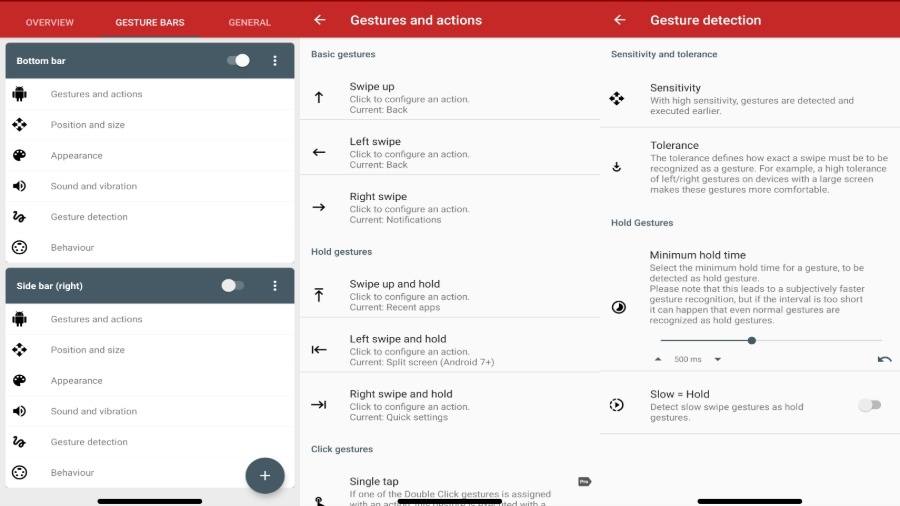 Gesture control is similar to other gesture apps out there. It adds a large pill-shaped button at the bottom which lets you use different swipe features.
To hide the navigation bar, you can either give permissions through ADB tools or provide root access. You can also change the sensitivity and tolerance of the button surrounding area so that gestures play out more efficient.
The only drawback with the app is that it doesn't support hiding home bar in other apps.
Price – Free/Premium version $1.5
Why use Gesture Control?
Lightweight app
Customizable home button, and gestures
Hide Android Navigation bar
5. Gesture Bar – 제스처 바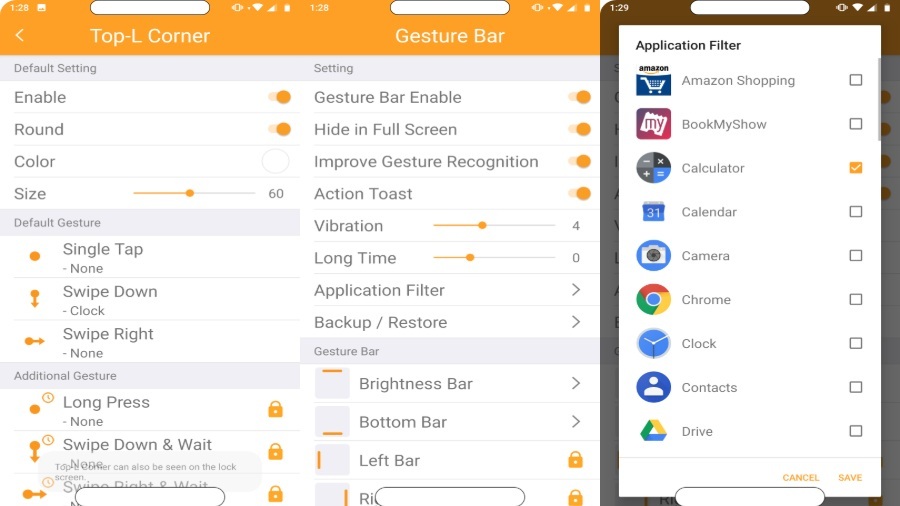 This Android gesture app is a little off beat from other apps. In addition to the iPhone X home bar, this app allows you to add a home bar with gesture functionality at every corner of the screen.
The app features an application filter to disable on-screen gesture button in specific apps. However, your newly created Android gestures will stop working.
The app interface doesn't feel user-friendly but that can be compensated with the extreme low app size.
Price – Free with in-app purchases up to $2.62
Why use Gesture Bar?
Small application size
Gesture support at edges
Application Filter
6. X Home Bar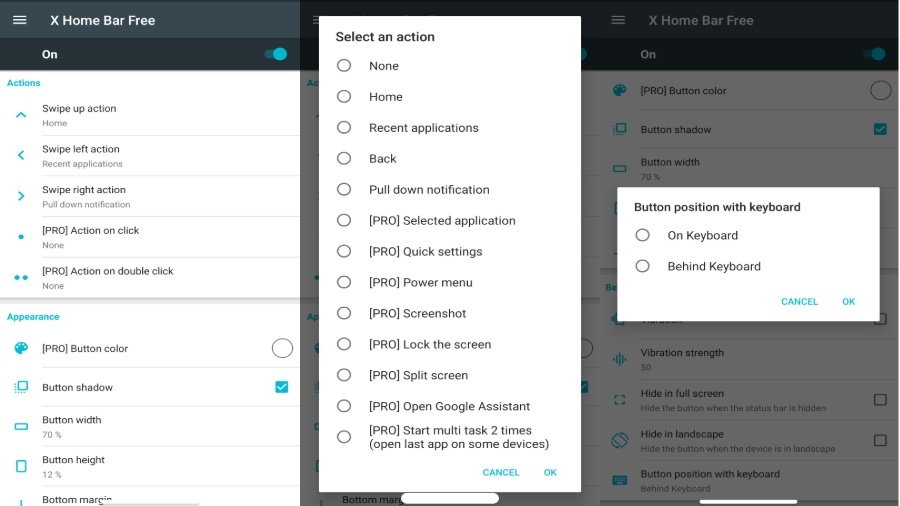 X Home Bar is another gesture app which adds an iPhone X lookalike home button at the bottom of your screen. The app interface is straightforward, and the gesture home button works exceptionally smooth.
While the app adds "free" in its title, a whole bunch of features is only available for pro users. Even the bar appearance can only be accessed in pro mode.
Price – Free/Premium version $1.5
Why use X Home Bar?
Easy-to-navigate interface
Seamless transitions
Change button position with the keyboard
7. Fluid Navigation Gestures
Unlike other gesture apps which brings an iPhone gstures like pill on the screen; Fluid Navigation is bit diffirent. Swiping from the edges of the screen brings small little watery buttons on the screen.
The two main gestures "quick swipe" and the "swipe and hold" can be customized for different actions. You can also personalize many settings of the gesture buttons like their color, sensitivity, theme and much more.
While they don't look like the iPhone gestures, they are very addictive once you get used to them. One small little problem with Fluid is that even if you remove the navigation bar using ADB tools or the root access, the navigation bar space will still remain there.
Why use Fluid?
Unique concept and addictive
Many customization settings
Option to Pause it for different settings
Price – Free with in-app purchases
How to hide Navigation bar to get iPhone X gestures on Android?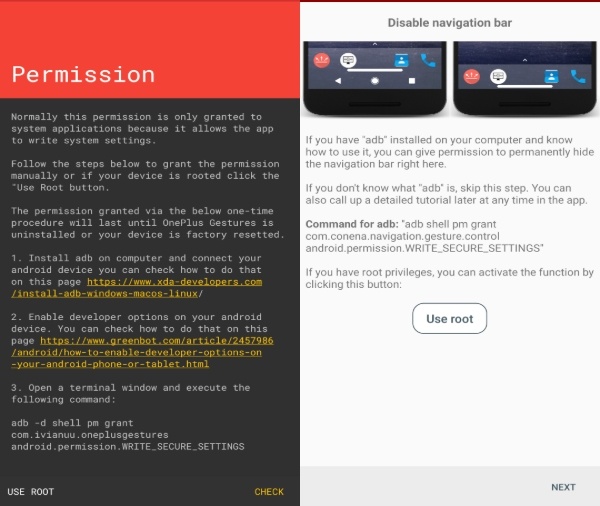 Many apps assure to remove navigation bar that comes ingrained in Android smartphones but I will be honest with you, there are only two ways to hide navigation bar
Using Command line through ADB tools
Rooting device (Not recommended)
XDA developers have put together a tutorial video explaining how to grant apps permission to disable navigation bar on Android smartphone (without root).
What else is in the store?
These were the best seven gestures apps for Android to replace your old navigation bar/capacitive buttons with navigation gestures. An important key point to note here that these apps do not require you to root your device.
But if you are considering rooting your phone anyway, you can simply use Navigation Bar Remover (root) which is available free on Google Play Store.
Android Pie, the latest Android update has already introduced Navigation gestures for Google Pixel and many Android devices. You can either wait for your smartphone manufacturer to release Andriod 9 Pie on your phone or you can install one of these apps to get Android gestures on your phone right away.
Drop your feedback in the comments section and keep reading Fossbytes.