Before announcing Android latest version — Android Pie, at the Google I/O event 2018, VP engineering (Android) Dave Burke said: "A.I underpins three themes in Android Pie: Intelligence, Simplicity and Digital Wellbeing."
Android 9 Pie is next Android firmware after Android Oreo 8.1. The latest version has drastically changed the User Interface (UI) as well as pushed in AI (Artificial Intelligence) features and much more.
However, if you're oblivious to Android Pie and want to know everything about the latest Android version, here I have compiled every bits and piece of information on Android 9.0.
Android 9 Pie News (continuously updated)
September 3rd – OnePlus 6 Gets Android Pie Beta Version
Following the announcement of Android Pie on every OnePlus device, the company has officially rolled out Android Pie based Oxygen OS beta 1 for OnePlus 6 devices.
If you don't remember, OnePlus 6 was one of the few Google beta program devices which got early hands on the Pie beta versions. So, it's no surprise that the device is the first one to get Android Pie.
September 1st  – Huawei Devices get Android 9 Pie Based EMUI 9 beta
At IFA 2018, Huawei announced Android Pie beta version (EMUI 9) for few of its devices. EMUI 9 comes with a lot of changes like revamped settings app with artistic illustrations. Also, controls and tabs are moved to the bottom of the screen for easy access (Huawei apps).
Compatible Huawei devices:
Huawei P20 Pro, Huawei P20, Huawei Mate 10, Huawei Mate 10 Pro, Honor Play, Honor View 10, Honor 10
August 16th – Sony premium devices will get Android Pie in November
Sony confirms to deliver Android Pie on its premium range devices such as Xperia XZ2, XZ2 Premium, XZ2 Compact, Xperia XZ Premium, XZ1 and XZ1 Compact.
Other than that, Xperia  XA2, XA2 Ultra, and XA2 Plus will receive the update in early 2019.
August 15th – Android Pie Go Edition Coming This Fall
Stock Android stripped down version – Android Go will update to Android Pie later this fall, according to Google blog post.
Android Go is a parallel project from Google which focuses on delivering a true Android experience for lower-end devices.
New features of Android Go (Pie edition) –
Faster boot times
Better security features like verified boot
Up to additional 500MB storage available
Dashboard for tracking data consumption
List of Android Go devices –
Alcatel 1X
Nokia 1
General Mobile GM 8 Go
LAVA Z50
ZTE Weather Go
Micromax BHARAT GO
Samsung J2 Core
August 8th – Vivo Will Roll Out in Q4 2018
Vivo confirms to bring Android Pie to its smartphones in Q4 2018. Although the company didn't release any official schedule or any list of supported devices, Vivo X21 and X20 UD are likely to receive Android Pie first. Since they have already sampled the new version under the Google beta program.
August 6th – Google Rolls Out Android Pie On Google Pixel Devices | Essential PH-1 Gets To Savor Android Pie
The Essential phone received an OTA update of Android Pie. Surprisingly, this is the first time a non-pixel device has received the latest Android update so quickly.
We're proud to bring Android 9 Pie to Essential Phone the same day it's released! Check your phone now for the update. 🥧 pic.twitter.com/pniUDl9yr8

— Essential (@essential) August 6, 2018
Google subtly rolls out Android Pie final version debunking previous leaks which hinted on a release date of August 20th.The Over-The-Air (OTA) updates are available for all the Google pixel devices. And Android One and beta program devices would receive the update by "end of this fall"
Before August 6th – Android Pie Timeline

If we look at the timeline of Android Pie announcements, Google announced the first beta version of Android Pie during its Google I/O conference, back in May. Thereafter, we saw many beta releases over the months.
Given that former Android Oreo (8.0) was released on August 21st, it's quite unusual to see Android Pie coming on August 6th. Nevertheless, we are genuinely excited to see it on our Pixel devices.
Android Pie Name: Why not Popsicle, Pistachio, Popcorn?
Android Pie cleared out all the doubts among the Android fans who gambled on Popsicle, Pistachio, Popcorn, and whatnots.
However, we argue that "it could have been better." Looking at the most boring Android name ever – Android Pie, it appears as if Android has lost a significant opportunity. I mean if you'd just look at the list of alternative dessert names that start with P, you will feel the same.
And as a matter of fact, few names even stayed till the end. For instance, Android Pistachio which originated from a leak from Huwaei Customer Support team. And the Android Popsicle rumor which came out from a Google wallpaper.
Not that we have anything against Pie (seriously I love eating it), but Google certainly could have named something more supercool like Pop-Tart. I wonder what Android Q would be named next year.
Android Pie Top features: What the fuss is all about?
Let's look at the most noteworthy Android Pie features that significantly changed how you use an Android device.
You can read the complete list of features in this comprehensive Android Pie features post. Also, don't forget to check out some hidden features of Android Pie.
1 – Indoor navigation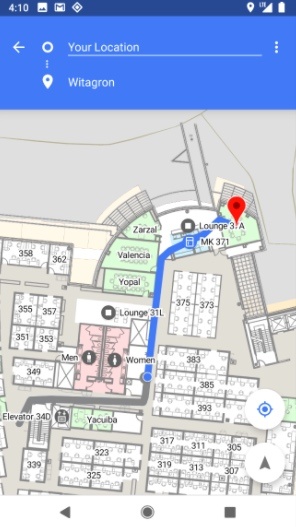 Android Pie brings indoor navigation to Google Maps which means now you'd be able to navigate indoors like malls, apartments, universities, etc.
This feature is only available to selected areas at present.
2 – Gesture Navigation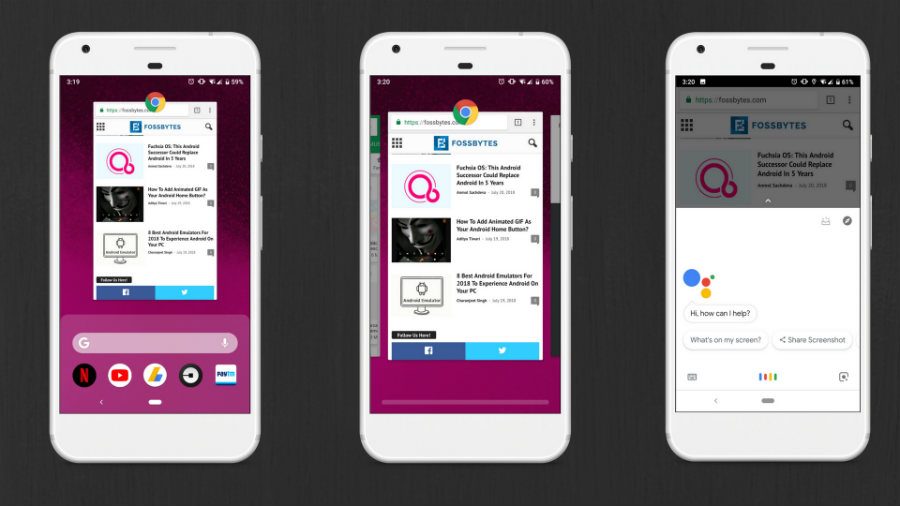 You have seen it on iPhone X, OnePlus, Xiaomi. Now it's arriving on all Android devices. Google has added a native for Gesture navigation support in Android Pie
Gone are the three button navigation system, now we have a single pill-shaped button and finger swipes to navigate on our Android device.
3 – Digital Wellbeing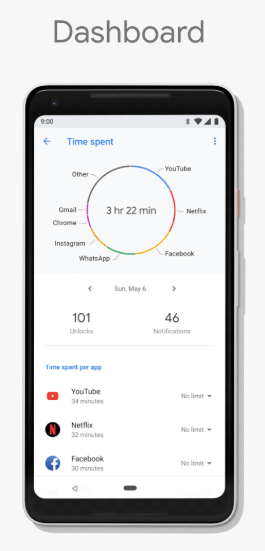 Digital Wellbeing settings are one of the remarkable features, targeted to improve the quality of our lives. Primarily, now you can track the amount of time you spend on your smartphone, even on specific apps like Facebook, Youtube, and others.
For instance, the dashboard setting showcases the number of times you've unlocked your phone in a day. And you can also set a time constraint on apps. It is excellent for people who are addicted to Facebook and other social media apps.
The feature is available in beta mode for Google Pixel devices running on Android Pie.
4 – Revamped Notification Shade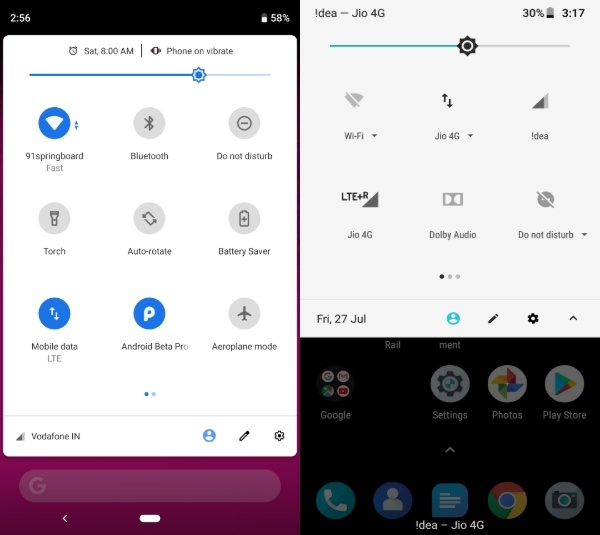 From tracking app notifications to blocking them right from the panel itself, new notification changes have made our life much more straightforward.
For instance, the Smart replies which automatically adds quick responses on the notification panel itself.
And the new Do not disturb (DND) function which blocks visual disturbances so you can finally focus on the task at hand.
5 – Adaptive Battery and Adaptive Brightness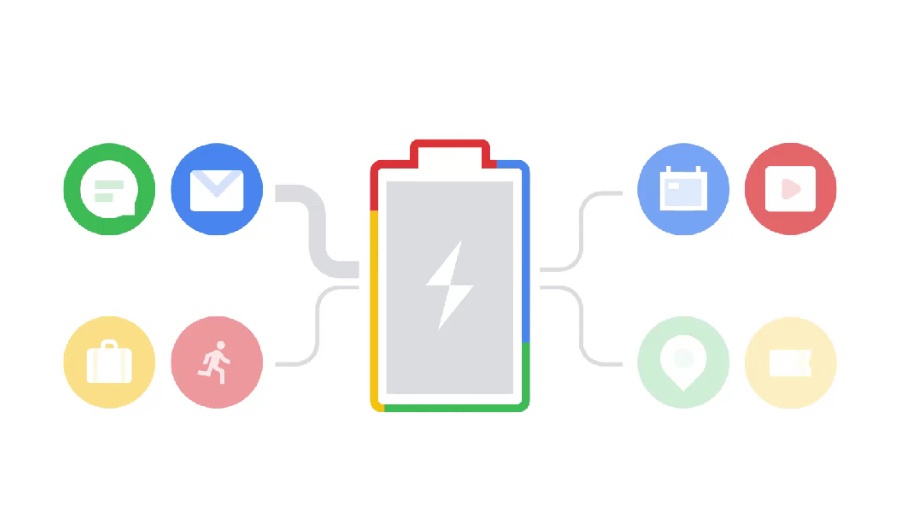 With Android Pie, Google has introduced two new AI features – Adaptive Battery and Adaptive brightness.
Adaptive Battery automatically restrains apps from taking extra memory when the app is not in use. On the other hand, Adaptive brightness combines ambient sensor and machine learning to determine the bets brightness settings for the present situation.
List of devices getting Android 9 Pie?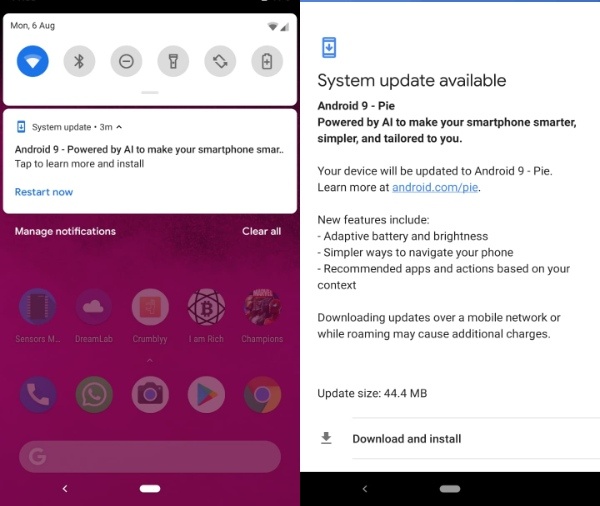 Presently, Android Pie stable version is out on Google Pixel devices and Essential PH-1. Other manufacturers have started rolling out the beta version and giving out tentative dates for the final version.
In the Android Pie blog post, Google confirmed that all the Google beta program device, as well as qualifying Android One devices, will receive Android Pie somewhere at the end of 2018.
Sony
Xiaomi
HMD Global
Oppo
Vivo
OnePlus
Head over to our list of Android device support list to know more.
Android Pie: How to get Android Pie right away?
Like any other Android Update, Android Pie will take ages to arrive on different smartphones. If you are not the waiting types, the good news is you can still download its beta version. (Applicable to only Google beat program devices)
1- Downloading Android Pie beta version from the OEM's website
Android Pie beta version has started rolling out from different smartphone manufacturers. Here is the list of devices which can download Android Pie beta version right away –
Huawei P20 Pro
Huawei P20
Huawei Mate 10
Huawei Mate 10 Pro
Honor Play
Honor View 10
Honor 10
2- Unlocking Bootloader
Another way to install Android Pie on your device is to flash via bootloader which requires you to unlock the bootloader first. Now, this is something you don't want to get in unless you have a slight idea on how Android SDK and ADB tools work
Guys at Android central have put up an excellent article on how you can safely flash Android Pie on your device.
Since Android Pie is already out, it's only a matter of time before Android 9.0 is uploaded on Android Open Source Project (AOSP). Subsequently, you will be able to install Android 9 Pie based Custom ROMs on your present Android devices.
Thanks to Project Treble, Andoird Pie ports are available for many Andoird Oreo devices.