So you have had an Android device since forever and lately you have been starting to hate the UI. Now what? Well, say hello to the world of custom ROMs. Be it due to the severely delayed updates from OEMs or lack thereof, the most popular form of a workaround for Android users has always been Custom ROMs. In addition to having the accessibility to timely updates and version bumps, tons of customization makes custom ROMs much loved.
We can't possibly stress enough about the tweakable nature of the ever-improving Android platform. Nevertheless, custom Roms can provide a whole new dimension to the customizable prowess of Google's open sourced mobile platform. Do note that some of you may already be familiar with unlocking bootloaders, flashing custom recoveries and flashing custom Roms. If you are among such sets, some (or almost all) of the ones listed would be quite recognizable.
Finally, before we start, let's make it clear that your preference may be different. The ranking is based on overall popularity and personal experiences. Furthermore, this is a matter of subjective preferences with various factors taken into consideration like Battery Life, Stability, Features and Customizability. Enough said. Now let's jump in.
Best Custom Roms For Android
1. AospExtended (AEX ROM)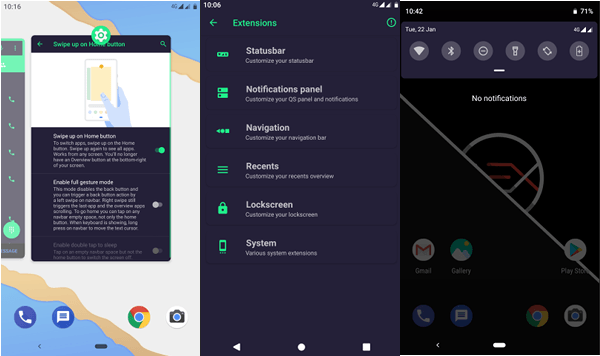 Nowadays, when flashing a custom ROM in an Android smartphone, AEX seemingly tends to be my primary choice all the time. With several devices that I have used over the years, flashing AospExtended Custom ROM has never brought any regrets. As the name suggests, AEX derives from AOSP with a whole lot of extensions added on top.
With over 1.3 million downloads (both official and unofficial) since late 2017, this top Android Custom ROM has always been a fan favorite. Most noteworthy, AEX ROM has most things one might want like Navbar tweaks, Gestures, App Ops, etc. Seems like, not too much nor too little. Consequently, stability seldom becomes an issue. Add to that a butter-smooth UI, cool themes, fonts, and a hardworking development team, AEX ROM easily tops my list. Perhaps yours as well.
2. Resurrection Remix (RR ROM)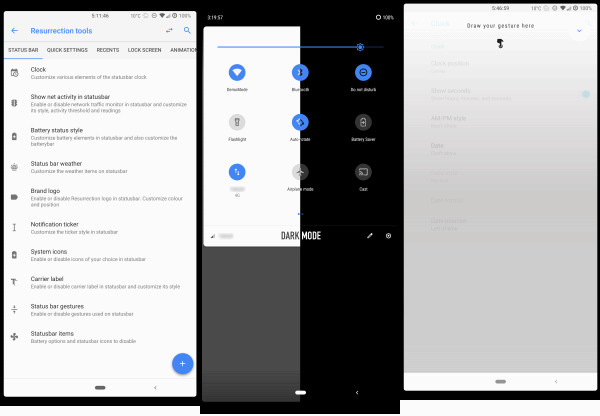 Well, say hello to one of the top tier customization Kings of the Android Custom ROM World. Resurrection Remix has been around for almost the same time as any of the ROMs we'd mention ahead. Starting its development in the early days of Android 4.0, RR has never failed to impress me with its feature-packed settings menu to tailor the Android smartphone to your heart's content. That certainly deserves some credit. Even more so when all the development teams are always trying their best to stay a step ahead. As I mentioned earlier, Havoc OS has now walked straight into this domain and is looking all the more promising.
RR Rom borrows and cherry-picks the features from AOSP, LineageOS, SlimRoms, and Paranoid Android. Furthermore, the Resurrection Remix project development team adds even more of the fun stuff along the way. Also, all that jam-packed stuff can threaten stability. But throughout my usage, I beg to differ. Hence I find its place at the top of my list.
Resurrection Remix ROM Download
3. Lineage OS (LOS ROM)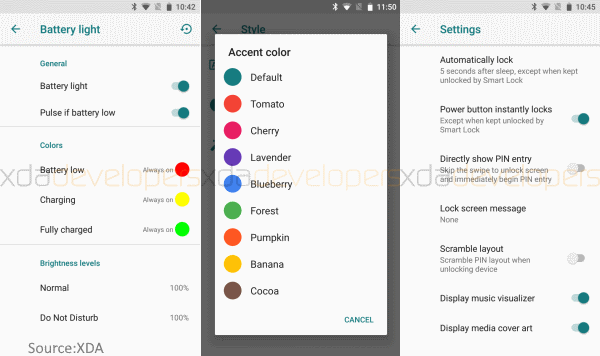 Lineage OS is the new age successor of the Cynagenmod ROM. Following Cynogenmod being discontinued in 2016, LineageOS took center stage and has not looked back since. Probably almost all the best ROM lists you guys have seen would have LOS in the top position and for good reason too. This most popular custom ROM for Android can cement its reputation purely on the sheer number of users and downloads that it has gotten over the years. Above all, Lineage OS would most probably serve as the source development for all the other ROMs. Stability is a stronghold with the UI presenting itself as akin to Google's very own Stock Android.
Additionally, customization options extend a bit more than Stock Android offerings but still fall short of any significant mention when compared to the other Custom ROMs in this list. You might have gotten a clue as to why it's not at the usual top position as in almost all other Custom ROM Rankings. To be clear, personalization isn't everything when it comes to Android ROMs. Nevertheless, it does play a notable role when it comes to the Android Custom ROM world.
4. Paranoid Android (PA ROM)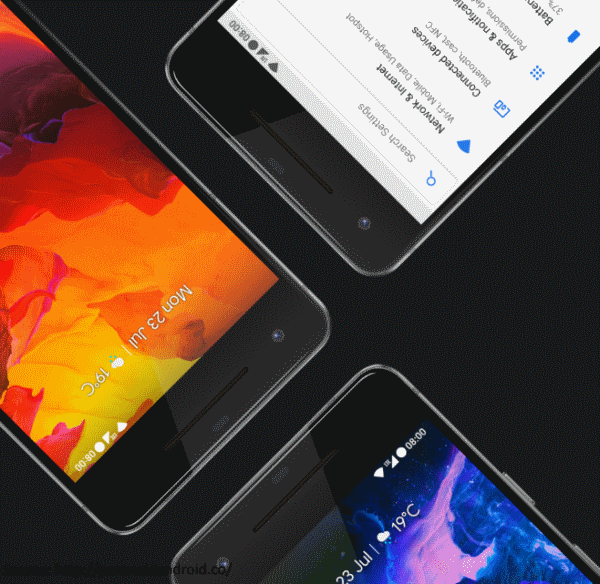 Paranoid Android is one of everyone's personal favorites when it comes to Custom Firmware. Being one of the oldest ROMs available, AOSPA has come a long way. While being one of the few ROMs based on CAF, PA packs a punch when in terms of stability, security, and performance. Additionally, Ambient Display first made an appearance as part of PA Custom ROM with a feature name called Peek and was later ported into an apk. Certainly, the fact that even tech giants have looked to this project for innovations speaks for itself.
5. Omni ROM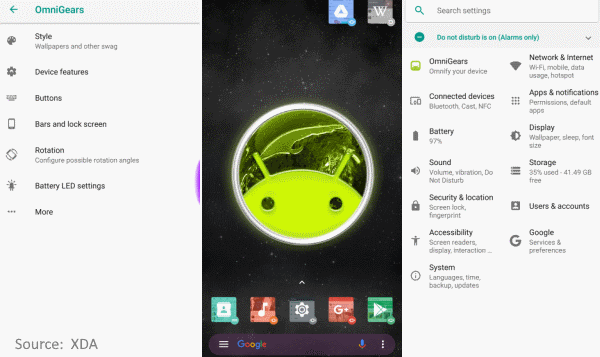 To start off, there's nothing much to say about the Omni Custom ROM except that it's a great choice and that you simply can't go wrong with it. If we are speaking on the front of legacy and experience, Omni ROM stands second to none.
This great custom ROM derives its development with several developers from the former CyanogenMod team speculating the tag of being the "rational" successor to arguably one of the most successful and famous custom ROMs ever made. Also, if that's not enough praises, OmniSwitch (app-switcher), OmniJaws (Weather) and open delta (Update Utility) are all features that all the other ROMs never miss to use. In case you haven't figured out, these are all innovations from the Omni project team. Moreover, throughout my time with this best Custom ROM, Omni has never failed to impress.
6. Havoc OS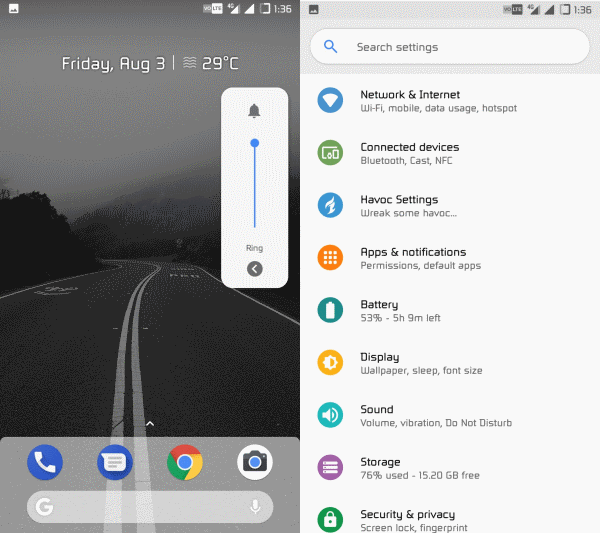 Havoc OS was unheard of until its initial release with Android Oreo. What made the Havoc OS Custom ROM stand out from the rest of the pack is its features rich and butter smooth experience. In fact, Havoc is the only ROM besides Ressurection Remix that exists for the sole purpose of pushing the bar of customizability to a whole new level. Even more so, all of this comes at no compromises in stability or a smooth experience overall with the ROM.
In the initial periods, the Havoc team concentrated on bringing the best of all worlds as much as possible all the while making a pleasant experience for the user. Now, things are very much different as the Havoc OS project is bringing in new features that are catching the eye of all the other developers in the Custom ROM realm. I personally tend to switch to HavocOS every now and then and that is saying a lot regarding my preference.
7. Bootleggers ROM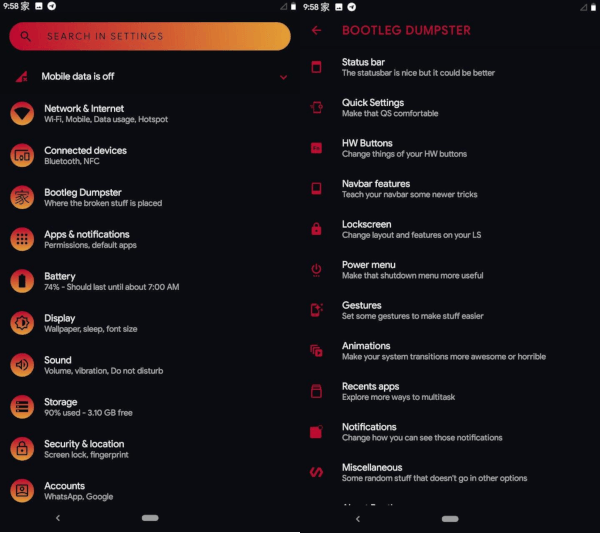 Now here comes a newcomer that packs quite the punch. Probably, new is not the accurate word. This best custom ROM is more like Android 8 Oreo which started as a simple project for the Moto E 2015 (LTE) Version. The quick growth of this development team is based purely on user interest, feedback, reports and commits, which speak volumes about its quality. Almost all other Custom ROMs can boast of this support and popularity from users and maintainers alike, helping to report problems and bugs. But the smooth performance and stability provided by this AOSP-based Custom ROM demands a special mention.
Also, my personal favorite features include the built-in fonts and themes, presenting a whole new aura for your device. Finally, borrowing features from other projects, like LineageOS, Dirty Unicorns, PixelExperience, OmniROM, and many more patches, Bootleggers ROM will surely make you feel like 家 ( Means "HOME", Thank me later).
8. Dirty Unicorn (DU ROM)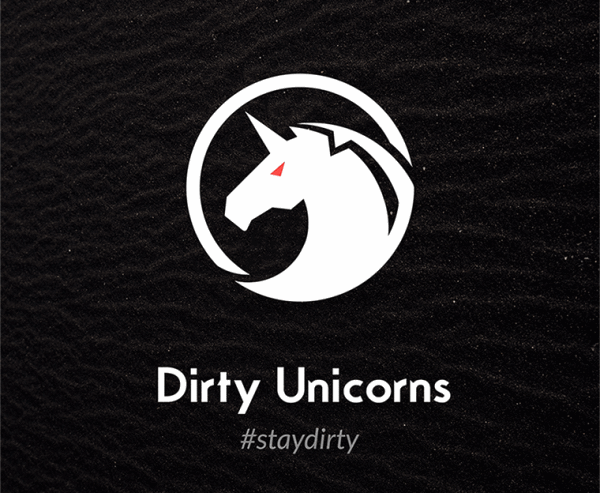 Seems like most of the ROMs listed so far are the new wrinkles in the Custom ROM development world. DU is one of the oldest ROMs in the pack and has had a huge fan following since its inception way back in the Android Jelly Bean days. Interestingly, this great custom ROM started out with the base as AOKP (Android Open Kang Project) and with no particular name.
Since then, the project has grown tremendously owing to a great community and project development team. Consequently, the Dirty Unicorn ROM thrives with a feature-rich and super smooth interface as its prop feature. The majority of newer ROMs usually tend to borrow certain features and tweaks from the already well established and stable ones. Hence, Dirty Unicorn is on the list of credits in the ROM development world more often than not.
9. ArrowOS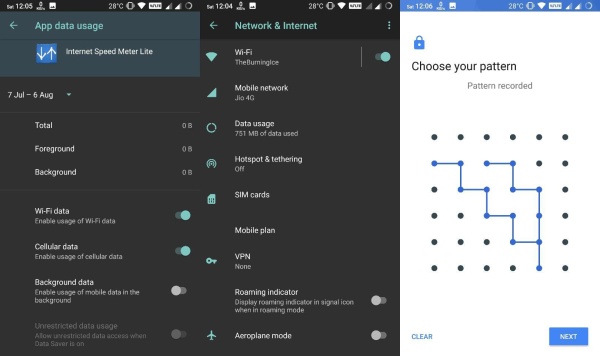 Now here is the Custom ROM which never misses its target. In contrast to all the Custom ROMs mentioned in the list, Arrow OS provides the least available customization. As a result, this AOSP-based ROM is heavily oriented towards stability and battery life while offering a butter smooth experience as a whole. Still, less doesn't necessarily mean none because the ROM developers have picked just the right stuff for the minimalistic users to personalize the device.
Furthermore, the arrow experience Magisk Module allows you to enable further customizability options. Overall, we highly recommend that you try out this ROM — especially if you are someone who is only interested in getting timely security updates and is less likely to spend much time tweaking your device.
10. Pixel Experience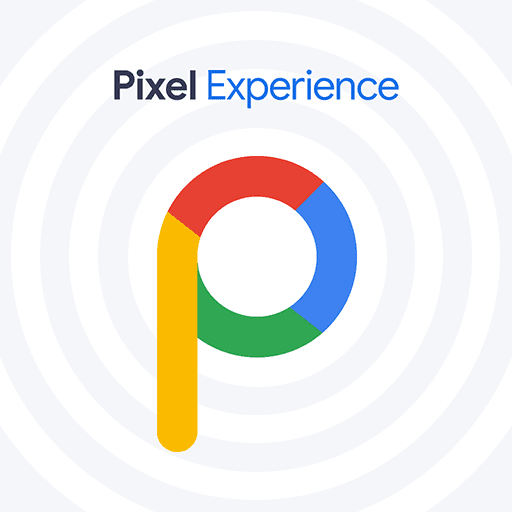 First of all, do note that the major purpose of a custom ROM is to provide an altogether fresh experience in using your device. Here is one ROM that makes the list with an absolute flagship experience. That is, with the look and feels of Google's own Pixel device. Unlike the other ROMs in the list and precisely as the name suggests, the main purpose of the inception of this fantastic ROM is to provide a stable and secure Pixel-like experience rather than focusing on the area of customizability.
Although the Pixel Experience ROM holds some of the basic tweaks that you would expect, tailoring every aspect of your device is not its goal. Another unique feature of the ROM is that it is the first CAF based ROM in the list.
11. POSP (Potato Open Sauce Project)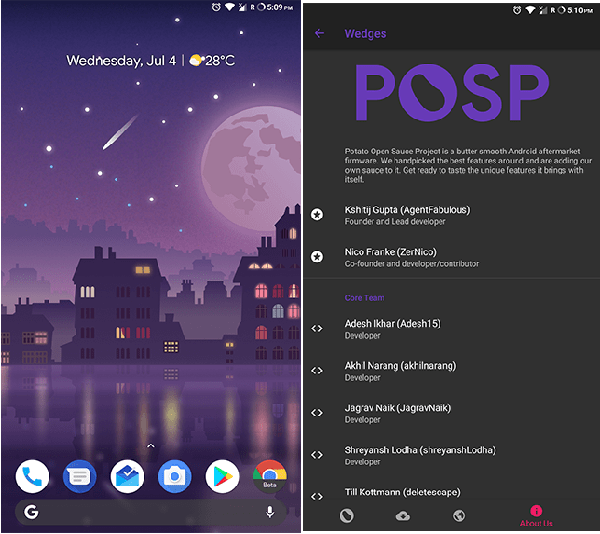 Yup. You read that right. Certainly, Custom Rom Developers can't go wrong with crunchy names, right?. Well, that holds true, at least in the case of POSP as many of the users might agree. Serving up a delicious-looking website with a cheerful undertone, this brilliant Custom Rom serves its purpose quite well.
This Popular Custom ROM provides ample choices for tweaking your device in the manner of your choice. Furthermore, the POSP Custom ROM now supports a wide variety of devices to even the latest POSP v2, which is based on the Android 9 Pie release. Finally, like it or hate it, these potatoes rock!
12. ViperOS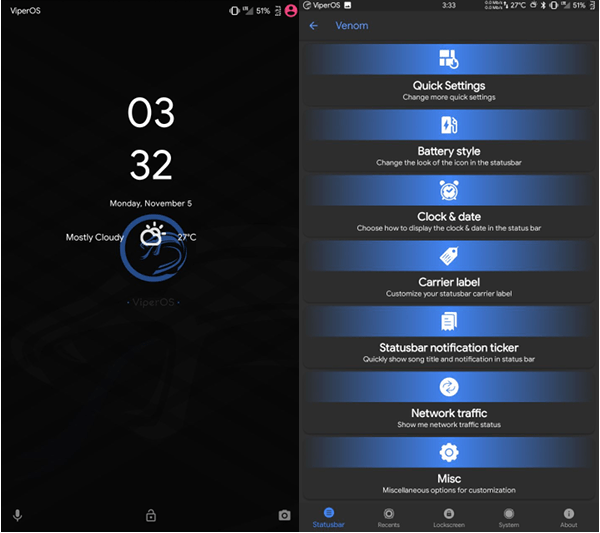 First of all, ViperOS was my favorite go-to Custom ROM for my devices in the Nougat days. The ROM Offered Ample Performance with a neat set of customization options. Battery life was awesome and the minor bugs got squashed fairly often. ViperOS had everything going for it, making its popularity grow faster at the time. But ViperOS dropped support and ended its development after Android 7.0 Nougat. An Oreo version never came, leaving the users disappointed. This is probably the only major con for this great Custom ROM as it is looking set for a comeback with its Android 9 Pie version of development.
Best Android Custom ROM
So here goes our list. As we emphasized before, choosing the best custom ROM like most of the other things is pretty subjective. Hence what didn't work for me might turn out to be impressive for you. It shouldn't worry you though as there is a whole bunch to choose from to satisfy your personal preferences. Finally, it is highly recommended to browse through the XDA Forums to keep an eye on what works and the user feedback. Certainly, the maintainers and developers of the ROMs for your specific devices play quite a major role. Have fun flashing. Cheers!