AMD has launched its third-gen Ryzen 2 based CPUs along with a $499 Ryzen R9 3900x flagship with 12-core/24-threads. Furthermore, the third generation Ryzen 5 and 7 were also announced with 6-core/12-threads and 8-core/16-threads. What's even more ludicrous is the amount of cache size in the Ryzen 9 CPUs; with a cumulative cache of 70MB, the Ryzen 9 3900x finally broke Moore's law and delivered a death punch to the Intel.
AMD 3000 Lineup Reveals Ryzen R9 3900x CPU
Welcome the most advanced desktop processor for unparalleled performance in gaming, productivity, and content creation: 3rd Gen AMD Ryzen. Learn more from #COMPUTEX2019: https://t.co/xwexmdDMin pic.twitter.com/icdHApAgwH

— AMD (@AMD) May 27, 2019
The Ryzen 3000 series CPUs are based on a 7nm node. From what is visible with the CPU design Dr. Lisa Su showcased. Two 7nm Client Compute Die, each housing 8 cores, are tied together using AMD Infinity fabric on a big 14nm die.
The bigger 14nm die contains the I/O which houses Infinity fabric links, I/O connections, and memory controllers. The performance of the AMD 3000 is largely due to an increase in core count and the 7nm manufacturing process perfected by the Taiwan Semiconductor Manufacturing Company or TSMC.
The flagship AMD Ryzen R9 3900x along with the other 3rd Gen Ryzen processors is based on the bleeding edge technology that delivers several times higher performance than the previous generation at much lower power consumption.
Here is the spec sheet for every Ryzen 3000 CPU launched:
AMD Ryzen 3000 CPU Model 
Cores/

Threads

TDP (Watts)
Boost Clock /Base Clock
Total Cache

Memory

Price

(USD)

Release Date
Ryzen 9 3900x
12/24
105W
4.6GHz/3.8GHz
70MB
$499
July 7, 2019
Ryzen 7 3800x
8/16
105W
 4.5GHz/3.9GHz
36MB
$399
""
Ryzen 7 3700x
8/16
65W
4.4GHz/3.6GHz
36MB
$329
""
Ryzen 5 3600x 
6/12
95W
4.4GHz/3.8GHz
35MB
$249
""
Ryzen 5 3600
6/12
65W
4.2GHz/3.6GHz
35MB
$199
""
As we can see the Ryzen 7 3700x with 8core/16threads and a boost clock of 4.4GHz will offer a great deal for mid-range PC enthusiasts at just $329.
AMD has claimed a 32% performance improvement in the Ryzen 7 3800x over the 1st generation Ryzen 7 processors in single-core performance and more than 40% improvement in multicore performance.
The former was the area where AMD CPUs always lacked, however with the new Ryzen 3000 series, that gap has finally been filled. What's even better about the Ryzen 3rd gen CPUs is the TDP, the Ryzen R9 only consumes 105W.
Furthermore, the performance to efficiency ratio between 3800x and 3900x is very interesting. With a TDP of 105W, the $399 Ryzen 7 3800x delivers a 3.9GHz base clock, while the 3700x priced at $249 delivers only a slightly slower 3.6GHz base frequency.
The Ryzen 5 3600x and 3600 will compete directly with the Intel Core-i3 and Core-i5 line of CPUs. With only a price difference of $50 between each other, the entry level Ryzen R5 CPUs will easily dominate the likes of Intel 8th Gen Core-i3 8100 and Core i5 8600K coffee lake — both priced under $315.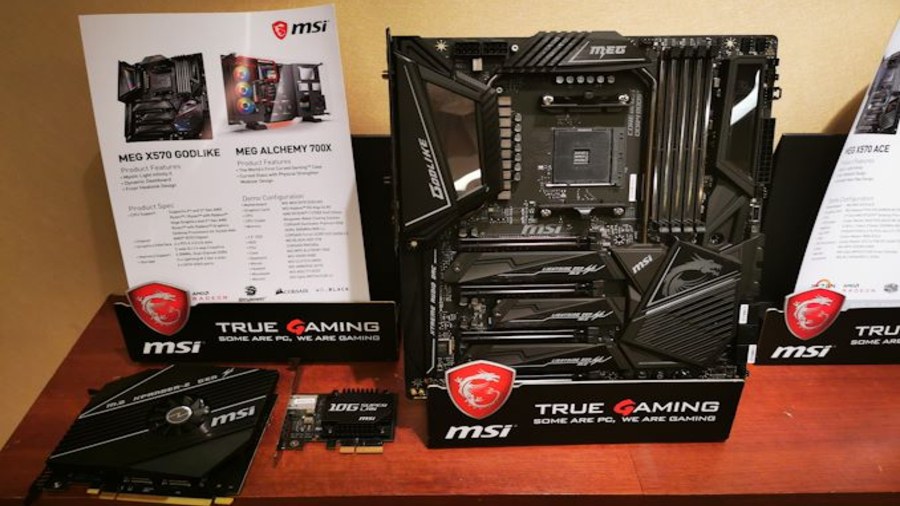 Along with the CPUs, AMD also announced the PCIe 4.0 M.2 support and the brand new X570 chipset. The PCIe 4.0 will deliver SSD speeds up to 8GB/s. AMD also teased a new SSD in with speeds up to 5GB/s.
AMD has unveiled new CPUs by keeping older customers in mind. The new 3rd Gen Ryzen CPUs will be compatible with older AM4 sockets on x470 motherboards. OEMs have already pushed for an update on the new Ryzen CPUs. You can simply swap your old AM4 CPU and replace it with a Ryzen R9 without any problem.
However, if you want faster PCIe 4.0 support then you'll need an x570 motherboard. However, with increased performance comes the demand for increased power. Thus the new x570 motherboards are touted to draw around 12-15W of power.
AMD Ryzen 7 Series Vs Intel Core-i7 Series
| | | | | | | | |
| --- | --- | --- | --- | --- | --- | --- | --- |
| CPU Model | Core | Threads | Base Clock | Boost Clock | Total Cache | PCIe 4.0 Lanes | Price |
| Core i9 9900K | 8 | 16 | 3.6GHz | 5.0GHz | 18.5 | 16 | $499 |
| Ryzen 7 3800x | 8 | 16 | 3.9GHz | 4.5GHz | 36 | 20 | $399 |
| | | | | | | | |
| Core i7 9700 | 8 | 8 | 3.6GHz | 4.9GHz | 14.5 | 16 | $480 |
| Ryzen 7 3700x | 8 | 16 | 3.6GHz | 4.4GHz | 36 | 20 | $329 |
Easily noticeable is the difference between the cost per thread of the Ryzen 7 and the Intel Core-i9 and i7 series.
AMD has also claimed a slight performance increase of Ryzen 7 3800x over Core i9-9900K in Cinebench scores.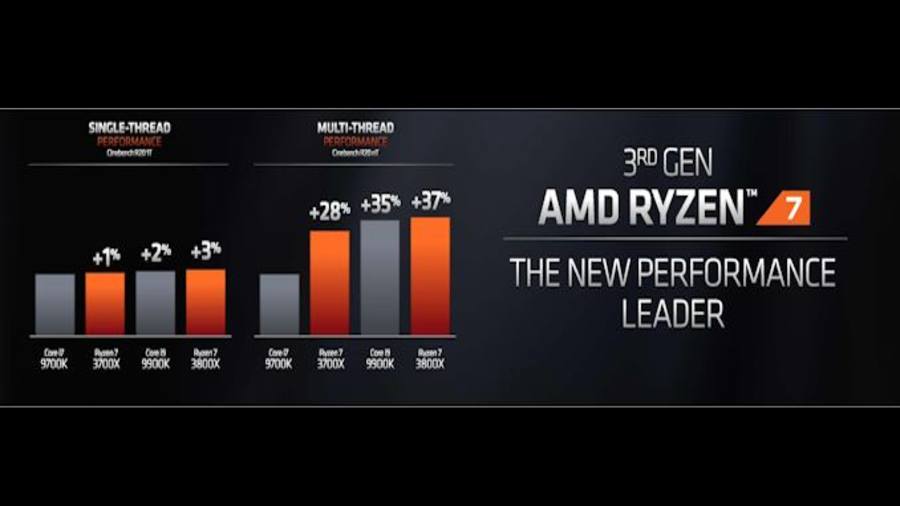 Final Thoughts On Ryzen 3000 CPUs
AMD has massively shifted the desktop CPU market in their favor. The launch of the Ryzen 3000 series was expected to blow everyone's mind and it rightly did so. The earlier speculation of a 16-core CPU didn't come true, however, there are still a number of events left.
The 7nm 3rd Gen Ryzen CPUs will launch on 7th July 2019. So hold onto your wallets because the days of AMD being the underdog are over and all of us are in for a treat.