Power and portability have always had an inverse relationship with each other. Powerful objects are difficult to move around and vice versa. Those who balance this equation carefully often end up making the best products. The M1-powered Macbook is a great example, and so are some Windows ultrabooks like the Lenovo Yoga 9i Slim. But when the requirement is hardcore gaming, making this equation work gets even more difficult.
Everything about a gaming laptop screams "a high power draw." Be it the big fans, the high refresh rate display, the power-hungry duo of CPU and GPU, or several other onboard components. A powerful gaming laptop will lose its portability and, in turn, efficiency. But in 2023, OEMs and CPU manufacturers have clever tricks up their sleeves that can deliver efficiency, performance, and portability in a single package.
Today, we're taking a look at the Alienware X15 R2. The brand itself has had a bit of a comeback in the last few years. In particular, Dell's G series gaming laptops are proving to be the mass-market product the OEM was looking for. Alienware, too is back in form, showcasing products like laptops with mechanical switches, all-AMD gaming laptops, and more. With the Alienware X15 R2, the brand is targeting eSports experts, professional creators, and serious gamers who are always on the move. How well does the laptop suit them? Let's find out.
Alienware X15 R2 Specs
Processor: Intel 12900H featuring 14-cores and 20-threads and a 5 GHz max boost clock
GPU: Nvidia RTX 3080 Ti with 16GB GDDR6 VRAM
RAM: 32GB LPDDR5 RAM, 5200 MHz running in dual-channel mode
Display: 15.6-inch FHD, 360Hz display with Nvidia Advanced Optimus and G-SYNC
Storage: 1TB M.2 PCIe NVMe SSD
Battery: 87Wh
Weight: 2.36kg
Alienware X15 design & build quality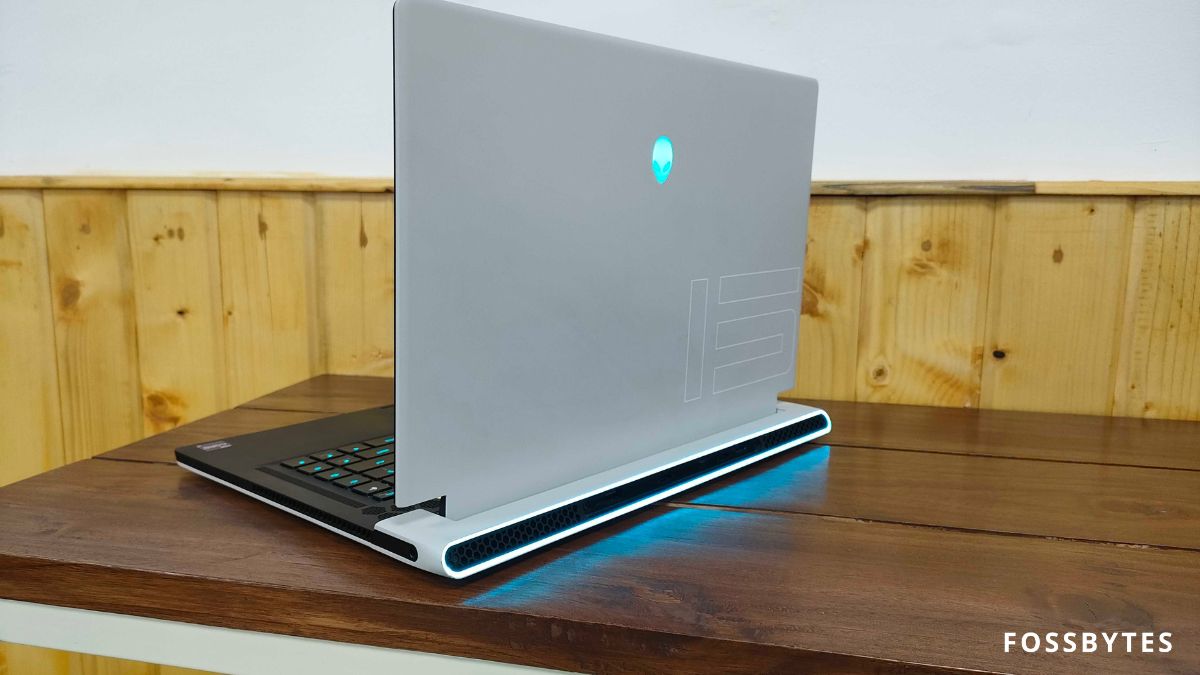 The laptop looks thin for a 15.6-inch gaming device. One look at the spec sheet, and you can begin to notice how Dell managed to do so. The biggest change here is soldered RAM instead of SDRAM. The Alienware X15 R2 comes with 32GB LPDDR5 RAM.
The laptop indeed looks thin but isn't "light" in any way. The top-spec model, which I reviewed, weighs close to 2.36kg thanks to a set of four fans and heat pipes made from a Gallium-silicon thermal interface. For reference, Gallium, as an element, has high thermal conductivity. We will see how that translates into real-world cooling performance later.
At present, let me tell you how solid the laptop feels. The hinge is tight enough, but you can still lift the lid with a single hand. Once opened, you'll see a rock-solid deck that has no flex at all, along with the rest of the stuff, like the keyboard and the trackpad. Speaking of those things, the trackpad is small, very small, to be frank. I honestly would have made peace with one less row of function keys in favor of a bigger trackpad. The keyboard, on the other hand, is absolutely great. It has dedicated buttons for volume up, down, and mute. I can also mute the mic with a single key press, and it helps a talkative person like myself a lot during online meetings.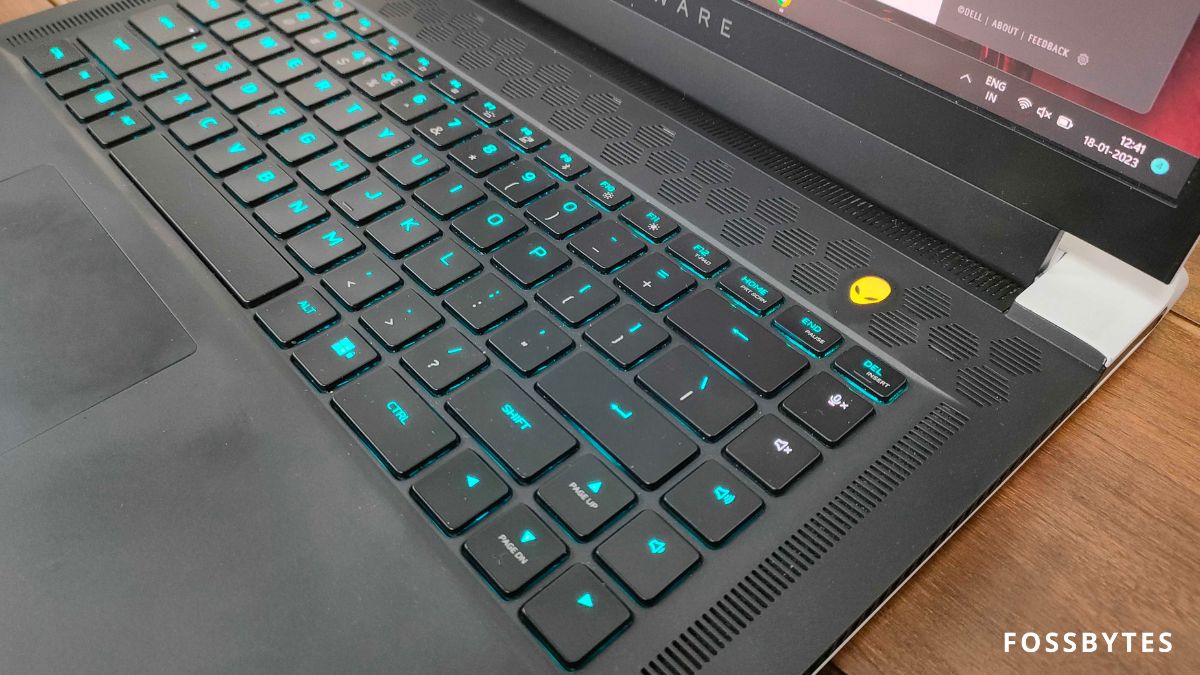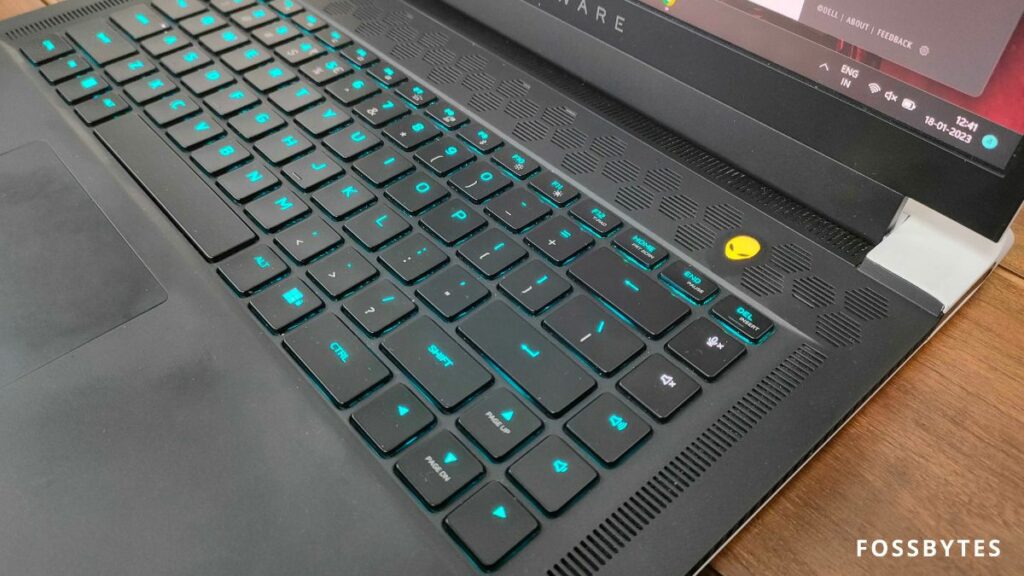 The Alienware X15 R2 is designed to look sleek, and it succeeds in doing so. There's a sense of disbelief when you pick up the laptop and realize how heavy it is. The white and black theme on it is eye-catching, and the RGB light that illuminates the Alienware logo on the laptop's lid looks good too. To maintain its slim profile, all the I/O ports in the laptop are placed at the back.
The ports are healthy in terms of variety but not in terms of quantity. You only get a single USB Type-A port. So whenever you want to attach an external mouse, which you will have to because of the trackpad, you can't attach any other accessory to it like a USB stick. You'll find plenty of USB Type-C ports on the back, which is a good flipside.
Alienware X15 R2 screen and speakers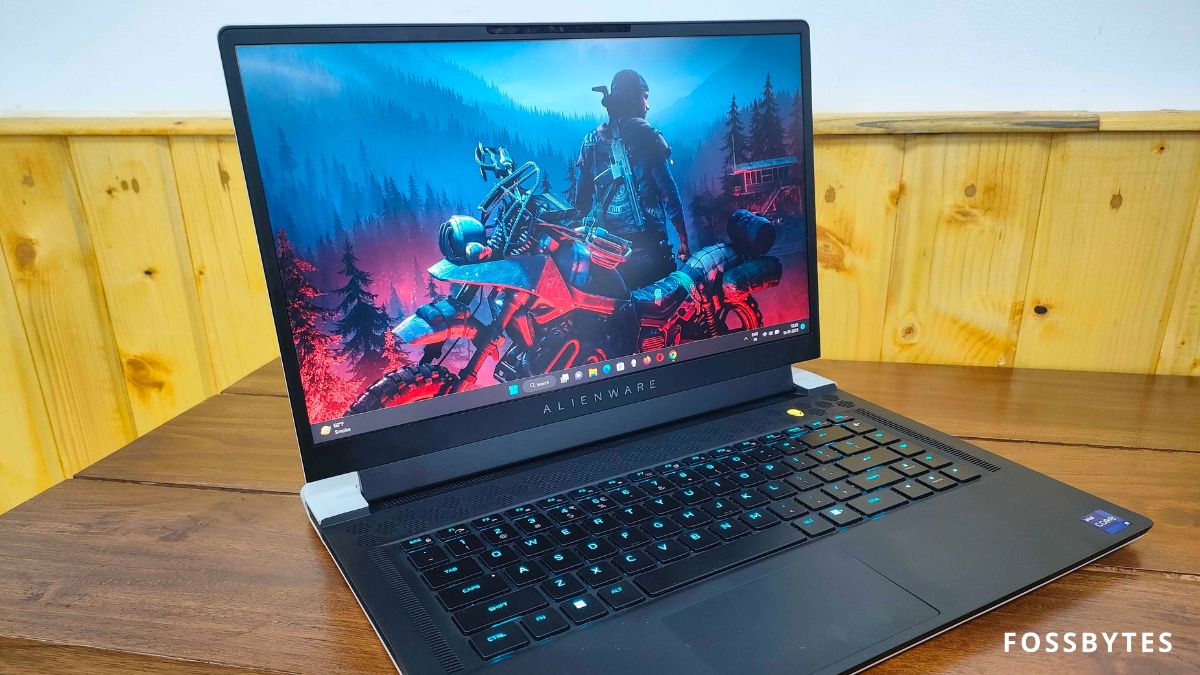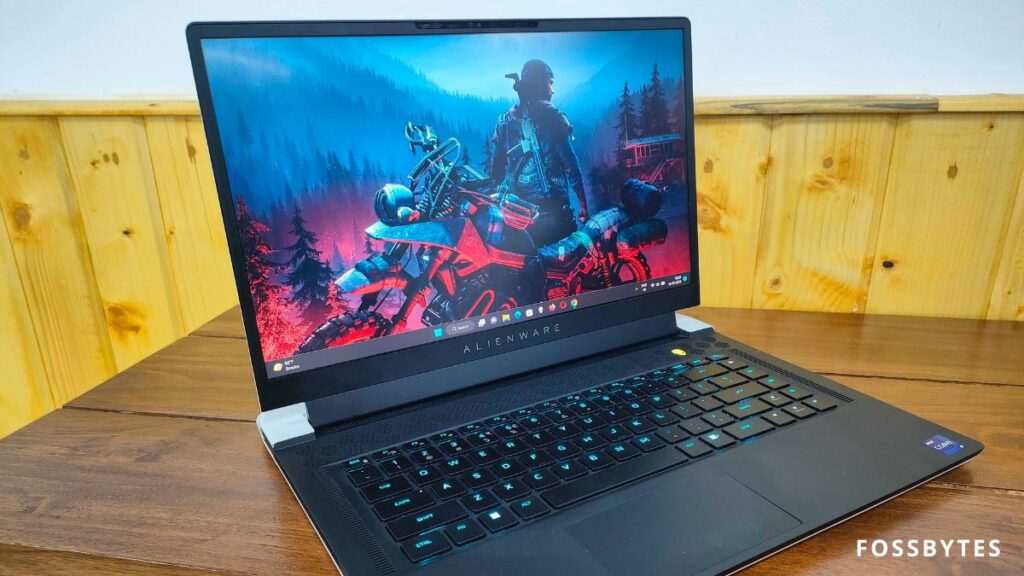 The laptop features a 1080p 15.6-inch display. It's available in a 16:9 aspect ratio and has good viewing angles. The peak brightness of the display is around 350-400 nits making it a quiet, bright laptop screen. It also has a 360Hz refresh rate, which really makes a huge difference. People often comment about how beyond a certain threshold, it becomes difficult to distinguish between two refresh rate figures. But that's something people who don't have a high refresh rate monitor say. Indeed there's a clear difference between the 144Hz refresh rate display I use daily and the 360Hz panel on the Alienware X15 R2. Moreover, it is a scientific fact that eSports players using a high refresh rate display can react more quickly to what happens on the screen.
The experience of watching a good movie on this screen is further enhanced by a great set of speakers. The audio on this laptop is out and loud. The speakers are downwards facing, but the volume they offer is still high. Meaning playing games, watching movies, or listening to music is a good experience on this laptop. In the past, too many gaming laptops get away with mediocre speakers. It's a trend that's slowly phasing out, and thanks to Alienware for doing its part.
Alienware X15 R2 gaming and performance part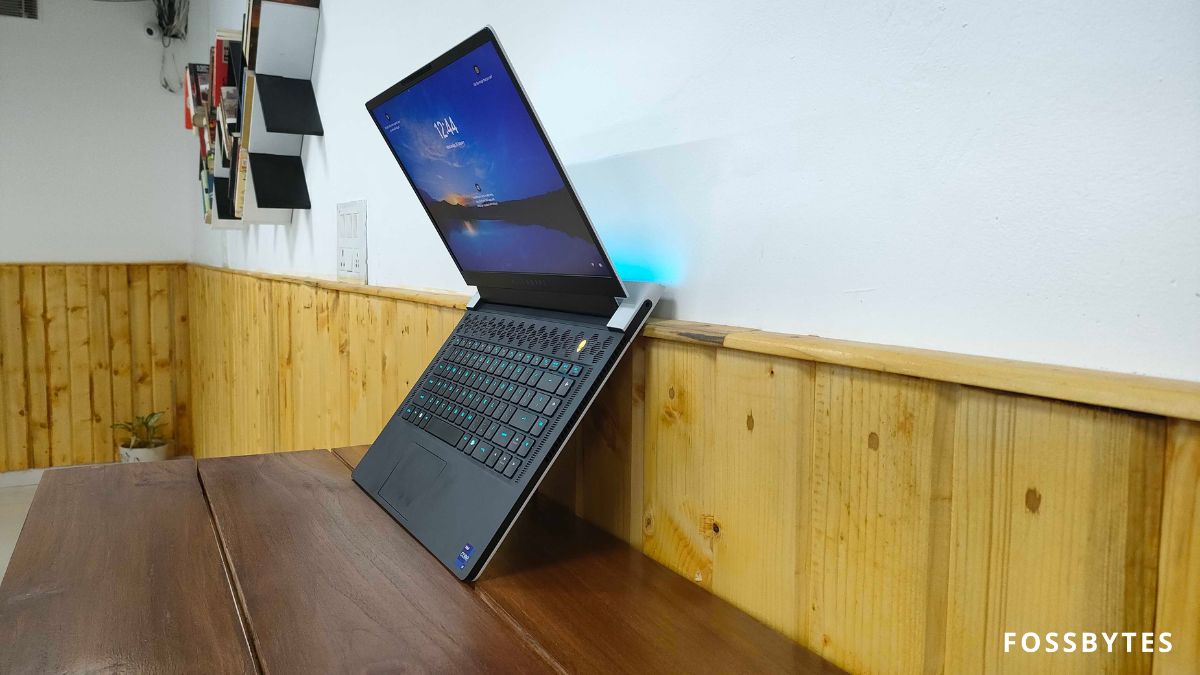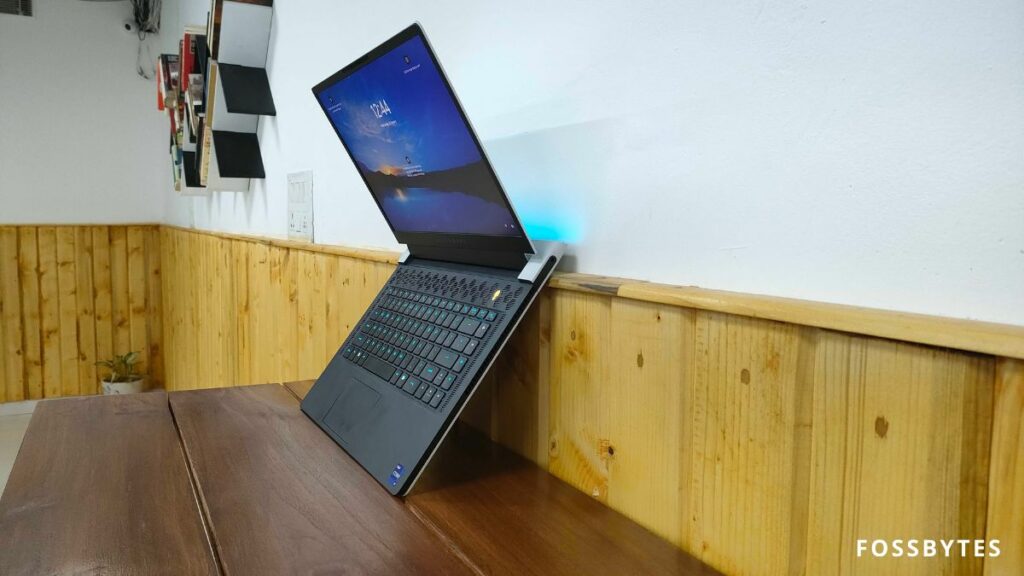 The laptop is powered by an Intel 12th Gen Core i9-12900H CPU with 14 cores and 20 threads. You can also get the laptop in a Core i7 version, which is also powerful enough. For processor-heavy tasks like running premiere Pro and Blender, both variants work just as well. For the uninitiated, the Intel 12th Gen processors use the hybrid X86 architecture, which divided the physical cores into P-cores and E-cores.
The Intel Core i9 does perform really well, but it does heat quite a bit. Under stress tests, it touched 99 degrees multiple times, which translates to a higher surface temperature. But running the laptop power efficient modes yields a CPU package temperature close to 85 to 86 degrees and a subsequent lower surface temperature.
The temperatures might be higher, but the performance on the laptop is consistent. The P-cores often touch the 5GHz boost clock target and remain in the 3.5 to 4GHz range most of the time. Fans on the laptop are pretty active, and they'll kick in halfway while watching a 20-minute video. They can get pretty loud, but as long as they're helping the laptop stay calm, I don't mind so much.
In terms of real-world gaming performance though, the laptop absolutely delivers. I tested two games at 1080p resolution and high graphics settings. The laptop ran AC Valhalla at 110 FPS and Dirt 5 at 132 FPS. I also tried playing Valorant on the 360Hz display, and the Alienware consistently delivered more than 300FPS, thus making good use of the high refresh rate. And I couldn't believe it, but I indeed was able to take headshots more easily with the faster screen.
Alienware X15 R2 – Who is it for?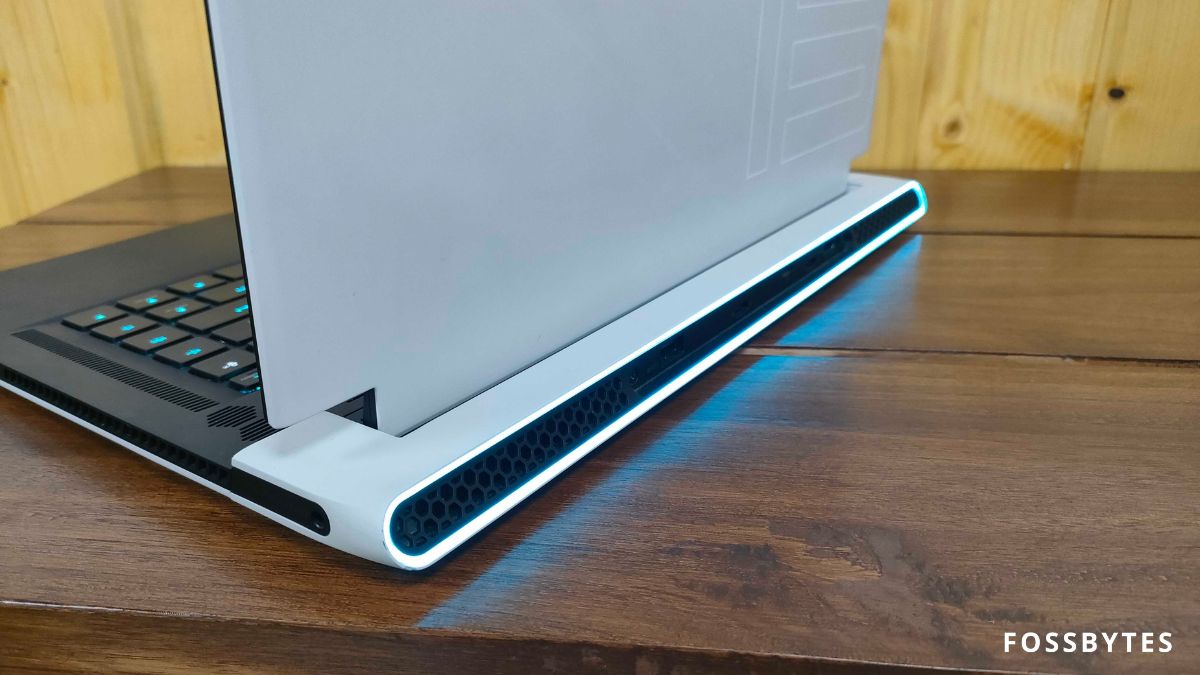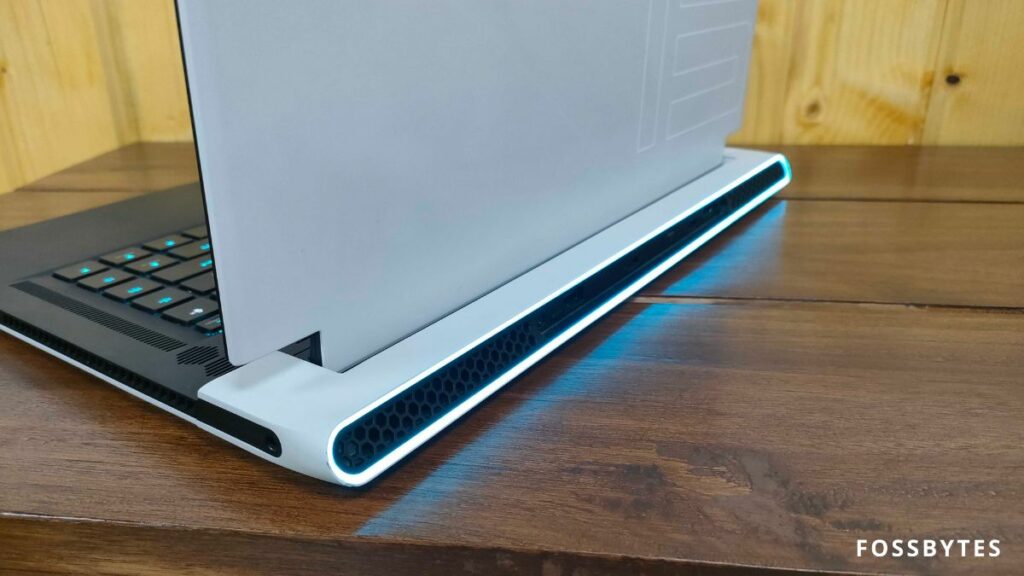 Alienware X15 R2
Summary
For eSports professionals who are on the move or for serious gamers who generally travel a lot, the Alienware X15 R2 is a good choice. It is a niche laptop built for a specific purpose – to provide a portable yet powerful gaming experience – and it fulfills the same very well. However, for everyone else, the Alienware X15 R2 would be either just too expensive or too niche for your needs.