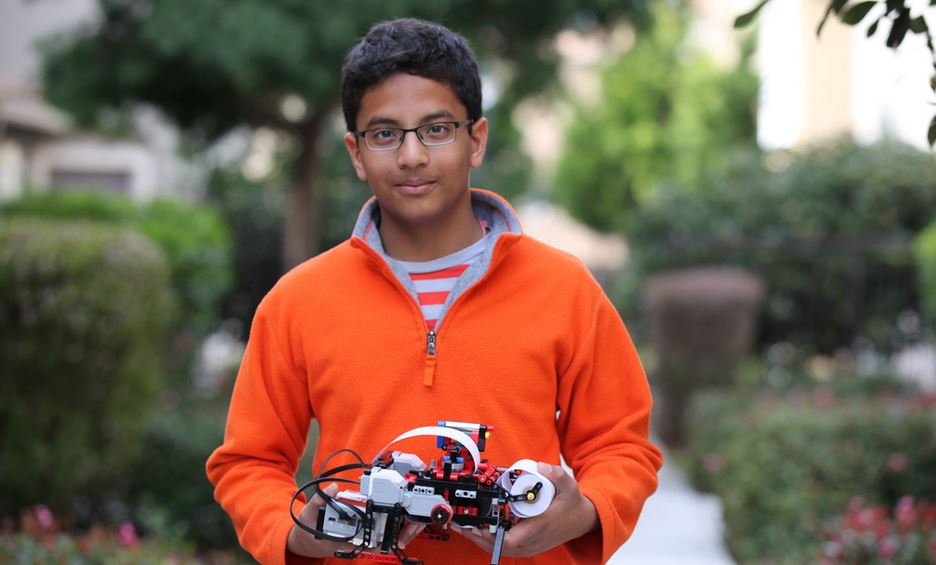 Mobius strip from light and now Braille printer from Lego! Well, few things are no more kids stuff. Who would have thought that Lego being most common in the list children toys will become the foundation of a company receiving investment from Intel?
Shubham Banerjee, a 13-year-old Californian boy, invented Braille printer, Braigo v1.0, using Lego Mindstorms EV3 kit in February 2014. Braigo word comprises of 'Braille' and 'Lego'. The prototype of new version, Braigo v2.0, has also been reported at Intel Developer Forum 2014. By August, Braigo Labs Inc., a new company was founded by Shubham. His mother, Malini Banerjee, took the responsibility of CEO; Shubham being too young for it. The company has its office in Palo Alto, California.
Intel Capital is the global investment organization by Intel. It focuses on equity investments and acquisitions related to technology startups. Intel was impressed by Banerjee's work and announced about the investment in Braigo Labs at IDF 2014; later closing the seed investment round at ICAP Summit 2014 (Intel Capital Summit).
Braigo Labs Inc. states," Our mission is to bring "Humanely Optimized" technologies that are innovative, affordable simple and catering to solving life's problem."
The Lego based Braille printer is developed to aid teaching and home purposes of blinds. It can be used widely in Blind institutions as well as by parents of blind children; reducing their expenses. Braigo won many awards including Nominet Trust 100, 2014 and Technology Innovation of the year,2014, by Trusted Reviews (UK).
"This Braille printer is a great way for people around the world who really don't have many resources at all to learn Braille and to use it practically," said Henry Wedler, who is visually impaired and has become an adviser to Braigo Labs.
The cost of Lego based Braille printer is said to be about $350 beating the standard Braille printer costing up to $2000. Also, Braigo weighs considerably lesser than conventional Braille printers in the market. Braigo is designed to help the blind community with features of reduced cost, lesser weight and efficient working. Particularly the high cost of already available Braille printers isn't affordable to most blind readers especially in developing countries.
Young entrepreneurs like Shubham are the ones who create opportunities for themselves as well as for the society. Such innovative thinkers and their ideas need to be encouraged globally.
---
 Share and make everyone aware about this making-a-difference invention!
---
Stay tuned for trending and latest technology news from fossBytes.
---