Short Bytes: At CES 2017, Intel unveiled its thinnest and smallest computer named Compute Card. This full-blown computer looks like a thicker credit card, and comes loaded with 7th Gen Intel Kaby Lake CPU and other PC components. Intel has partnered with many companies to make the device upgrades easier. It can be inserted into smart appliances, all-in-one PCs, drones, robots, etc. Compute Card is expected to hit the markets in mid-2017.
I
ntel, the world leader in CPUs, has tried to invent a new product category by bringing the computing ability to any "dumb" product. At
CES 2017
, the company showed off its Compute Card that is a perfect example of sleek and simple design without any compromises on the performance front.
Intel Compute Card is a tiny PC — 94.5mm x 55mm x 5mm — that includes a 7th Gen Kaby Lake CPU, GPU, motherboard, storage, RAM, and Wi-Fi. But, due to size limitations, the device will need a dock to cool and power.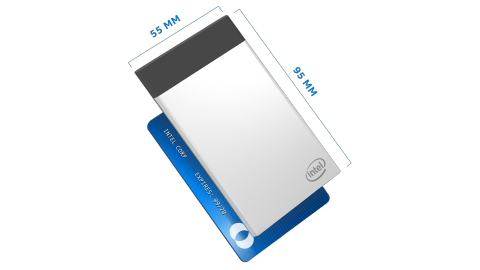 With Computer Card, Intel plans to make it easy to add a new interface to machines that will allow them to be easily upgradable. One can just eject the older card and insert a new one. Companies will be able to extend the capabilities of devices like smart TVs, refrigerators, all-in-one PCs, kiosks, etc. To do so, Intel has also partnered with many companies like Dell, HP, Lenovo, Sharp, etc.
Intel has also added a variant of the USB-C port named "USB-C plus extension," which is used to connect to the machines it's plugged into.

Also, just connect it to a display and instantly you can get a computer that's as powerful as an average laptop. Intel has said that Compute Card will be able to run Windows, Linux, or any other operating system.
Intel's Compute Card has been made in collaboration with Foxconn. In June 2017, Intel will be revealing more details on the pricing and features of the device. The devices are expected to hit the market in mid-2017.
Did you find Intel's Compute Card interesting? Don't forget to tell us your views and feedback.
Also Read: World's Most Insane Laptop Has 3 Screens — "Razer's Project Valerie"