There was a time when we used to have a big stash of DVDs lying around in our houses. Some of them contained our photo and video memories and some were used to install software on the computer. Time passed and now even USB flash drives are a rare sight. Everything is now up in the cloud and ready to use in an instant. There is no need to open the optical drive and insert a circular disc in it. Most computers don't even have a DVD player these days.
However, sometimes you need to get back to those old memories, and relying on a DVD to last for years would be a risky job. You are having trouble playing them on Windows 10 or maybe you have a scratched DVD that's causing trouble. That's where you can use software like WinX DVD Ripper that can transfer the content of a DVD to a computer's hard drive.
WinX DVD Ripper Features Walkthrough
As the name says, the software is meant to rip the contents of a DVD and save or play DVD on your computer. The user interface looks like something from the past but gets the job done by putting all the options in clear sight.
WinX DVD Ripper can do a lot of things to make your life easier, you can download it for free using this link. For example, it can:
Supports 350+ formats including MP4, HEVC, FLV, MKV, etc
Can optimize content for iPad, iPhone, Android, tablet, etc
Can rip region-locked and scratched DVDs with ease
Supports Level-3 hardware acceleration and claims to rip a DVD in 5 minutes
Supports 1:1 DVD copying without any content or quality loss
Free version doesn't add any watermark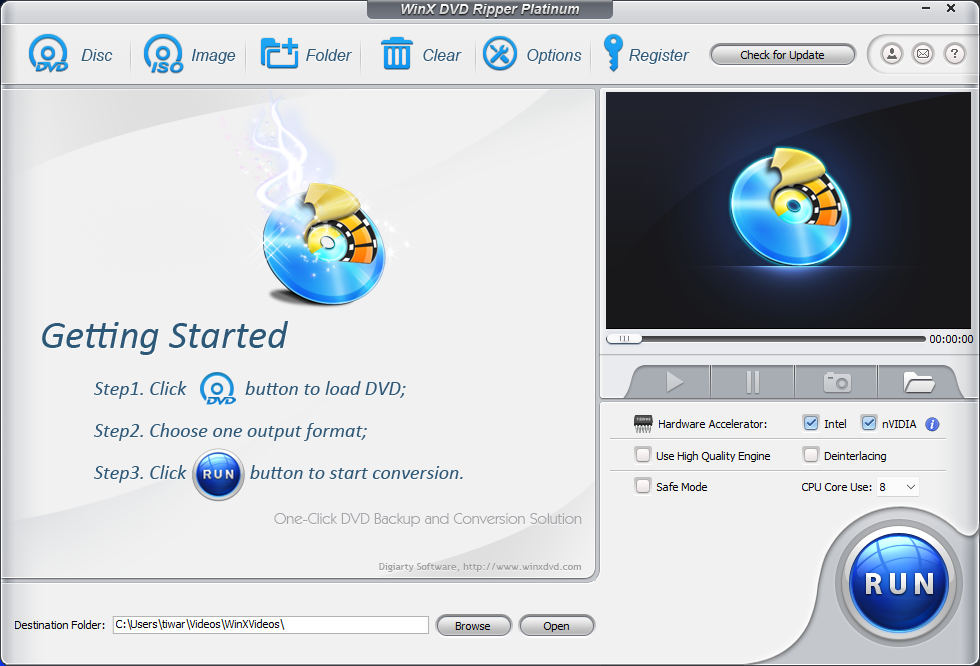 WinX DVD Ripper also supports hardware acceleration for Intel and external GPUs, which can speed up the process. You can also assign a custom number of CPU threads to the software to alter the ripping performance.
You can change these settings on the dashboard itself on the right-hand side. It also supports deinterlacing which is a popular technique known to improve video quality.
How to Rip DVDs using WinX DVD Ripper?
Using this software isn't rocket science and you can transfer your DVD's content in almost no time. You can choose from either a physical DVD or an ISO file.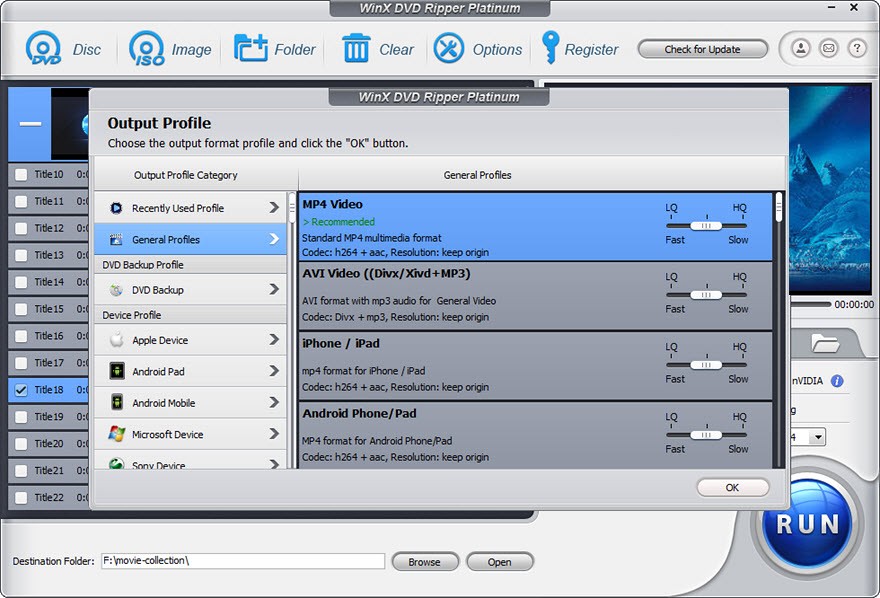 To get started, insert your desired disc then click on the Disc option. Next, you'll be asked to select an output profile. Here, you can choose between various formats, quality options, and device types depending on your requirements. Click on Ok after you are done.
You can also crop the video frame if you want, change the audio channel, and configure the subtitles before ripping the content.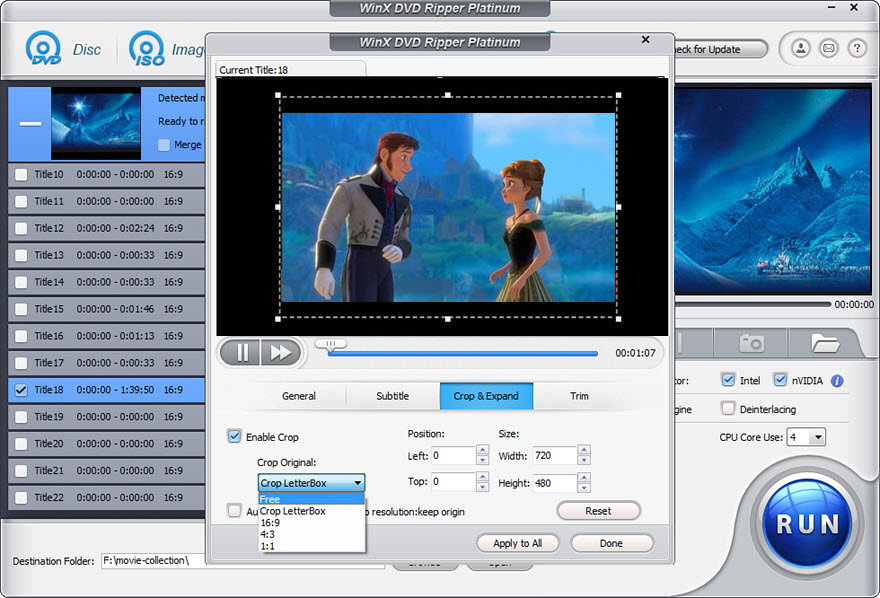 Now, all you need to do is click on the Run button in the bottom right corner to start the DVD ripping process. The completion time will depend on the type of hardware you are running. A full-length movie could take up to 45 minutes on an average specced machine.
The size and quality of your output file will also vary on the format your choose. For example, h.265 is known to offer crispy videos with good quality. In comparison, MPEG or AVI takes more space on your storage. In fact, the DVD ripper is a good tool to save your movies on your PC with a lower storage footprint.