5G cellular network is the upcoming latest technology that will offer high-speed mobile internet to users. While countries like the U.S. and China have already adopted the 5G network, India is yet to conduct a spectrum auction for the 5th generation of the mobile network.
However, it hasn't stopped smartphone makes from offering 5G handsets in the Indian market. Popular smartphones like OnePlus Nord and iPhone 12 are already offering 5G compatibility despite the fact that carriers in India are yet to introduce the 5G network.
Mukesh Ambani owned Jio has promised to offer 5G network by June 2021, which makes it tough for smartphone buyers who are looking forward to buying a new phone in 2021. There is a dilemma amongst users whether they should buy a 4G smartphone in 2021 or wait for more 5G compatible smartphones that'll launch in 2021.
To make it easy for you, we have tried answering whether you should buy a 5G smartphone in 2021 in India or not.
Firstly, let's begin with what is 5G, its benefits and how is it better than the currently used 4G network.
What is 5G?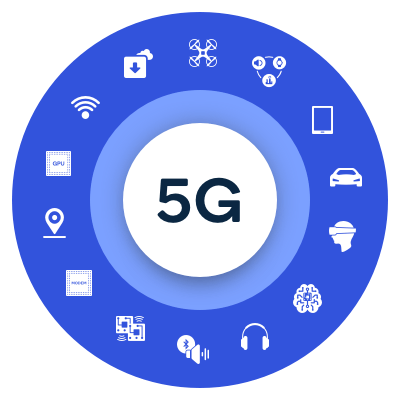 5G or the 5th generation of the mobile network is a new wireless standard that'll succeed 4G network. 5G network promises multi-GBPS data speed, reliable network, negligible latency, and increased availability to mobile users. According to Qualcomm, 5G will deliver peak data rates up to 20 Gbps. The currently prevalent 4G network offers the peak download speed of 50Mbps (Mega Bits Per Second).
5G Auctions In India Yet To Be Held
If you are waiting for 5G in India, we have good news for you. At Indian Mobile Congress 2020, Mukesh Ambani, who runs the leading mobile carrier Jio in India has promised that it will roll out the "made in India 5G" network by June 2021.
He said, "India is today among the best digitally connected nations in the world. In order to maintain this lead, policy steps are needed to accelerate the early rollout of 5G, and to make it affordable and available everywhere. I assure you that JIO will pioneer the 5G Revolution in India in the second half of 2021."
Airtel, which is the second most popular mobile network in the country, differs from Mr. Ambani's plans. CEO Sunil Mittal said in December that it will take at least 2-3 years to roll out 5G in India.
The Indian government, on the other hand, is yet to organize auctions for the 5G spectrum and reports have indicated that India might organize auctions for the 5G network by August 2021.
Fitch, the global rating agency, has said that India's 5G spectrum auction has been further delayed and is unlikely to be held before August.
5G auction was originally planned for 2019. One of the major reasons behind the delay, according to Fitch's report, is that the government is likely to focus on the 4G spectrum auction in 2021.
Should You Buy 5G Smartphone In 2021?
If you are planning to buy a smartphone in 2021 but confused about the status of 5G in India, we suggest that you stick with 4G handsets even in 2021. India is unlikely to experience 5G in the next 2-3 years, according to experts. Therefore, 5G compatibility should be the last thing on your mind before you buy a new smartphone in 2021.