A good VPN can sort out a lot of things for you. It can give you access to blocked content in your region and connect you to the rest of the world. Not just that, a good VPN will give you blazing fast internet access while respecting your privacy online.
Here is where iTop VPN comes in. This neat VPN is easy to set up, and the best part is that the basics are free to use. However, if you wish to unlock everything, iTop VPN has some solid reasons to convince you to upgrade.
5 reasons you should start using iTop VPN
1. 1800 fast and Dedicated servers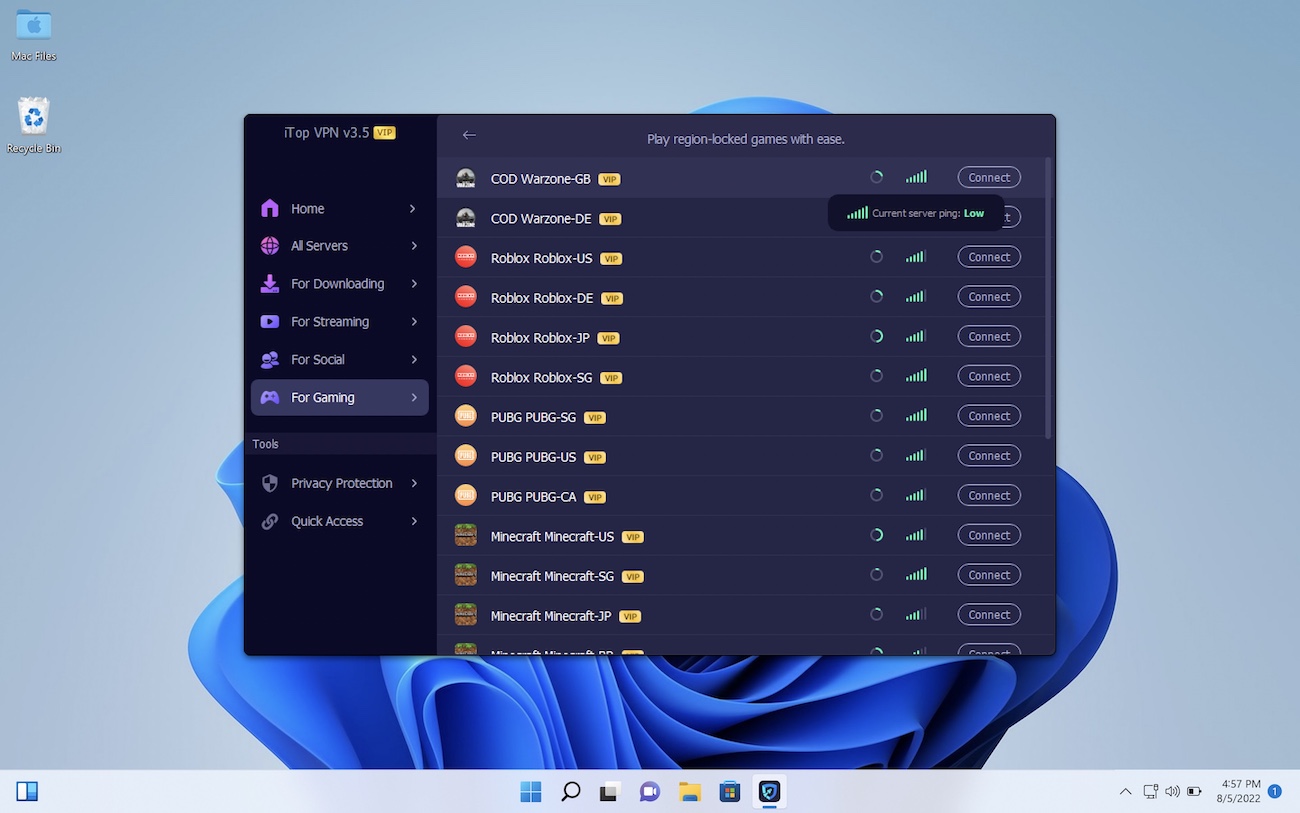 The first thing you'll see when you subscribe to iTop VPN is the vast list of servers. The VPN has 1800 servers in over 100 countries, and they're well mapped out to suit your needs. For instance, it has a whole list of high-speed low-ping servers for gaming.
It also has dedicated servers for streaming services like Disney+, Hulu, HBO Max, and Crunchyroll. It means you can enjoy high-quality content while not being restricted to one location. Choose any server you fancy, and you're good to go.
Other than streaming and gaming, you can run social media apps using iTop VPN. It has servers to run popular apps, including WhatsApp, Facebook, Telegram, Skype, and Instagram. So even if you're traveling to somewhere where these apps are banned, you can still stay online using iTop VPN.
2. No log policy
Leave data vendors aside, and even the government wants VPNs to log your IP addresses so it can track you. However, iTop VPN keeps you secure from that with its no log policy. It means the service won't record your IP address, the websites you visit, or the servers you used to do it.
3. Built-in browser and system security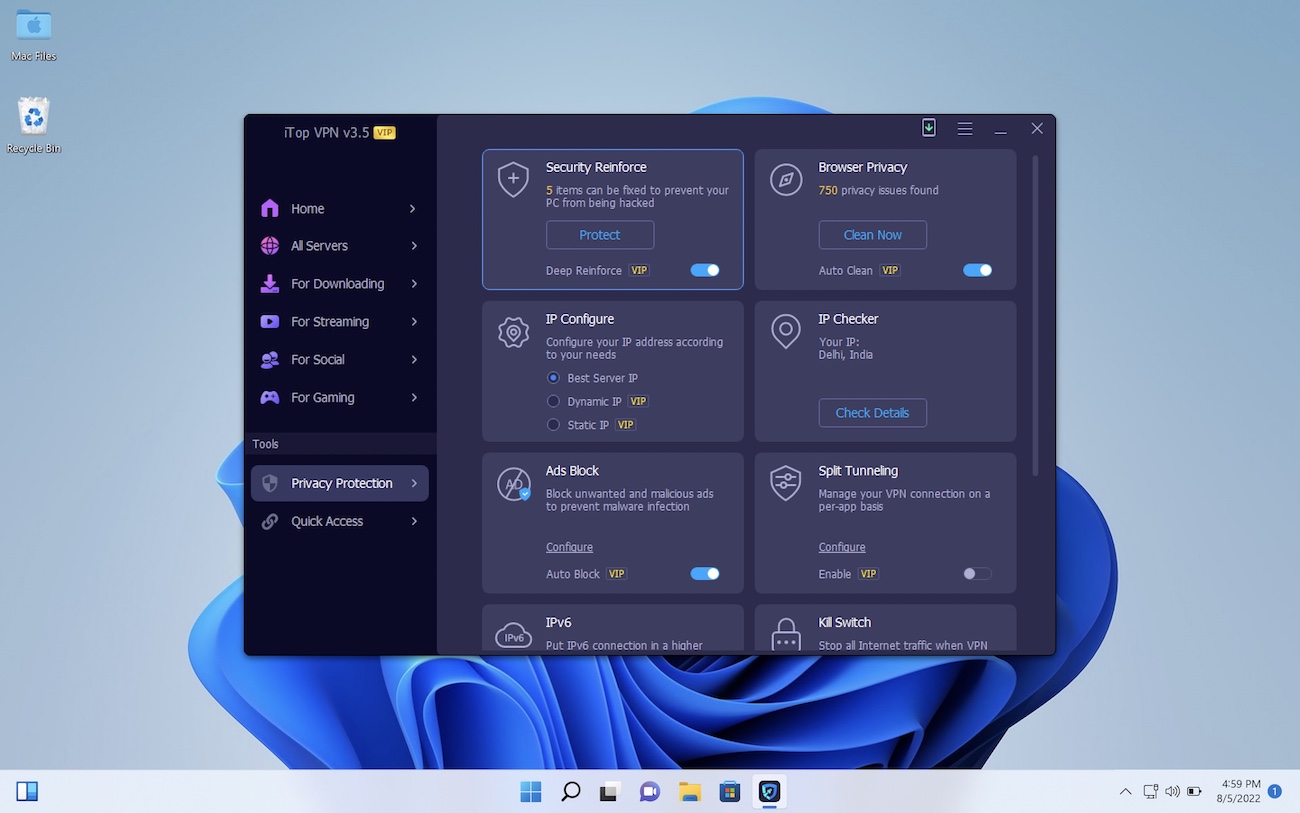 iTop offers Privacy Protection and System Security options in its Windows and Mac app. The privacy protection option scans your browser for malicious cookies, surfing traces, and app traces. It can even scan your files for any suspicious downloads.
Coming to system security, iTop VPN lets you run a full malware removal, malicious cookie removal, and virus scan. It also scans your entire PC for system risks and tells you things you can change to improve your web browsing experience and privacy.
4. Military-grade encryption and kill switch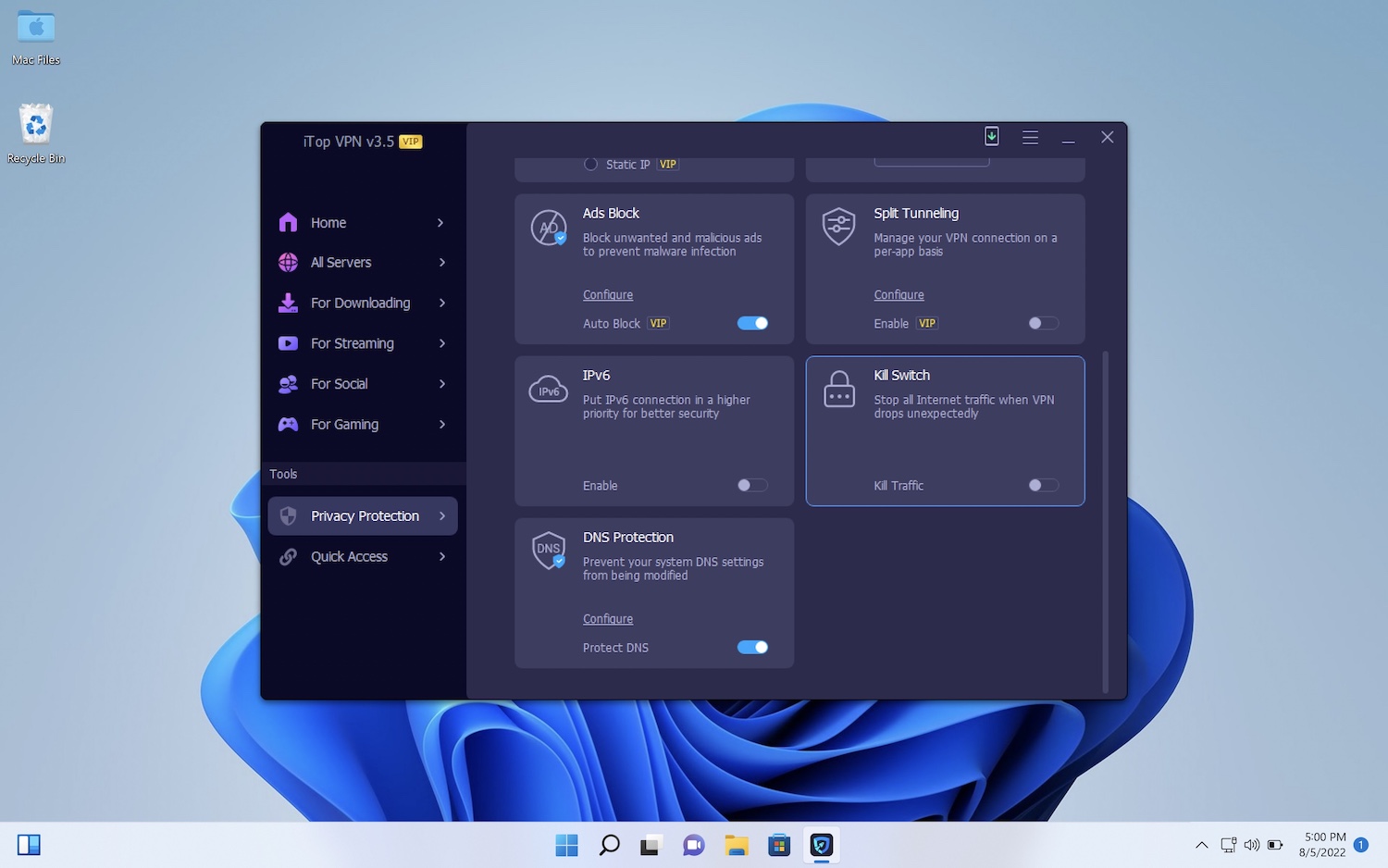 This is what speed with peace of mind looks like. You get unlimited bandwidth with military-grade encryption to secure your browsing activity. iTop VPN cleverly masks your IP address and other sensitive data while giving you a good speed on tap.
iTop VPN also packs some neat customization options that let you run it the way you like. You can use split-tunneling to pass some content from your local IP address while selectively applying VPN to other traffic.
There's also a kill switch that stops traffic in case the VPN server drops, keeping your privacy intact. You can also turn on static IP if you want a tailored internet experience without compromising your real IP address or location.
5. Covers all your devices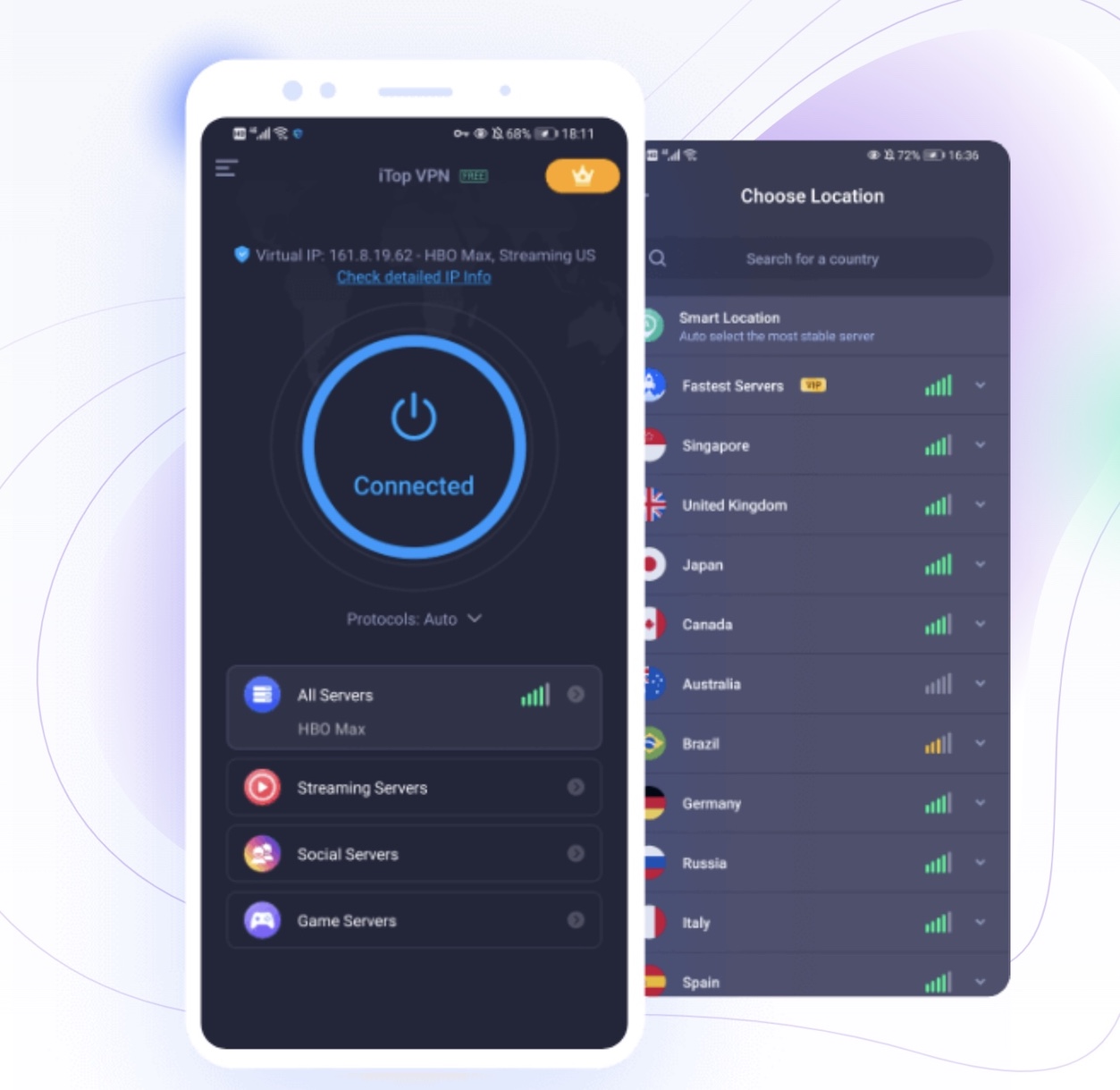 Why secure only one device when you can secure them all? iTop VPN's VIP plan supports up to 5 devices. And it is available for Windows, Mac, iOS as well as Android devices, so no matter what device you use, you can use iTop VPN.
One of the advantages of using a VPN on your devices is that it lets you download apps and play games that may be banned in your region. You can connect to servers anywhere in the world to access content from those regions.
Why should you upgrade to iTop VPN?
Before we answer that, we need to answer the question as to why you need a VPN at all. When the internet was booming, it was a place for everyone to connect and form a truly global community. However, over time, different countries and governments have imposed restrictions on content, apps, and even games.
You may be interested in trying out an app but won't be able to do it because of your geographic location. You'll also need something that'll keep your privacy intact if you are to access restricted content. That's where VPNs like iTop VPN come in.
It helps you get fast streaming and gaming speeds from anywhere in the world. It has the features to keep you secure if you accidentally get malware or privacy-invading cookies on your device. Combine that with military-grade encryption, and you have the perfect tool to wade off any shady websites that you may encounter.
So if you really want to go global, and yet keep your privacy, get an iTop VPN subscription and have at it. The basic features are free to use, and you get 700 MB of daily data without ads for free. However, for all the power features and full speed, you can buy the iTop VPN for less than $1/month.
You can get a three-day free trial before you commit, so if you don't want to jump into it, take the trial first and notice the difference.
iTop VPN Giveaway!
To help you get acquainted with the amazing features of iTop VPN and see how it performs to its full potential, iTop VPN is giving away 1-year license keys to the first 100 users.
In order to grab your free keys, please follow these simple steps:
1. Download iTop VPN for your suitable platform (Windows/Android/iOS)
2. Enter the Email and the password as given here:
Email: [email protected] 
Password: 8ZeiF5WK
3. Click "Log in" and activate your key.