Next week will officially mark a month since the release of Windows 11's initial Insider Preview build. If you haven't already, you can try it out too. That said, Microsoft has been dropping several hints about the release date of Windows 11.

Likewise, according to an Intel support document, Windows 11 might be coming to the stable channel as early as October. Windows 11 had its own launch event, but Microsoft didn't give a definite release date for the same, and we don't know when the users that aren't a part of the Insider Program will get the update.
Driver Document Mentions Windows 11 Release Date
As discovered by Windows Latest, Intel's GPU Driver release document mentions Windows 11 October 2021 Update, also known as the 21H2 update.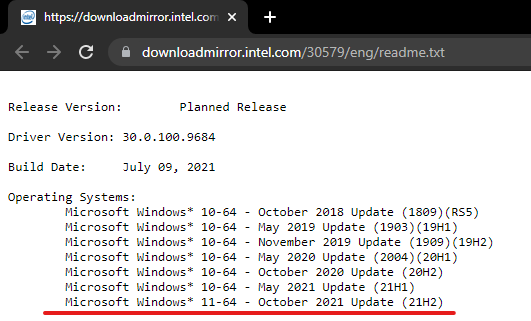 To clarify, the release notes mention Windows 11 as the October 2021 update or the 21H2 update. As you might have noticed before, Windows 10's major updates were named in the "YYMM" format. The last update we got was Windows 10 build 21H1, which was a major update in the first half of 2021.
Consequently, we expect to witness the first Windows 11 public release around October 2021 and a major update in the second half of 2022.
Co-Existence Of Windows 10 And Windows 11
The gigantic confusion arises now. Windows 10's latest Insider build is also codenamed 21H2, while Windows 11's Insider build has the 21H2 label too. To make things clear, Microsoft's program manager Brandon LeBlanc confirmed in a tweet that Windows 11 would carry on the usage of the YYMM format.
The YYMM format marks the release timings for Windows releases and is completely unrelated to which Windows build it is.
Microsoft dropped another hint before that suggested an October release. For now, all we can do is wait. Some of the key changes to Windows 11 aren't even ready yet, making it hard for us to believe that a final Windows 11 release could come in two months. We haven't seen either Teams integration or the Android App store yet. While we wait, we'll continue to speculate what's next.
What are your opinions on Windows 11? Are you excited about the release? Let us know in the comments below.
Meanwhile, make sure to check our Windows 11 coverage.