Docking your gadgets on a charging mat is more convenient (and a bigger flex) than fidgeting around with cables. That's exactly what makes today's Ugreen 3-in-1 MagSafe Station review so special. When it comes to first-party docks, Apple makes a MagSafe charger for the iPhone and a two-in-one MagSafe charger that also lets you charge your Apple Watch.
But third-party Magsafe accessories tend to go one step ahead. For instance, the Ugreen 3-in-1 MagSafe charging station is priced at $129, which is the same as Apple's 2-in-1 charger. So, at the same price, you get a MagSafe dock for your iPhone, a magnetic charger for the Watch, and another wireless charger for AirPods or any other wireless charging device as well. All this makes the Ugreen dock a value-for-money proposition.
Ugreen 3-in-1 Wireless Charging Station Design Review
In terms of design, it looks really good on the desk. The Ugreen 3-in-1 MagSafe comes in neat white color with steel accents garnished where needed. The wireless charging dock features a garnish around the iPhone's MagSafe ring and the Watch dock. The stem of the dock is metal, and the adjustable hinge also feels solid. There's a green LED that comes on when you plug in the dock or put something on the wireless charging mat.
The watch dock is also partly adjustable, and you can charge the watch by laying it flat or raising the dock using a button at the back. Overall, the Ugreen MagSafe dock has a solid build quality and a decent weight to it. If I am to nitpick, I'd say it should come in more colors, like a black or a space gray variant, but the white one looks good too.
Ugreen 3-in-1 MagSafe wireless charging station specifications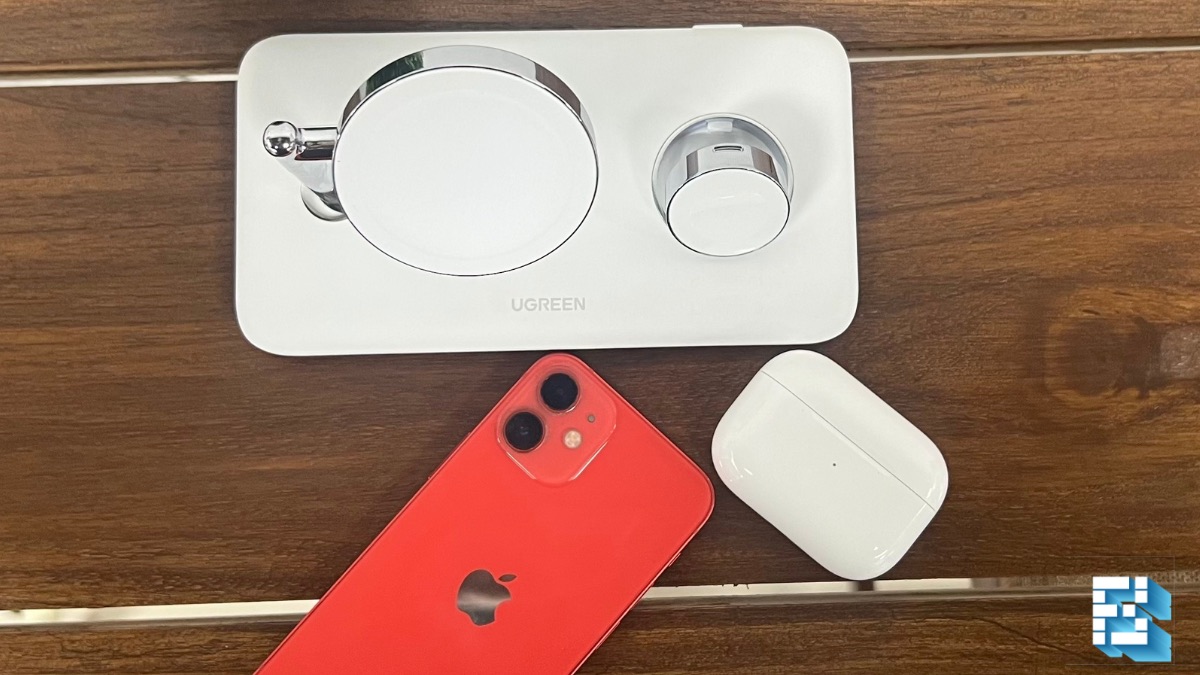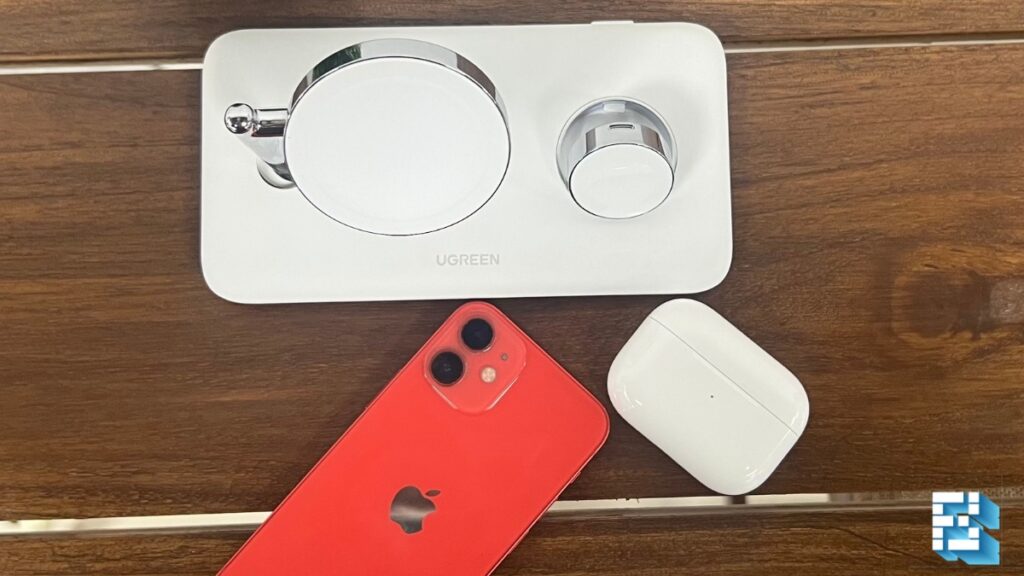 The Ugreen 3-in-1 MagSafe dock comes with a 15-watt MagSafe charger for compatible iPhones. The watch dock and the charging mat are 5-watt each, which is suitable for the Apple Watch and the AirPods. While the 5-watt mat is sufficient for AirPods and other TWS cases, Ugreen could've fitted a higher wattage pad so users could charge a second phone there.
I used the dock to charge an Apple Watch Series 7, first-gen AirPods Pro, and 3 iPhone models. The iPhone models we used are the iPhone 12 Mini, the iPhone 12, and the iPhone 13. Here's how long it took for each device to charge:
| | | |
| --- | --- | --- |
| Device | Charging percentage | Time taken |
| iPhone 12 Mini | 10% to 80% | 55 minutes |
| iPhone 12 | 10% to 80% | 1 hour 15 minutes |
| iPhone 13 | 10% to 80% | 1 hour 20 minutes |
| Apple Watch Series 7 | 5% to 85% | 2 hours 31 minutes |
| AirPods Pro | 0% to full charge | 1 hour 12 minutes |
Table of charging duration: Source: Manik Berry/Fossbytes
All of the above timestamps are pretty close to the claimed charging times on Apple's official pages for these products. This means that the Ugreen station is charging the devices at the recommended speeds, which is good for their batteries in the long run.
However, in my experience, I noticed my iPhone 12 Mini getting hotter than usual, despite not being used while charging. However, I can't blame the dock for it, as the same happened when I hooked my iPhone to the official MagSafe charger, which I also reviewed last year. You may read about the same at Apple's official MagSafe charger.
Dock usability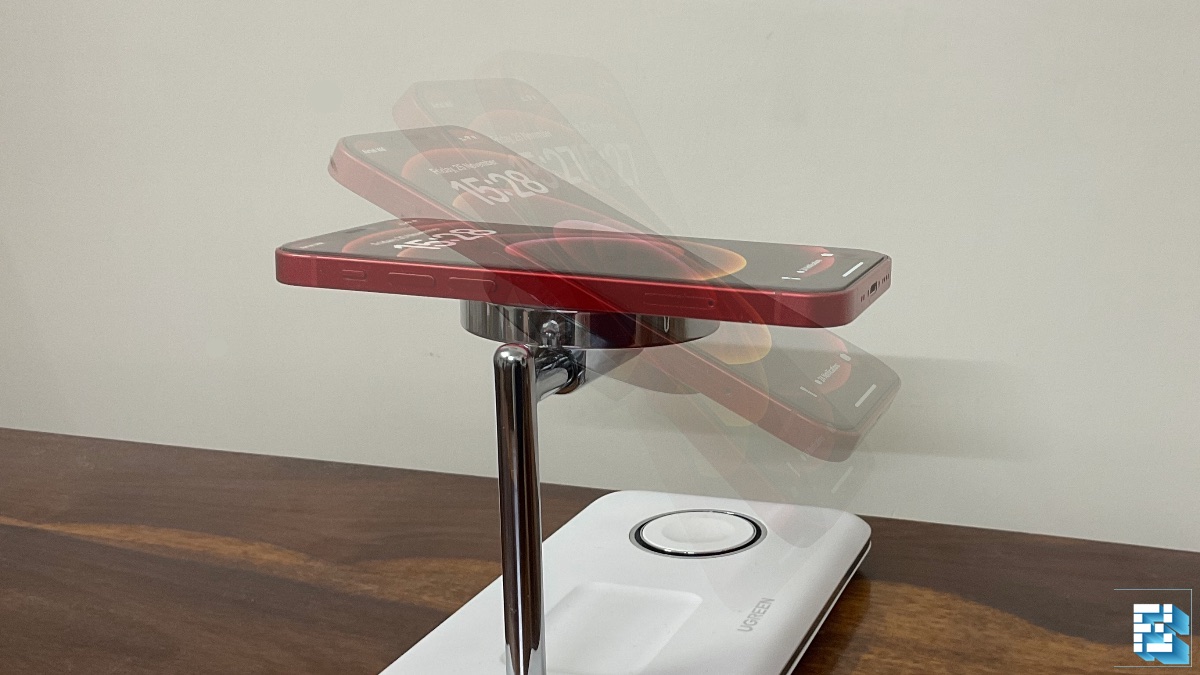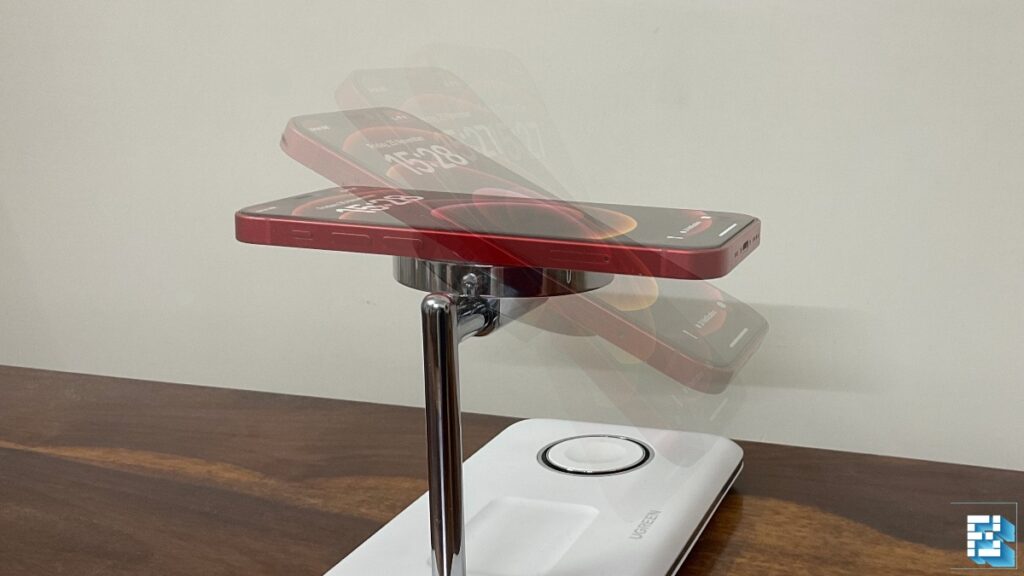 As it says in the name, this is a "station," and it is meant to keep your items organized, charged up, and ready to go. I've had it on my desk for a little over two weeks now, and I find it useful in multiple ways every day. For starters, it keeps my iPhone ready to go, and I can just toss the AirPods case onto the charging mat if it needs to be charged.
Aside from the charger, you can also use this dock to mount your iPhone as a webcam. MagSafe lets you rotate the iPhone in any direction you want, and the hinge on the dock lets you tilt it to find the sweet spot. You can mount it next to your workstation and quickly glance at notifications, take calls, and interact with your phone.
Normally, you wouldn't be able to use Siri if your phone is resting with its screen downwards. However, the dock keeps it at the corner of your eye, so you can use Siri commands with some screen input if required. As mentioned, it is also more convenient to just pluck the phone and place it back on the MagSafe dock than fidgeting with a cable.
Despite all that, wired charging for the iPhone is almost twice as fast as MagSafe. The Ugreen 3-in-1 MagSafe station charges at MagSafe speeds, so you may not get to use the full fast charging potential of your phone. However, if you prefer the neatness of a wireless setup, this is a solid good dock for your Apple ecosystem.
What could be better
The dock comes with a couple of neat touches, like the push button for the Watch charger and a small bit of double-sided tape to keep it in place. But there are some hits and misses. For starters, this is a 25-watt dock but doesn't ship with an adapter in the box. So I had to find a 30-watt brick to power this dock.
Next up, there's a shortage of ports here. My MacBook, iPad, and now this station, too, are all powered by a USB-C cable. And keeping 3 different bricks for 3 gadgets defeats the purpose of a wireless dock. Ugreen could've added a 35-watt USB-C passthrough so users could power one more device without needing multiple adapters.
Moreover, the 25-watt output itself seems slightly underpowered. It is fine if you want to charge the AirPods, but a bigger surface with a higher-wattage wireless charger would definitely be a level up. Imagine charging two phones and your Apple watch on the same dock at full wireless capacity. These are some of the things which I think are missing from this charging station.
Ugreen 3-in-1 MagSafe charging Station Review: Conclusion
Ugreen 3-in-1 MagSafe Charging Station Review: Better than Apple's MagSafe Charger
Summary
The Ugreen 3-in-1 MagSafe wireless charging station is a treat for your desk. It is neat and sleek, fits the tiny things in the Apple ecosystem, and is priced really well. It could make do with more power and an additional USB-C port, but it is sufficient in its current form and price.

If you are looking for a value-for-money wireless charging dock at a reasonable price, you can go for it without a doubt.
We've also reviewed the Ugreen GaN Nexode 140W & Nexode Mini 45W Chargers, and you can check out their review from the link. Both of these chargers are compact and come with multiple ports to charge two or more gadgets at the same time.