Beelink has been featured on FossBytes a few times recently. Beelink is known for its line of mini PCs. Beelink has various models ranging from super low power to high performance and everything in between. We'll be taking a look at the SEi11 that Beelink has sent for review.
Beelink has sent us a few products in recent months, so if you're interested, you should check out the reviews.
SEi11 Specifications
CPU
Intel Core i5-11320H (10nm)
4C/8T 2.5GHz Base / 4.5GHz Turbo
35W TDP
Memory
16GB DDR4 3,200MHz
Graphics
Intel Iris Xe Graphics
Storage
500GB M.2 NVMe SSD
Network Connectivity
Wifi 6 (AX), Gigabit Ethernet, Bluetooth 5.2
Front IO
2x USB Type-A 3.0
1x USB Type-C
3.5mm Audio Jack
Rear IO
2x USB Type-A 2.0
2x HDMI
1x Gigabit Ethernet
DC Power Barrel Jack
Internal IO
M.2 NVMe/SATA Drive Slot
2.5″ SATA Drive Bay
Dimensions
113mm x 126mm x 40mm (570ml)
Operating System
Windows 11 Pro
Beelink SEi11 Specifications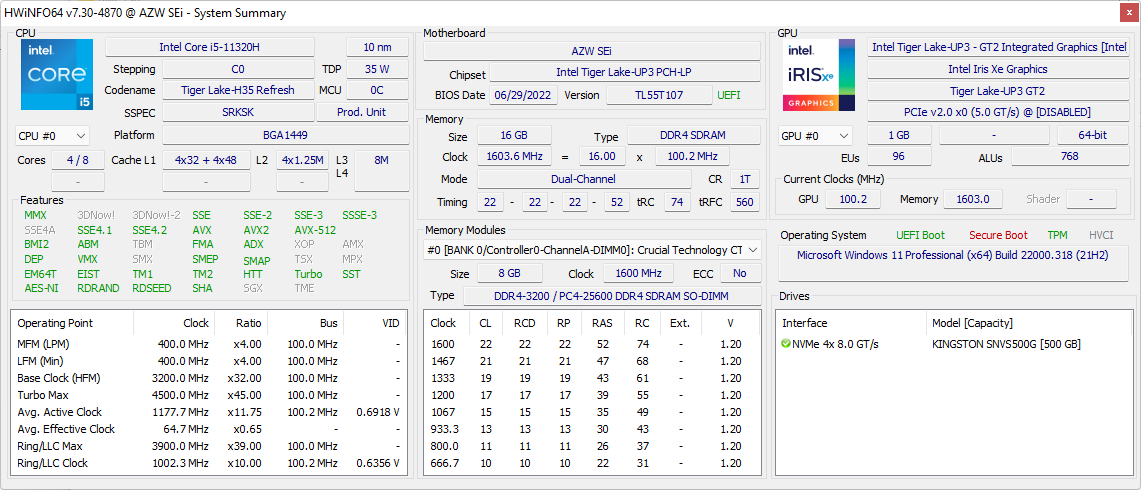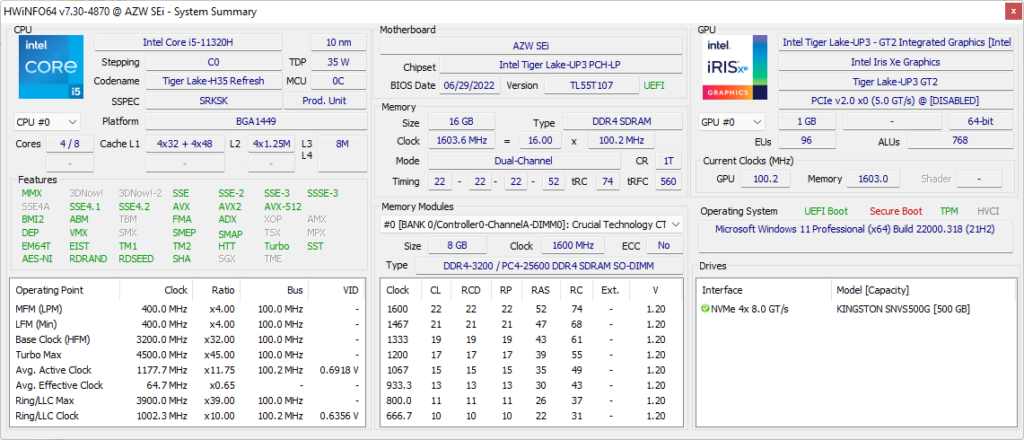 The Beelink SEi11 centers around the Intel Core i5-11320H. It's important to remember that this is a mobile CPU, but it isn't a slouch. This is especially true when paired with 16GB of RAM and an NVMe SSD, which alleviate the two most common bottlenecks experienced by users.
In the Box
As expected from Beelink, the SEi11 comes in very cleanly designed and minimal packaging, consisting of a simple box with a sleeve. The box is composed of thin cardboard. Within the packaging, there are two thin foam pads to protect the SEi11.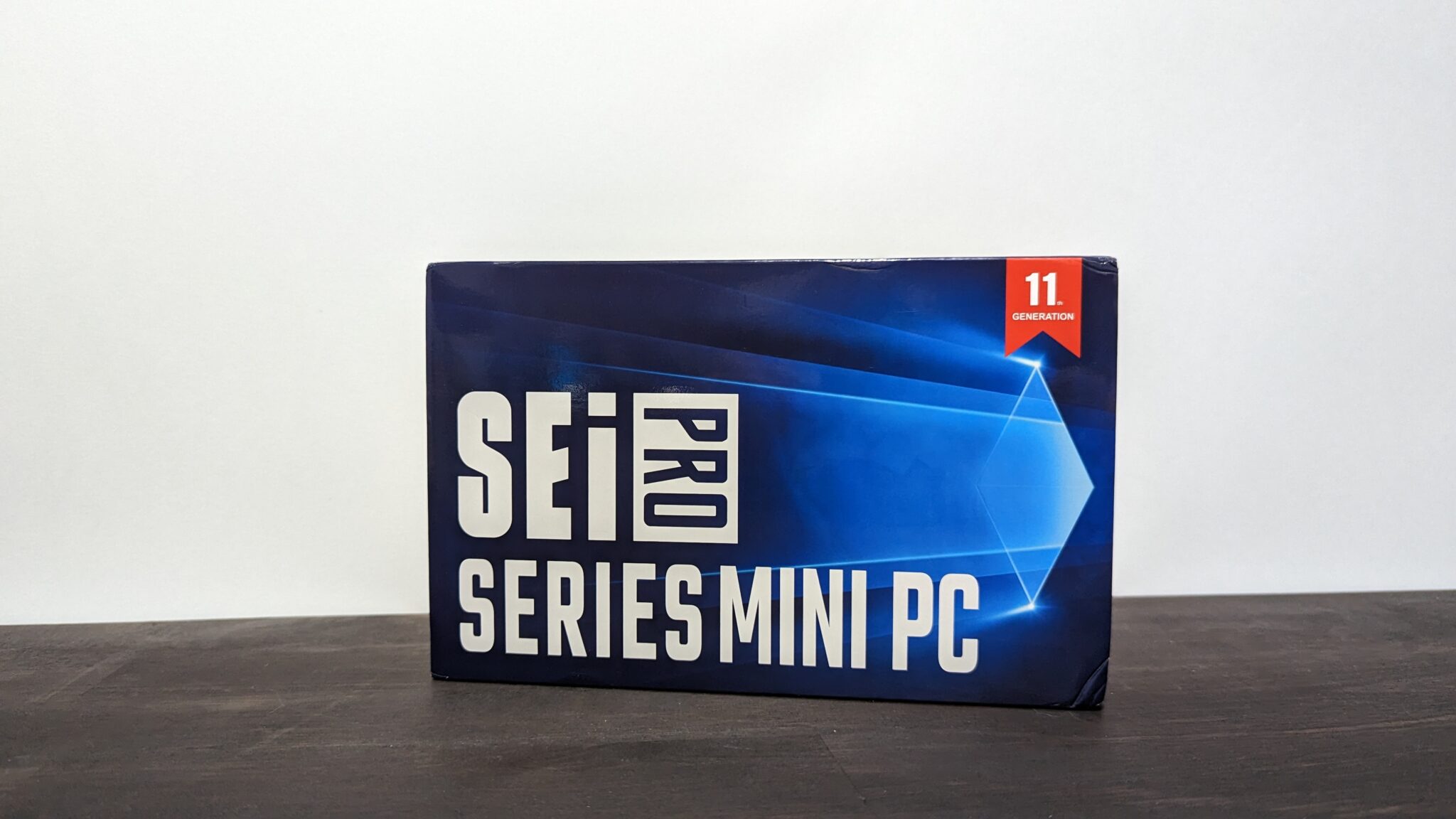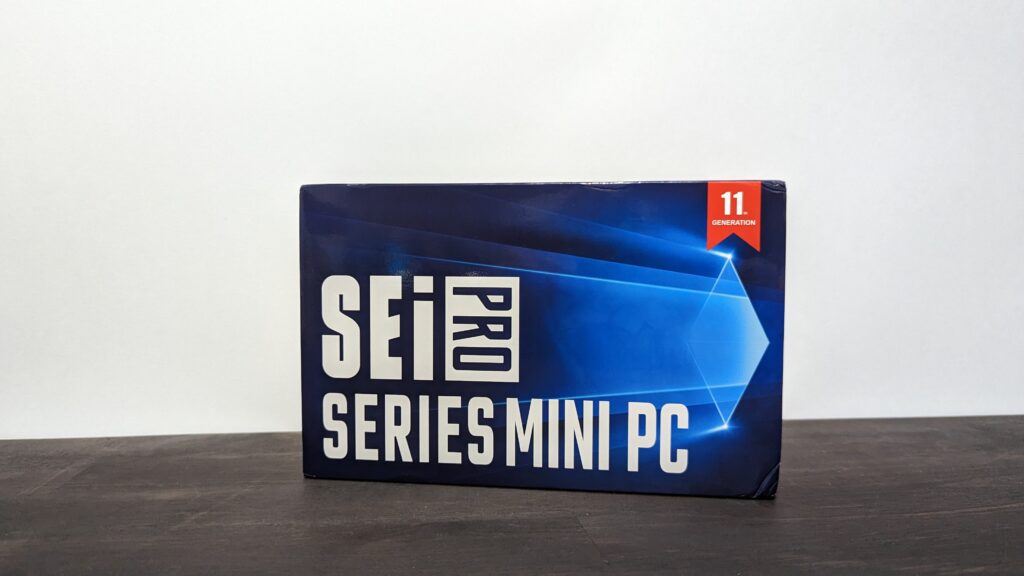 At first glance, it seems like it might be inadequate protection, and it could be in the case of abuse during shipping, but the SEi11 is very sturdy on its own, which I'll expand on in a bit.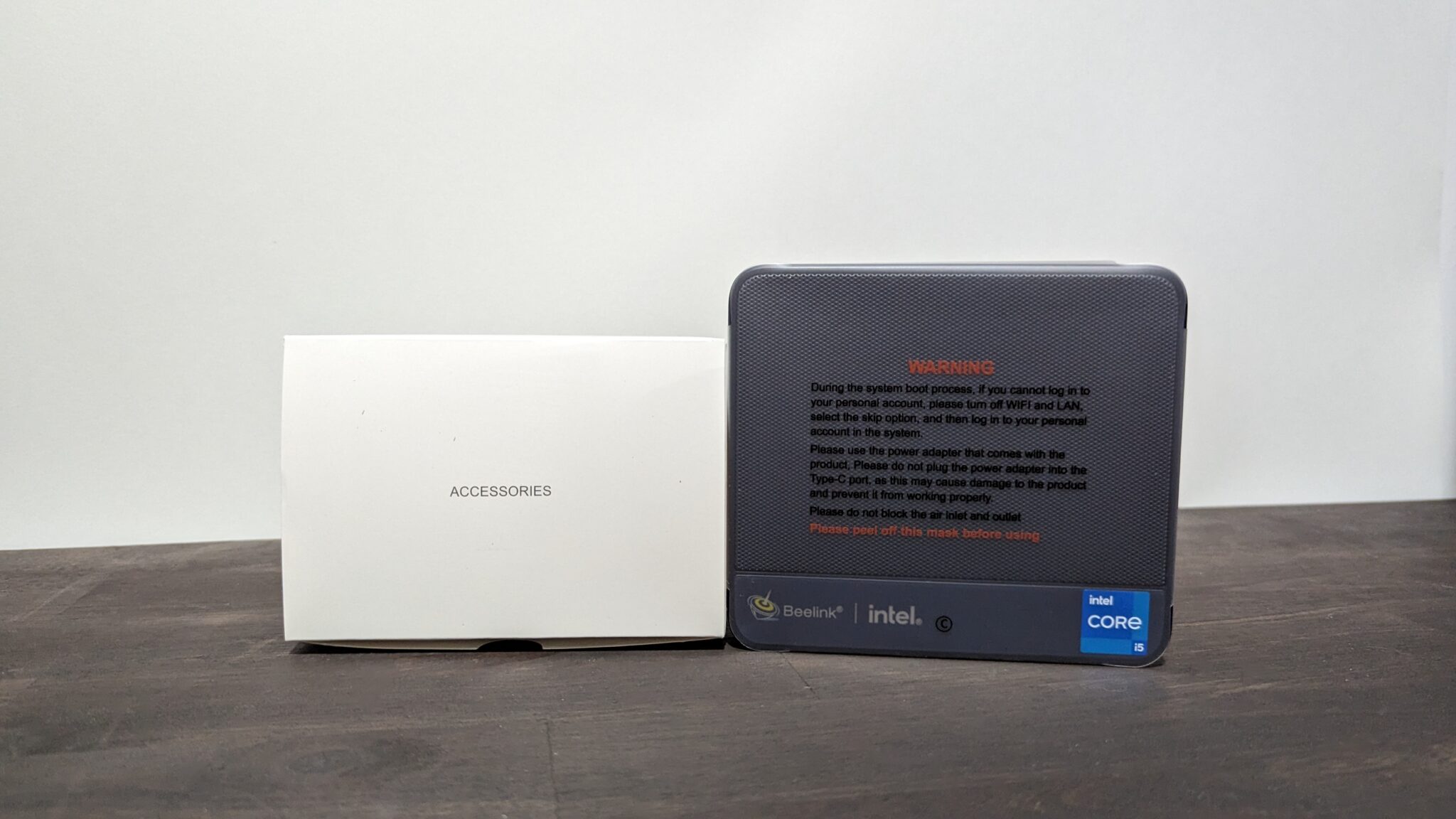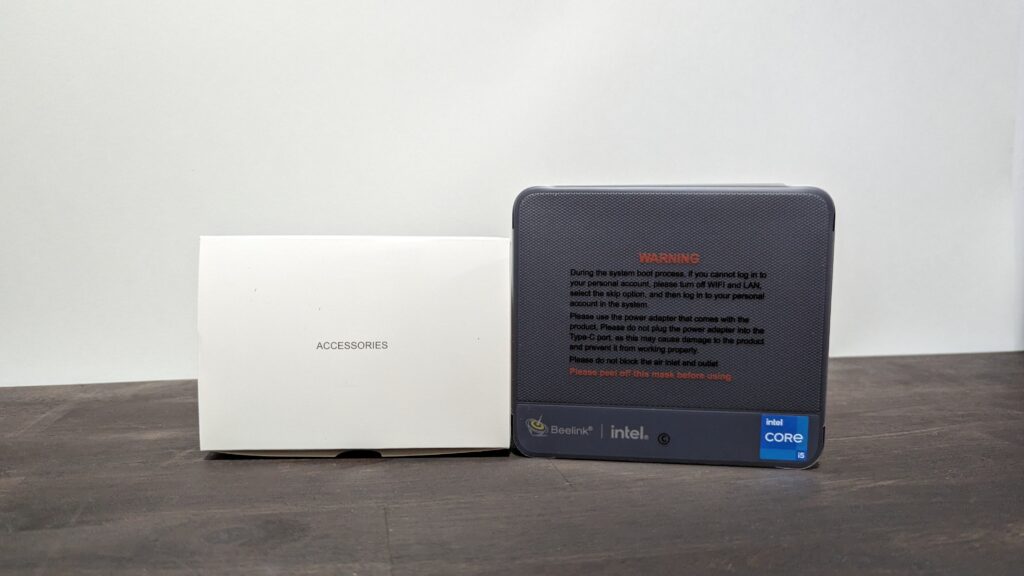 The package contents are
The Beelink SEi11
User manual
~60W Power Adapter
2x HDMI Cables
VESA Mounting Bracket
Mounting Screws
I received a ribbon cable with my unit. The verbiage on it doesn't make it immediately obvious what it is for. However, the Beelink product page for the SEi11 does not list it among the product accessories.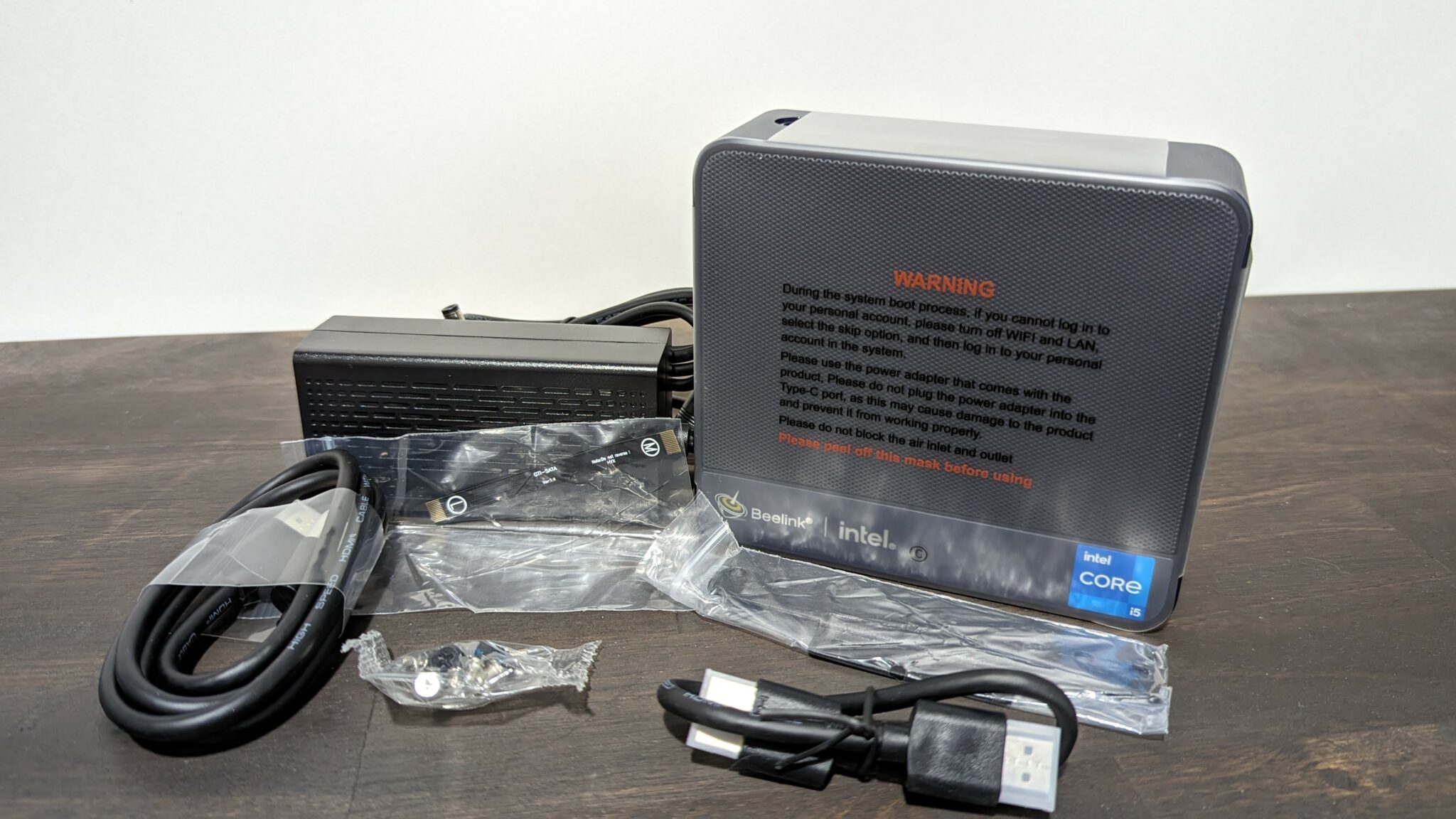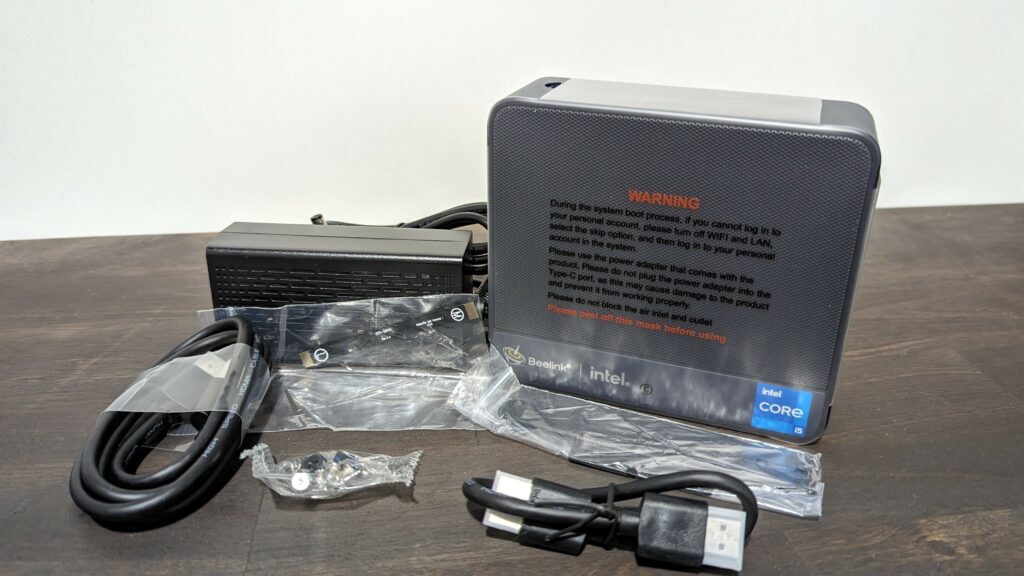 The SEi11 itself comes wrapped in a plastic sleeve that includes instructions on how to create a Windows 11 user account without using a Microsoft account. Additionally, the sleeve also communicates the risk associated with using a powered USB Type-C adapter on the front USB Type-C port or a power adapter other than the one included.
Beelink puts both feet forward with their mini PCs by including a VESA-compatible mounting bracket with the required screws as well as two HDMI cables. This allows for achieving an incredibly clean desk, free of cables and clutter. This is something that, as I've mentioned before, I really appreciate, even if I can't manage to maintain, personally.
Overall, the unboxing experience is very plain, but a good kind of plain. It's easy to unpack (or repack if need be), it's effective, efficient, and minimizes waste. It's what most packaging should aim for. Though, I think that replacing the plastic sleeve and bags with a more sustainable alternative would be a nice touch.
Beelink SEi11 First Impressions
The SEi11 feels fairly heavy in the hand, which is typically a sign of good build quality. However, in the case of the SEi11, the exterior is composed of plastic, meaning that the weight is almost entirely internal, which bodes well for the quality of manufacturing.
Build
The exterior is embellished with metal mesh fan screens on the top and sides. The top mesh occupies what looks to be about 80% of the surface area, while the side vents account for what I would guess to be about half of the surface area. This is typical of Beelink's previous products, as well. The mesh strikes a very good balance between form as it's used to compliment the blue colour scheme and function with the low impedance airflow.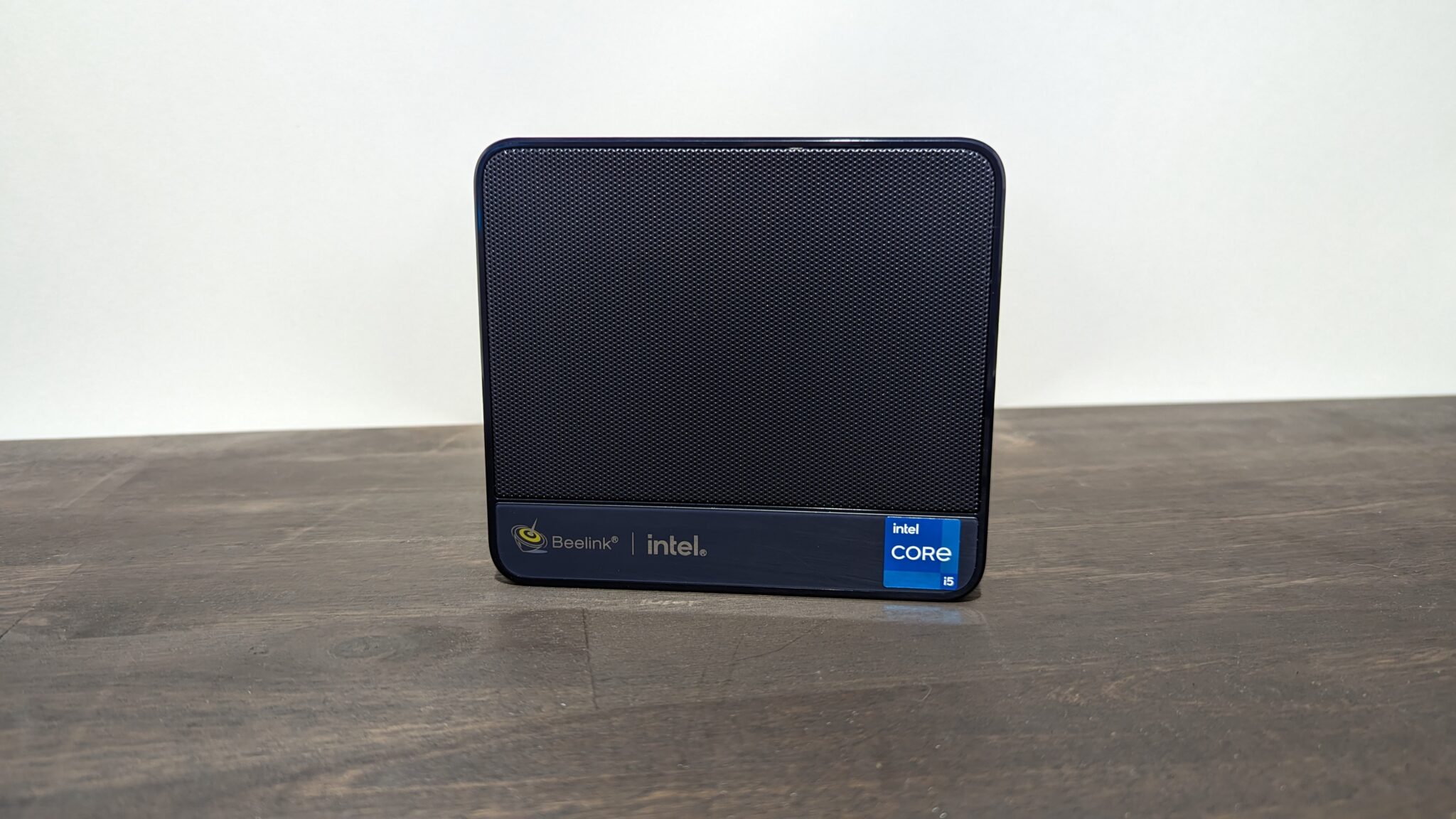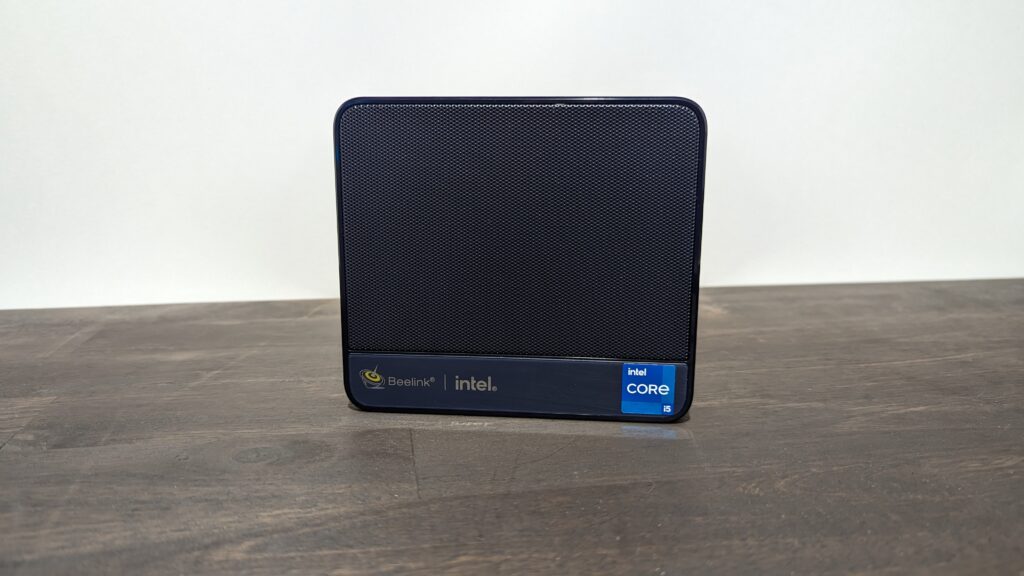 The plastic exterior doesn't appear to diminish the rigidity of the construction in any way. This is despite the exterior having large cutouts for the front panel, very large side intake vents, cooling exhaust, and IO ports on the back, as well as the large intake vent on the top. Applying a fair amount of torsional force to the SEi11 results in no perceptible flex, give, or creaking.
On the underside are some low-profile rubber feet. The feet are fairly grippy on my Ikea desk which is veneered with what I assume is vinyl. I wouldn't expect it to move around very much, but for those that would not take advantage of the included VESA mounting bracket, these will help protect your desk from scratches by reducing both the mobility of the SEi11 and its contact area with the desk surface.
Features
The SEi11 has a total of five USB ports, two of which are USB 2.0. This is something that I've lamented in the past about some of Beelink's products. To be fair, though, in contrast to the previous products, both of the SEi11's USB 2.0 ports are on the back. This is ideal for a mouse and keyboard, leaving the higher-speed USB 3.0 ports more easily accessible. I do think that an extra USB or two would be ideal, though.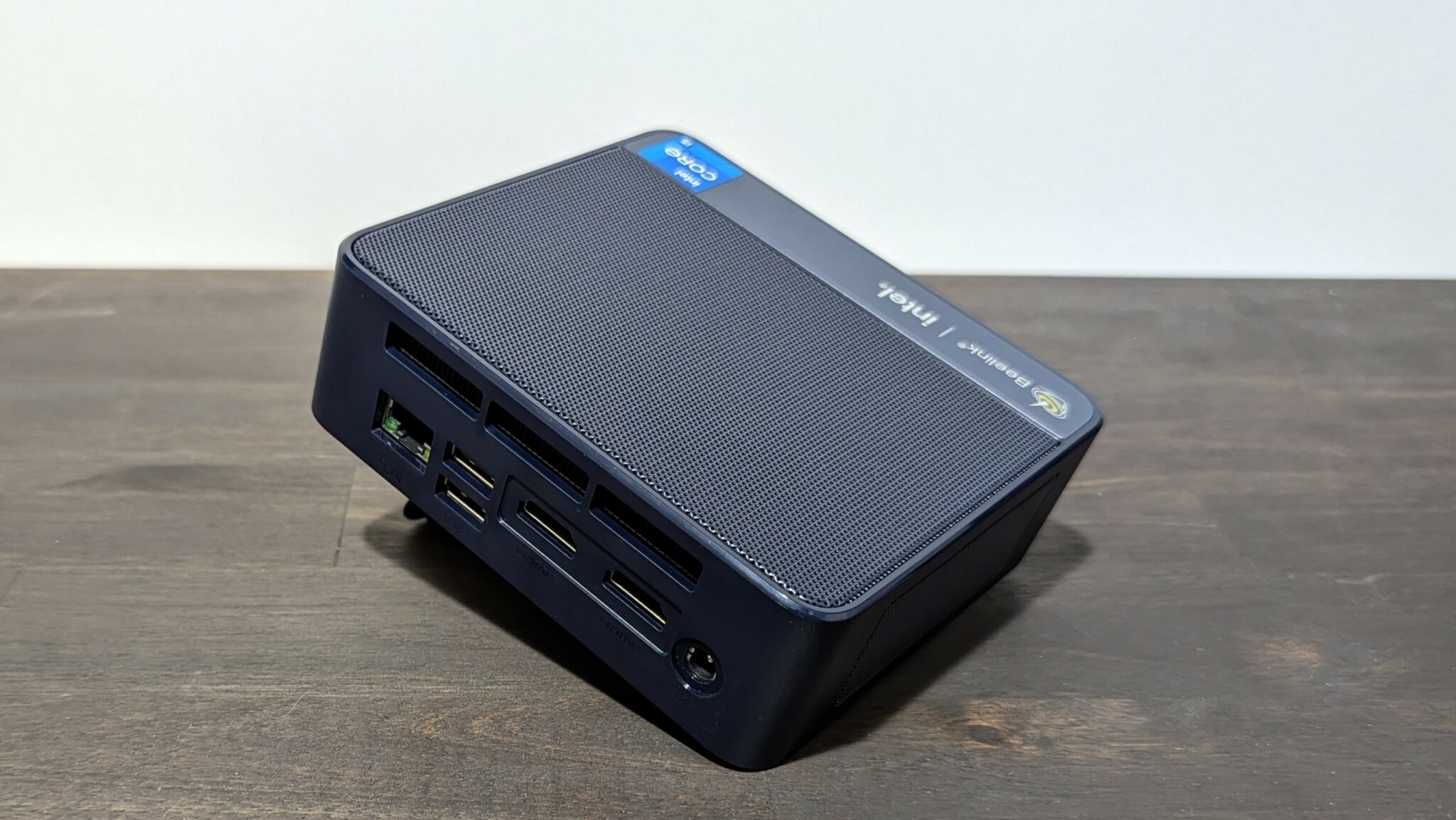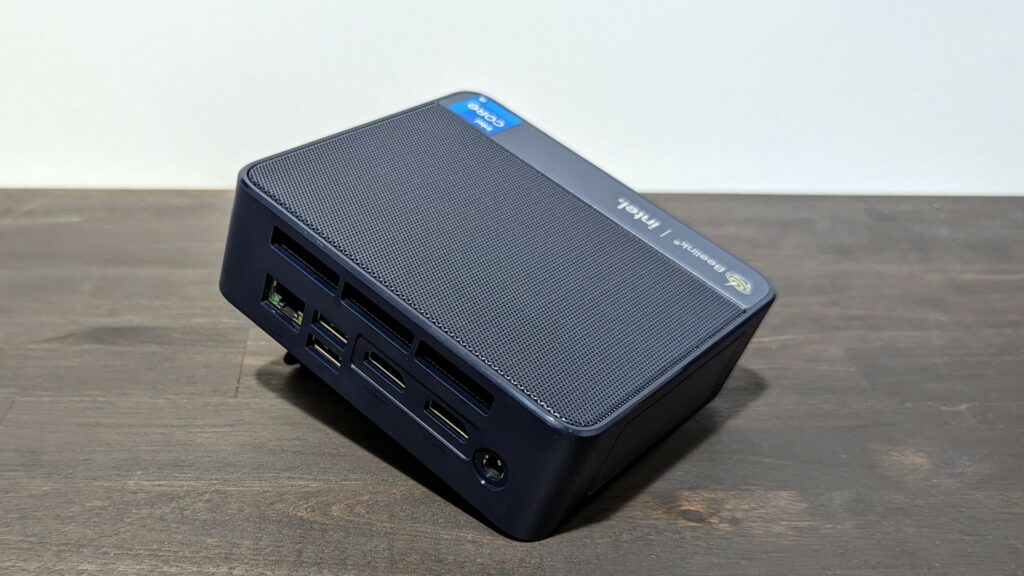 On the topic of USB ports, I think it's time for products with mobile CPUs to start using USB Type-C power delivery. The latest USB PD 3.0 specification supports up to 240W of power delivery (with appropriate cables, of course). There isn't much of a reason for manufacturers to continue to hold out on unifying the power delivery experience on low-power computers. USB Type-C is the future. We should embrace it now so we can begin reducing e-waste on single-purpose chargers.
Beelink SEi11 Performance
Before talking about performance, it's important to cast the right light. The SEi11 uses the Core 5-11320H, a mobile CPU that is not promoted by Intel as being a workstation or gaming CPU. It's a lower mid-tier CPU designed for basic productivity. With that said, modern productivity CPUs are still very capable. I won't go into benchmarking the CPU because I don't think there's very much merit in that, considering the target audience of the CPU and the Beelink SEi11.
The target audience of the i5-11320H is likely to be productivity tasks. The SEi11 combines several features that make it an ideal candidate for home and office use. It's a low-power and low-noise computer that packs more than enough performance to multitask between productivity suites such as Microsoft Office.
To better qualify the low-power and low-noise points, a quick Google search shows that the average desktop uses anywhere from 60W to 250W or 300W depending on the source. The i5-11320H tops out at 35W, and the SEi11's SSD and fan would only consume a couple of watts each at most, making a total of 40W a slightly generous estimate. That's just two-thirds of the bottom end of the (oddly massive) average range.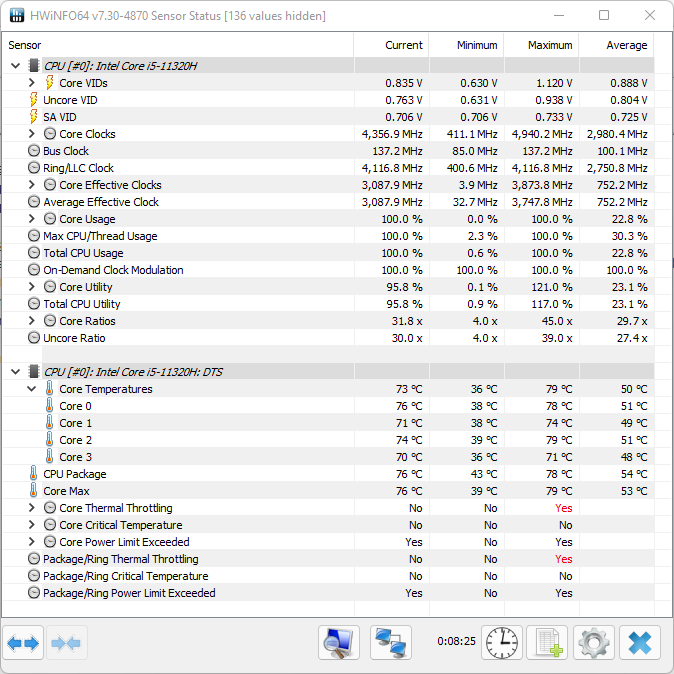 As for the noise levels produced by the SEi11, I have a multimeter with environmental sensors that includes a decibel meter. I ran into a bit of an issue with it, though. It's unable to register any sounds below 39.4dB. I was unable to get the SEi11 to produce a result that my meter would register, even with the fan running at 100%. Given that the average computer generates noise in the 30dB to 50dB range, and I couldn't get a reading of anything over 39.4dB (and I don't think it was close either), I think it's safe to assume that the SEi11's noise emissions are well below the average. Beelink's readings show a maximum of 35.4dB at just 30cm (12″) away. At a meter away, without any obstruction, that would be just 25dB.
The Kingston SNVS500G 500GB NVMe drive installed in the SEi11 is a very capable SSD. Reaching read speeds of 2,500MB/s and write speeds of over 1,900MB/s, it will handle any productivity tasks thrown at it while multitasking updates or malware scans behind the scenes without hiccups. If, for some reason, you need even higher storage speed, the Core i5-1320H supports PCIe v4, which can reach speeds over 7,000MB/s on capable systems. The i5-11320H might prove to be a bottleneck if you make such an attempt.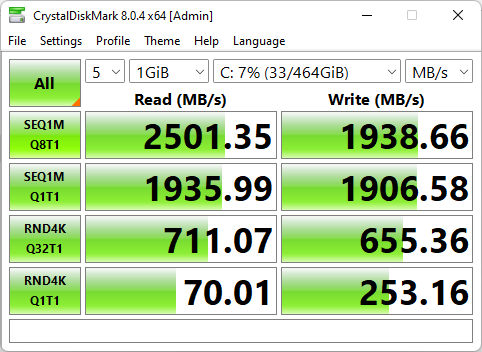 The Kingston SNVS500G provided a very snappy and instantaneous experience in Windows 11. Very few things took much time when loading. When I tried to play some games, they loaded very quickly. Updates took very little time to install. The SEi11 is making me consider upgrading my desktop to one of these very affordable and very performant Kingston drives. If I had to choose, though, I'd likely go with something like the Crucial P3 1TB, which can push 3,500MB/s for about $85USD. If, however, you don't need more speed, but more storage, then you can also capitalize on the 2.5″ HDD bay that's ready for a high-capacity SATA hard drive or SSD.
The capable CPU, stalwart SSD, and 16GB of RAM of the SEi11 make my HP Elitebook that I use for my day job feel twice as old as it is. The Core i5-11320H might not be a hotshot next to an eleventh-generation i7, but it certainly has its own merits.
SEi11 Gaming Performance
This is a topic that is and isn't fun to talk about on these mini PCs. Beelink markets the SEi11 as being gaming capable. And they aren't wrong. But the i5-11320H has an integrated GPU, which will never perform the same as a discrete GPU.
Despite this, I did install some games to try out.
Skyrim, granted it'll be eleven years old next month, ran flawlessly. Considering Skrim has received some updates since its initial release, the recommended system specifications may have increased. If nostalgia is your focus when gaming, the SEi11 might actually be a perfect fit.
Unfortunately, when trying to run No Man's Sky and Stray, I ran into some issues where they weren't launching. I didn't get to the bottom of it, but I'm sure that it was just something wrong with either Steam or the DirectX installation.
Beelink SEi11 for Home Labbing
I really like to bring up home labbing with the mini PC topic. The small footprint of mini PCs is incredible. For those with space and/or power constraints, the SEi11 could be an excellent option for a home lab host. The value proposition is in the combination of the performance to footprint, power, and noise ratios. The SEi11 is strong in all three of the ratios.
Conclusion
It's important to keep in mind, though, that there are always concessions and tradeoffs with mini PCs in terms of performance. The Beelink SEi11 performs very for what it is, but it cannot substitute for desktop performance where desktop performance is needed.
Where desktop performance isn't needed, Beelink's SEi11 is an excellent contender for prospective buyers in the productivity-minded home and business computer markets. It's also just as excellent an option for home lab operators that require the space or power savings the SEi11 offers.