In one of the biggest coordinated attacks, the Twitter accounts of famous people and companies were compromised by Bitcoin scammers. Accounts of celebrities like President Barack Obama, Joe Biden, Elon Musk, Bill Gates, Kanye West, and Michael Bloomberg were hacked. Official accounts of companies, including Apple, also suffered the attack.
In tweets posted by the hacked accounts, hackers asked people to send Bitcoins to random wallets. Moreover, the Bitcoin wallet addresses mentioned in the scam tweets by Elon Musk and Bill Gates' hacked accounts managed to gather Bitcoins worth $59,000. So far, the attack has gained transactions of $120,000.
Soon after Twitter received complaints of the coordinated attack, in an unprecedented move, it blocked the tweeting rights of all verified accounts to prevent any further scam tweets. In the 14 year-long history of Twitter, this was the first time that the platform restricted all verified accounts from tweeting.
Later, it was revealed that the internal tools of the social media platform were used in hacking and which is how the scammers managed to bypass two-factor authentication.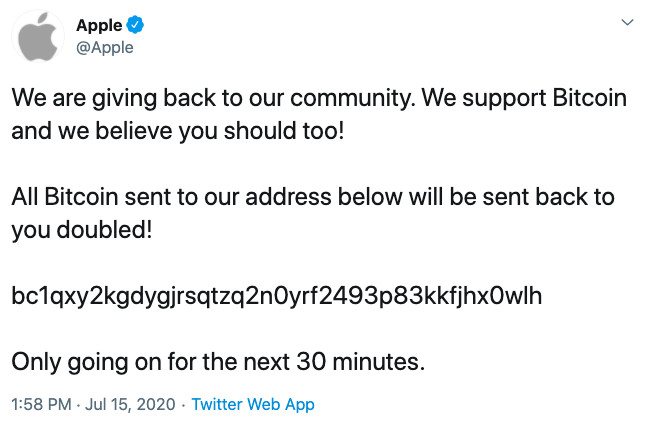 Putting out a statement about the attack, Twitter CEO Jack Dorsey wrote: "Tough day for us at Twitter. We all feel terrible this happened. We're diagnosing and will share everything we can when we have a more complete understanding of exactly what happened."
There is still no information about the mechanism used behind the attack but it could be believed that hackers have managed to find a security loophole in the account login or account recovery process on the platform.
The outage lasted about an hour and soon after fool-proofing all security loopholes, Twitter gave the account access back to people.