How is your quest for finding the best VPN service going on? Well, you might have read our reviews of the VPN services like Private Internet Access, ExpressVPN, and NordVPN. In this post, I would like to tell you about another well-known VPN service called TorGuard. But before moving ahead, let's us recall the basics of VPN.

What is VPN (Virtual Private Network)?
A Virtual Private Network can be used to extend the virtual boundaries of a physical network, such as the network maintained by a corporate organization. It lets the traffic pass through an encrypted tunnel over the internet, preventing any middleman to access the same while the data packets are in transit.
A VPN can hide the IP address and location of a user or allow employees to access their company's resources remotely. Other reasons that compel people to subscribe to VPN services include bypassing geo restrictions and accessing blocked websites.
Many users think that VPN slows down the internet speed. But it's not entirely true — there could be factors which might affect the connection speed over VPN. You can read about the seven myths people have about VPN services.
TorGuard VPN Review: 2018
Although the name might suggest, TorGuard is not related to the Tor Project which develops Tor Browser. TorGuard is a VPN service maintained by a West Indies-based company VPNetworks. It has a strong presence in the VPN market with over 3000 servers located in more than 50 countries.
Best Features of TorGuard
Other than fast VPN, your TorGuard subscription would also provide a ton of features which can improve your VPN experience. Here is what TorGuard offers to the users on paper:
Strict no-logs policy.
unlimited VPN uptime.
No limits on VPN speed and bandwidth.
Support for multiple VPN protocols: OpenVPN, PPTP, L2TP, IPSec, SSTP, iKEV2.
TorGuard can run on up to five devices at the same time.
Comes with support for Kill Switch.
Protects against DNS Leaks, WebRTC Leaks, IPv6 leaks, etc.
Supports Cisco AnyConnect and OpenConnect SSL VPN.
The VPN service secures its connection using strong encryption and allows users to choose the authentication and ciphertext as per their requirement. It also provides a special category of VPN servers called Stealth and promotes it as being capable of providing access in areas where VPN is officially blocked. Other VPN services have similar feature but with a different same, such as NordVPN calls it Obfuscation.
TorGuard VPN can be used to anonymously access the BitTorrent network and download your favorite content. Though, it doesn't mention the list of dedicated P2P servers, like in the case of NordVPN.
Extensive VPN apps support
What makes TorGuard rank among the top VPN services is their cross-platform support to get your different devices covered when providing VPN service. TorGuard VPN apps are available for Windows, MacOS, Linux, Android, and iOS. It also supports other popular platforms including Kindle, Xbox, PlayStation, Apple TV, Chromebook, as well as, various router firmware like Tomato, DD-WRT, and Asus Merlin.
TorGuard VPN Hands-on Experience
Using TorGuard on Windows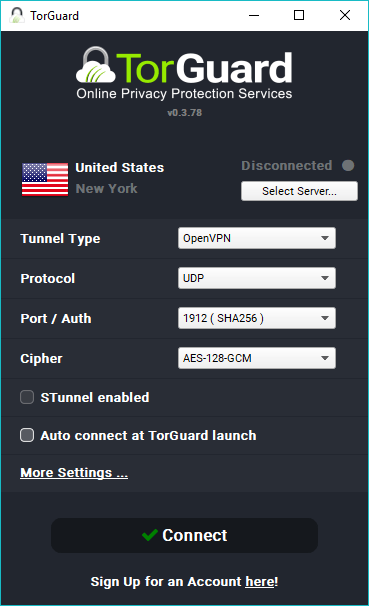 Talking frankly, using the TorGuard Windows app for the first time wasn't a pleasant experience. I had to spent almost an hour trying to figure out the username and password to access the VPN service.
You need to access the TorGuard web account to generate a temporary random user id and password which works with the app. One weird thing is that the app asks for login details after you click the Connect option which makes things more confusing.
Featuring average looks, the TorGuard VPN app is all about stuffing different options for the users. The first thing you'd notice in the TorGuard Windows app dashboard is the bunch of options to choose the VPN server location, change the encryption, launch the app at startup.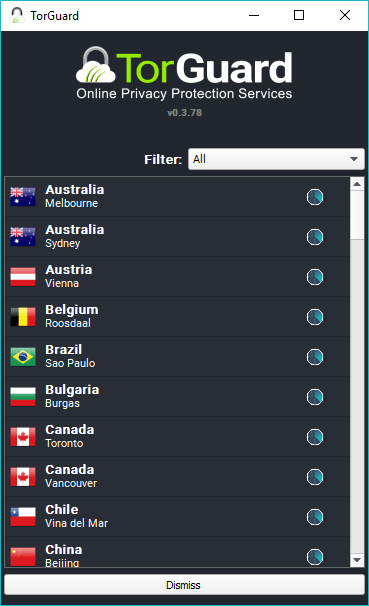 While selecting the TorGuard VPN server, it's possible to narrow down the server list to cities within countries. But, unlike other VPN apps, TorGuard doesn't offer a search bar to find VPN servers quickly.
The 'More Settings' screen is divided into various categories. Many everyday VPN users might not need those features at all. But yes, they are a clear advantage and can provide an upper hand over other VPN services.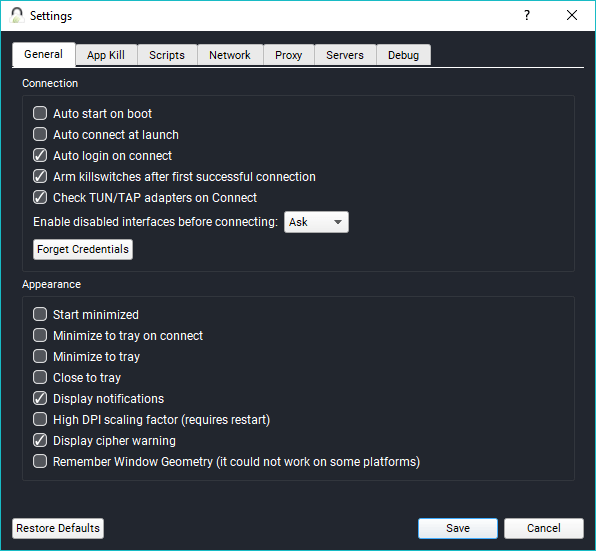 Under the General tab, you can manage actions associated with the startup, minimize, notifications, connection, etc. You can also ask the app to forget the login credentials and restore the settings to default.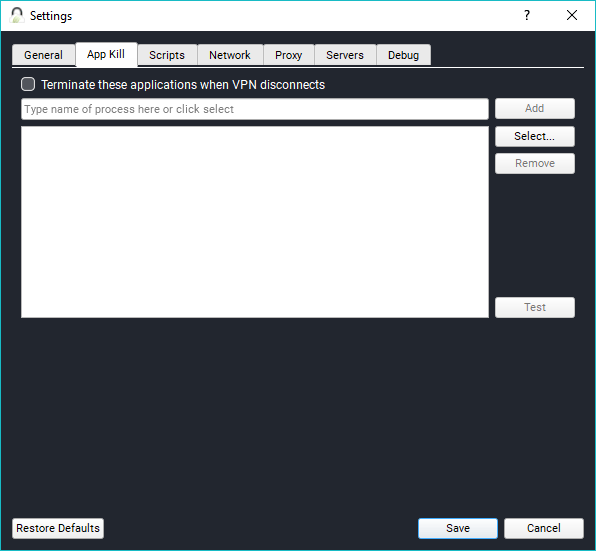 The App Kill tab allows you to select the name of the apps and process, which need to be terminated when the VPN service faces a blackout. This helps the traffic related to these apps from being exposed to the regular internet.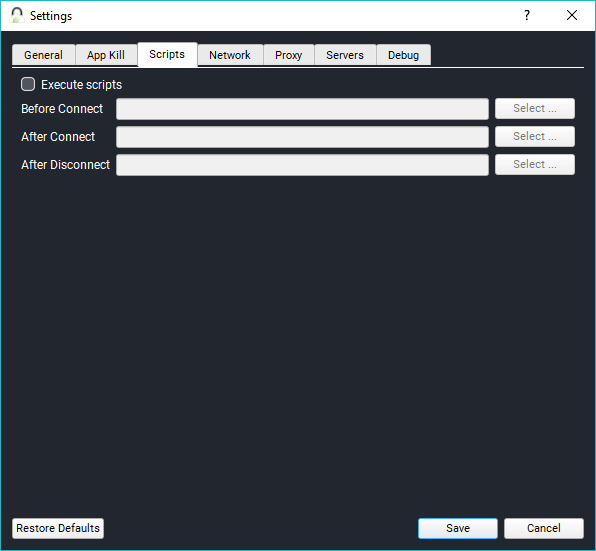 The TorGuard VPN also allows you to automatically run batch files, bash scripts, VB scripts, etc. You can set them to run before, after connecting, and after disconnecting the VPN service.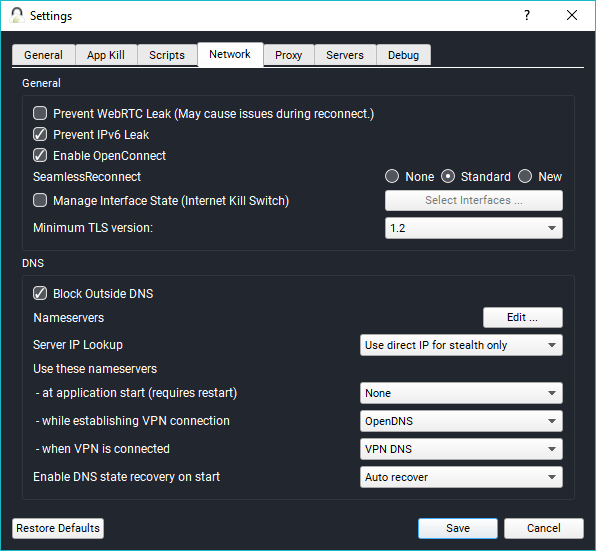 Under the Network tab, you can edit the DNS settings provided by the app. If you want, you can choose third-party DNS instead of the one provided by TorGuard. It's not advised as it may expose your identity. Further, there is a checkbox to enable WebRTC leak, IPv6 leak, etc.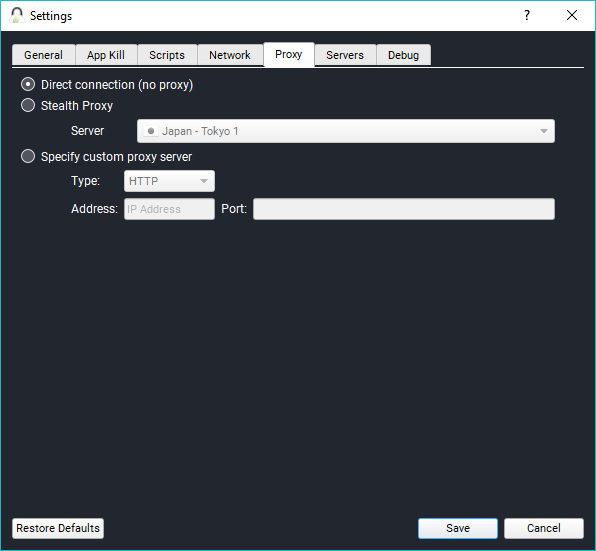 For further anonymity, your VPN traffic can also be routed via proxy servers maintained by TorGuard, or if you want it to pass through a custom proxy. Under the Servers tab, users can maintain the list of the dedicated IP addresses they have brought from TorGuard.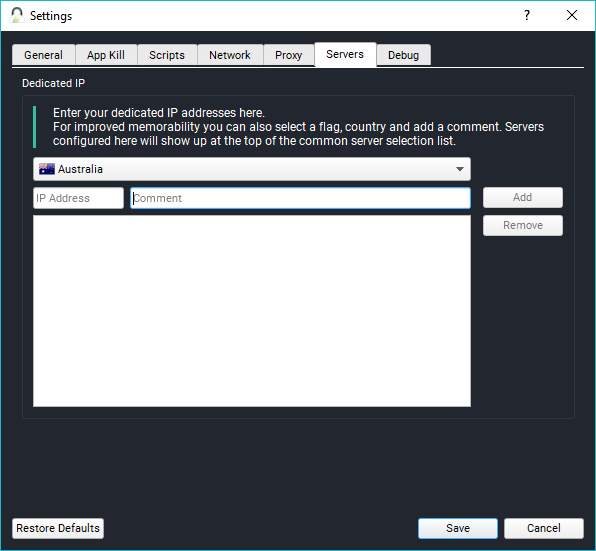 Using TorGuard on Android
TorGuard's Android app is no different than its Windows siblings when it comes to basic working. You have to tap the Connect button after which the app asks for the temporary user credentials. The app also supports the OpenVPN protocol and allows you choose between different encryption modes.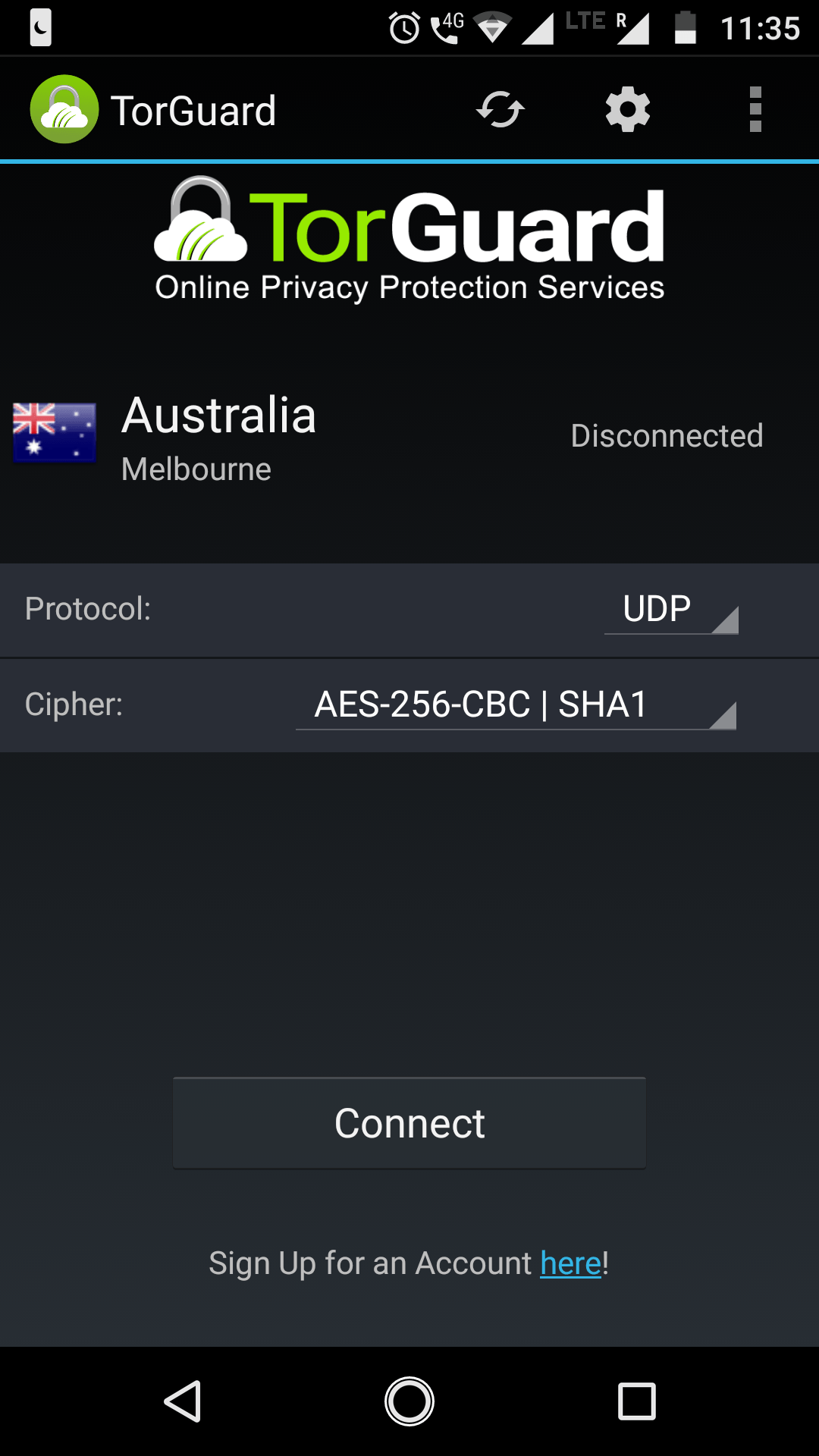 To change the VPN server, tap the name of the server on the main screen. This Servers screen also doesn't include any search bar, but you can filter the servers in different categories.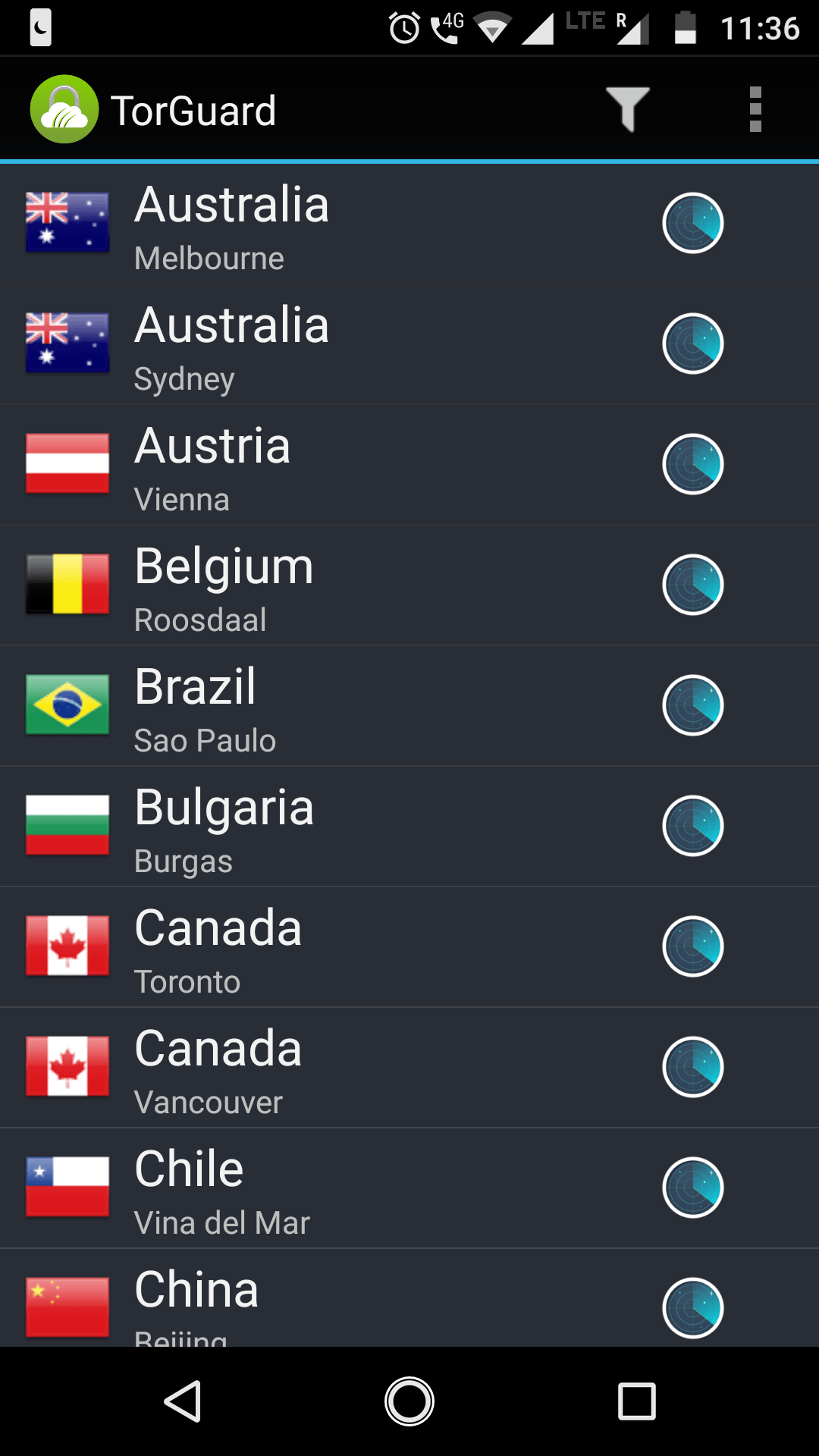 You can tap the gear icon on the top to reveal the Settings screen which provides the list of all the features the app has to offer. After enabling the relevant settings, the TorGuard app can automatically start when Android boots and connect you to a VPN server.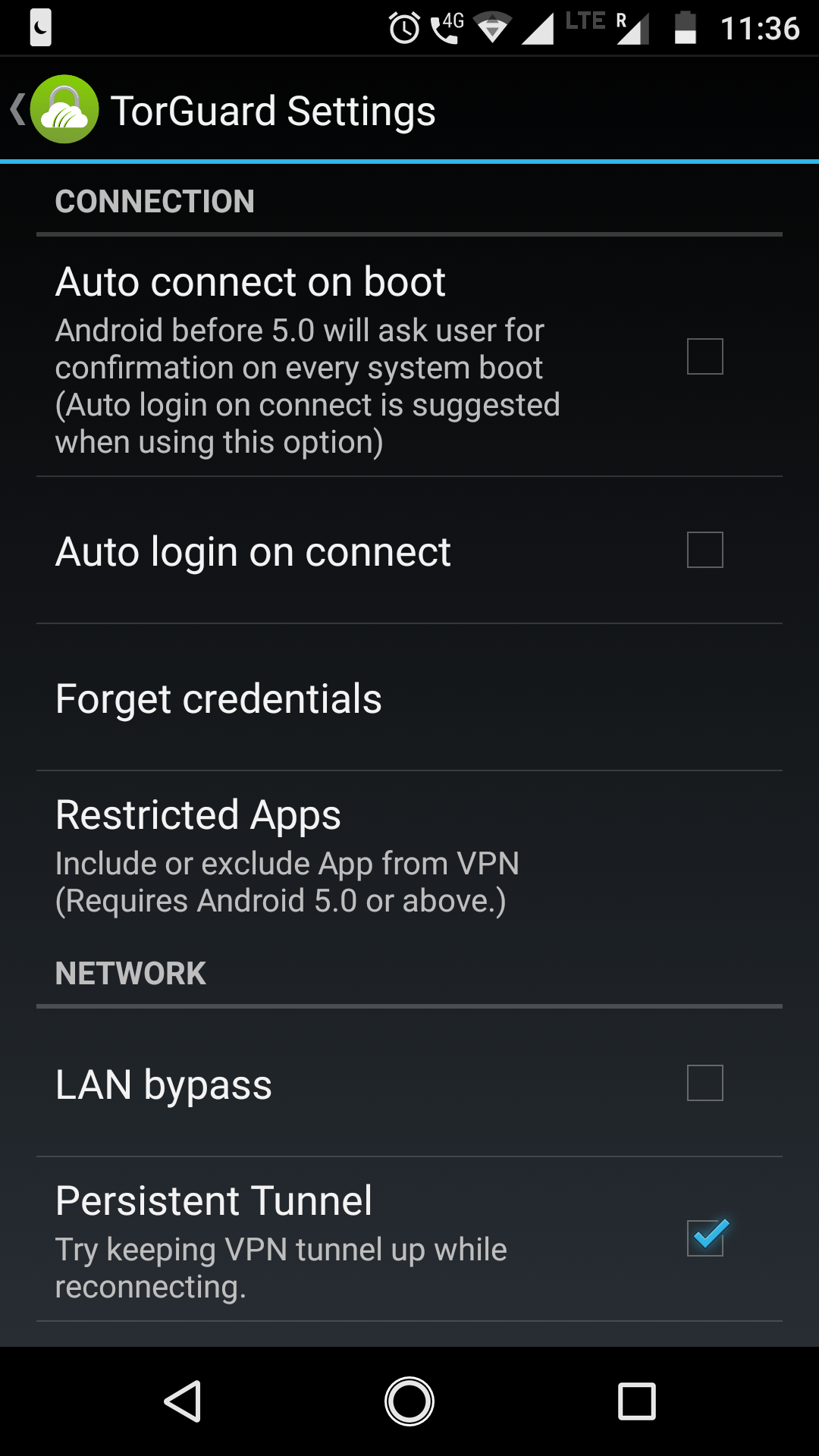 One handy feature you'd find is the ability to filter Android apps that you don't want to use with the TorGuard VPN connection. Tap Restricted Apps in Settings and turn on Restricted Apps feature. Then, select the apps you want.
The settings screen also allows you to forget login credentials, enable features like LAN bypass, IPv6 leak protection, configure stealth servers for DNS lookup or to use direct IP. You can also set a dedicated IP address for the VPN service in the app. A permanent IP address is assigned to you which can help when using the VPN service while gaming and using websites like PayPal. However, using the same IP every day could decrease the level of your anonymity.
Another thing I noticed during my TorGaurd review is that the TorGuard Android app doesn't allow you to change any settings if you're connected to a VPN server. To make any changes, you'll have to disconnect first.
Using TorGuard on iOS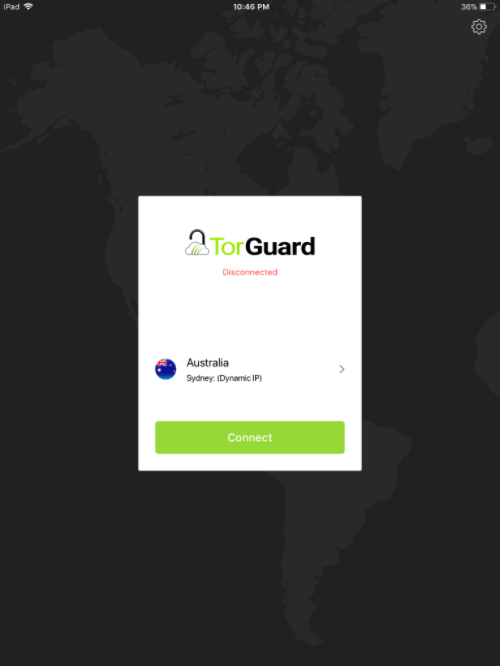 Next, I loaded the TorGuard app for iOS on an iPad to see how it's different than its Android version. It turned out, the app is a lot simpler and stripped in terms of features. In fact, the app looks like an iPhone app blown up to cover the gigantic iPad screen. And it doesn't support landscape mode as well.
The main screen displays nothing but the Connect button and the option to choose a VPN server. Same as elsewhere, the sign-in option appears after you initiate the VPN connection. The option to change the encryption mode is gone and it doesn't support OpenVPN. However, you can use the protocol via third-party apps.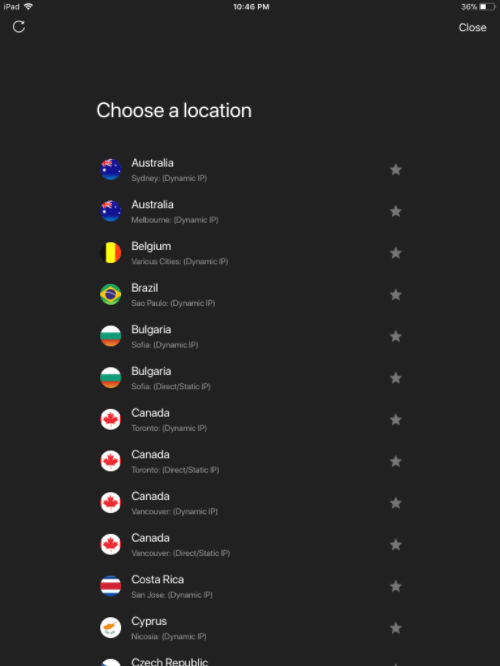 The VPN servers screen doesn't have the filter option. You can refresh the list using the button present in the top-left corner of the screen. Tapping the star next to a VPN server adds it to your favorites list for easier access next time.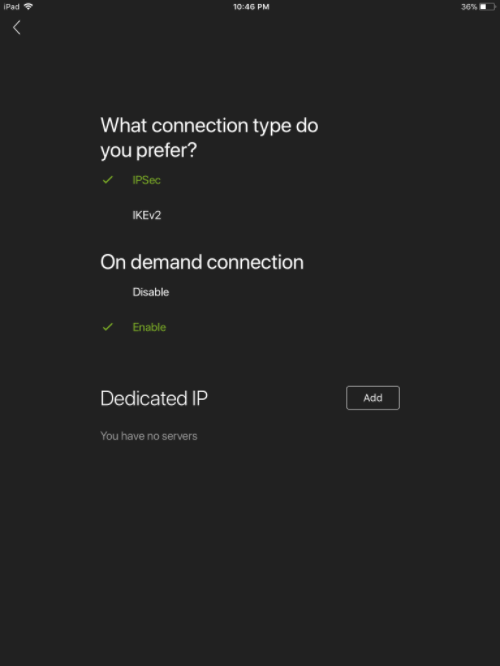 The Settings screen allows you to choose between VPN protocols, enable or disable on-demand connection, and set up dedicated IP address.
TorGuard Performance
Using TorGuard apps is indeed a tiresome experience, I'd say. The biggest issue I faced was the temporary username and password. For instance, you enter the randomly generated credentials on one device only to realize later that your other device has different credentials. So, you regenerate the login details and forget to configure them on the first device. The trouble here is the moment you leave the Service password page, the details vanish.
A couple of possible solutions include configuring all devices at the same time. Otherwise, you can write down the user id and password which is not recommended or learn it by heart if you can.
Coming to the actual performance, the time taken to connect to the VPN service is average, regardless of the VPN server. However, TorGuard takes more time to connect when you have refreshed the login details.
For this in-depth review of TorGuard VPN, I have used Ookla's Speed Test tool to check connection speeds for domestic and international VPN serves. Please note that there are many factors that might affect the real world speeds of VPN connections.
When the VPN server was located in my country, it could easily deliver around 80% of my actual internet speed when checking against Speed Test's servers located near me and far off in other countries. For internal TorGuard VPN servers, the overall output was around 80% of my usual internet speed.
What works?
Many users buy VPN services in the search of the Netflix catalog that's not available in their countries. The streaming service doesn't seem to work with the default shared IP but users can buy a dedicated shared IP from TorGuard which appears to be a long-lasting solution. Similarly, Amazon Video didn't work as well.
Next comes YouTube which worked without any hassle, TorGuard can easily deliver 4K videos on your screen provided you have enough bandwidth. I also downloaded a 2.5 gig torrent for the review, and the VPN service was able to give back around 85% of the bandwidth.
TorGuard VPN Support
TorGuard's after sales support includes a number of options such as email, contact form, toll-free number, and live chat. The average response time in the case of live assistance was around a minutes or more. Surely, this is higher than that of ExpressVPN, but it's fine unless there is a life and death situation.
Pricing
If you are planning to subscribe to TorGaurd VPN, you can choose between the following plans:
Monthly: $9.99/mo
Quarterly: $19.99/3 months
Half-yearly: 29.99/six months
Annual: 59.99/year
TorGuard offers a number of payment options including credit cards, PayPal, prepaid wallers, etc. For security-focused users, the option for paying in Bitcoin and other crypto coins is also available.
Final Thoughts
So, should you buy TorGuard? In terms of user experience, I'd prefer other VPN services over TorGuard. But users can go for it if they only care about the performance of the service which is very good.
TorGuard doesn't seem to disappoint at all when it comes to general web browsing, streaming videos or downloading torrent files. It's loaded with features, but many of them might be of any use to everyday users.
The VPN service has more than 3,000 servers at its disposal and most of the time I didn't face any speed degradation while browsing websites and downloading stuff. Overall, the apps on Windows, Android, and iOS provided a great experience as well, expect the temporary credentials part. One needs some time to get used to it.