Right now, smartphones from Xiaomi, Honor, and Realme rule the lower-budget segment in the Indian market — and it would only take a miracle to decrown, let's say Redmi Note 6, and become the new budget king.
Samsung is performing pretty fair in the high-end segment with its contender Galaxy Note 9. Its new and premium Galaxy S10 series has also stirred up the smartphone market. But, as it appears, the company is also testing the waters in the low-end segment with its all-new Galaxy M series. In this review, we'll take a deeper dive and see how Galaxy M20 performs against the competition.
Price
The new budget lineup from Samsung has two devices: The Galaxy M20 and the Galaxy M10.
Keeping an identical design, Samsung has intelligently placed both of them in adjacent price segments — The M10 starting price is Rs. 8,000, which is roughly $112, whereas the M20 starts at Rs. 11,000, which is approximately $155.
Given the price, the Samsung Galaxy M20 packs many features and a few that makes it stand out the crowd.
Display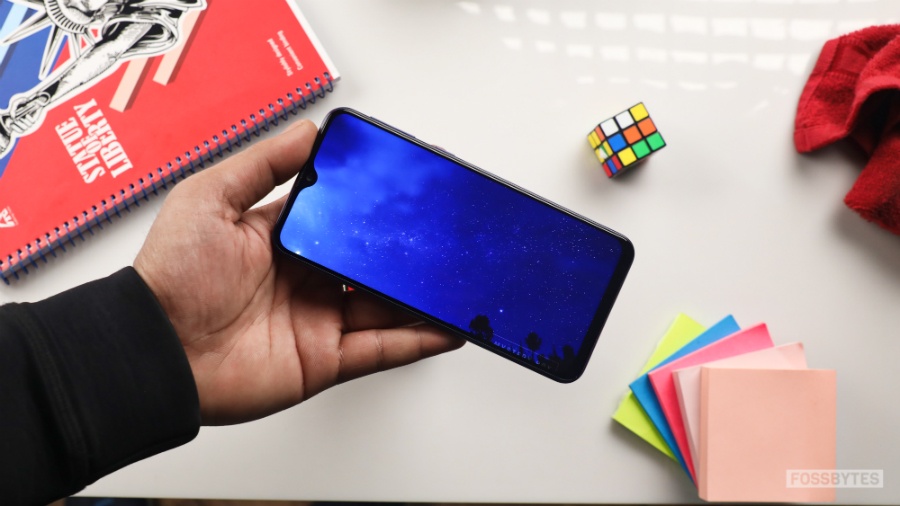 Yes! I am talking about the tiny drop-notch, which we also saw on the OnePlus 6T. It looks exceptional on the Galaxy M20 and blends in pretty well with the screen.
The edges are sharper as compared to the OnePlus notch, which has a smooth finish. However, it can be overlooked. Besides, it's a massive 6.3-inch TFT LCD display that goes nearly to edges of the screen.
As you will notice, the Galaxy M20's "Infinity V-display" comes quite close to the OnePlus 6T AMOLED display. In other words, the screen has an ample amount of brightness; It has good viewing angles, and the colors pop-up quite well. Of course, the credit goes to Samsung as it's one of the best display makers in the world.
Owning to the bezel-less display, Samsung Galaxy M20 has a 19:9 aspect ratio, which bolsters the immersive video watching experience. Samsung could have included the different display modes, but I think the stunning display is more than enough.
Design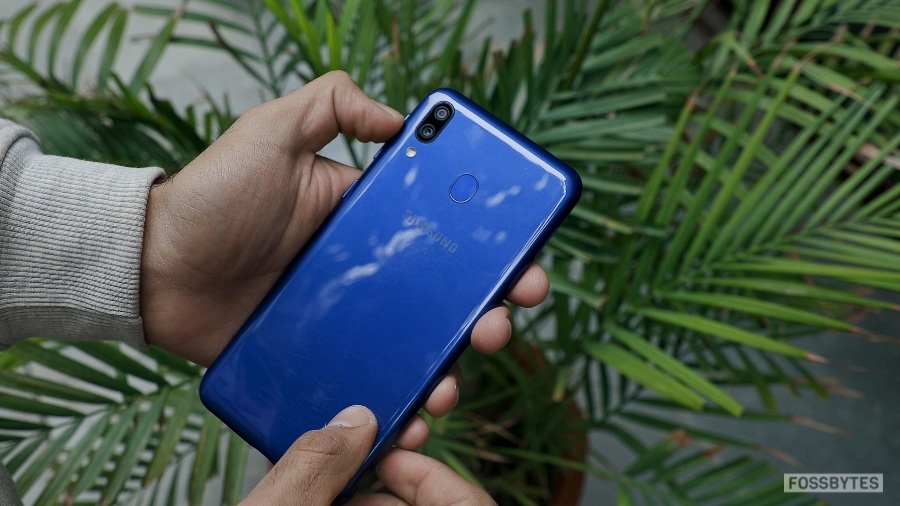 Obviously, you don't come down to this price without making some trade-offs. So here is one for you — The Samsung Galaxy M20's entire back is made of plastic, that also extends to the sides as well. Consequently, making the phone feel unusually thick and quite bulky.
But on the flip side, the unattractive design makes Galaxy M20 a strong and durable phone. Moreover, the display is protected by virtue of the hideous bulge on the outward sides.
Unfortunately, I can't say for the front since Samsung has avoided a Gorilla Glass protection. But I imagine you can't give everything for the price, so a screen guard would be a wise choice.
Coming to the sides, there are the standard volume and power buttons, a SIM tray on the left that allows two SIM card and a MicroSD card up to 512GB of storage.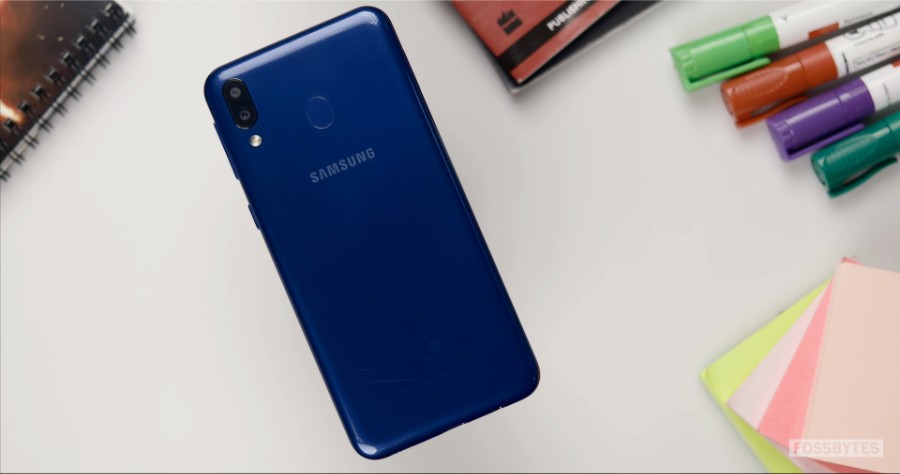 Below, there is a headphone jack which is still doing rounds, at least, on the lower end smartphones; A USB type-C connector which I think is a remarkable feat, considering other smartphones in this price range are still stuck on microUSB.
There is a single speaker on the lower side, that gives an above-average sound. Often, my fingers blocked the speaker while playing games: A problem with smartphones housing downward speakers.
Performance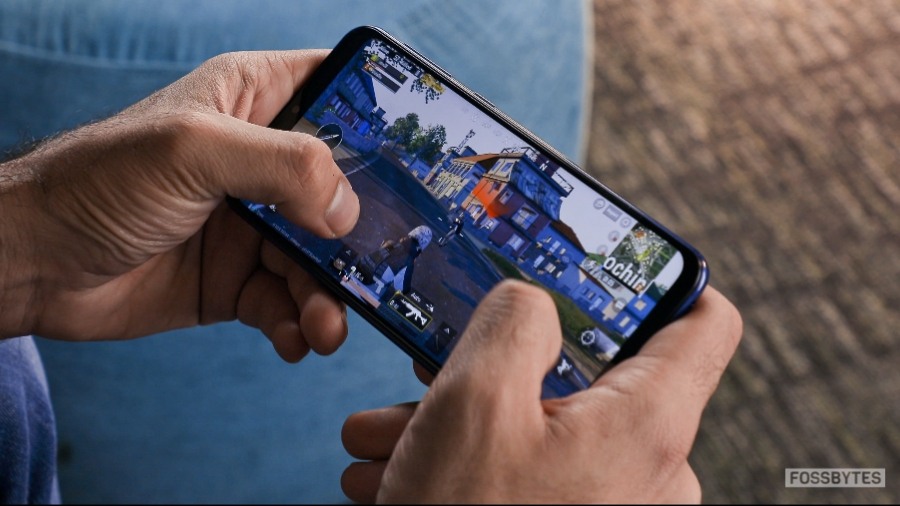 First, let's talk about gaming here. I tried playing PUBG on this phone, but heavy games are a no-go on the Galaxy M20. One can manage on the lowest settings, nevertheless, avoid buying Samsung Galaxy M20 if hard-core gaming is your real concern.
Certainly, the lags are not limited to gaming as you would see its traces while using the smartphone as well. However, I kind of expect this of Samsung — If you go back and look at the mid-range devices from Samsung, strong performance has been their niche anyway.
With that being said, there aren't any major issues when it comes to day-to-day usage. In other words, it is snappy but not quite near to the other budget smartphones.
On paper, Samsung has put up its in-house Exynos processor with 3/4GB of memory, depending upon the variant. Along with that, you have 32/64GB internal storage.
Camera
Samsung Galaxy M20 comes with a dual camera setup that includes a 13MP primary lens and a 5MP wide-angle lens. I clicked a bunch of photos and, in my opinion, the camera is a little below average. 
To start with, nearly all the pictures lack details. As you notice above, there is noise as well. Although the snaps are well-exposed, the light makes the color suffer which are already not vivid enough to start with.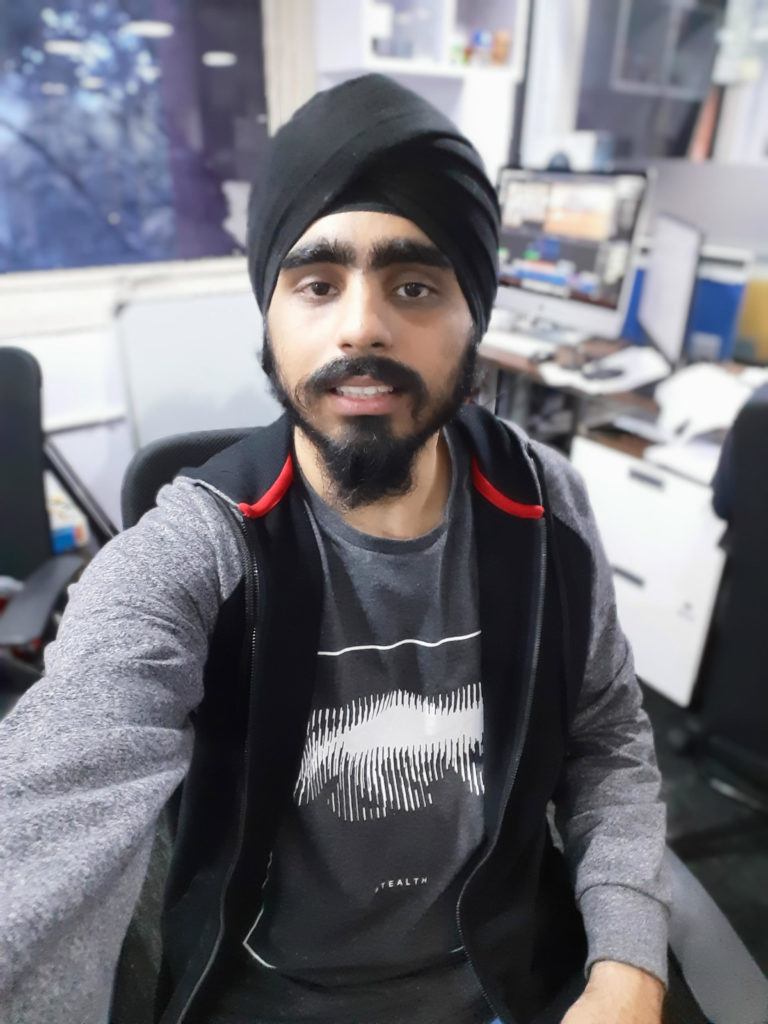 There are different camera modes of Samsung Galaxy M20 as well; for instance, there's the "Live Focus" for bringing the blur effect, essentially the Portrait Mode. While it churns out fair images, the edge detecting was really poor.
To put it another way, the wide-angle lens turns ineffective in regards to the Live Focus mode. However, it still does its job of adding more real-estate to the frame when clicking the pictures in wide-angle camera mode.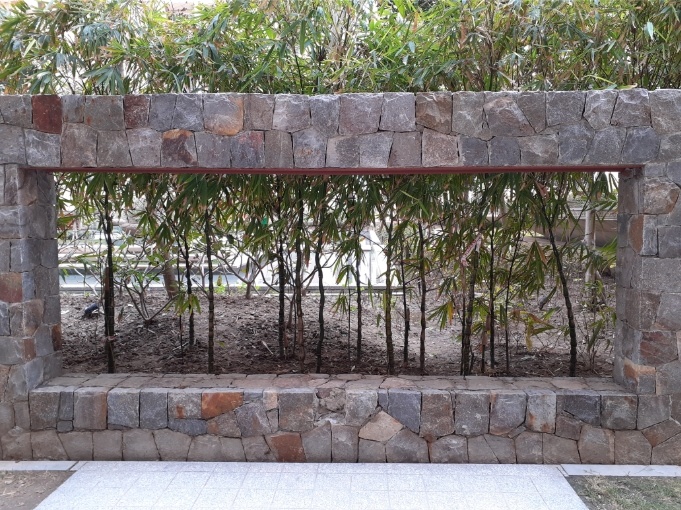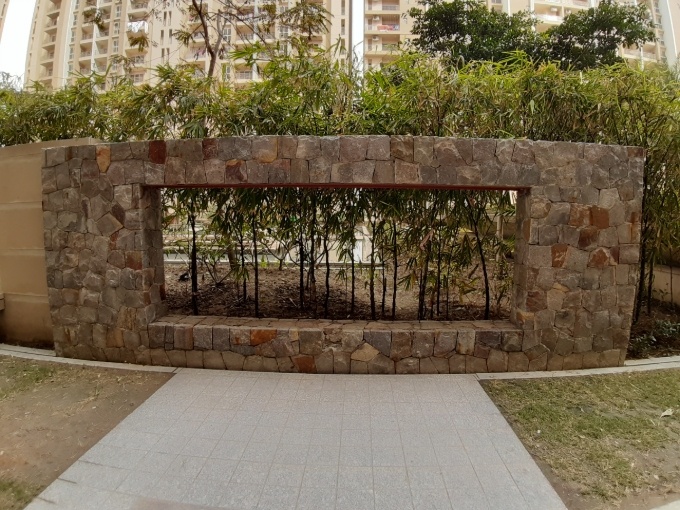 Night pictures were relatively well exposed and, surprisingly, they managed to retain some details.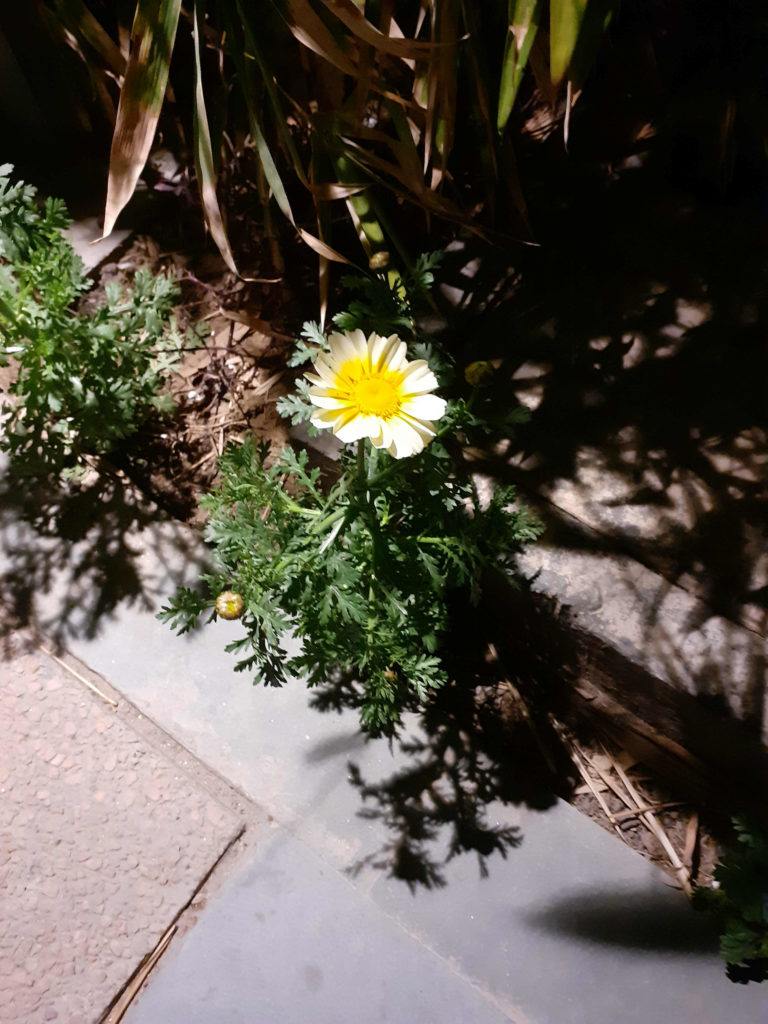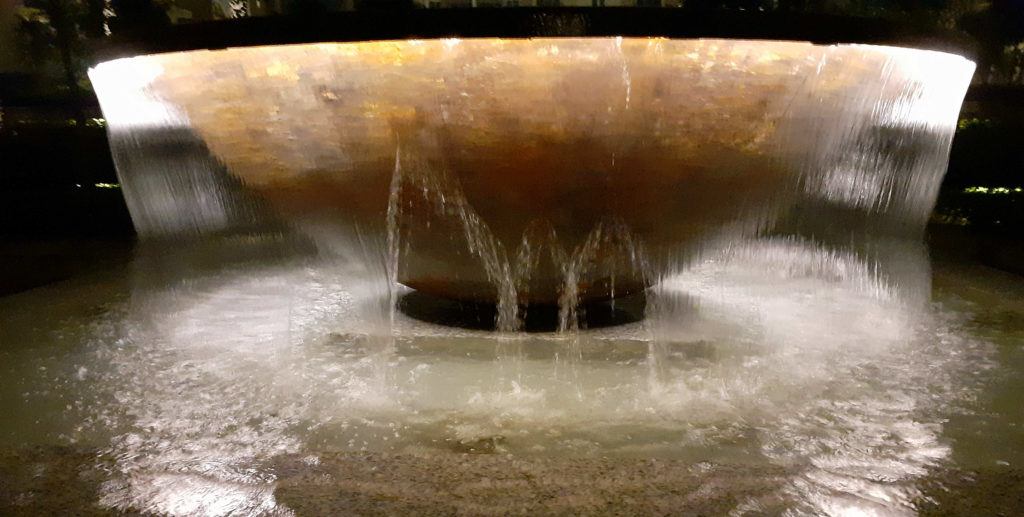 On the front, there is a single 8MP selfie camera. Along with that, Samsung has installed different beautification filters for refining the Skin, Face or Eyes. Similar to the primary camera, the f/2.0 selfie module captures poor images with low details and over-exposed images.
Both camera setups can capture HD videos but unlike Redmi Note 6 Pro and Asus Max Pro M2, M20 doesn't have the EIS (Electronic Image Stabilization), therefore producing shaky videos.
Here are some more images captured from Galaxy M20 —
Battery
I like the fact how lower segment phones are going for bigger batteries as the Samsung Galaxy M20 comes with a massive 5000 mAh battery.
As a result, you can run the phone for an entire day, sometimes even more, depending upon your usage. I, being an audiophile, keep Spotify running in the background and in spite of that, I managed to squeeze 1 day and 14 hours backup on a single full charge.
Interestingly Galaxy M20 also offers fast charging. It's one of the rare features that usually aren't found on the lower-end devices but, somehow, Samsung did it. It's not as good as my experience with the OnePlus, but is still a plus point. Personally, I got a 50% charge in an hour.
System UI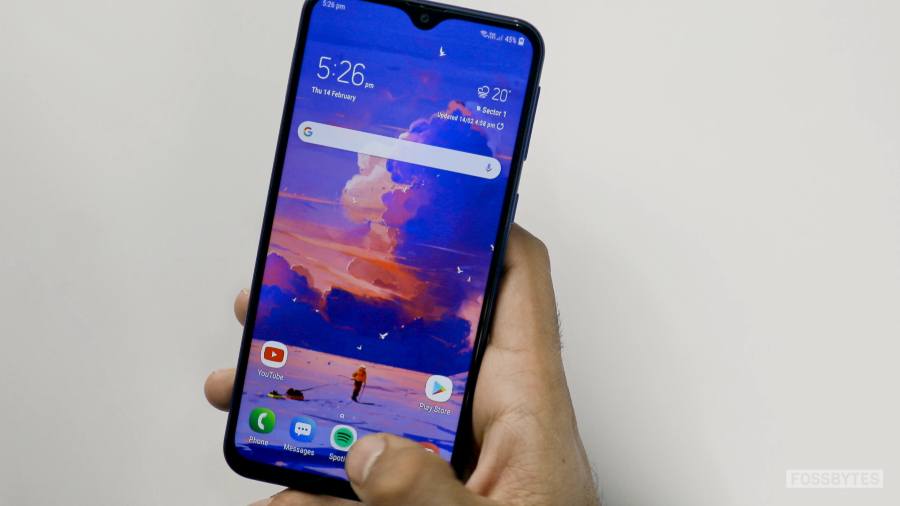 The Galaxy M20 comes with the Samsung Experience 9.5 that is powered by Android 8.1 Oreo. It's not as amazing as the recent Android Pie-based OneUI in the Samsung Galaxy Note 9 or the new S10 series, but I would still prefer it any day over MIUI or the EMIUI. The best part is Gesture Navigation on the M20, which is an Android Pie feature.
The M20 also comes with face unlock feature which Samsung put it just there just for the sake of it. Firstly, it is quite slow as compared to other phones, but even if I keep that aside for a second, it's not at all secure; I managed to get inside the phone with just a photo of mine.
Should you buy it?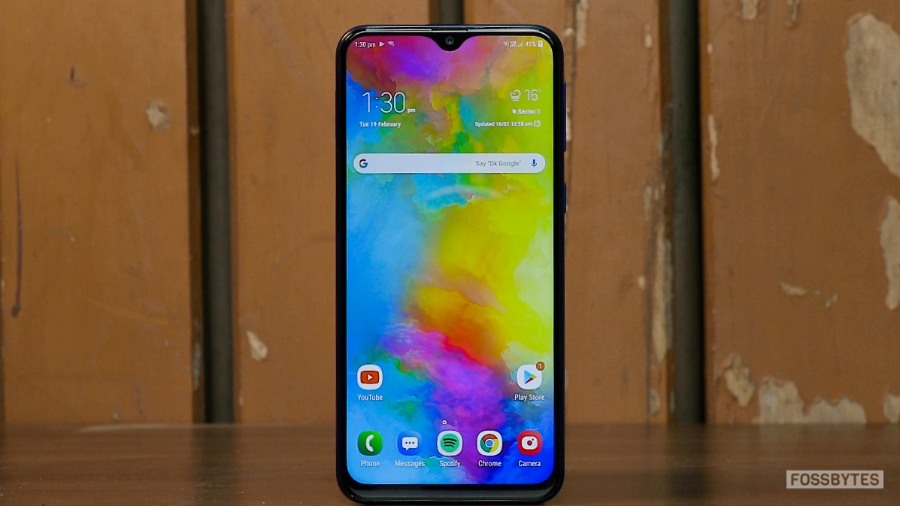 Now that we have talked about every factor, overall, I would say that Samsung Galaxy M20 is more of an entertainment phone, particularly because of the brilliant screen, huge storage support, a massive battery, and somewhat nice speakers.
But calling it a good budget phone will definitely be an overstatement, primarily due to the fact that Samsung has made many compromises with the Samsung Galaxy M20. Now, coming to the question of whether you should buy Samsung Galaxy M20 — well, it depends!
Samsung has made many loyal consumers over the years. If you are one of them, then the M20 is a must try. Additionally, you get to try the latest drop notch display. On the other hand, you can also wait for Redmi Note 7 that will be launching in a few weeks as it's said to be all ready to claim the title of new budget king.
Did you found this review helpful? Share your views in the comment section below.