A modded Tesla Model 3 with an exhaust note is for all those who want a familiar noisy engine while driving a car. Today we have a Model 3 Performance, which not only looks and performs like a sports car but also sounds like one.
EVs generally don't make any sound when driving due to the lack of an engine and an exhaust. We do have cars like Porsche Taycan whose electric motors produce a bass-heavy sound, but that's about it.
In most Tesla electric cars and other EVs, there is very little to no noise when driving. Some people find it a bit unsettling because they've grown so used to driving cars with a noisy engine.
To counter this problem, Milltek Sport, a racing company, has developed an "active sound system" for the Tesla Model 3 Performance. The system can provide any exhaust note to Tesla while also offering a ton of custom options with it.
Here's everything you need to know about this modded Tesla Model 3 Performance. The video was shot by the Youtube channel Archie Hamilton Racing.
Modded Tesla Model 3 Performance: New Body Kit, Wheels, Carbon Fibre and V10 Sound
The "active sound system" uses the back speaker of the Tesla Model 3 to produce the noise of any engine that you'd like. We see in the video that the car owner, Onslow Cole, can easily adjust things like the type of exhaust note, idle RPM sound, and user profiles via the Milltek mobile app.
Milltek is continuously working on expanding the sound library for their system. I am sure the new sounds won't just be limited to car exhaust notes. At present, there are 10 completely configurable exhaust note sounds of different sports like, including that of a Lamborghini.
The whole exhaust sound system seamlessly integrates into the Model 3. And because of this, users can switch between different sound profiles using the slip-start option on the Tesla console screen.
https://www.instagram.com/p/B7luEHIKSuU/?utm_source=ig_web_copy_link
Milltek has made sure that the exhaust note feels as genuine as possible. This is why in the product description, they do mention that the sound "Algorithmically calculates the relationship between road, speed, throttle position, and power."
As you may have guessed from the above heading, the synthetic sound system isn't the only mod on this car. In fact, this Tesla has been modded with 21-inch wheels and sitting over it is a lowered KW track-focused suspension.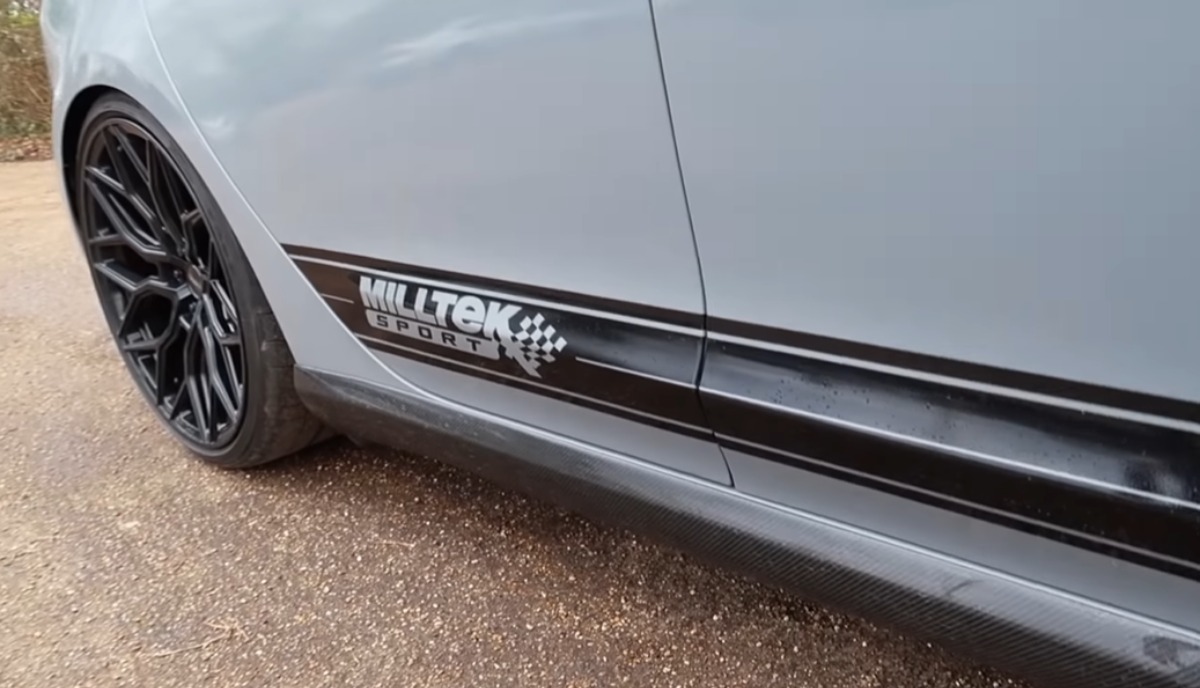 Cole mentioned that this Model 3 Setup was tested at the Silverstone track.
The car also has a new carbon-fiber body kit complete with side skirts, a front splitter, and a rear diffuser. The rear "lip" is also a carbon fiber unit and looks quite sleek. To top it off, the Model 3 also features a full-body wrap.
Should You Modify Your Tesla With This Setup And What's The Cost?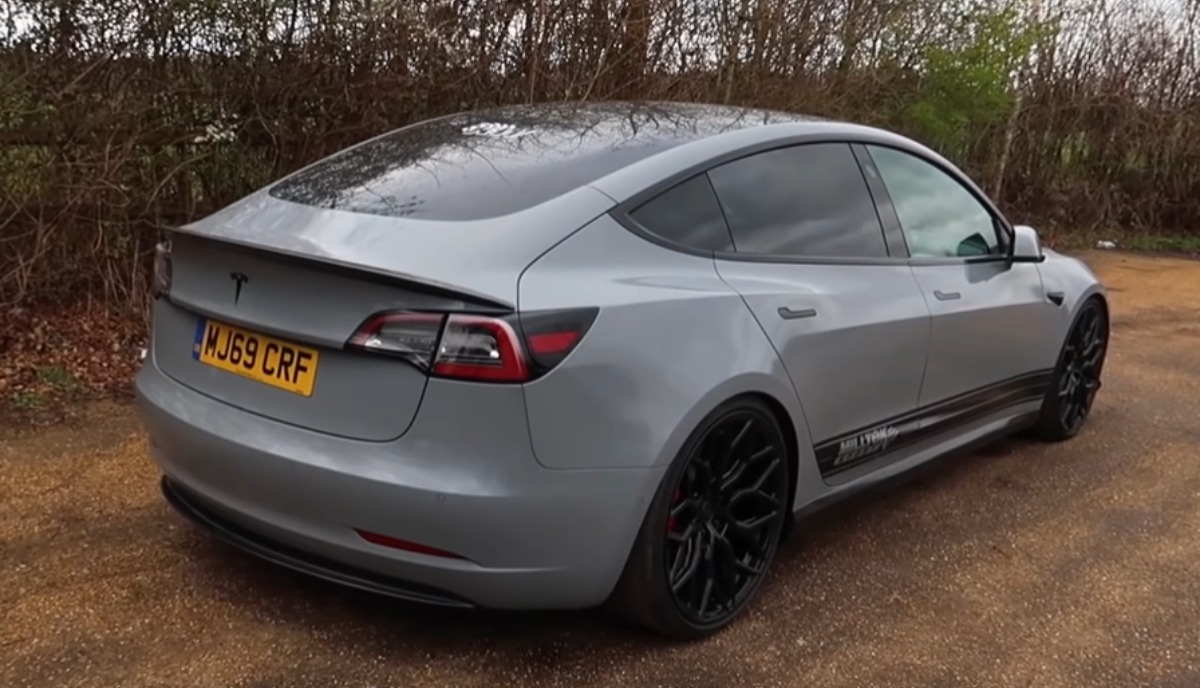 The cost of full customization on this Model 3 was around £10,000, according to the owner. It included entire bodywork, new wheels, body wrap, and the "active sound system."
I wouldn't generally recommend adding artificial sound to your EV. But if you feel out of place in an electric car and want an assuring sound indicating how fast or slow you're going, then you can go for this setup.
I guess that the main purpose of the sound setup would be less for "aesthetic" reasons and more so people can accommodate themselves easily when driving in an electric car.
Besides the wind noise and road bumps, there's really no noise in an EV to tell you exactly how fast you're going. In that case, an artificial sound can be a great boon for EV adoption.