Up until now, Xiaomi has only confirmed two things about MIUI 12: it's official logo and announced that developers have started working on the next MIUI update.
While the Chinese manufacturer is yet to put a word out on MIUI 12 features and supported devices, many leaks have come forward claiming to carry gospel truths about MIUI 12.
Previously, we came across an alleged list of MIUI 12 features. However, it was different from other leaks as the information was based on recent MIUI 11 beta versions and communications between developers and users.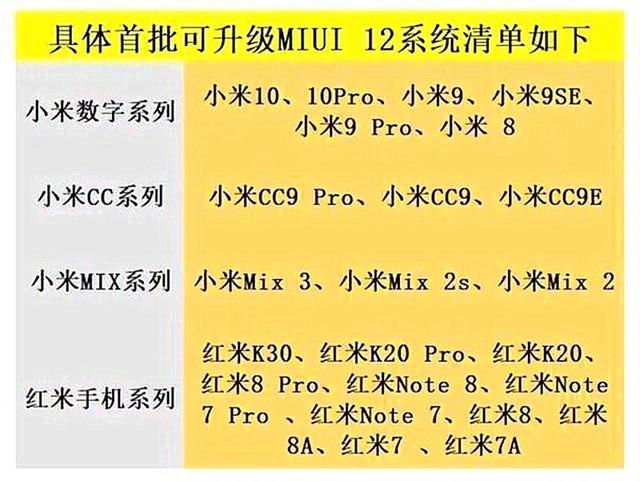 Yesterday, Gizmochina came across a list of Xiaomi devices that will purportedly be the first ones to receive MIUI 12.  The Xiaomi devices mentioned on the list are —
Xiaomi Mi 10, Mi 10 Pro
Mi 9, Mi 9SE, Mi 9 Pro
Mi 8
Mi CC9 Pro, Mi CC9, Mi CC9e
Xiaomi Mix 3, Mix 2s, and Mix 2
Redmi K30
Redmi K20 Pro, Redmi K20
Redmi 8 Pro, Redmi Note 8
Redmi 7 Pro, Redmi Note 7
Redmi 8, Redmi 8A
Redmi 7, Redmi 7A.
Just like all the other MIUI 12 leaks, we can't confirm the credibility of the leak and whether the above-mentioned smartphones will make it to the official MIUI 12 supported devices list.
But the alleged lineup is not far from the list of Xiaomi devices that can expect the update. The update will obviously land on all the recently released high-end and budget smartphones.
That being said, the exclusion of several high-end devices such as Mi Note 10, Poco series, and Redmi K30 Pro does make us more skeptical of the leak.