Xiaomi's developer team has made an important announcement that might interest users waiting for the MIUI's next major update — MIUI 12.
While launching a beta update patch for MIUI 20.3.23 developer build, the team announced that it will stop working on MIUI 11 developer ROMs starting next week for a while. The message could mean that Xiaomi will start MIUI 12 development from the following week.
The statement also said that developer ROM updates for Xiaomi Mi 9 Pro, Mi 10, Mi 10 Pro and Redmi Note 8 have been postponed, due to incomplete testing.
Meanwhile, several MIUI beta testers claim they are seeing signs of MIUI 12 under development. When trying to enroll themselves in the beta program of the current MIUI version, users saw the phrase "Not found, participating in MIUI 12 will be a good choice".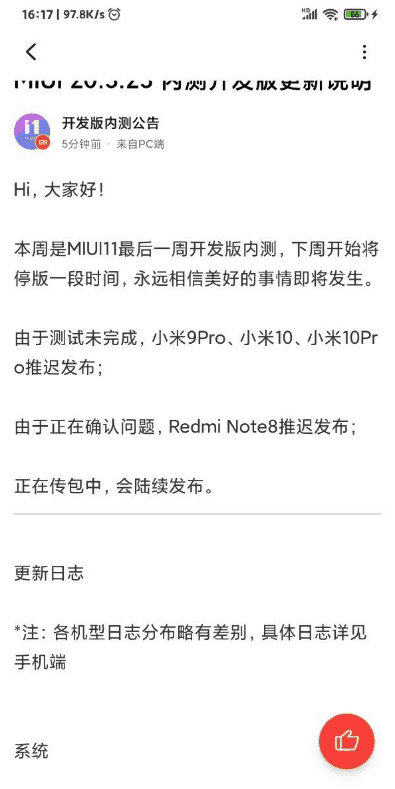 In the message, the developers said, "I believe that good things will happen." This indicates that the team is excited to work on the next MIUI major update; however, the statement could also mean developers are optimistic about the departure of the Coronavirus Pandemic.
While the pandemic has cleared off from China, a few days ago, the country was the epicenter of the virus. Coronavirus forced many Chinese tech giants to stop or delay manufacturing and software updates, including Xiaomi.
Hence, taking a break from developing MIUI 11 ROMs could also mean that Xiaomi is managing resourcing after being hit by the pandemic.
Nevertheless, if it is about MIUI 12, then we can expect several Android 11 features on our Xiaomi devices such as new permissions, improvements to gestures, and more. Apart from revealing the MIUI 12 logo, Xiaomi has not announced any further information about the next major update in MIUI.