Tesla V10 software update just arrived for early access users and it is a big one. According to the new release notes, the new V10 software update brings with it several long dues and user-requested features to make the already fun experience of owning a Tesla even more amazing.
Here's what's new in the Tesla V10 software update.
Tesla V10 Software Update Patch Notes
Play Cuphead In Tesla Arcade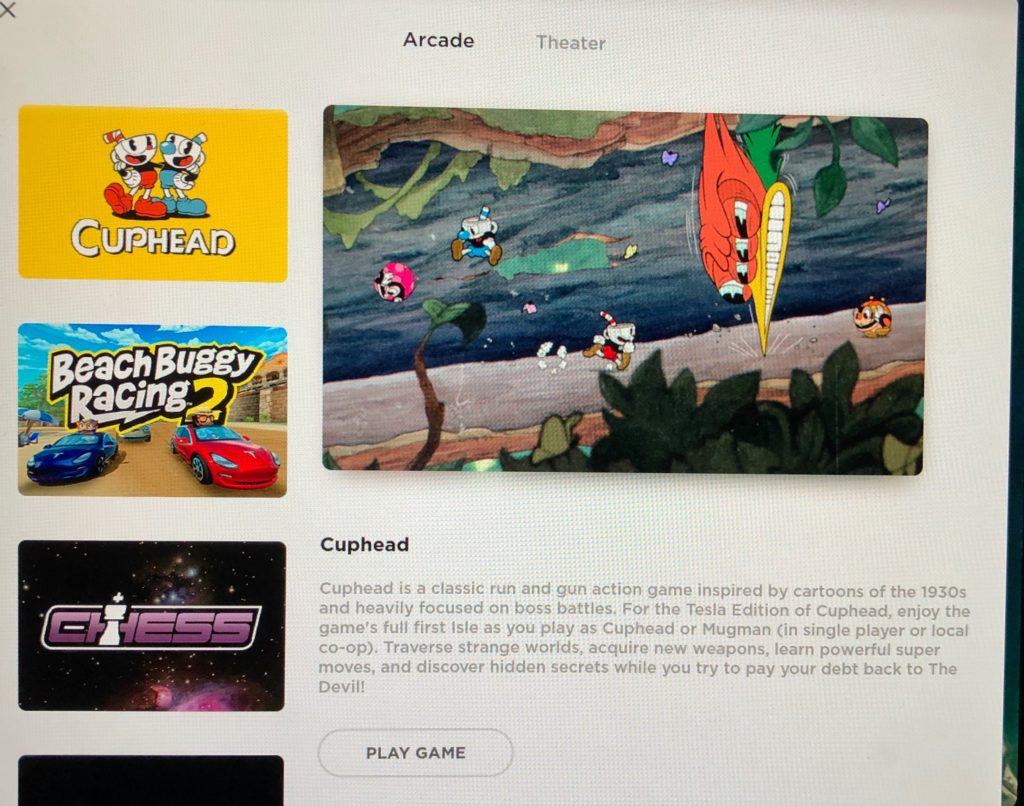 The incredibly fun Xbox game Cuphead has been added to the Tesla Arcade games library. Tesla recently added USB and Bluetooth support for the Xbox controllers so you can play Cuphead in single-player mode or local co-op multiplayer.
Cuphead is definitely a great addition to the Tesla Arcade games library. The game collection already features Beach Buggy 2, Chess, and several other games, but these are not as big as the award-winning Microsoft Game. It won't be long before we'll start getting a full-fledged AAA game at Tesla.
Watch Netflix In Tesla Theater
The ability to stream Netflix content on the Tesla is now available to early access users who received the V10 update. Watching Netflix in Tesla will be an immersive experience, according to Elon.
However, keeping safety in mind, users can only watch Netflix when the car is parked. You can use either the Wifi or the mobile network depending upon your choice.
Free Wifi is also coming to Tesla Supercharging stations so users can keep themselves entertained as their car recharges for the miles ahead.
Tesla 'Joe Mode' Update
Joe Mode is a user-requested feature. A Twitter user by the name of Steven (@Schristakos) asked if Tesla could provide a feature to keep the kids undisturbed during a long road trip.
Elon's answer to this request was the 'Joe Mode'. This feature will reduce the sound of beeps and chimes in the car by half.
Getting the kids to sleep is a difficult task that every parent can relate to. This seemingly small but crucial feature will help all parents who drive a Tesla electric car.
New Directory For Sentry Mode
The Tesla Sentry-Mode is a tried and tested feature that every Tesla owner loves. It records videos using three cameras to keep itself safe from any sort of car-jacking. It has also helped the authorities catch criminals who intend to steal Tesla cars or even nearby parked cars.
This new feature is getting a new folder directory named "Sentry" which will store all the recorded clips. It will also delete older sentry mode videos if those clips are taking more than 5 GB of space.
Users were expecting the rear camera to be able to record videoclips. But it is still not being used yet. Also, for users who want to save old clips for themselves, they can opt to connect either an SSD or a portable hard-disk to the console.
Tesla 'Caraoke'
Tesla's "Caraoke" feature will allow users to sing along to their favorite songs by reading the lyrics on screen. The on-screen song lyrics will only be visible when the car is parked. This was done due to safety reasons.
However, you can still listen to songs in the 'Caraoke' playlist while driving without any lyrics.
Tesla Navigation Display Upgrades And Map Improvements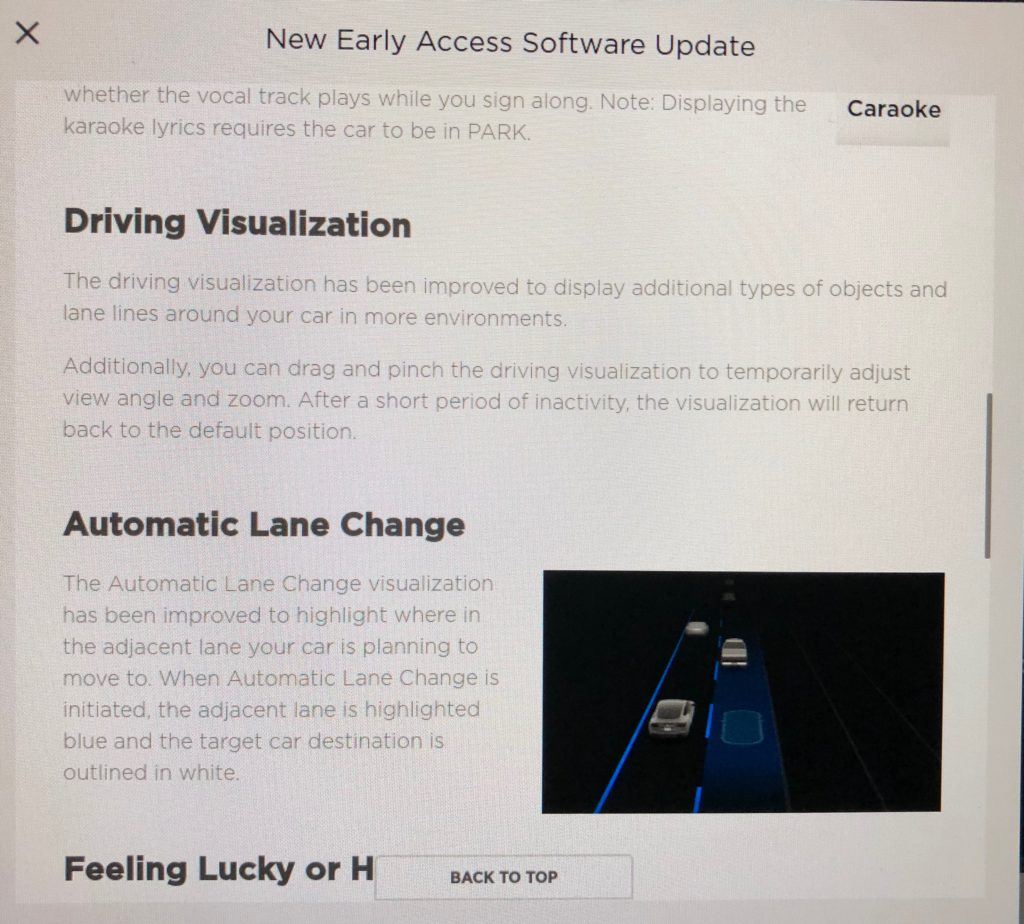 Tesla has added several visual changes to the navigation display. For instance, while changing the lane, the car will display its exact position on the navigation display and where it's going in the next lane (highlighted with white color). The nearby lane will also be highlighted in a blue color to make the lane-change safer.
Tesla V10 Software update also brings along several changes to the 'Maps.' Now the users can simply tap the location on the map and see all the information about that place including route and distance. The software update also supports a pop-up window to display a restaurant or diner's website, assuming they have one.
The map update also improves the autocomplete feature which now displays the distance of the different places.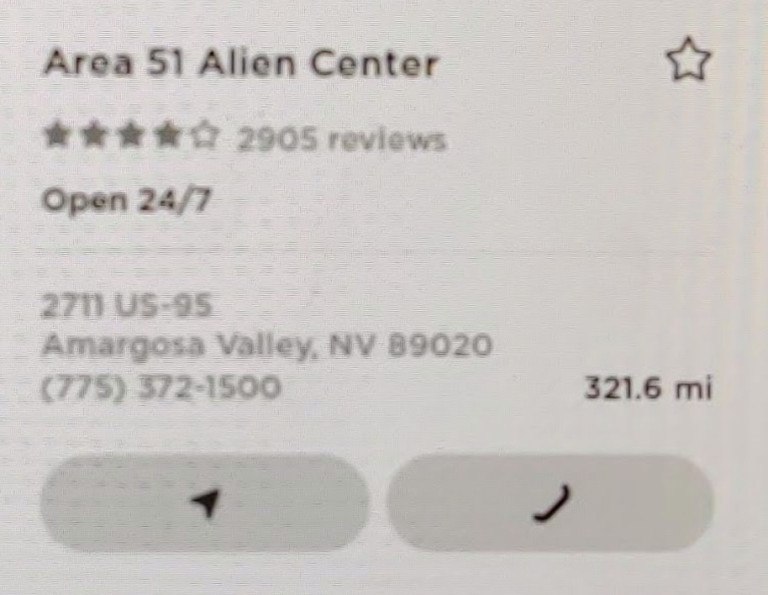 Also, two new options called "Feeling Hungry" and "Feeling Lucky" are included in the update. These are present beside the "Home" and "Work" options inside Navigate.

Tapping "Feeling Hungry" will give you a list of diners near your location and the "Feeling Lucky" option will let you in on the latest happenings around town. It could be a new restaurant launch or Diner special etc.
Tesla Software Improvement Update And Application Launcher
In the new V10 software update, users will now see the version and the progress of the downloading software update. It is being done to make the installation more transparent and user-friendly.
Furthermore, to keep all the interfaces clean and to accommodate all the new features, Tesla V10 software update revamps the app launcher.
The list of options for the launcher includes – Call, Calendar, Camera, Energy, Charging, Web, Entertainment, and Toy Box.
The 'Entertainment' app now includes Arcade and Theater. Also launching the phone application is now easier.
What's The Public Opinion?
Some Tesla Models, including the SR+, have not received some of the features. This is troubling for some users as the SR+ does not come with a premium interior package. However, Tesla plans to launch an upgrade for these users to shift to premiums.
A Reddit user also asked whether Netflix and YouTube features are limited to newer models with MCU Box. To which another user replied that he owns a 2016 Model X and he cannot access these features.
Tesla recently announced that it will launch an MCU upgrade for older Model S and Model X users. The upgrade will add the aforementioned YouTube, Netflix, and games to the list of Tesla software features.
Some users also wanted the ability to take a screenshot during the Tesla sentry mode alone and a fix to the music player. However, this was a big update and software 'fixes' are mostly limited to small patches.
My Take
Tesla has struggled in maintaining a proper timing for its product or software release. However, for the past few months, everything has been going on-time with Tesla.
The V10 software update has been released almost on time. The upcoming General Assembly 5 for the Model Y production is also shaping up really nicely.
According to reports, accelerated work on GA5 could mean the upcoming Tesla Model Y could come to the market sooner than expected.