Elon Musk, in an interview with MIT research scientist Lex Fridman, made a bold prediction regarding the future of self-driving cars. According to Musk, Tesla will finally become better at driving than a human by the end of 2019.
It could be the perfect Christmas gift for a fan, however, Musk will have to stay a good boy until the end of the year to make it happen. If that doesn't work, then Elon should hang some weight behind his bold and most often false predictions.
Tesla Has Problems and So Does Self-Driving Cars
Earlier Elon had predicted that Tesla would feature fully automated cars in 2017. It's 2019, and although Tesla cars have become great at offering driver assistance and auto-pilot capabilities, they're still not fully autonomous.
There was also an instance when Elon tweeted about taking the company private after it had gone public. Yes, it happened. The shares of Tesla plummeted and even a lawsuit got into the picture. Needless to say, it was not pretty.
Nonetheless, in the context of who's the king of self-driving cars, a report talks in detail about the execution and strategy of the top 20 companies developing autonomous cars and ranks them. Surprisingly, Tesla is in the 19th spot.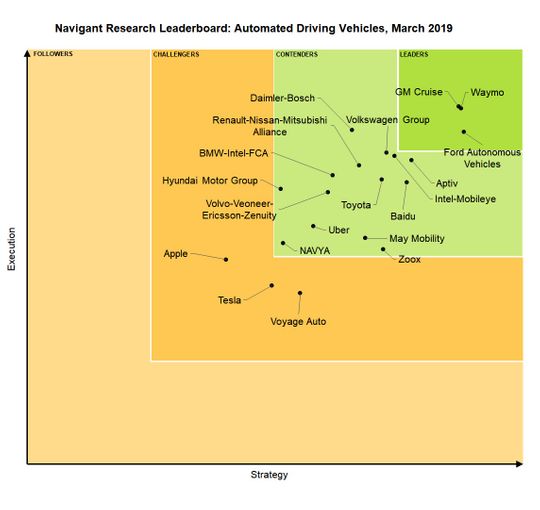 At the top, companies like Google, with its Waymo, GM Cruise and Ford with Argo AI are currently leading self-driving car innovations.
Meanwhile, Toyota, Intel's Aptiv Mobileye and Volkswagen Group seem to occupy the area of potential contenders.
The taxi-hailing service, UBER is way down with Apple. Finally, Tesla and Voyage Auto share the bottom spot in the race of companies developing self-driving cars.
However…
In Tesla's defense, almost none of the above-mentioned companies are actually ranked on how widely and seamlessly self-driving technology has been adopted; where Tesla is still the king.
While several of these companies have products in development, Tesla is currently out there offering almost fully automated cars.
Another difference between Tesla Cars and other ones in this picture is in the use of equipment. Tesla does not use LIDAR (Light Sensing and Radiation) technology to power its self-driving cars.
Be it Model 3, X, S or even the latest Model Y, all of them use a combination of ultrasonic sensors, radar, and high-resolution cameras.
Apple, Google, Volkswagen and almost everyone else uses LIDAR technology. The tech looks bulky and costs way more than the car itself. That's why Apple recently stepped in to invest $1 billion to make ultra small and affordable LIDAR systems.
Will Tesla become fully autonomous at the end of 2019? It is hard to say. Tesla cars use automation software, which is always learning, and there are more of these self-driving cars on the road than ever. It could very well become a reality.
However, due to trust issues, I'd like to hear the same from someone else at Tesla.