Casey Neistat got his hands on a Tesla Cybertruck-inspired Cyberbike and needless to say, Elon Musk should be jealous. Tesla's CEO may have his garage full of the fastest Tesla Model S P100D and with the ludicrous Tesla Cybertruck, but I am almost sure that he doesn't own a hand-made Tesla Cybertruck-inspired Cyberbike.
Casey showcased the Tesla Cyberbike in his new video and people seem to be really attracted to it.
However, as you may have figured out, the Tesla Cyberbike isn't exactly an official product. It is a disguise made by Super73, a bike manufacturing company to test their new series of street electric bikes.
Here's what you need to know.
Tesla Cybertruck Inspired Cyberbike Charms Casey Is Handmade
The Tesla Cyberbike was built using a Super73-R series bikes which is a type of ultra agile electric city 2-wheelers. You can think of them as electric-BMX with chunkier tires.
The Super73-R series electric bikes are made of an aluminum alloy frame which kind of looks like a double-cradle frame used in several motorbikes.
The electric bike also features a fully adjustable suspension, not to mention an electric powertrain, a mono-shock suspension at the rear along with headlights for night riding.
Casey worked with the team that wanted to test the Super73 R-series bike discretely. Therefore, they came up with an ingenious plan to cover the entire outer structure with plastic, so that the bike resembles the shape of a Tesla Cybertruck.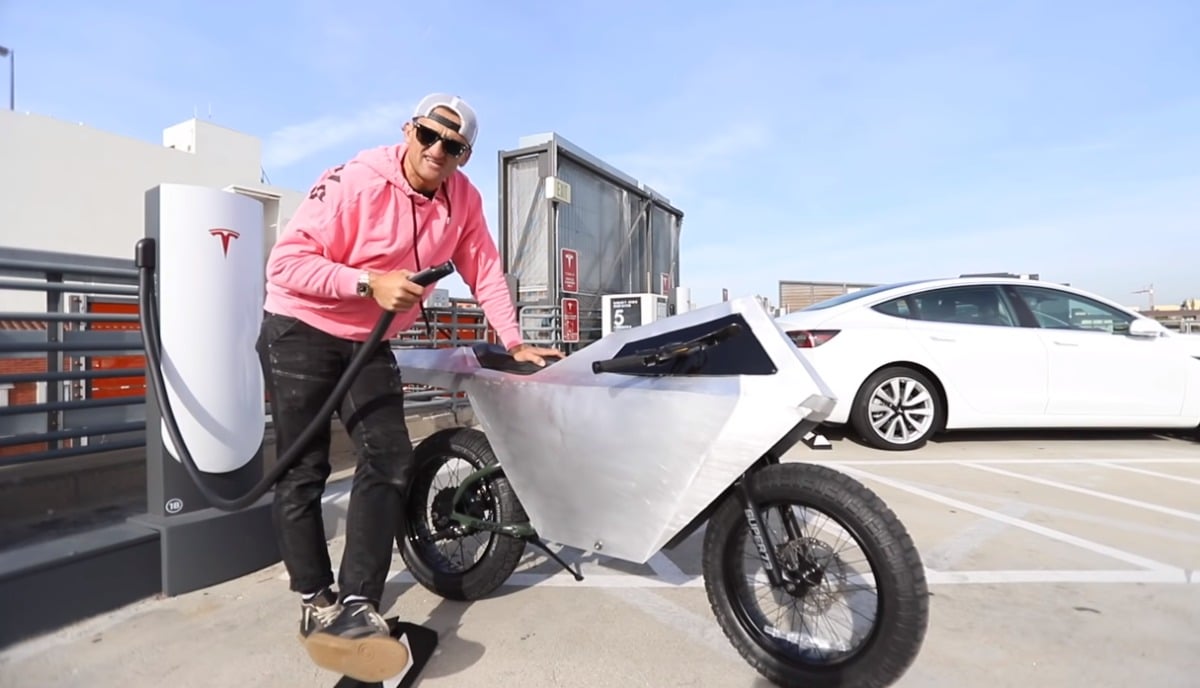 And that's how the unofficial Tesla Cyberbike was born. Needless to say, the reaction of the public was priceless. People were calling the Cyberbike "fresh," "dope" and other kinds of positive street slang.
Almost everywhere Casey went, people were attracted by the futuristic shape of the Cyberbike. This clearly shows how big of an impact Cybertruck has had on the general audience that anything remotely resembling it, attracts a ton of attention.
Casey also built a rear basket that had enough space for a six-pack beer cans, which is pretty neat and handy.
What Are Super73 Electric Bikes?
Besides the R-series electric bike, the Super73 also makes RX, S, and Z-series of electric bikes. Each of them has a unique design and is designed for a particular type of terrain.
The Z-series electric bikes are designed for urban tarmac. Meanwhile, the R-series bikes with knobby tires and fully adjustable suspension can be ridden off-road and on rough pavement.
If anyone hadn't heard of Super73 before then they sure do now, thanks to Casey Neistat, Elon Musk, and the Tesla Cybertruck.
What do you think about the Tesla Cyberbike? Let us know in the comments.