Tesla Model Y is the first crossover electric SUV from Tesla. There is even an option for a seven-seater Model. As per the sources, the Tesla Model Y updated version will have two new variants: Standard Range and an optional Performance (upgrade) along with other updates.
As we know, around 60 to 70% of the Model Y structure is based on Tesla Model 3. However, the Model Y is more spacious, bigger, and more comfortable than the Model 3.
In terms of size, the Tesla Model Y is around 10% bigger than Model 3.
Tesla Model Y Variants
Currently, Tesla Model Y comes in two variants: Performance and Long Range AWD(All Wheel Drive).
According to sources, the Standard Range variant of the Tesla Model Y will possibly hit the roads in early 2021.
Standard Range
The price for the standard range is expected to start from $40,000. It has an EPA range of 230 miles (370km) with a top speed of 120mph (193km/hr). The crossover SUV can go from 0 to 60mph in 5.9 seconds.
Long Range AWD (All Wheel Drive)
As the name suggests, it has the highest range of 315 miles (507km) in all the trims. The top speed for the long-range version is 135mph (217km/hr). It can achieve 0 to 60mph in 4.8 seconds. The price for the Long Range AWD is $52,990.
Performance
The Performance model is the most expensive of all and has a price of around $60,990. However, it has the same range of 315 miles as that of the long-range variant. The electric car can go from 0 to 60mph in just 3.5 seconds and has a top speed of 145mph (233km/hr).
Performance (Upgrade)
One of the best things about Tesla is that the way they care about their customers. For Performance variant buyers, there is an optional upgrade that comes with the top model and that too without any additional cost.
Under the upgrade, Tesla provides 21-inch uberturbine wheels, lowered suspension, performance brake, and much more. With this, you can achieve a top speed of 155mph (250km/hr). However, it reduces your range to 280 miles (451km). But again, this is optional.
Tesla Model Y Updates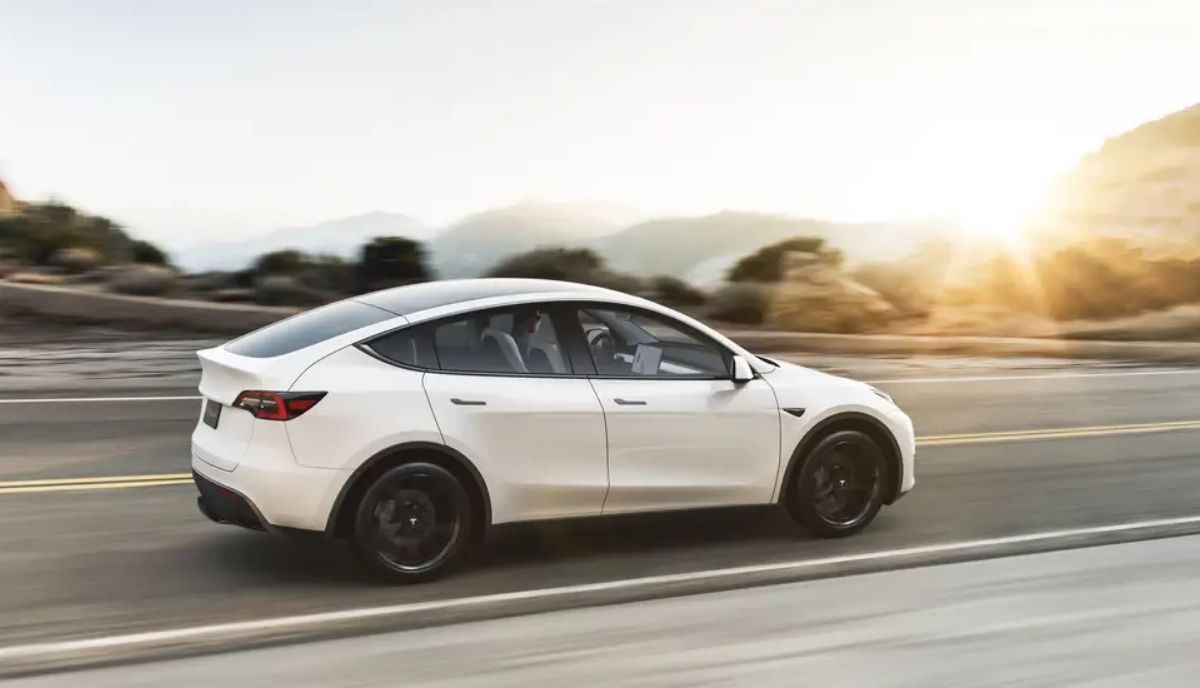 The latest V10 software update will allow you to stream Netflix, play video games on this massive screen provided by Tesla inside the cabin. Now you might be thinking this could lead to an accident as it will distract the driver while driving. Hold on, Tesla cares about you; its electric vehicles have the most advanced autopilot feature.
The Autopilot system in the Tesla Model Y includes various features like emergency braking, speed control, and cruise control. The camera can cover a 360-degree view and automatically maintains distance from other vehicles, and there are many more features.
So basically, it has a Model 3 approach and has almost all the features available in Model 3. You can control anything from your phone: lock it, unlock it, and perform several functions from your smartphone itself.
Besides, there is a self-driving software update available for an extra $7000. It adds features like automatic lane change, auto parking, and an advanced navigation system and more.
Government Subsidy
Residents of California will get a $2000 subsidy from the government though there are some terms and conditions associated with it.
Also, there is an EV rebate for the residents of southern California. Additionally, there is an incentive of $1000 from the government.