In the latest news, the Tesla Model 3 battery degradation was revealed to be shockingly more and then less after driving for 27,000 miles. Are you confused? Well, don't because along with range anxiety, battery degradation is also a thing of the past.
Chris, who owns a Tesla Model 3 recently revealed the stats on his Tesla Model 3 battery degradation and it highlights some really interesting details. Chris saw a big dip in his battery range but again saw the battery range increase after changing his charging habits.
In his latest video, he explained how his Tesla Model 3 first has 309 miles of range which was reduced to 288 miles but again restored back to 304 miles. He also debunked several misconceptions regarding the Tesla Model 3 battery system while giving his own insight on the whole situation.
Tesla Model 3 Battery Degradation After 27,000 Miles
Back in March 2019, Chris' Tesla Model 3 had a maximum battery range of 309 miles. Over time, as he clocked the numbers on his odometer, his battery range slowly depleted as it happens with every electric vehicle.
The battery degradation that Chris saw overtime was gradual with only 1 or 2 miles of range loss. However, after one particular interval, the range of his Tesla Model 3 dropped by 7.83% to 288.69 miles from 305 or 306 miles that he was regularly getting.
Chris noted the drop in range and decided to do some digging to find out what exactly is the problem. He asked his audience on Twitter, all of whom reported the same problem.
One of his followers said: "I'm down ~20 miles in 16k on odo."
While another also reported a significant range loss when he said: "I've lost even more now, 90% is now 431 km where it used to be 448 km."
One of Chris's Twitter followers also said, "My charge to 90% yields 266 miles on display. Down 4% But I'm still averaging 240 watts per mile a little over 3 miles per kWh. I'm ok with that. It's still much cheaper to drive than our Prius.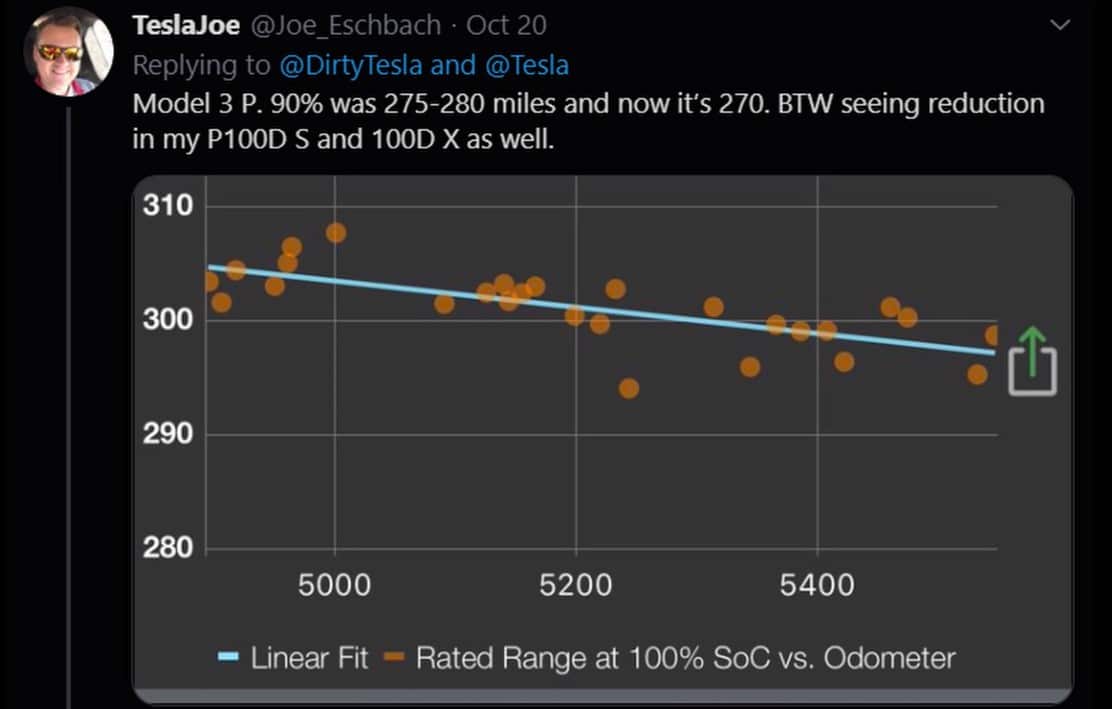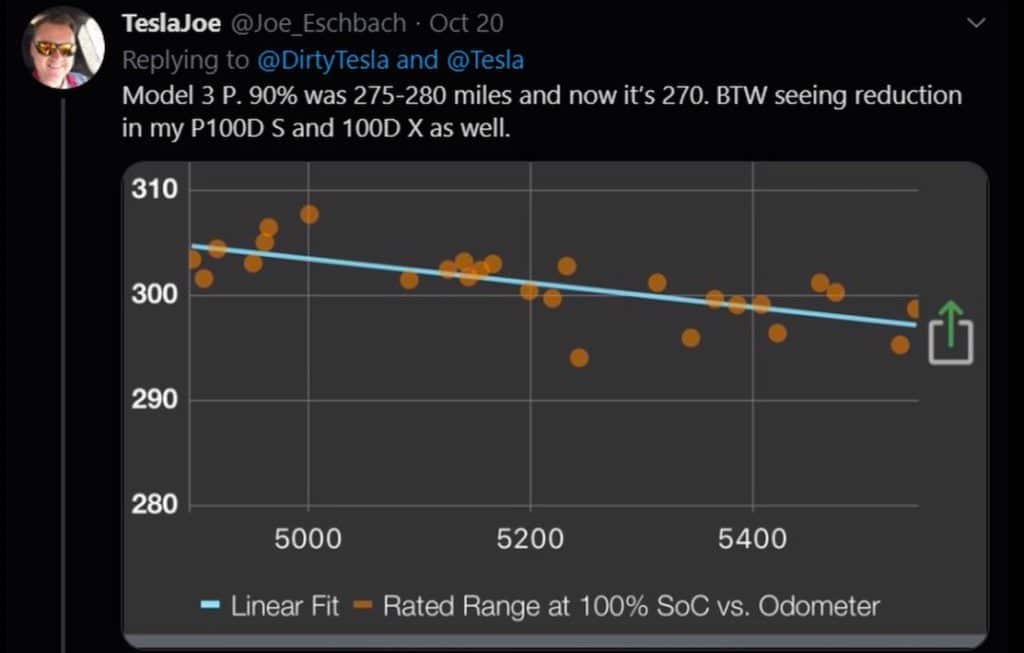 Mainly, all Tesla owner-reported quite a noticeable drop in range in recent times. While it wasn't a manufacturing issue or a battery problem, it was basically a 2019.28 Tesla software update causing some problems in the background.
Chris explained that he noticed the battery degradation when the 2019.28 Tesla firmware updates dropped. "When you get a certain software update, all of a sudden now, oh I can only charge 290 and then you get another software update and again your car can charge 300, which is kind of what I am seeing here," he said, explaining his problem.
So now comes the part about how Chris got the battery range of his Tesla Model 3 back. Several people advised Chris to recalibrate the battery of his Tesla by charging to 100% from below 10% using a supercharger. Chris did exactly the same with no positive results.
He then recalled how his problem was similar to what another YouTuber LikeTesla was facing. Therefore, Chris contacted the Tesla customer service and asked them for advice. They told him to charge his battery up to 90% overnight for a few days and Chris did the same, but this time got great results.
The total range of his Tesla Model 3 is back to 304 miles, which is pretty normal. One of its users also shared an image of the predicted range loss with each Tesla software update and it is quite useful.
How Chris Got His Battery Range Back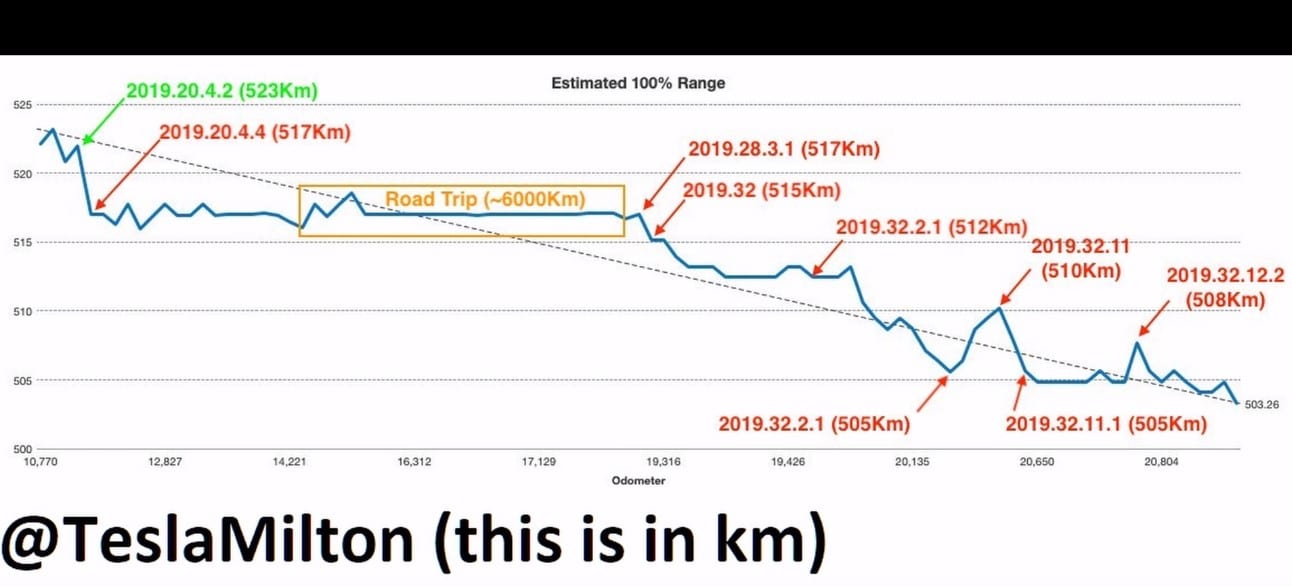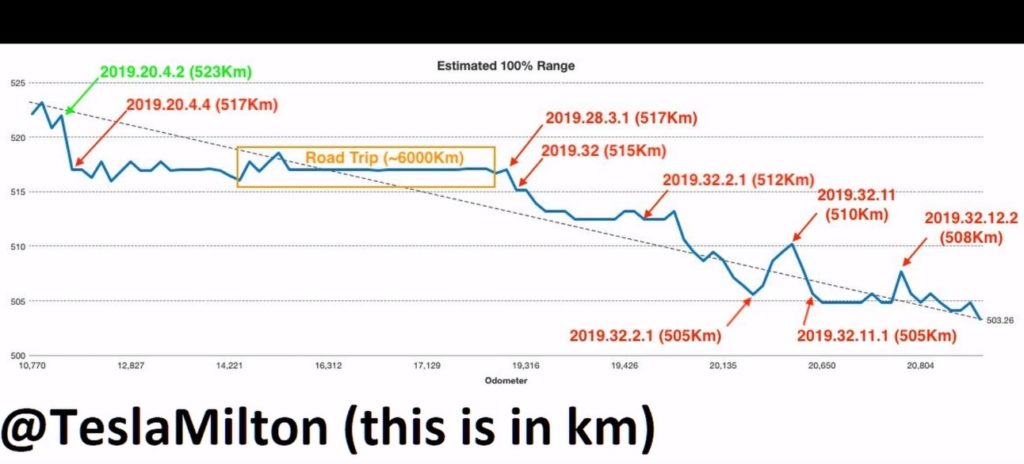 "The interesting thing here is that it happened to a lot of people all at once," Chris explained.
Chris also said that he expects the battery range of his Tesla Model 3 to plateau after 50,000 miles. The batteries in the Tesla Model 3 are so well maintained with battery management software that they tend to last really long.
His viewers also echoed a similar situation with their battery. One of his viewers was getting around 305 to 307 miles from his Tesla Model 3 after 67,000 miles. While another one of its users who had a pre-owned 2015 Model S 70D reported only 10 miles of range loss after 49,000 miles on the odometer.
It seems though Tesla isn't just working on making batteries deliver more range, it is also making them do so consistently over a long period of time. Sure, software updates can cause the range to dip a little bit, but the battery degradation is only responsible for 3-8 miles of range loss in the long run.