Just recently, we saw the PornHub's Year In Review report, which revealed that more iOS users visited the adult content website than Android users.
But, of course, the report includes a lot more data for us. Spotted by Android Police, the Year In Review report also includes the stats for the version-wise OS distribution of Android and iOS devices.
PornHub Reveals Most Popular Android Versions For 2019
Speaking of Android, it tells what version of Android a particular device was running when a user visited PornHub. For example, Android Pie was running on 48% of the devices, Oreo on 23%, Nougat on 12%, and so on.
Here, we can also see that the latest version Android 10 is running only 2% of the devices. But that's understandable given its official rollout started only in September 2019.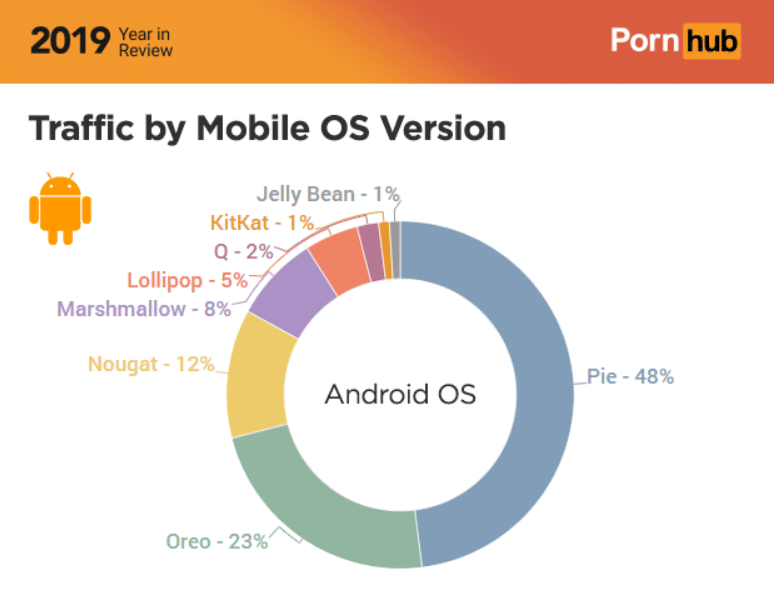 Anyway, this data is something that we expected from Google, but the search giant hasn't done so for the last 6 months.
Why Google isn't talking about Android usage share?
Up until May 2019, we routinely covered the Android version stats that Google updated every month. It is known that Google stopped updating the distribution numbers because it lost the source of the usage data.
But the numbers weren't updated ever since then. Developers can still access the device data in the Google Play Console.
However, there are a couple of things to note here. First of all, the PornHub data is based on the devices that visited PornHub in 2019. Whereas Google only considers those Android devices that run Google Play Services.
PornHub's numbers might also include devices that don't run Google services. Secondly, it's for an entire year, while Google used to do it every month.
Still, it's the closest estimation we can have right now. And what makes it more convincing is the fact that there were 43 billion page views (from all devices) from people who visited PornHub in 2019, and the site falls under the top 50 Alexa rankings. So, the most popular Android version seems to be Pie.
Why Android version distribution numbers are important?
The Android distribution numbers help us understand the rollout process and the adoption of Android versions. Until last year, the usage share for newer Android versions increased very slowly. It was with Android version 9 Pie that devices started getting updates faster.
Interestingly, the data was also used by Google's rivals to pull its leg. During WWDC 2019, Apple CEO Tim Cook joked how "the other company" only managed to run Android Pie on 10% of devices, while iOS 12 was running on 85% iPhones.
The diversity of Android devices is one big reason this happens. When an Android update releases, it needs to be optimized for all different smartphones and tablets manufactured by various device makers.
But it isn't that Google is sitting like a couch potato. The company has made efforts in the form of Project Treble, and Project Mainline intended towards making Android updates faster. The results have started to appear, and we can expect Android 10 to land on devices more quickly than in the past.