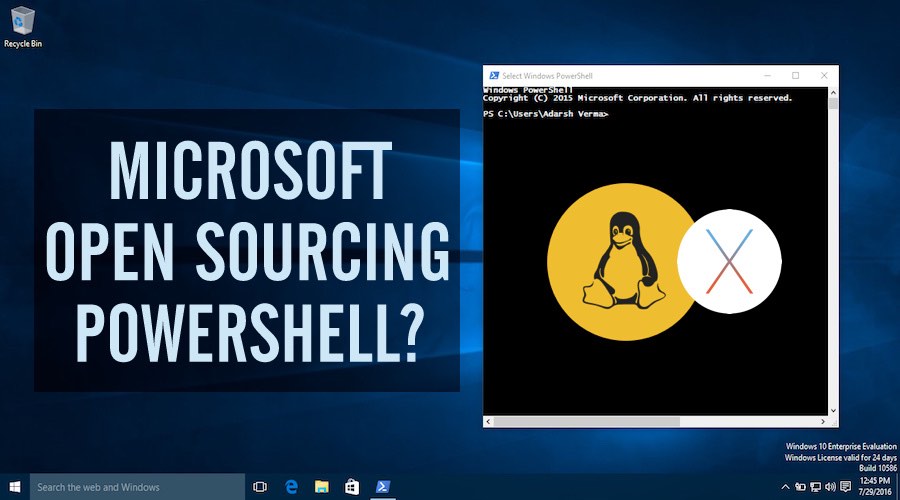 Short Bytes: According to the latest rumors, Microsoft is planning to open source its automation platform and scripting language PowerShell. Some metadata on Microsoft's GitHub page is reportedly suggesting that Redmond will soon release the open source version of PowerShell that one can run on Linux and OS X.
M
icrosoft's PowerShell is an automation platform and scripting language that finds a wide use in Windows OS and Windows Server. By harnessing the power of .NET Framework, PowerShell allows you to easily manage your system and take control of your Windows environment.
With PowerShell, you can automate tedious tasks, set a time-consuming job to run in the background, or use it to identify and kill non-responding processes.
Well, as the latest developments suggest, Microsoft may be moving towards making Windows PowerShell open source.
As shared on Twitter, Tom Hounsell and WalkingCat spotted this probability on PowerShell's GitHub page.
https://twitter.com/tomhounsell/status/758313989487091712?ref_src=twsrc%5Etfw
The picture attached in the screenshot states:
PowerShell is an open-source, cross-platform, scripting language and rich object shell.
PowerShell is a stellar tool that hasn't left a big mark outside the Windows ecosystem. We are hoping that an open source PowerShell will gather wider support from Linux and OS X community.
https://twitter.com/tomhounsell/status/757591799317819393
Microsoft hasn't made any official announcement regarding this development. Lately, Microsoft has open sourced millions of lines of code and open sourcing PowerShell shouldn't be much surprising.
So, are you excited to use Windows PowerShell on your Linux and OS X systems? Share your views in the comments section below.
Also Read: Microsoft Open Sources "Checked C" — An Extended Version Of C