System76 invited Fossbytes to their Thelio press event. Devin visited their facility in Denver, Colorado to see what they have been up to. Spoiler alert: it's some pretty cool stuff. ;)
Thelio Origins
Thelio, pronounced Thayleo, was intended to be transcendental from the start. The space-faring branding of System76 has clearly been designed to inspire creativity, imagination, exploration, discovery, and, ultimately, progress. The namesake of Thelio also takes its cues from the cosmological above in a play on the Greek words Telos (pronounced Taylohs) and Helio (pronounced He-leo) meaning goal or purpose and Sun, with an intentional ambiguity with IO at the end. When broken down into the constituent words, the motivations at play become very clear and very fitting.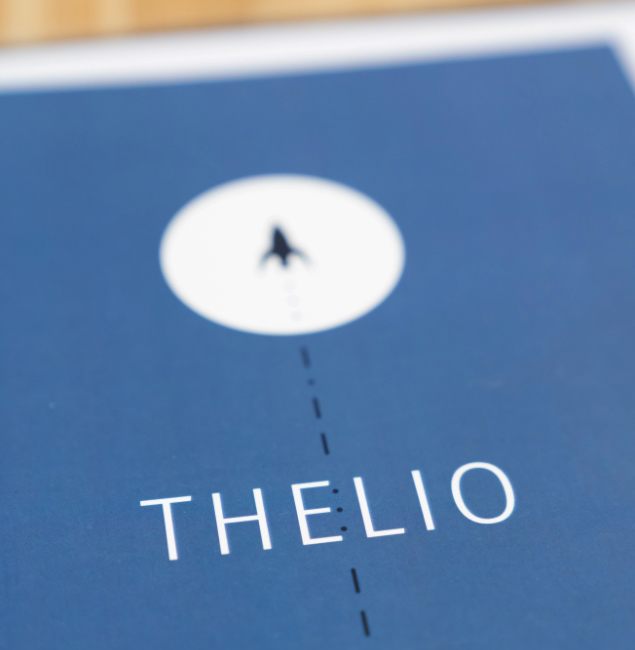 The bespoke name is just the beginning, though. The System76 product line has always had a goal of empowering creators, makers, and builders, whether they be in the form of graphic designers, programmers, engineers, scientists, or hobbyists.
The System76 company culture passionately encourages intellectual and creative endeavor, and with an atmosphere of ambition to create an open world, System76's CEO Carl Richell is overflowing with a contagious enthusiasm and drive to spread that System76 culture through their quality products. System76 is comprised of a team of creators, makers, and builders that are working hard to equip, not only their customers but the community as a whole, with the tools to succeed in achieving their goals.
A Product with Heart
Thelio as a product is one that was brought from concept to product over the course of almost three years. After several iterations, a final form-factor and design were arrived upon that pushes boundaries and shows that you don't have to be a large company with large teams to create something amazing. Thelio is laced with the very essence of the System76 culture and bootstrapped by their dedication to realize an incredible product without having to their hometown of Denver, Colorado to do so.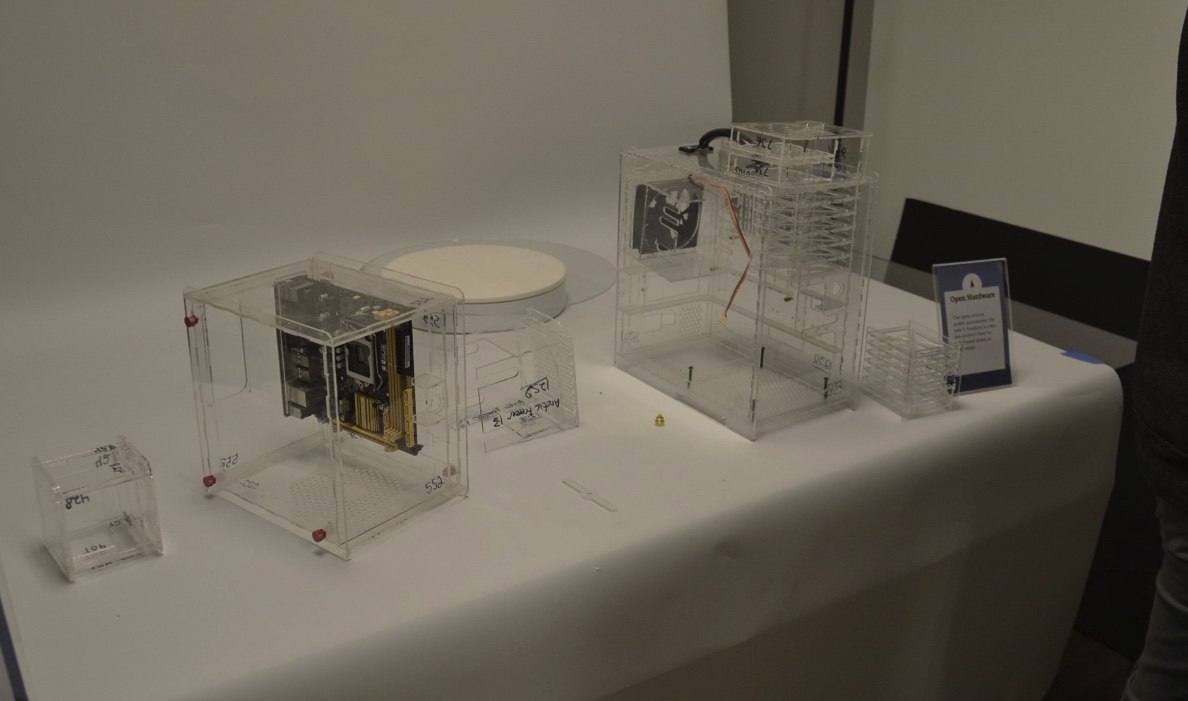 After all of that effort, System76 has not only delivered a product that can be customized with an enviable performance that pushes the hardware to the limits, but it's rich with creativity and clever easter-eggs hidden throughout the design, as well.
Most noticeable are the unique intake and exhaust ports for the case airflow. Dorned with a celestial assembly, these ports reflect the planetary alignment of System76's birthday on the exhaust, and at the great entertainment of System76's event attendees, the exhaust port depicts that of the UNIX epoch, further illustrating System76's approach to an open-source first platform.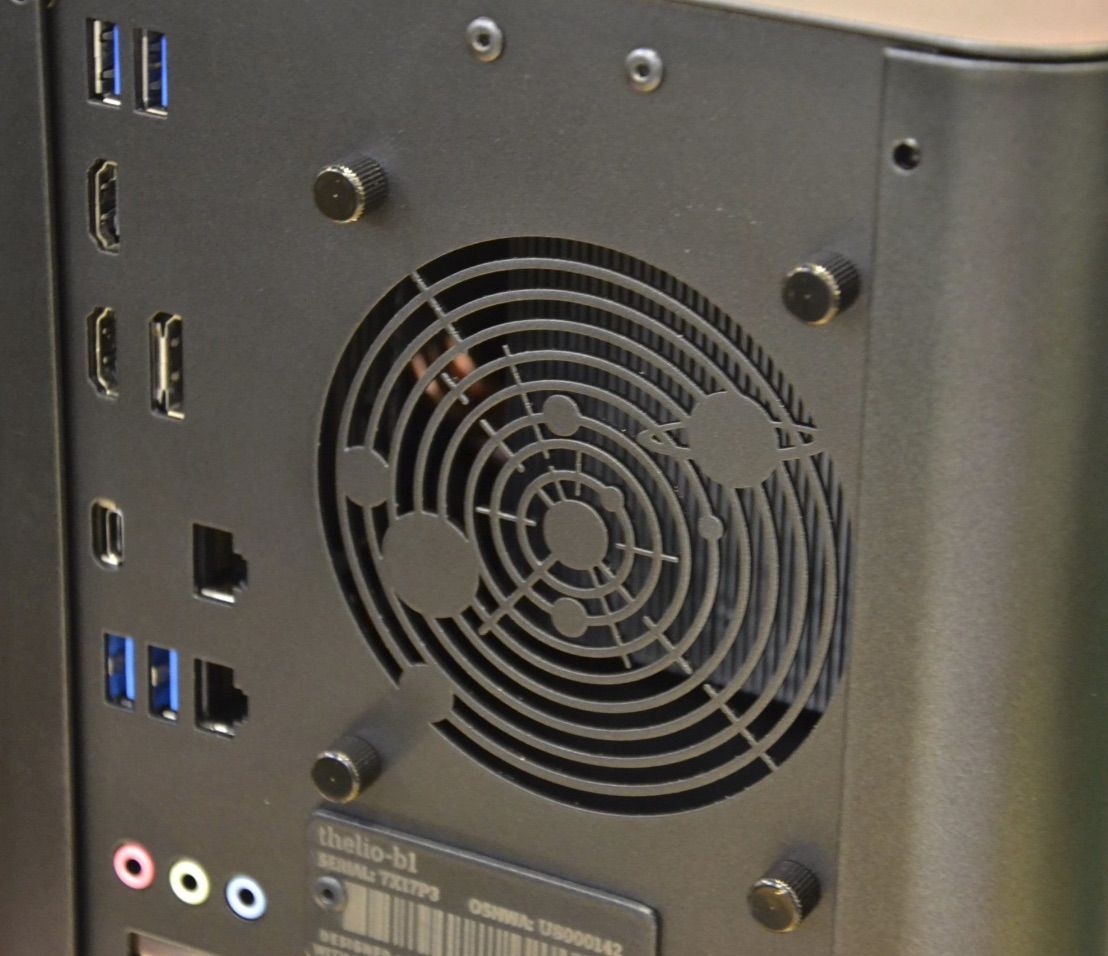 In addition to the cleverly designed intake and exhaust ports, Thelio sports an elegant reference to breathtaking mountains that are visible at the edge of Denver's cityscape. But in System76 fashion, Thelio (and even Thelio's packaging) include many more artifacts of System76 spirit just waiting to be found.
Quality – Top Down
Thelio is a product that's made from quality raw materials and components. Starting with some aluminum sheet and extrusions, Thelio is constructed from scratch with the makings of a durable case that should last a very long time, to say the least. In the spirit of openness, serviceability was a primary design goal.
The case was conceived in a unique fashion where the case is opened by removing the entire top, (power button and all) as though it were a hood of sorts, leaving a very open and accessible space that can be worked in with ease and closes to leave an uninterrupted and flawless exterior.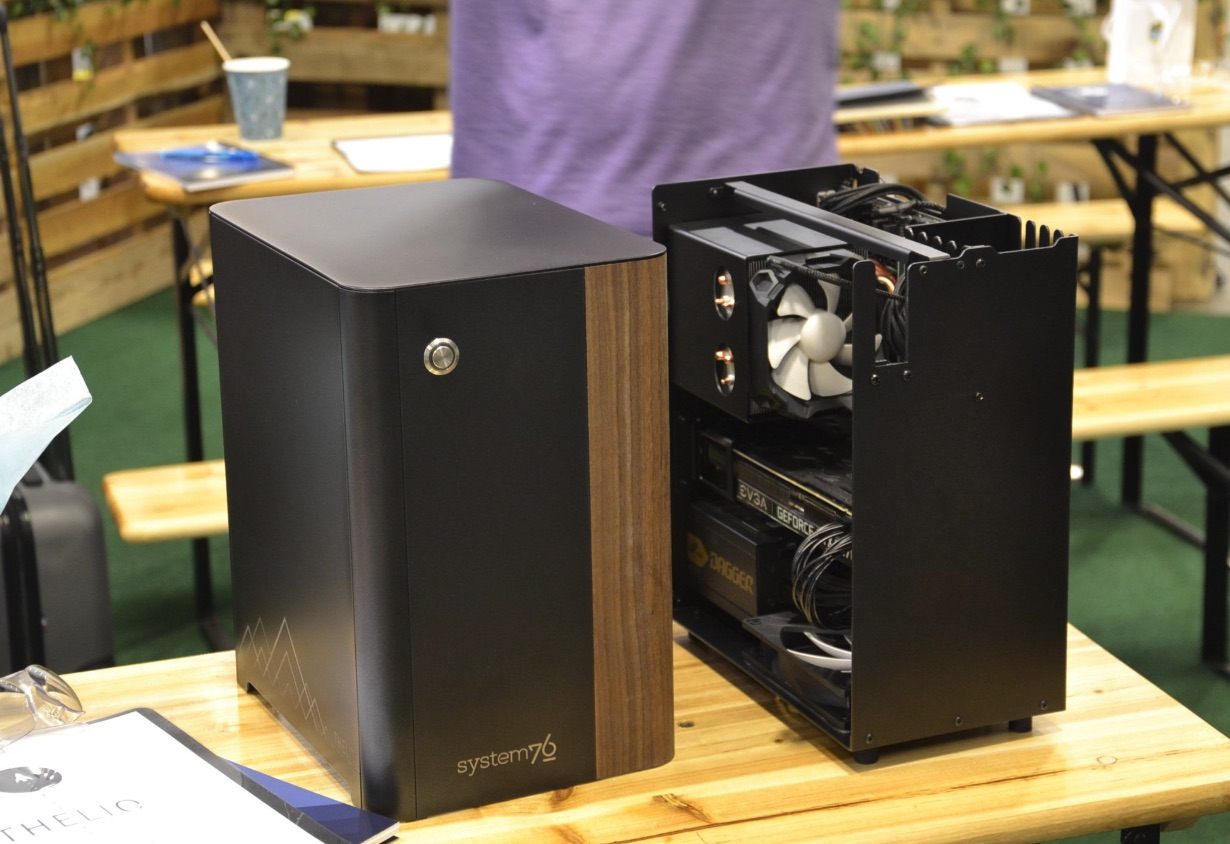 The amenities of the case, such as air-cooling, go beyond the geek culture. After extensive research the decision was to adopt a high-quality air-cooler rather than a water-cooler, but with the added benefit of using ducting to increase both the airflow through the CPU fans and the exhaust from the case, resulting in lower ambient temperatures within the case and in superior air movement around the computer's components.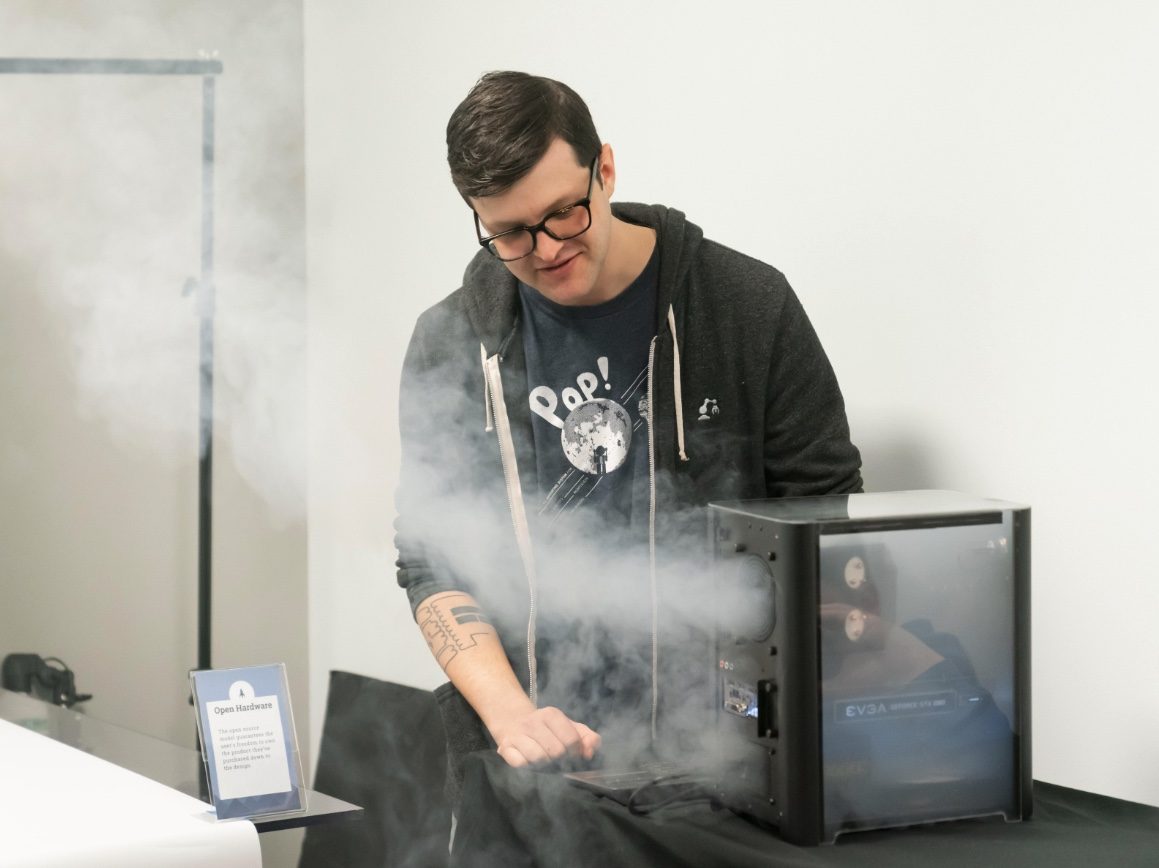 The case includes hot-swappable drive bays of varying numbers depending on the model, all of which are connected to the Thelio IO backplane daughterboard and easily accessible in an upward position upon removing the case exterior.
A full set of thumb-screws is provided with an in-case storage array to be kept safe and out of the way (no more plastic bags lost somewhere in your drawer of parts you never look at).
The Thelio backplane daughterboard is named Io after Jupiter's moon and is also a reference to the IO of computing.
It is a completely open source and open hardware development of System76 that includes a fan controller, lighting controller plus connector for the niftily removable power button, and an extra power button for when you're working on your Thelio with the cover off.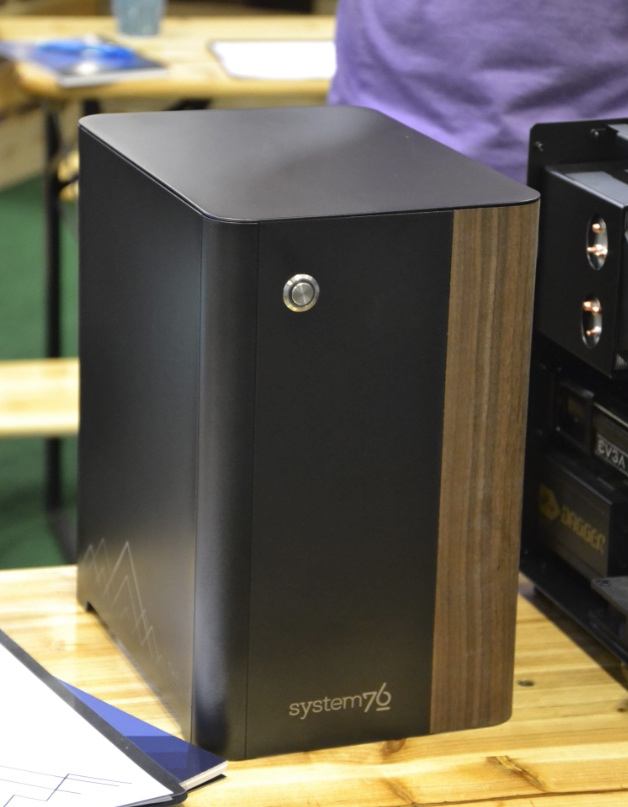 With a touch of finesse and a visage of elegance, Thelio's exterior is completed with a sheet of real wood veneer that marries the industrial feat that is Thelio with the respect System76 shows for nature in sourcing all their building materials from environmentally friendly sources — from the acid bath for the aluminum wash, to the responsibly sourced wood, and the lasting aluminum structure that underpins Thelio as not only a computer, but a conversation piece of contemporary design.
Open Source – From Design to Production
From conception, Thelio was intended to be an open source desktop. Everything that System76 manufactures for Thelio is entirely open source and available on GitHub, that's in addition to all of the work that goes into Pop!_OS.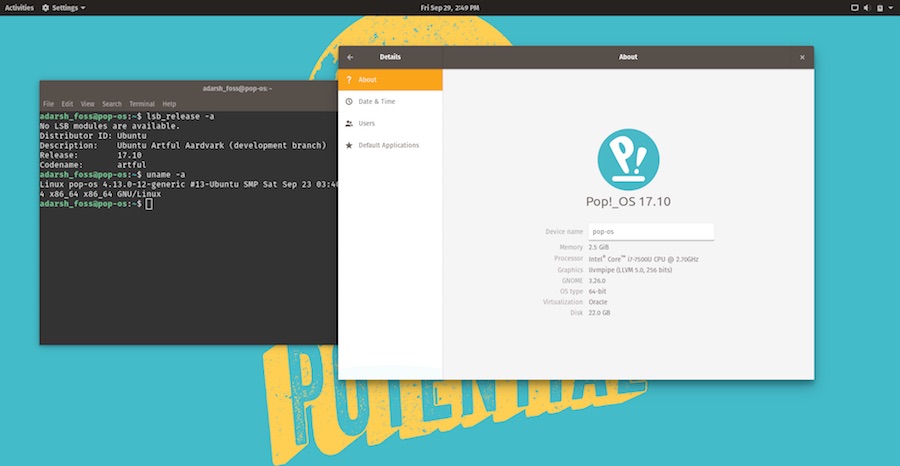 Thelio's CAD files, the Thelio IO daughter board KiCAD, gerber, and firmware source files, as well as the necessary host software required to drive the daughterboard, are all on GitHub for the community, and so will every iteration of Thelio going forward.
While Thelio cannot be completely open source due to the many motherboard requirements that currently do not have open source options, such as BIOSes and various chipsets, System76 is still pushing the boundary in the ways that they can and future iterations of Thelio could very well be much more open source at the component level.
But for now, Thelio has made a departure from the proprietary hardware-centric world of high-end desktop computers to lead the way to what will hopefully be completely open source computer someday (RISC-V, please don't let us down).
Made For the Community
System76 takes considerations that no other system integrator or builder does when designing a computer. The computer is designed to last, it's designed for serviceability, it's designed for open source, and it's designed for you, the community. Thelio is an incredibly high-quality product that doesn't spare any expense, cut any corners, or leave any rough edges (figuratively or literally), it is very impressive, but more than anything, it is meaningful.
After browsing System76's repositories on GitHub I was excited to see the number of open source projects that are being run at System76. However, one this that I think would be the icing on the cake would be if the projects were documented more in order to make it easier for others to contribute.
For example, the Thelio Io daughterboard firmware source code, while very clean, does not have documentation that outlines the higher level operation or any block diagrams. I think that documentation of this sort would reduce the barrier for some to tweak and modify their system, or better yet, contribute to further growth of the project.
A Little More About System76
System76 is spearheaded by CEO Carl Richell, but the entire team is enthusiastic about open source and community. Their passion for what they do is thick in the air throughout their offices and assembly stations.
The commitment System76 has to open source and enabling members of the community to reach their goal by providing the necessary tools in the form of a solid and polished platform is nothing short of inspiring. We would like to thank System76 for inviting Fossbytes to their facility to bear witness to the meaningful work they are doing to contribute to open source, not just with Thelio, but the company as a whole.