Android 10 went live earlier this month, and naturally, Google Pixel devices were the first ones to get it.
Surprisingly, other smartphone brands were also swift in announcing Android 10 for their devices. However, as one would expect, Samsung appeared tight-lipped on when its devices will get the latest Android 10 update.
Actually, the company is still silent about it. But kudos to Android Pure, we might finally have a list of Samsung devices getting the Android 10 update.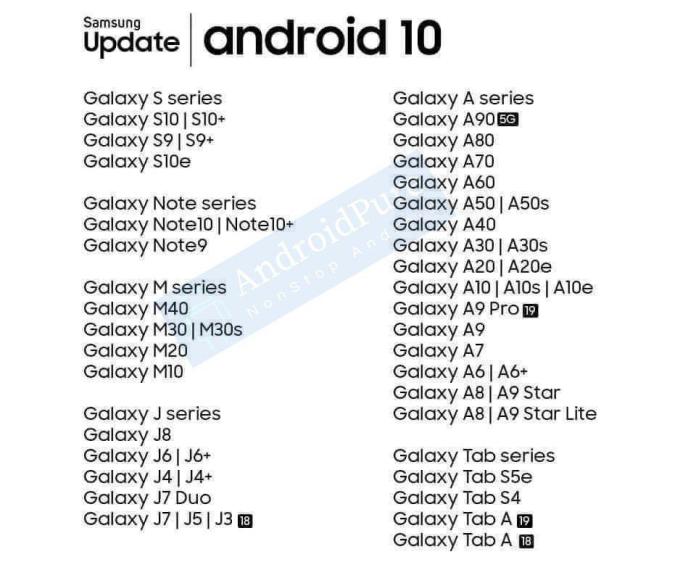 Now the list might appear plausible, it is essential to note that this is a "leaked" list of Samsung devices getting Android 10 update, and one should only consider it with a grain of salt.
That said, it seems pretty clear that Samsung has laid out a robust plan to release the new update for its devices. The company is covering every price segment, as well as, its line of Android tablets.
For instance, it goes without saying that the flagship Samsung Note series and the Samsung Galaxy S series could be the first set of devices to get the update.
However, the leaked list doesn't include the Galaxy S8 devices and Samsung might leave them out of the Android 10 update roadmap. It makes sense since the Galaxy S8 series is over three years old.
Samsung A series and the M series in the Android 10 list also seem reasonable since they have garnered a lot of attention in the mid-range and lower segments. Although the M series has started to replace the J series, it doesn't seem that Samsung wants to leave those devices behind as there were refreshed last year only.
The leaked list doesn't seem to mention the exact timeline for any of these devices. However, leaks of OneUI based on Android 10 have started to surface so one can expect the rollout to be soon, at least for Samsung flagships.