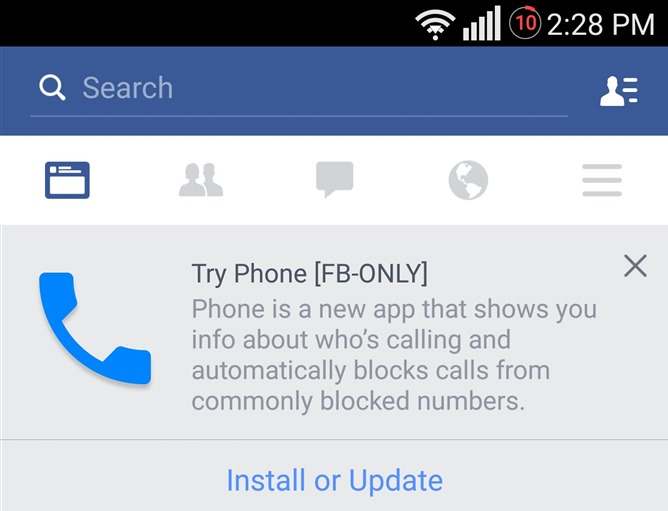 Facebook is testing a new app which will be a new Android dialer powered by Facebook's enormous phone number database. This will be like a Caller ID app called "Phone" for Android and probably some more platforms. The social networking giant has confirmed the existence of this phone application but has refused to spill more beans.
The above screenshot was posted by Android Police after they caught the glimpse of the Facebook Phone app which was meant to be tested internally which is suggested by the text [FB-ONLY].
It is a known fact that Facebook generally does the big interfaces updates to the server-side. Due to this, Facebook users sometimes witness random glitches and glimpses of the new UI and features changes before official launches. This glimpse suggests that someone committed an 'innocent' mistake and hence we are thankful to that person.
Also read about Facebook's launch of free friend-to-friend payments through messenger
Facebook has a vast database of 1.4 billion users and many of us have our phone numbers saved in our Facebook profiles. So a Facebook Phone caller ID app will tell you about the caller even when that number isn't in your list. It may be a dialer replacement with the advantage of Facebook's user base. Facebook Phone automatically will block the blocked numbers and provide you incoming calls' detailed information.
A Facebook spokesperson told VentureBeat:
"We are always testing things and have nothing to announce at this time."
Right now, it isn't confirmed that Facebook Phone caller ID app will see the light of the day, but the top social network is testing this caller ID app for sure.
---
 Did you like the idea of a caller ID app from Facebook? Tell us in comments below!
Stay tuned for latest technology and social news from fossBytes!
---