PUBG Mobile has officially announced that it is going to release the 0.18.0 update on May 7, which pave the way to Season 13. So, in about a week, PUBG Mobile will wrap up its Season 12. And to celebrate the end of a successful season, PUBG Mobile has introduced a Lucky Money Tree Event. The event will give PUBG Mobile players a chance to win an iPhone 11 Pro and Apple Airpods.
The Lucky Money Tree event will last till May 4. Until then, players will get two chances a day to shake the tree in hopes of winning big prizes.
Each day during the event period, PUBG Mobile will distribute three physical gifts, including one iPhone 11 Pro and two Apple Airpods. The gifts will be shipped directly to the winners' address.
Players will see the Lucky Money Tree event popup as soon as they launch the game. They will get the day's first chance to shake the Lucky Money Tree just by logging into the game. However, to get the second chance for the day, PUBG players will have to complete a mission.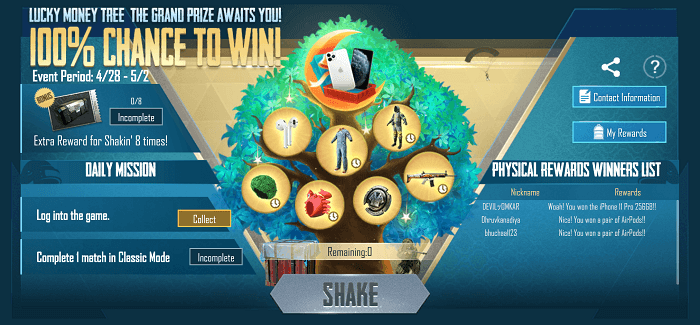 Even if players aren't lucky enough to win an iPhone or Airpods, they'll still earn amazing in-game rewards by shaking the Lucky Money Tree. For instance, by shaking the tree eight times in four days, players will get a unique in-game skin. So, to get the skin, players will have to shake the tree two times a day in a row.
The tree on the event page shows all the prizes players can win. Additionally, the page will include the names of three players who won the iPhone 11 Pro and Airpods on that day.