On Saturday Prime Minister Narendra Modi commissioned the country's largest indigenously-built destroyer warship INS (Indian Naval Ship) Kolkata (D63)  into the Indian Navy. Her commissioning was originally planned for 2010, but this was delayed to 16 August 2014 as a result of a series of project delays.
Addressing naval officers and sailors at Naval Dockyard in Mumbai PM Modi said, "INS Kolkata is going to the Indian Navy. This is also a testing time for Indian scientists and engineers. INS Kolkata proves India's indigenous capability."
"INS Kolkata is a symbol of self-reliance and will boost the confidence of armed forces and inspire the youth at the same time," he added.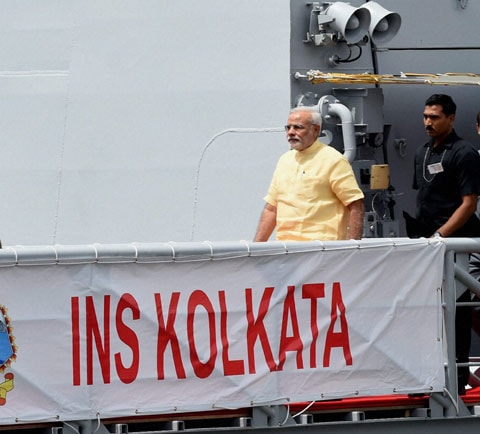 Here is all you need to know about this mighty guardian of Indian Coastline:
The 6,800-tonne warship is designed by the Navy's design bureau.
It is powered by four gas turbines, INS Kolkata is designed to reach a speed of 30 knots/h.
INS Kolkata is the lead ship of the Kolkata-class guided-missile destroyers.
India had already successfully test-fired the 290 km-range BrahMos supersonic anti-ship cruise missile from the warship.
INS Kolkata, under the Project 15 Alpha, belongs to the destroyer class and is the first of three ships currently under construction
Click here to read about more about Indian Navy Ship