When the data breach fiasco hit Facebook, the social network knew it had to take care of the mess it created. Doing the same, FB has a new privacy feature for us, giving us more control over our data (something we need more than anything!).
Off-Facebook Activity Feature
The new Off-Facebook Activity feature allows you to know of and control data collection that other apps and websites share with Facebook to fuel targeted advertisements.
The data is shared with Facebook with the help of Facebook's business tools such as Facebook Pixel and Facebook Login.
Additionally, you can also clear out all the information and even ensure the information remains off from Facebook and third-party apps.
How To Use Off-Facebook Activity Feature?
To use the new Off-Facebook Activity feature, you are required to follow these simple steps:
Tap on the hamburger menu on the Facebook app.
Select the Settings and Privacy option by scrolling down a bit and select the Settings option.
Following this, scroll further to reach the 'Your Facebook Information' section. This is where the Off-Facebook Activity feature is placed, below the Activity Log feature.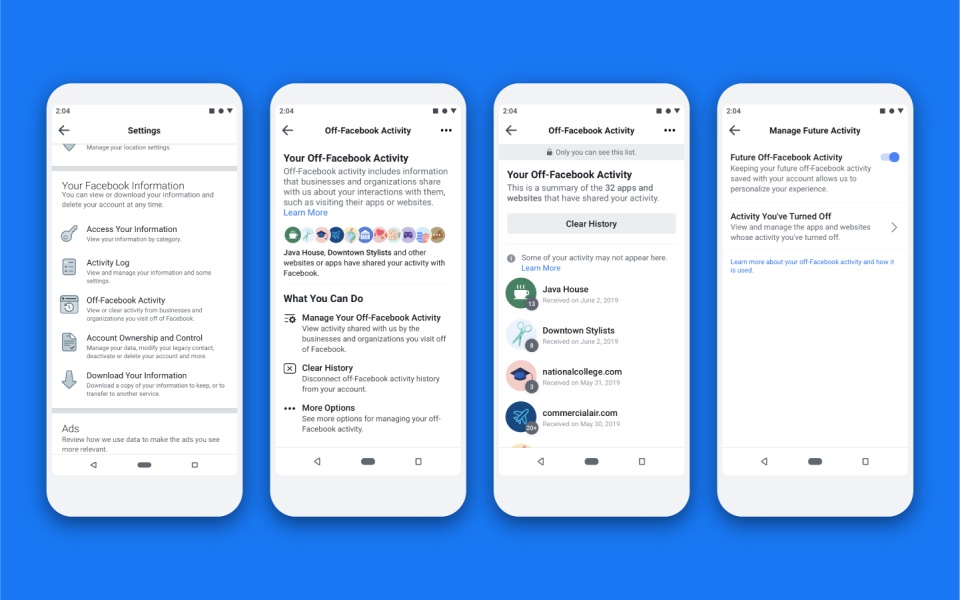 Upon clicking on the new option, you can find a summary of your data and tap on the Manage Your Off-Facebook Activity option to use the feature further.
You can remove the data by clicking on the Clear History option and further make use of the feature by tapping on More Options.
How Will The Feature Be Useful?
The new Off-Facebook Activity feature will let you know about the information the third-party apps have access to and how they send it to Facebook.
Once you delete the data, Facebook (hopefully) will never know of your activities and won't be able to target ads on the part of the various businesses.
While it could cause Facebook some trouble with the various businesses it is associated with, it can gain back users' trust, which it needs.
But…
Now before you assume that merely pressing a button would delete your third-party tracking data, then we need to clear some confusion.
In Facebook's own words (via Mashable): "Attempting to delete information from various databases across many different tables and rows would take time and may not work reliably."
Possibly, it could give rise to some technical issues at Facebook's end. Also, for a company that relies on advertising revenue, deleting so much data altogether could be bad for its financial health.
So, when you clear the Off-Facebook activity, Facebook simply 'unlinks' your account from the off-site third-party information it has collected.
Off-Facebook Activity Feature Availability
The Off-Facebook Activity feature is currently available to users in Ireland, South Korea, and Spain. The feature will eventually be rolled out to all users in a couple of months. Hence, we need to wait to know how useful the feature is.
I will keep you posted, so stay tuned to Fossbytes.