A
t its fourth annual Oculus Connect conference, the Facebook-owned Oculus announced a series of products to push Facebook's VR-focused strategy. With the new launches, Facebook is looking to control the overall VR experience with the help of onboard computation, which means no need for smartphones or PC.
At the conference, Facebook announced tons of new hardware and future plans that could change the way VR is being perceived by the consumers. Let's take a look:
Oculus Connect 4 — Major Announcements
Oculus Go
Facebook CEO Mark Zuckerberg, at the event, launched a new mobile headset named Oculus Go. It's a standalone mobile headset, which will work with all existing Gear VR titles, that will allow the company to move away from its reliance on smartphone makers like Samsung.
Called "the most accessible VR headset yet" by Zuckerberg, Oculus Go costs $199. This lightweight, wireless gadget comes with WQHD LCD screen and spatial audio. Oculus Go will launch in early 2018.
Rift Bundle
The company announced a permanent price cut on Rift and Touch combo, dropping the same to $399 in the US. A Rift bundle comes with Touch controllers, sensors, and six free apps. This price cut will put Rift in a better position while competing with competitors like HTC Vive and Windows Mixed Reality headsets.
Oculus for Business
The conference also became a witness of the launch of Oculus for Business, which is a professional Rift bundle for businesses.
An Oculus for Business bundle contains Rift, Oculus Touch controllers, three sensors, and three facial interfaces. The customers will also get dedicated customer support and extended licenses. Oculus has already partnered with companies like Audi, DHL, and Cisco to push VR into the business space.
Dash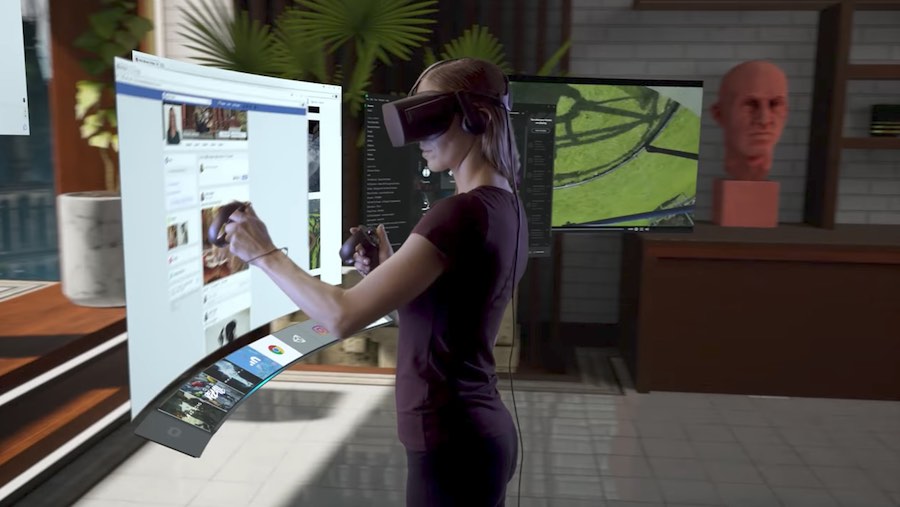 Dash was one of the coolest things shown off at the event. Oculus Dash is Rift's new interface that has been built from the ground up for Touch. It looks like a sci-fi movie-like interface with windows floats in the air.
Facebook Venues
By next year, Facebook will launch a new VR app named Venues. It will allow people to watch live concerts, sports, movie premiers, etc. With this app, the company plans to bring a more immersive experience to the users and compete with other apps of similar nature.
Facebook 3D Posts
At the event, Facebook previewed 3D posts, which are a new kind of News Feed posts. With their fingers and touch, users can interact with the 3D objects, rotate them, and zoom.
Project Santa Cruz
Oculus also shared the recent updates to Project Santa Cruz, which is a standalone VR headset the company showed off last year. The latest prototype is sleeker and features fully tracked controllers to enable hand presence in standalone form factor.
Which of these announcements did you find most exciting? Don't forget to share your views and feedback.