Short Bytes: Nvidia has announced Jetson TX2, a single board computer that can easily fit in embedded systems. With all the upgraded specifications, TX2 is two times faster than TX1, and it can quickly encode and decode 60 fps 4K content. The Jetson TX2 Developer will be available for $599 from March 14.
A
t an event in San Fransisco, Nvidia announced an upgraded version of its single board AI platform having a size of a credit card,
Jetson TX2
. Nvidia says their AI platform can find its utility in commercial drones, factory robots, smart cameras, and other IoT devices of the future.
Jetson TX2, which runs Linux, designed to be twice as fast than its predecessor Jetson TX1, consume only 7.5 watts of power. According to Nvidia, the lower power consumption allows TX2 to run deeper neural networks on end devices making things like navigation, speech and image recognition more accurate and efficient.
Under the hood, its CPU is a combination of an ARM A57 quad core and 64-bit Nvidia Denver 2, coupled with 8 GB LPDDR4 memory, 32GB eMMC flash, Bluetooth, WiFiac, Gigabit ethernet support.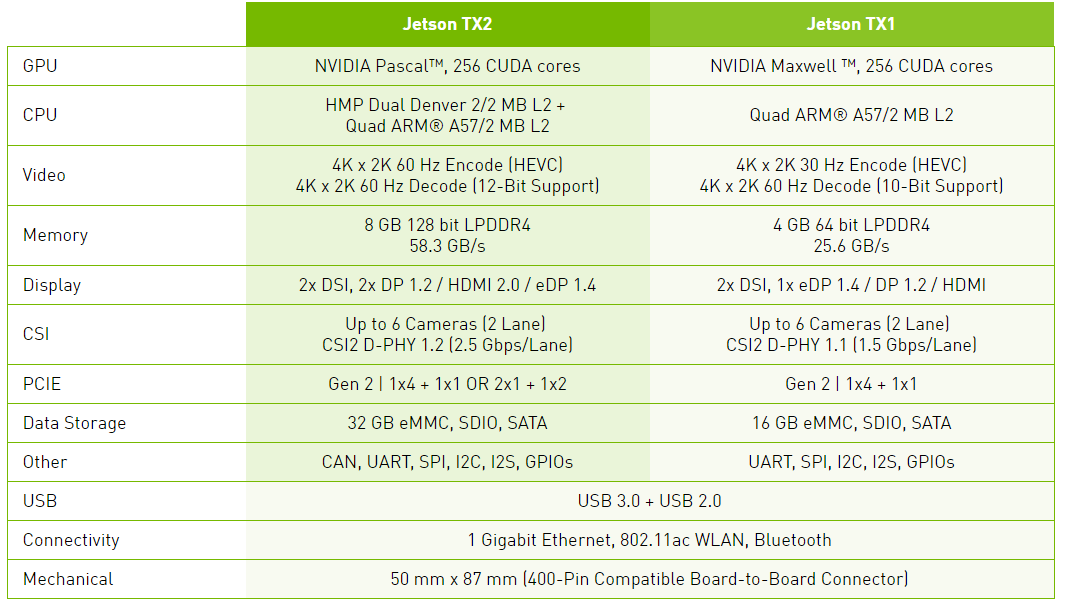 Jetson TX2's 256-core GPU is based on Nvidia's Pascal architecture. It can easily handle 60fps 4K videos and includes support for up to 6 cameras.
You can pre-order the Jetson Developer Kit for $599 which will start shipping on March 14.
What do you think about this small board computer? Drop your thoughts and feedback.
Also Read: Nvidia GeForce GTX 1080 Ti — "World's Fastest Ever Gaming GPU" Is Here