Short Bytes: At the GDC event, Nvidia unveiled its next flagship gaming graphics card, the Nvidia GeForce GTX 1080 Ti. The company claims that GTX 1080 Ti is 35% faster than GTX 1080 Ti. The new release uses the same GP102 GPU used in Titan X but runs at 11GHz. Nvidia GeForce GTX 1080 Ti will be available in the markets next week with a price tag of $699.
A
t the Game Developers Conference, in San Francisco,
Nvidia unveiled
the new king of graphics. The much-awaited Nvidia GeForce GTX 1080 Ti GPU was launched as the successor of Titan X Pascal and GTX 1080.
At the event, Nvidia founder and CEO Jen-Hsun called GeForce GTX 1080 Ti the "fastest gaming CPU" ever made. Talking about the numbers, he said that GTX 1080 Ti is 35 percent faster than GTX 1080, also making it little faster than Titan X that was created for deep learning and AI applications.
While Titan X and GTX 1080 Ti both use the same GP102 GPU with 3,584 NVIDIA CUDA cores, GTX 1080 Ti's memory configuration is different. It comes with "a massive 11GB frame buffer running at an unheard of 11Gbps."
For a detailed comparison, take a look at this chart created by AnandTech: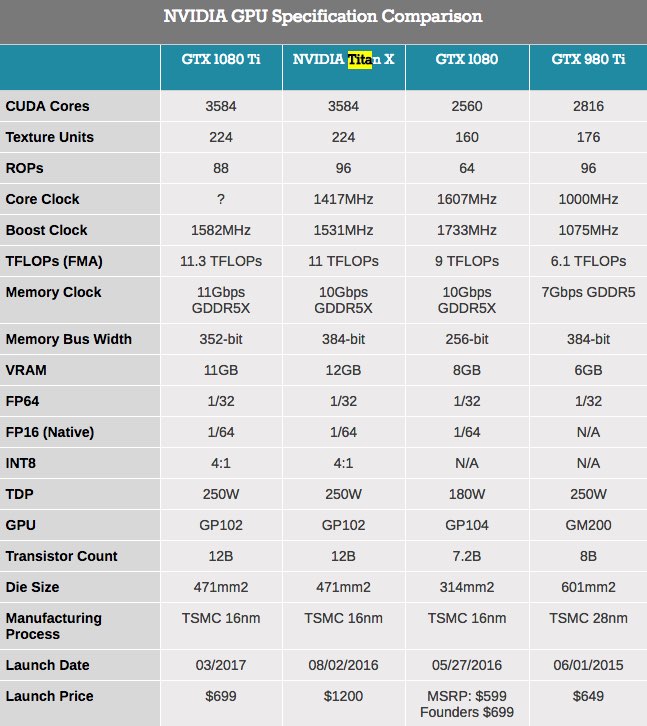 Willing to know how many transistors are there in GTX 1080 Ti? It's a staggering number of 12 billion, which deliver an unparalleled performance and efficiency.
GTX 1080 Ti has been designed to address the demands of 4K gaming and provide seamless VR experience. Nvidia calls it the "first 4K VR ready GPU".
On the cooling front, a new high-airflow thermal solution with vapor chamber cooling ensures faster heat dissipation. The 2x airflow area and a seven-phase power design make this cooling implementation more efficient.
Nvidia GeForce GTX 1080 Ti GPU will be available next week with a price tag of $699, which is $100 more than its predecessor GeForce GTX 1080.
So, did you find Nvidia GeForce GTX 1080 Ti graphics card exciting? Don't forget to share your views.
Also Read: Here's How Amazon Literally Broke The Internet Earlier Today