Short Bytes: In an animated video, retired NASA astronaut Leland D. Melvin recollects his early days on the earth after he returned from space. Melvin had two space roundtrips which were a part of the space shuttle Atlantis mission to the International Space Station.
A
NASA astronaut who has taken two space roundtrips describe his experience in a video. Leland Melvin has worked for NASA and has been a space resident for 23 days 13 hours and 28 minutes. After his return, he sees the world with a new perspective.
The most important thing he admires is the food – homemade, that he can enjoy with his family and friends – the retired astronaut feels delighted that he can eat whatever he wants that looks pleasing and tastes good, unlike the canned food he used to have in space.
At NASA, Melvin was sent to space in Atlantis Spacecraft as a Mission Specialist for STS-122 and STS-129 missions. The video created by Great Big Story makes an animated attempt to visualize Melvin's life after his return from space. "Coming home, I think the best part was seeing my family and friends", Melvin says. "I had those moments of, where am I, am I in space, am I at home, am I on the ground, how am gonna move, how am gonna eat, am I gonna throw food in the air and go fly and get it."
Melvin – now 52 – talks about how he got the hang of things again, day to day activities like driving. "Driving felt, interesting because you had been travelling at 17500 miles per hour. And then you come back, and in your car, and like, What? Sixty miles per hour, huh!", he says. "It changes the way you think about speed."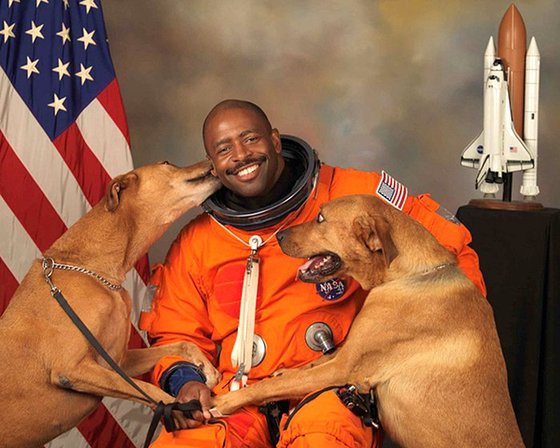 Apart from his career at NASA, he was a much talked about name in the University of Richmond football team in which he was a wide receiver. In 1986 NFL Draft, Detroit Lions selected him as a wide receiver but he couldn't make it as his hamstrings got pulled during a training camp. He has also made a guest appearance in an episode of The Chef and in The Dog Whisperer, along with his dogs, who are with him in his NASA's Official portrait which has been retweeted more than 2000 times.
You'll find these interesting:
Participate in the discussion. Write your views in the comments section below.