Microsoft wants as many people as it can to use Edge. The tech giant announced that its Edge Vulnerability Research team is experimenting with a new feature. The feature is called "Super Duper Secure Mode," and that's not a name we made up. For now, Microsoft has given the aforementioned name to the new security feature.
The Super Duper Secure Mode (SDSM) is a feature that increases security while browsing the internet without impacting performance. The overall idea is to create a secure browsing environment without any slowdown.
What is Super Duper Secure Mode?
Super-Duper Secure Mode (SDSM) is a new feature that takes a new approach to increase security while browsing the internet. Moreover, it does so by removing "Just-In-Time Compilation" (JIT) from the V8 processing pipeline. As per Bleeping Computer, which originally spotted the feature, about 45% of vulnerabilities found in the V8 JavaScript engine are related to the JIT engine.
As per the documentation regarding SDSM, removing JIT access "kills half of the bugs" that hackers can use to configure security exploits. Although removing JIT to solve security issues was that easy, it would've been done already. However, as per results, Microsoft says that there wasn't a significant performance drop.
In Layman's terms, Edge's Super Duper Secure Mode removes an essential method that hackers could use to exploit and hijack a browsing session.
How to enable Edge SDSM?
Firstly, to begin the process, you'll need one of Microsoft Edge's preview builds from any one of their channels. You can pick from Beta, Dev, or Canary channels. New and experimental features come to Edge preview builds for public testing before being pushed to the stable version. Follow the steps to get enable it.
1. Download and install an Edge preview build from the website. You can choose a version based on your preferences.
2. Proceed with the initial setup of the browser.
3. Now, in the address bar, type the following: edge://flags
4. Further, the experimental features page will open. Search for "Super Duper Secure Mode" in the search bar.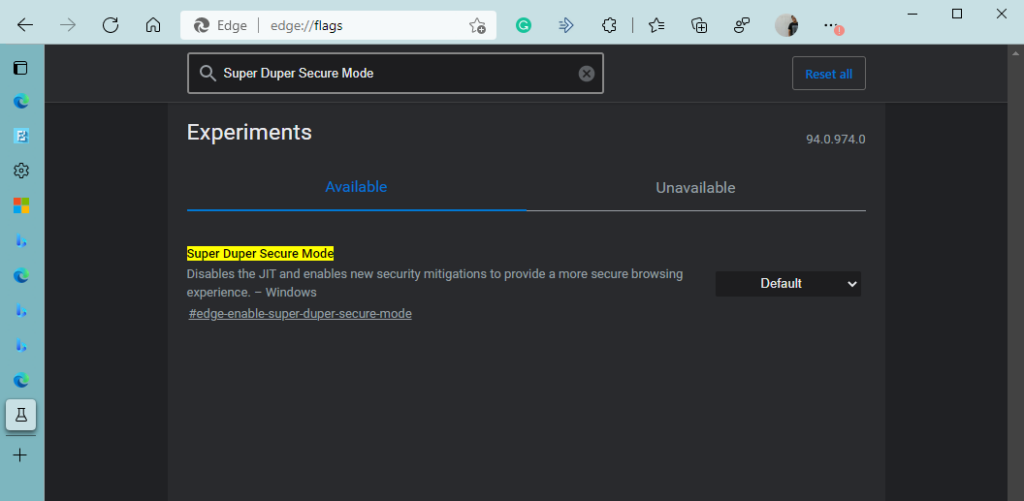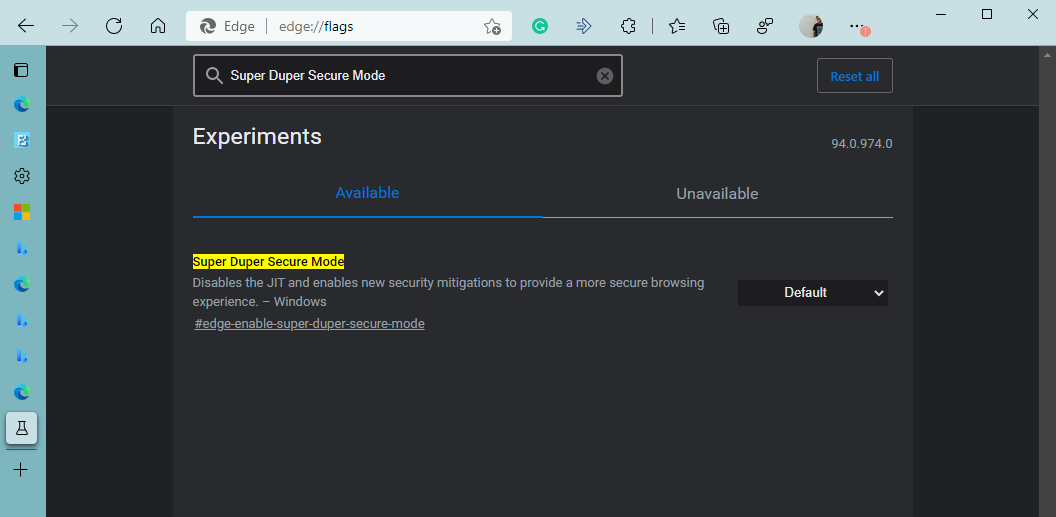 5. Next, from the dropdown menu along with the name, choose Enabled.
6. You'll now see a pop-up to restart Edge at the bottom of your screen; click on the blue Restart button.
That's it. You have now successfully enabled SDSM on Edge.
While the implementation of SDSM is difficult, the results are quite promising. We hope to see Microsoft actually pull it off.
What do you think about this feature? Let us know in the comments below.