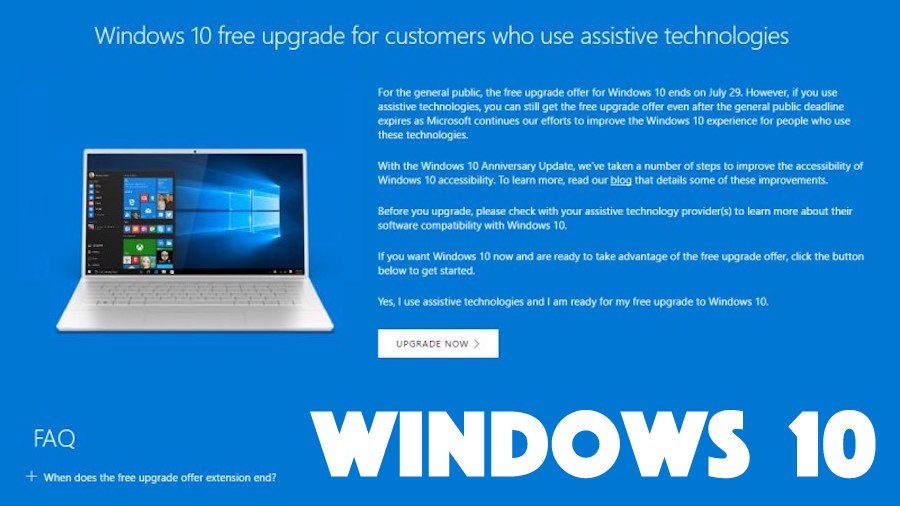 Short Bytes: The Windows 10 free upgrade meant for the users with assistive technology is being 'abused' by many people. According to Windows 10 subreddit moderator, Microsoft will discontinue the web page and the relevant tool to access. Eligible users will have to contact the Microsoft Disability Answer Desk.
M
icrosoft's year-long free Windows 10 campaign finally ended on July 29. The company has continued to offer the free upgrade to the ones requiring the use 
of assistive technologies
. The convenience offered by Microsoft is acting like a honeycomb for all the greedy bees out there.
"We have noticed that there are a lot of threads and articles lately regarding using a link for those requiring assistive technologies to upgrade to Windows 10 after July 29th, 2016. (I am deliberately not linking to it for reasons that will become obvious)," — a Windows 10 thread reads.
People have started to grab the free Windows 10 upgrade which is originally meant for the people who face difficulty with normal usage of the operating system. Microsoft is working to make Windows 10 compatible with their assistive technology which has delayed the upgrade process for those users.
It is not the thing that if you use an assistive technology deliberately than you'll be entitled to the free upgrade, explains the subreddit. "It is incorrect to state that using keyboard shortcuts such as "control+c" counts as using an assistive technology and therefore entitles you to upgrade."
Microsoft is working to withdraw any means of obtaining the free upgrade without proper verification, as it was earlier. The website and the relevant tool will be removed in the coming weeks. For the eligible users, Microsoft Disability Answer Desk will be at service to facilitate the upgrade process.
This is being done, to, (direct quote) "stop people who are currently abusing the tool."
If you already upgraded to the Windows 10 well in time, the free Anniversary Update by Microsoft is waiting for you in the Windows Update or by using the media creation tool. You don't have to rush for the update. Take your time. It'll be there for a long-long time.
If you have something to add, tell us in the comments below.
Also Read: What Is Windows 10 Developer Mode? How To Activate It?