Phone maker HTC has finally launched its first blockchain-powered smartphone "Exodus 1." We saw the first glimpse of this phone back in May when it was announced.
But you can buy it only through cryptocurrencies like Bitcoin and Ethereumnly. So the device would cost you 0.15 BTC or 4.78 ETH which is equal to USD 960. Exodus 1 is up for preorder as of now, and the devices will be shipped sometime in December.
The blockchain phone has a part of the phone that is partitioned off for additional security. For the event of loss, theft or misplacing of key information, HTC has made a social key recovery mechanism.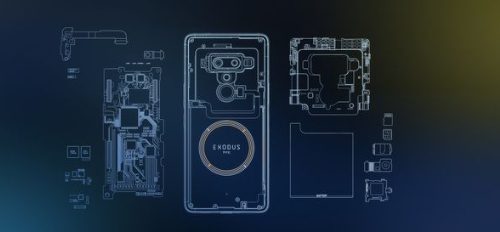 Users can keep the recovery details with a few trustworthy individuals who'd have to download a key management app. Using a secret sharing algorithm, HTC will send the info to that person and used it later on.
HTC Exodus 1 is also open for third-party developers to make their own key apps and wallets. In terms of specs, the phone sports a 6-inch HD+ display with an 18:9 aspect ratio. It has 16MP dual rear cameras and 8MP dual selfie cameras with features like bokeh effect and full 4K video recording at 60 FPS.
The handset is powered by Qualcomm's Snapdragon 845 processor and 6GB of RAM, 128GB of storage, and a 3,500 mAh battery packed in it. The phone runs on Android Oreo and is dust as well as water resistant too with a rating of IP68.
This phone is available as an early access edition for consumers in 34 countries today, including the US, UK, Singapore, and Hong Kong. However, it won't be available in China as the country has rules that prohibit cryptocurrency trading.