A
while back, there were articles circulating about the "World's Cheapest Laptop," but they really weren't accurate. The PINEBOOK weighs in at $89USD for the 11″ model and $99USD for the 14″ model. But, can a sub-$100 laptop, new or used, really be worth it? It would almost be unanymously be argued not, but the PINEBOOK makes a very compelling case. Let's tell you about it in detail.
PINE64, the company behind the first budget/hobbyist 64bit single board computer by the same name, has started offering a lot more in the alternative computing arena. They have a wide variety of inventory on their website containing all sorts of odds and ends in addition to the flagship offerings. Everything a tinkerer might need, from microSD cards to USB wifi, USB ethernet, even power over ethernet broken-out into a DC barrel adapter and LCD panels, all for very appealing prices.
One of the latest offerings from the company is the PINEBOOK, a laptop that is modestly powered by a quadcore AllWinner SoC with 2GB ram. Now, this product is cheap, you can feel it when you pick it up, you can feel it when you type, and you can feel it as you use the trackpad, but it's actually not that bad. This product, for all its apparent cheapness, is usable. It feels cheap, but not any cheaper than a $300-$400 laptop that you would pick up from an electronics store.
PINE64 PINEBOOK Review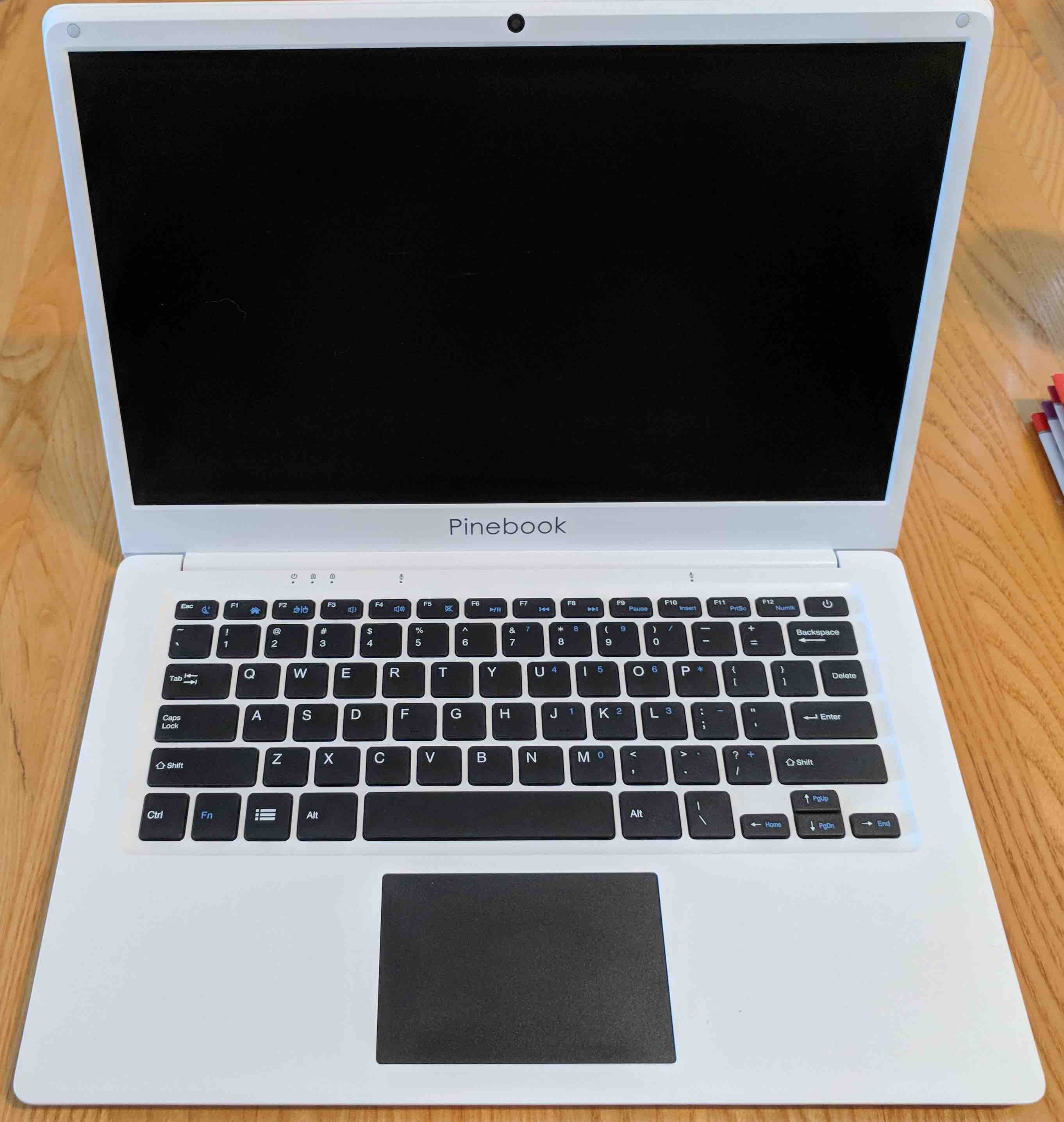 In the spirit of honesty, it should be known that PINE64 did send us a 14″ PINEBOOK for review. Despite this, I want to make it clear that Fossbytes has not received any compensation for this review. The below reflects my honest opinion of this product, and should anyone disagree, you can let us know why in the comments below or on Facebook.
First Impressions
As I said, this product feels cheap as soon as you pick it up, but not as cheap as you would expect. I was really pleased by how thin this unit is, too, it's comparable to many ultrabooks. My first concern was that there isn't any branding on the back of the display like with all other products. This is a revolutionary product insofar as its cost, so the company logo should be sported with pride. Alternatively, this leaves plenty of uninterrupted space for the stickers of your choice.
The plastic that comprises the general construction of the device feels cheap (again, no surprise), but it's pleasantly strong and feels sturdy. It might shatter in a fall, but I don't see this thing falling apart from regular use for quite some time.
There are two USB 2.0 ports, a microSD card slot, HDMI mini, and a headphone jack. The device is powered by a 5V DC barrel jack (although, USB micro would have been nicer) that is rated for 3A, meaning that the laptop is on par with many tablets in terms of power draw, which is natural given its ARM CPU.
The PINEBOOK sports an odd keyboard layout that puts the delete key below the backspace and the power button where the delete key tends to be, and then the backslash key is at the bottom right among the arrow keys. It's unorthodox, but so is a sub-$100 laptop, right? Aside from the input oddities, the keyboard isn't all that bad. It's responsive and has a decent tactile feeling (far better than a $500 laptop I bought a couple years ago that could only be described as 'mushy'). There isn't much to be said about the trackpad. To its favor, it's on the larger side when compared to budget laptops, but again, it's kind of awful to use.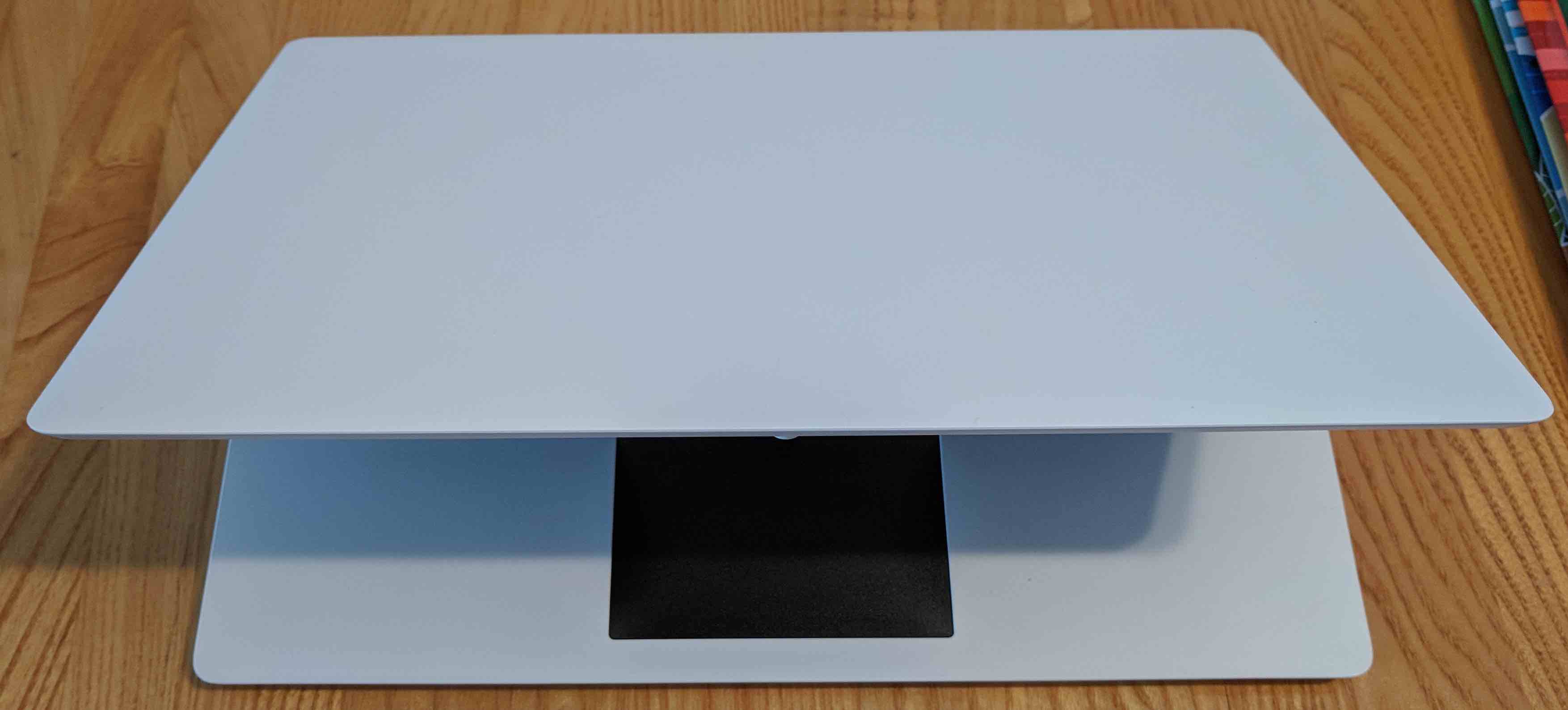 The laptop has a built-in 0.3-megapixel webcam and pair of microphones, naturally, the image quality is poor, but it's something.
The display blew me away. Not with its colour or vibrance, but with its resolution. I expected an 800×480 display, maybe a 1024×600, but this laptop has a 1366×768 resolution for both the 11″ and 14″ models. Sure, most phones have 1080p displays at as small as five inches(less than 6cm), but those also cost several times more or are produced in mass quantities.
The PINEBOOK is a humble little thing that packs an incredible amount of feature and quality for its pittance of a price.
Specifications
| | |
| --- | --- |
| CPU | 1.2GHz 64-Bit Quad-Core ARM Cortex A53 |
| RAM | 2 GB LPDDR3 RAM Memory |
| eMMC Flash Storage | 16 GB eMMC 5.0 (upgradable up to 64GB) |
| Wireless Connectivity | WiFi 802.11bgn + Bluetooth 4.0 |
| Physical Connectors | Two USB 2.0, HDMI mini, Headphone, microSD |
| Camera | 0.3-megapixel Webcam with Stereo Microphones |
| Display | 1366×768 Resolution (Both 11″ and 14″) |
| Battery | 10,000mAh Lithium Polymer Battery |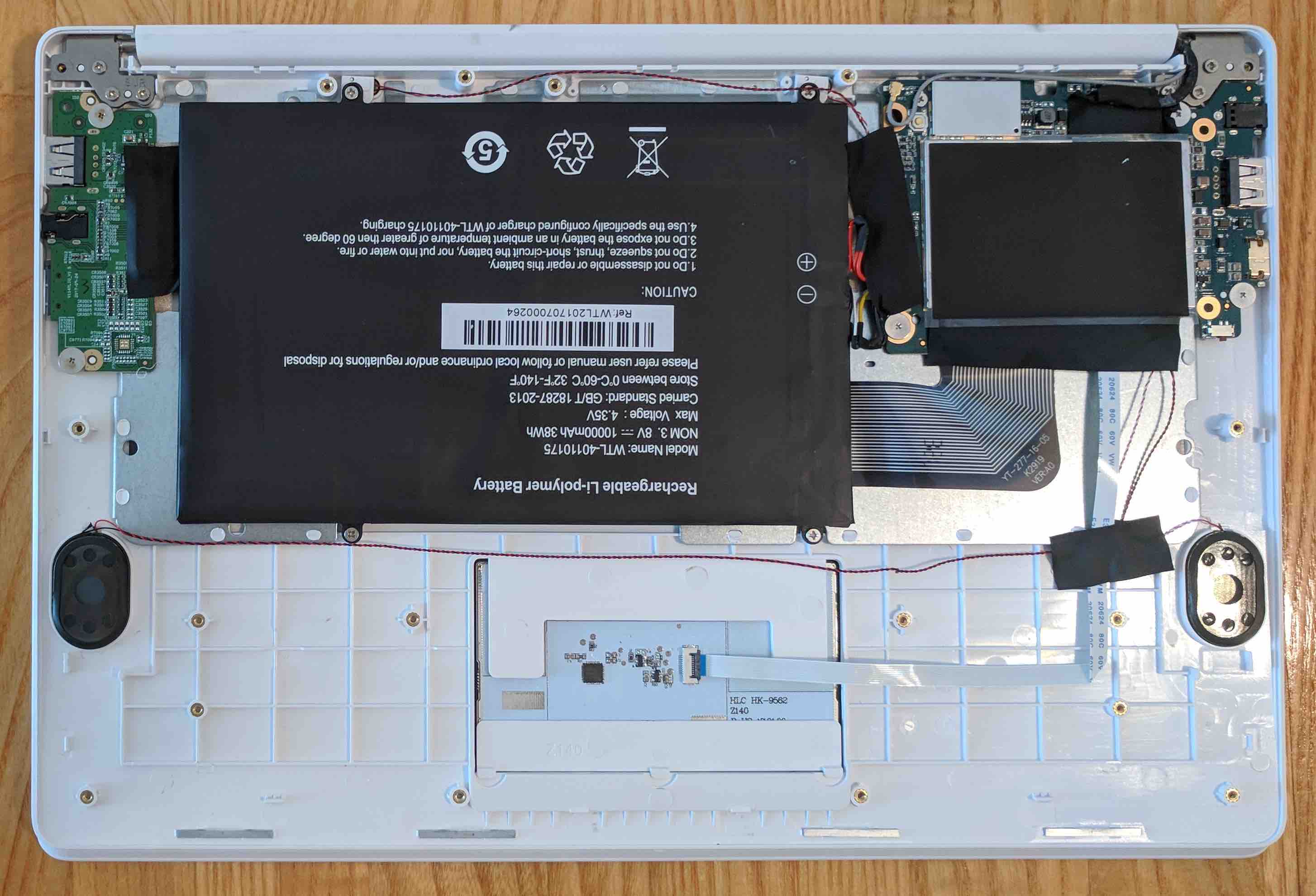 Hands-On
Upon first powering on the unit, you'll see that it is running Ubuntu, which isn't a surprise. Given the particularly slim specifications, the PINEBOOK team opted for the MATE variant of Ubuntu.
My first big question was whether the PINEBOOK could handle HD video, it does have an HD display after all. My results were mixed, but understandably so. As it turns out, YouTube videos would not play very well and frames started to drop more often than they were played. However, when playing video using a native player, like VLC, the video played smoothly, albeit with some rendering caveats. The video players failed to scale the video to the size of the window. This wasn't an issue, though, when playing in fullscreen, regardless of the original resolution of the video. Clearly, this is just a software bug that will eventually be fixed (or at least I would hope).
Web browsing is a little sluggish and pages can be unresponsive. It's unclear whether that's due to a lack of optimizations in the browsers when compiling or if it's simply a limitation of the AllWinner SoC. With that in mind, no one will be expecting a device of this price to be able to do everything the average laptop can.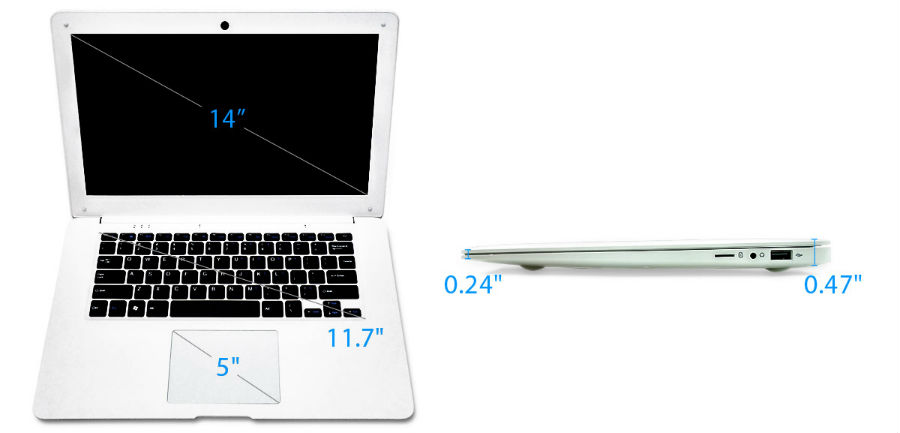 PINE64 offers a nice tool called PINE64 Installer for flashing a microSD card with various OSes like Ubuntu Xenial MATE, Android 7.1, Android 6.0, Bliss OS (an Android spin), Armbian, and Q4OS. It's important to note, though, that not all these operating systems support installing to the internal eMMC storage and will only run from the microSD card a la Raspberry Pi. This can be good or bad depending on what you want, the internal storage will be significantly faster than most, if not all, microSD cards, but it does allow you to dual-boot, even if that means removing the microSD card before being able to boot from the eMMC storage.
I tried the Android 7.1 image that was available in the PINE64 Installer application, and it worked like a charm. It booted without issue and I was using Android in no time. The Android 7.1 image does not allow installing to the eMMC, though, so it was sluggish and unresponsive due to my only microSD card on hand. So, despite my efforts in attempting to make it look and feel like a desktop, the lack of responsiveness really held it back. Because of this, I can't elaborate on the unit's Android experience with any meaningful information. That aside, I'm sure the future will provide us with many more operating system images to try.
Conclusion
This laptop isn't ideal for everyone. It has barely any power to it compared to a conventional x86 system, it has half of the standard baseline offering for RAM, and it can't run Windows, which makes it a deal-breaker for most people. But for those who are interested in the novel, or really just need something to get online, this would make an excellent choice. I would even recommend this as a dummy terminal of sorts for programmers. It's lightweight and thin construction is ideal for anyone looking to keep something cheap and portable around for impromptu sysadmin needs.
This product is cheap, it's made of cheap parts, and it feels cheap, but it's a marvel. I have been blown away by this unit. Yes, it feels cheap, but not as cheap as it should, and that's what makes this device so peculiar. It has broken open and created a new market for sub $100 computers (that aren't tablets or shoddy smartphones, that is), and it's done so with an impeccable product. I don't think I can suggest anything that could be better on this product because it should all be worse at this price point.
Everyone should checkout PINE64 and take a look at the different single board computers and hobbyist products they have.