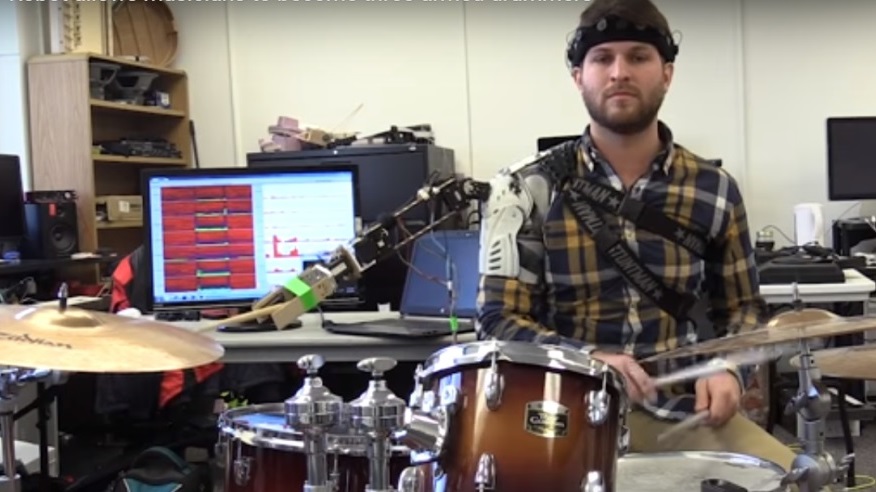 Short Bytes: Until now we have seen the drummers playing beats using their naturally gifted two hands, but it's time to meet the drummer who uses three arms, two human and one robotic, to play the drums and redefine percussions. Watch the video at the end of the post to see a robotic arm playing the drum.
T
his feat of playing drums with three hands was achieved by the Robotics engineers at Georgia Tech. They have developed a robotic limb that acts as a third arm to enhance the creative musical capability in the field of playing the drums.
A video showing this feat was released by the Georgia tech showing how comfortably a drummer was playing the drum using his two natural and one artificial arm. In the same video, you can observe and wonder at the timings and coordination with which the drum is being played. Note that these are the two main factors which define drumming.
We believe that if you augment humans with technology, humans would be able to do much more," "We thought that music would be a great medium to try that.
— says Center for Music Technology director Gil Weinberg.
The robotic "smart arm" attaches to the drummer's shoulder. This smart arm is able to respond both to the drummer's movements and to the music being played. This is a part of the artificial intelligence where a machine learns the human body movement.
Also read: Who'll Be The Winner: Human Intelligence Vs. Artificial Intelligence
The team is currently experimenting with electroencephalogram (EEG) technology. Using this technology, the future robotic limbs would be able to potentially read a drummer's brain waves to sense when they think about changing tempo or position.
The project is being funded by the National Science Foundation. If you are also aware of such amazing feats accomplished near by you or have read somewhere, we would like to feature that in our posts. Let us know in the comments below.
Also read: Alda is a New "Music Programming Language" that Anybody Can Use