With the rise of battle royale games like PUBG Mobile and Call of Duty Mobile, Android Emulators are becoming popular. Android Emulators serve as a boon for players who want to experience mobile games on their PC.
Several Android Emulators are claiming to be the best; however, not all of them stand up to what they promise. So, most of the time, it gets difficult for players to find any proper Android Emulator. If you're going through the same problem, you don't have to worry about it anymore. In this article, I am going to discuss LDPlayer, which in my opinion, is the best free Android Emulator I've ever used.
LDPlayer: Play PUBG Mobile And Call of Duty Mobile On PC At 60Fps
First thing first, as of now, there are two versions of LDPLayer, i.e., LDPlayer 3.0 and LDPlayer 4.0. LDPlayer 3.0 runs Android 5.1, and on the other hand, LDPlayer 4.0 is an upgraded version simulating Android 7.1.
Both LDPlayer 3.0 and 4.0 run games like PUBG Mobile quite efficiently. However, I would recommend you to go for LDPlayer 4.0, which brings gaming to a whole new level.
Features Of LDPlayer


1. Download Apps From Google Play Store
It is one of the reasons why I loved LDPlayer so much. Rather than downloading the games or some apps from unknown sources, you can download them directly from Google Play Store.
Just sign in with your Gmail account and download the latest version of games, just like you do on your mobile.
2. Assign RAM And CPU As Per Your Convenience
The best thing about LDPlayer is that you can choose how much RAM and CPU you want to allocate to the emulator. Moreover, you can play games at a maximum resolution of 1080p, which is pretty great.
3. Simple and Attractive User Interface
Most Android Emulators I have used had the worst user interface, which made me feel like I wanted to punch my laptop's screen. However, that isn't the case with LDPlayer. The fact that you can set your wallpaper gives you a feeling that you're using an expensive emulator. Also, the default shortcuts make your work on the emulator much easier.
4. Virtual Phone Model
Now, this is quite amazing. Apparently, on LDPlayer, you can choose your very own virtual phone model. So, you can use a phone of your choice on your PC with LDPlayer. For instance, if you want to play the Black Desert Mobile game on PC, then the best phone model to choose is Pixel 2. Similarly, you can test different phone models to improve your gameplay.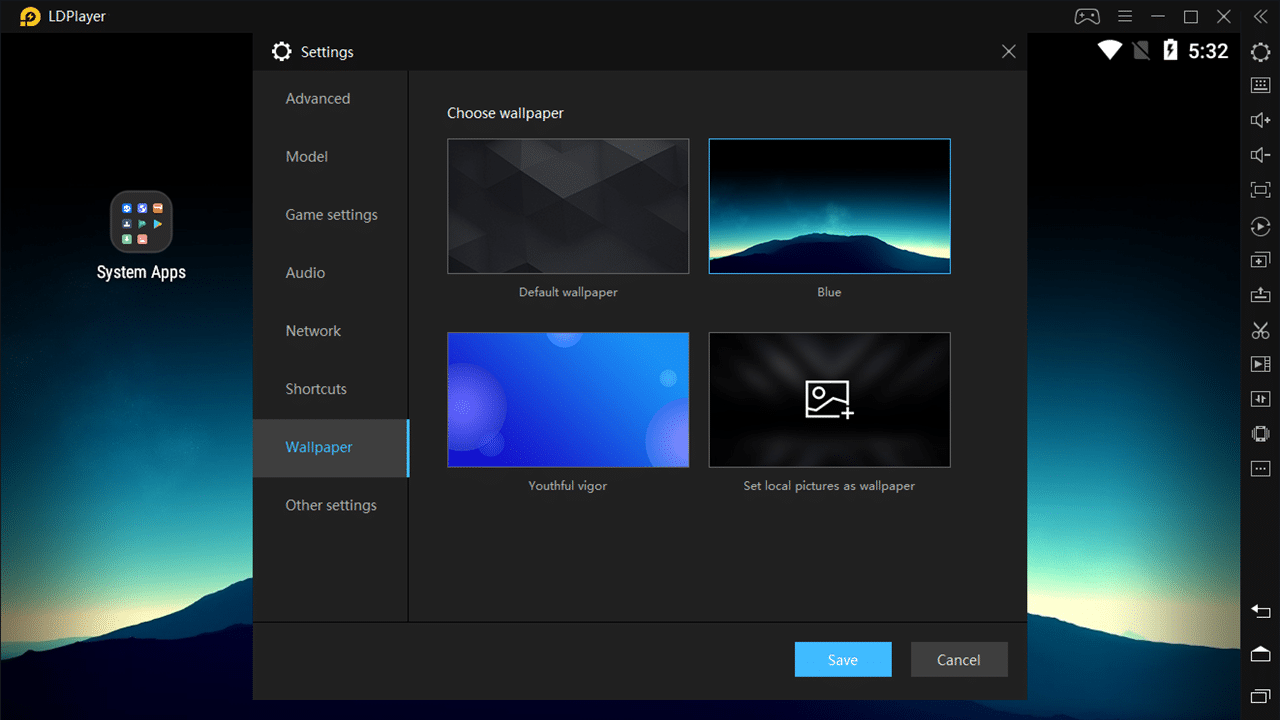 How To Download And Use LDPlayer
First, download a desired version of the LDPlayer from the official website.

Now, run the downloaded .exe file and follow the installation process.

After the installation process is complete, launch LDPlayer on your PC.

Click on the Google Play Store and search for any mobile game you want to download, just like you do on your mobile.
LDPlayer Android Emulator: Final Thoughts
Playing mobile games on LDPayer was a satisfying gaming experience for me. The high-resolution graphics at 60fps make you feel like you're playing a PC game, but in reality, it's a mobile game running on your PC. Also, the overall user interface of the Android Emulator is to make things easier and more appealing.