After suspiciously disappearing from Google Play Store within the few hours of its launch, Kimbho app by Baba Ramdev has been labeled as a 'Security Disaster' and 'a Joke' by Elliot Alderson, a famous French expert.

He rebuked Baba Ramdev in his series of tweets and regarded the app as a rip off of a previously existing application named 'Bolo'. To support his allegations, he also provided screenshots in which the descriptions and screenshots of 'Bolo' app and 'Kimbho' app are same.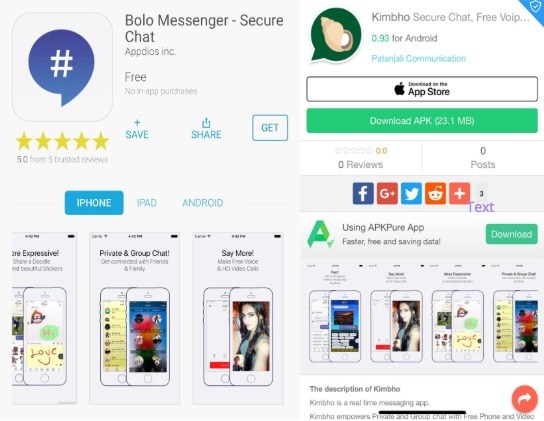 Highlighting the vulnerabilities of the app and flagging the app for security-related issues, Alderson wrote that he could "access the messages of all the users.". Soon he posted a video on Twitter where he shows that "It's possible to choose a security code between 0001 and 9999 and send it to the number of your choice."
Hi @KimbhoApp before trying to compete #WhatsApp, you can try to secure your app. It's possible to choose a security code between 0001 and 9999 and send it to the number of your choice #kimbhoApp pic.twitter.com/YQqK8lfIeI

— Elliot Alderson (@fs0c131y) May 30, 2018
Interestingly, Alderson has exposed many other apps and websites in the past including some of the government apps such as Aadhaar app, NaMo app, Congress app and websites of ISRO and Indian Post.
Before being taken down from Play Store, the app was downloaded by more than 5000 users, and most of the reviews received were negative.
Alderson's tweets were received humorously by tweeple who cracked their own 'desi' jokes criticising the 'Swadeshi' messenger app.
Baba Ramdev's new messaging app is called Kimbho. Sanskrit equivalent of "How are You?" Or "What's Up".

Can't wait for a Gujarati to release a new app called "Kem Cho".#kimbhoApp

— Vignesh Mallya (@v_mallya) June 1, 2018
Breaking News:
UNESCO has declared that homegrown chat platform #KimbhoApp is the best chat platform in the world. The servers are being secured by building 100Ft wide walls in order to protect users data.

PS: Sarcasm intended.

— Kedar Kulkarni (@kedar_kulkarni_) June 1, 2018
#kimbhoApp has very fresh and organic vulnerability @fs0c131y

— X3eRo0 (@X3eRo0) June 1, 2018
The way #Patanjali app disappeared from Play Store,
Can we say it's doing "Shavasan" ? #kimbhoApp Copied from @JaydipParikh FB wall

— Ishan Vora – Stay Safe, Stay at Home (@ishanvora) June 1, 2018
With the official Kimbho app no longer available on Play Store, many fake apps with the similar name have emerged. These apps can collect your data and use it for their own shallow interests.
It would be interesting to see the 're-launch' of the application and whether it would stand true to its 'desi' tag. About its competition with Whatsapp, it, surely, is a long uphill battle.
Express your views on Kimbho app and what can be done to match the benchmark set by Whatsapp.